Beef and Cabbage Mix is a simple yet satisfying dish that brings together the wholesome flavors of beef and the crispness of cabbage. This recipe offers a delightful balance of textures and a delicious combination of flavors. The beef is cooked to perfection, resulting in tender and juicy meat that serves as the perfect complement to the crunchy cabbage. This versatile dish can be prepared using various cooking methods such as stir-frying, braising, or even grilling, allowing you to customize it according to your preferences.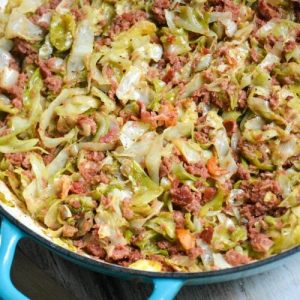 Beef and Cabbage Mix
Beef and Cabbage Mix is a delightful dish that combines tender beef with crisp and nutritious cabbage. This recipe offers a harmonious blend of flavors and textures, creating a satisfying and wholesome meal. The beef is cooked to perfection, ensuring a juicy and flavorful result that pairs perfectly with the subtle sweetness and crunch of the cabbage
Ingredients
2-1/2

lb

beef brisket

3

garlic cloves, preferably pressed

1

cup

beef stock

1

cabbage cut into wedges

2

bay

leaves

2

turnips (cut into smaller pieces)

Salt and black pepper to taste

4

carrots, chopped
Instructions
Preheat the dutch oven to 3600F.

Put the beef in a pan, add the stock, salt, pepper, carrots, cabbage, bay leaves, garlic, turnip, stir, transfer to the dutch oven, and cover. Cook for 40 minutes.
Notes
Whether you're looking for a quick and easy weeknight dinner or a nutritious option to add to your menu, Beef and Cabbage Mix is a versatile choice. Serve it as a standalone dish or alongside rice, noodles, or mashed potatoes for a complete meal. Prepare to enjoy the delightful combination of tender beef and fresh cabbage in each mouthwatering bite of this comforting and nutritious recipe.
Nutrition
Calories:
355
kcal
Carbohydrates:
18
g
Protein:
24
g
Fat:
16
g
FAQs about Beef and Cabbage Mix
Q: Can I use different cuts of beef for this recipe?
A: Yes, you can use different cuts of beef based on your preference and availability. Some commonly used cuts for beef and cabbage dishes include sirloin, flank steak, or even ground beef. Adjust the cooking time and method accordingly to ensure the beef is cooked to your desired level of tenderness.
Q: Can I substitute cabbage with other vegetables?
A: While cabbage is a traditional choice for this recipe, you can certainly experiment with other vegetables. Leafy greens like kale or bok choy can be used as alternatives, or you can add in additional vegetables such as carrots, bell peppers, or broccoli for added variety and color.
Q: What seasonings work well with beef and cabbage?
A: Seasonings like garlic, ginger, soy sauce, oyster sauce, and black pepper are commonly used to enhance the flavors of beef and cabbage dishes. However, feel free to experiment with your favorite seasonings and spices to personalize the dish to your taste.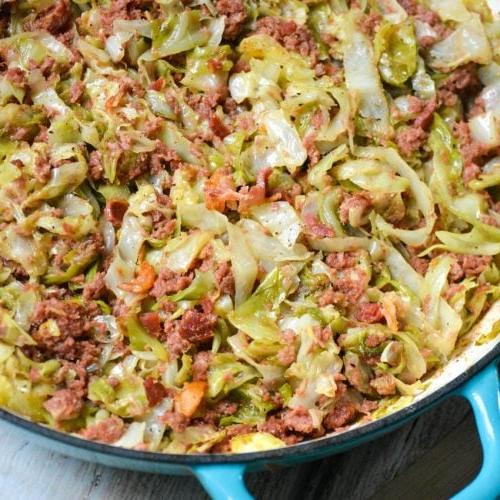 Q: Can I make this dish ahead of time?
A: Beef and cabbage mix is best enjoyed when freshly cooked, as the cabbage maintains its crispness. However, you can prepare the ingredients in advance and store them separately. When you're ready to serve, quickly stir-fry or cook them together to retain their flavors and textures.
Q: How can I make this recipe more nutritious?
A: To enhance the nutritional value of the dish, you can add more vegetables such as mushrooms, snow peas, or bean sprouts. Additionally, consider using lean cuts of beef and reducing the amount of oil or sodium in the cooking process for a healthier option.
Q: Can I adjust the spiciness level of the dish?
A: Absolutely! If you prefer a milder flavor, reduce or omit spicy ingredients like chili flakes or hot sauce. Conversely, if you enjoy a spicier kick, you can increase the amount of spices or add fresh chili peppers to your liking.
These FAQs should provide you with useful information to prepare Beef and Cabbage Mix. If you have any additional questions or need further assistance, feel free to ask for more guidance.
Cooking tips
Here are some cooking tips for making Beef and Cabbage Mix:
1. Choose the right cut of beef – For this recipe, it's best to use a cut of beef that's lean and tender, such as sirloin or flank steak. You can also use ground beef if you prefer.
2. Prepare the cabbage – Remove the outer leaves and core of the cabbage, then slice it into thin ribbons. Rinse the cabbage well with cold water to remove any dirt or debris. You can also use pre-shredded cabbage if you prefer.
3. Season the beef – Season the beef with salt and pepper, or your favorite steak seasoning. If using ground beef, mix in some garlic powder and onion powder.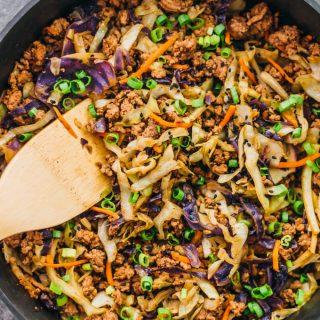 4. Cook the beef – Heat some oil in a skillet or wok over high heat. Add the beef and cook until browned and crispy, breaking it up into small pieces as it cooks.
5. Add the cabbage – Add the shredded cabbage to the skillet with the beef. Cook for a few minutes, stirring occasionally, until the cabbage is slightly softened and wilted.
6. Add flavorings – Add some additional flavorings to the beef and cabbage mixture, such as soy sauce, rice vinegar, and/or chili paste. These ingredients will give the dish a savory umami flavor with a hint of sweetness and spice.
7. Serve hot – Once the beef and cabbage mixture is cooked through and well-combined, serve it hot with some steamed rice or noodles. You can also garnish the dish with sliced scallions and/or sesame seeds for added flavor and texture.
Using these tips, you can make a delicious and healthy Beef and Cabbage Mix that's perfect for a quick and easy weeknight meal.
Serving Suggestions
Here are some serving suggestions for Beef and Cabbage Mix:
1. With Rice or Noodles – Beef and cabbage mix is often served with steamed rice or noodles. This creates a complete meal that is both filling and nutritious.
2. As a Filling for Wraps – Use the beef and cabbage mix as a filling for wraps or large lettuce leaves. Top with some avocado, cilantro, and lime juice for a fresh and delicious wrap.
3. As a Side Dish – Beef and cabbage mix can be served as a side dish to grilled meats like chicken, pork, and steak. It's a great way to add some green in your diet and make a hearty protein, and fiber-rich meal.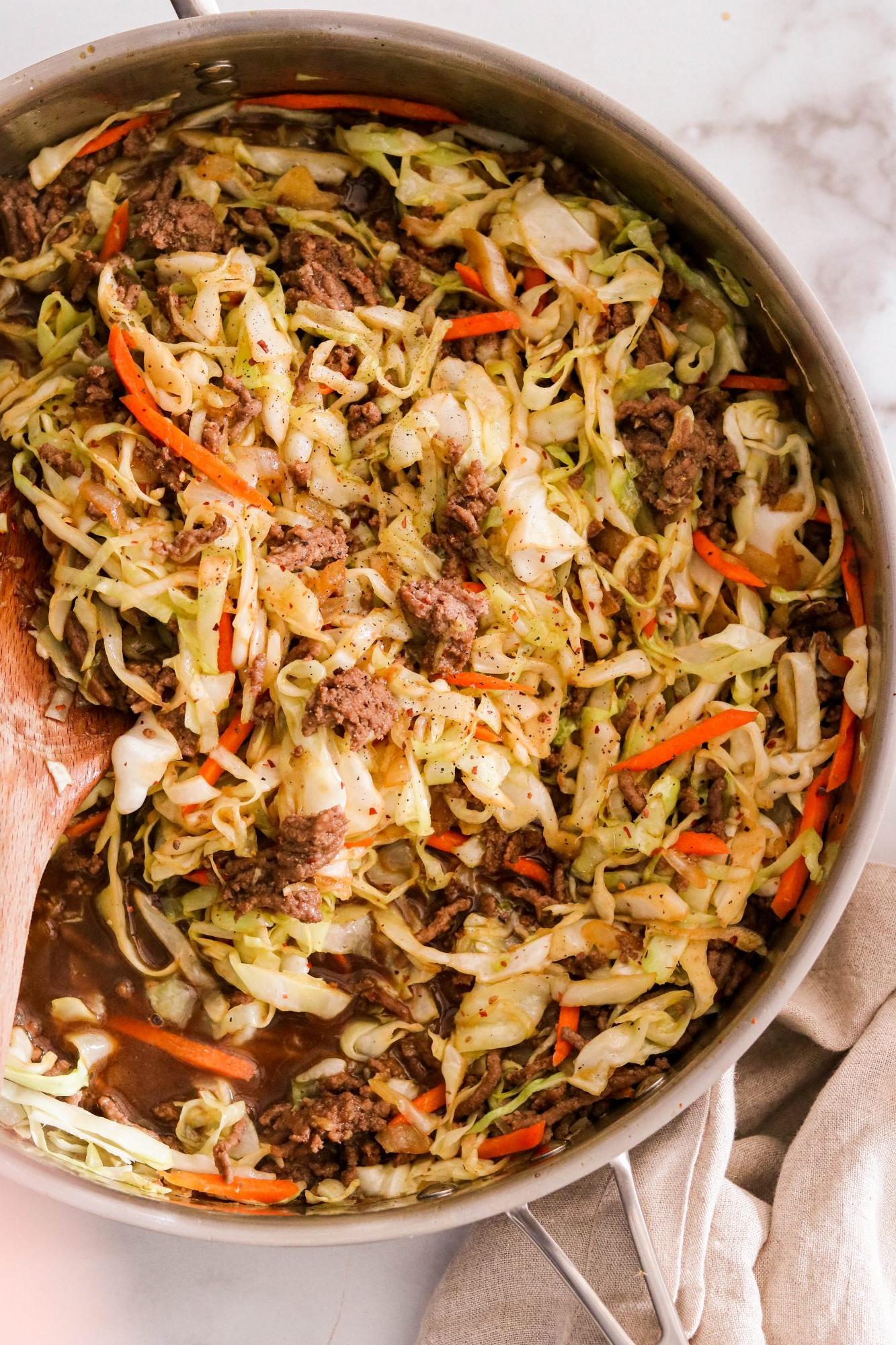 4. As a Salad Topping – You can also use the beef and cabbage mix as a topping for salads. Add some greens, tomatoes, and cucumbers, and it's an instant hit.
5. As a Base for a Buddha Bowl – Using the beef and cabbage mix as a base for a Buddha bowl is a smart way to create a healthy and satisfying meal. Simply add some brown rice, roasted vegetables, and avocado for a complete meal.
No matter how you serve it up, beef and cabbage mix is easy to make, tasty, and versatile. Use your imagination for additional ways to serve it.