One of the most delightful aspects of camping is the opportunity to savor and relish a meal that has been lovingly prepared over an open fire or glowing coals. Investing in a high-quality Dutch oven can open up a world of culinary possibilities during your camping adventures, offering a lifetime of delicious meals.
Although most Dutch ovens may not be ideal for lightweight camping, they unquestionably secure a prominent place on the must-have list for car camping or camper vans. This post of Hearthcook will be introduction to you about the 10 best dutch oven for camping.
Things To Consider When Choosing a Dutch Oven for Camping
Deep Lids With A Rim
A good Dutch oven should have a deep lid with a rim, which allows for the placement of hot coals for even heat distribution. The lid can also function as a skillet. It is important to ensure that the lid fits tightly to form an airtight seal.
Dutch Oven Legs
Dutch ovens with legs provide options for cooking over coals, on a tripod, or a grill. However, some people find the legs unnecessary and may choose to remove them for certain cooking methods.
Different materials are used to make Dutch ovens, each with its own pros and cons. Cast iron Dutch ovens are known for their even heat distribution and durability, although they can be heavy and susceptible to rust. It's important to choose high-quality cast iron. Other materials used include aluminum and ceramic.
Aluminium Dutch ovens are very light weight and won't rust but do not distribute the heat as evenly.

Ceramic dutch oven are more typically used in the home and are not suited to camp life.

Dutch ovens with an enamel finish should be avoided as this will tend to flake off with repeated use over the campfire.
Size
When choosing a Dutch oven, size is an important factor to consider based on your specific needs. For large group cooking, a 9-liter (9.5-quart) Dutch oven is recommended, while a 5.7-liter (6-quart) size is suitable for families or couples. Solo backpackers may opt for a smaller 2-liter (2-quart) Dutch oven. Nick and I personally use a 6-liter Dutch oven because, well, seconds are always welcome!
Shape
The shape of the Dutch oven can also influence your choice. Deep Dutch ovens are ideal for one-pot meals and roasts, while shallower ones are better for baking bread or cakes. Additionally, Dutch ovens typically come with a flat bottom for placement on a grill or stove, but some have a rounded bottom, which is more suitable for cooking large cuts of meat but may not sit on the grill or stove.
Metal Loop Handle
A metal loop handle is an essential feature for a campfire Dutch oven, as it provides a safe way to handle the pot. It is especially useful when using a tripod for cooking over a campfire.
Best dutch oven for camping
The cast iron Dutch oven I'm referring to is a personal favorite for camping. It stands out for its affordable price, sturdy construction, and smart design. One of its notable features is the lid, which can be used as a convenient side skillet when flipped upside down.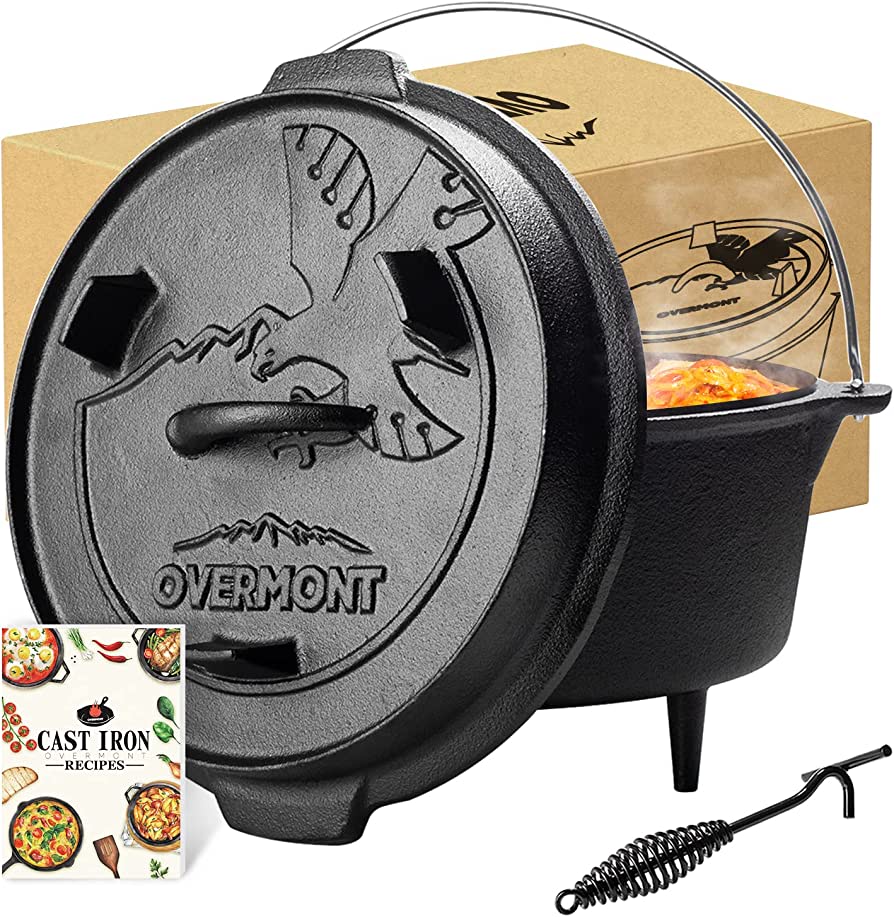 In my family, we use this Dutch oven frequently and are consistently impressed by its performance. It's a reliable and versatile choice, offering excellent value for the price.
This Dutch oven is designed to hang effortlessly from a camping tripod, and its legs allow for direct placement into a bed of coals. For smaller households or couples, the Overmont also offers a 4-quart size option that is just right.
Lodge is a renowned brand when it comes to cast iron, especially among campers. Their pre-seasoned cast iron Dutch oven, with a generous 5-quart capacity, is perfect for preparing campfire favorites like stews, casseroles, and smaller roasts.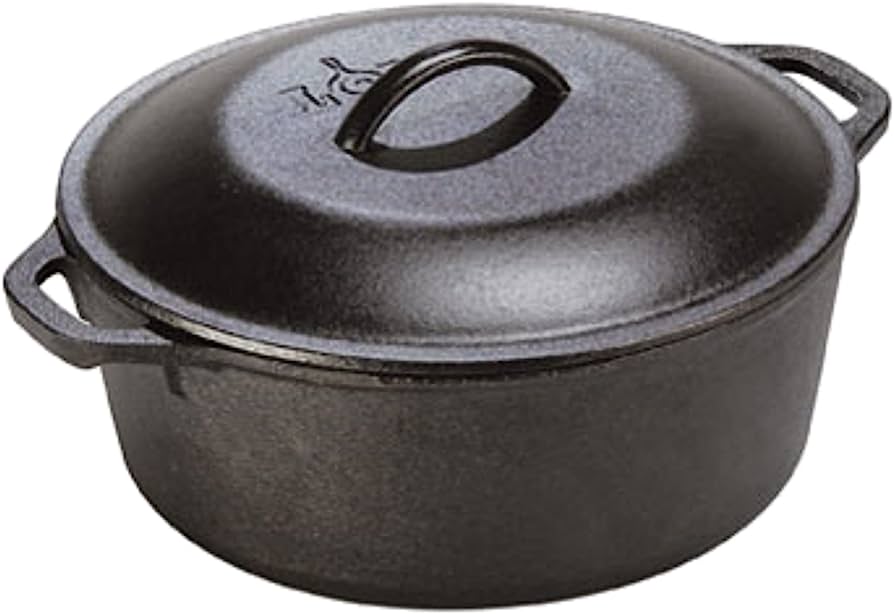 Featuring a sturdy lid with internal studs for even condensation distribution and an ergonomic bail handle for easier lifting, this Dutch oven is designed for convenience. Despite weighing 13.49 pounds, the handle ensures a comfortable grip.
With a temperature rating of up to 400 degrees, you can use this Dutch oven on propane burners, directly over the campfire, or on hot coals. Its size also allows it to fit into standard ovens, providing versatility beyond camping adventures.
Perfect for group camping trips, this 8-quart Dutch oven provides ample space to prepare satisfying meals for your family or friends. Its sturdy design features 3 integral legs for enhanced stability, allowing it to sit securely on hot coals. Withstanding temperatures up to 400 degrees, it's built to handle the heat of the campfire.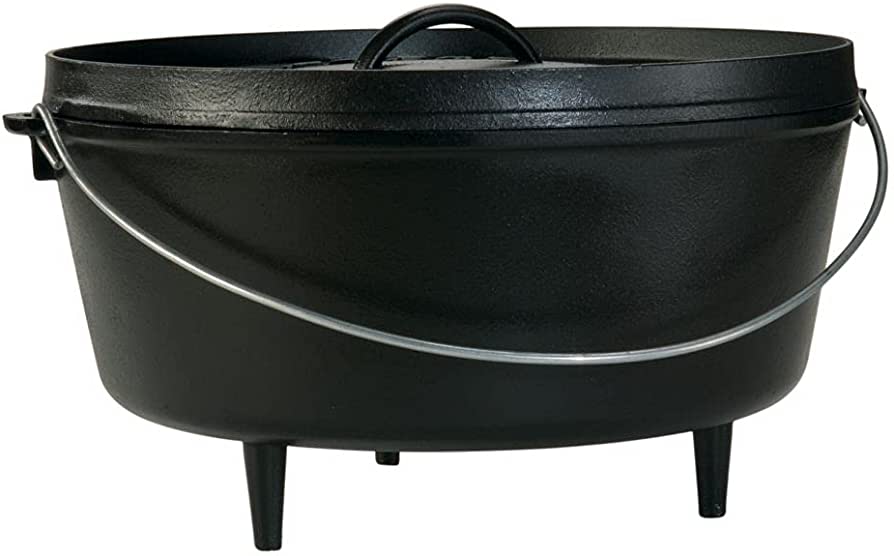 The flanged and fitted lid is a practical addition, enabling you to cook with coals on top without worrying about ashes in your food. And when you're craving a hearty breakfast, simply flip the lid over to transform it into a convenient griddle for sizzling bacon and eggs.
To make your camp cooking experience even more enjoyable, this Lodge cast iron Dutch oven comes pre-seasoned for easy use. It even includes a cookbook, providing you with inspiration and recipes for creating delicious campfire classics.
For those seeking a more compact Dutch oven, especially suited for smaller camp groups or specialized cooking needs like bread baking or desserts, this pre-seasoned cast iron Dutch oven fits the bill perfectly. With its simple and round design, it features a lid handle and two handles on the pot's side for easy handling.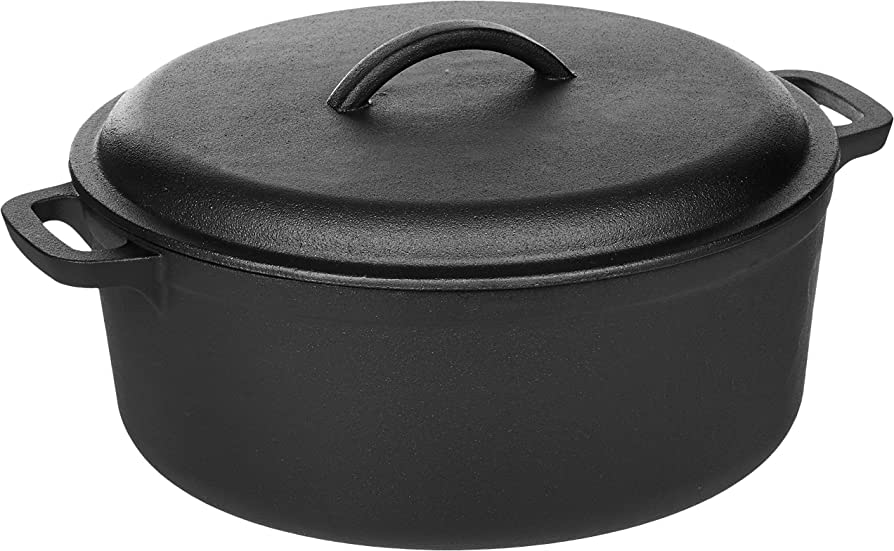 With a 2-quart capacity, it's ideal for cooking meals for 1 to 3 people, making it convenient and efficient. Weighing just 5.49 pounds, it's the lightest option on our list, ensuring easy transportation and packing.
Rated for temperatures up to 500 degrees, this Dutch oven allows you to enjoy a wide range of camp favorites, including stews, casseroles, cobblers, and more. Its versatility and compact size make it a valuable addition to your camping gear.
If you prefer a smooth cast iron surface, this 6-quart Dutch oven is an excellent choice for your camping adventures. Weighing 17 pounds and measuring 12 x 6.8 inches, it offers a generous capacity for your camp cooking needs.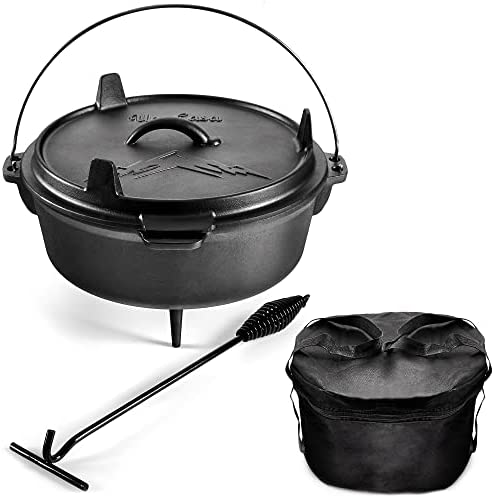 Featuring a flanged lid that serves as a versatile shallow skillet, this Dutch oven provides multi-functionality. The lid is equipped with a handle and three legs for stability when used as a skillet, while the pot itself comes with a handle and three extra-long legs for secure placement in coals.
In addition to its impressive features, this Dutch oven also includes some valuable extras. It comes with a convenient tote bag for easy carrying, a lid lifter for safe handling, and a downloadable recipe book to inspire your culinary creativity around the campfire.
For those who appreciate a little extra convenience, a Dutch oven with a thermometer notch is a fantastic choice. It's a bonus feature that comes in handy when precision cooking is required or if you have a budding chef in your camp group.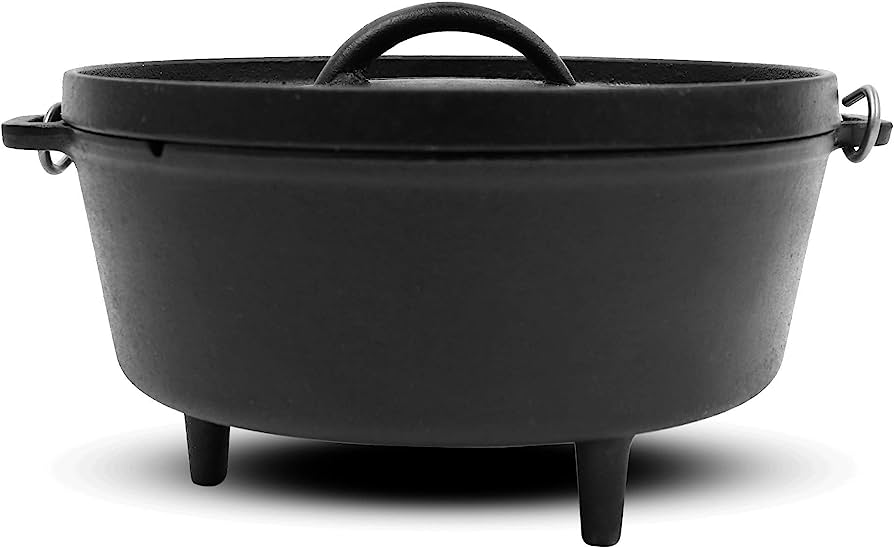 Designed with built-in side handles and an additional stainless-steel handle, this Dutch oven is easy to hang over the fire. With a 4-quart capacity, it can prepare hearty meals for up to 4 campers, ensuring everyone is well-fed.
The flanged lid fits securely to keep coals balanced on top, and it can be inverted to function as a griddle on its own. Crafted from high-quality cast iron, this Dutch oven provides excellent heat retention and distribution, ensuring your favorite camp stews, roasts, or cakes are cooked to perfection.
For those who appreciate the timeless simplicity of a classic Dutch oven, this quality cast iron option is a perfect choice. It boasts a straightforward design that gets the job done effectively.
Featuring a thermometer notch, side handles, a lid handle, a sturdy metal bail handle, and a flanged lid for stacking coals, this Dutch oven offers all the essential features without any unnecessary frills.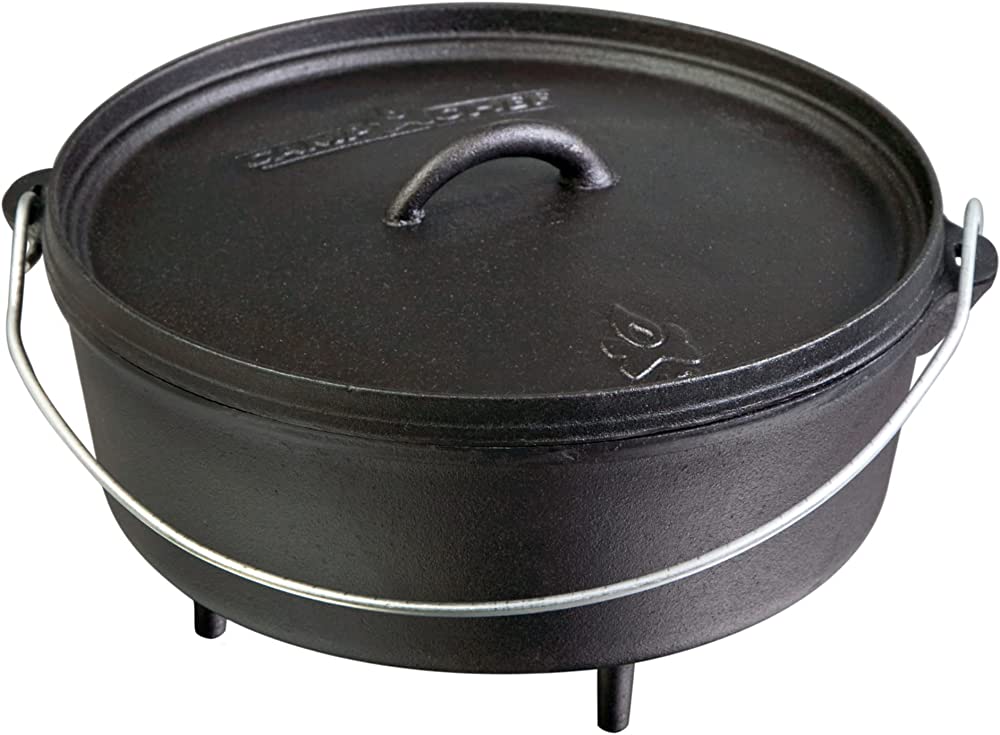 With a temperature rating of 350 degrees, it can withstand open fires with ease. Its 4-quart capacity makes it ideal for sharing a delicious meal with a group of friends at the campground. Plus, it comes pre-seasoned for convenient, ready-to-use cooking right out of the box.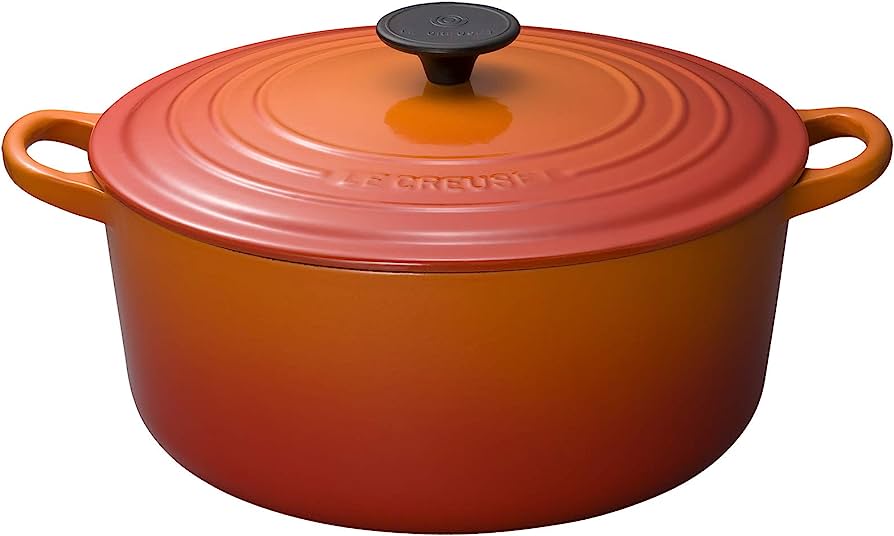 The Le Creuset Signature Enameled Cast-Iron 5½-Quart Round French Oven sets the benchmark for Dutch ovens. Renowned for its enduring coating, this Dutch oven boasts the perfect size for most recipes and features generously spacious handles, surpassing all other Dutch ovens in our tests. Notably, it weighs less than competing models, and the lid handle is effortlessly graspable with a towel or pot holder. Throughout extensive testing, we've received fewer complaints about enamel chipping on Le Creuset ovens compared to other brands. While the higher price may be a significant investment, it is well worth it for those seeking a cherished culinary heirloom. However, for those who do not require the prestige, the Lodge Dutch oven performs just as admirably.

Introducing the remarkable Dutch oven, crafted from a cutting-edge material that epitomizes both performance and efficiency. This culinary masterpiece weighs a mere one-third of traditional pots, granting you effortless portability and maneuverability without compromising its unparalleled cooking capabilities. Its non-porous anodized surface ensures a seamless culinary experience, preventing food from stubbornly sticking and guaranteeing flawlessly prepared meals every time.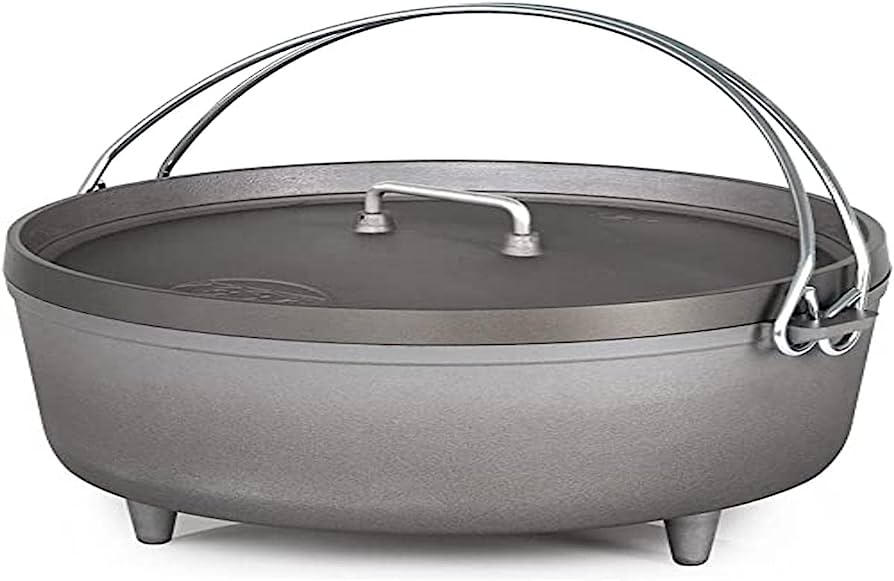 Constructed from robust and highly conductive cast aluminum, this Dutch oven swiftly and evenly heats up, surpassing the limitations of rust-prone cast iron. Bid farewell to the arduous task of scrubbing away burnt residue or the time-consuming process of pre-seasoning.
Whether you are an avid outdoor enthusiast or simply seeking to elevate your backyard BBQs, this Dutch oven stands as the quintessential tool to take your culinary endeavors to new heights. Say goodbye to cumbersome and weighty pots that hinder your mobility!
This specific model boasts dimensions of 13.4 x 13 x 6.6 inches and a feather-light weight of 7 lbs 14 oz, embodying the perfect balance between convenience and exceptional performance.
Presenting this impeccably crafted Dutch oven, boasting thick walls and unparalleled quality. Weighing an impressive 19 pounds, this culinary masterpiece caters to large gatherings and ensures a memorable dining experience. It offers the unique advantage of being designed without legs, allowing for seamless usage on a camping grate, while also making it suitable for your home oven.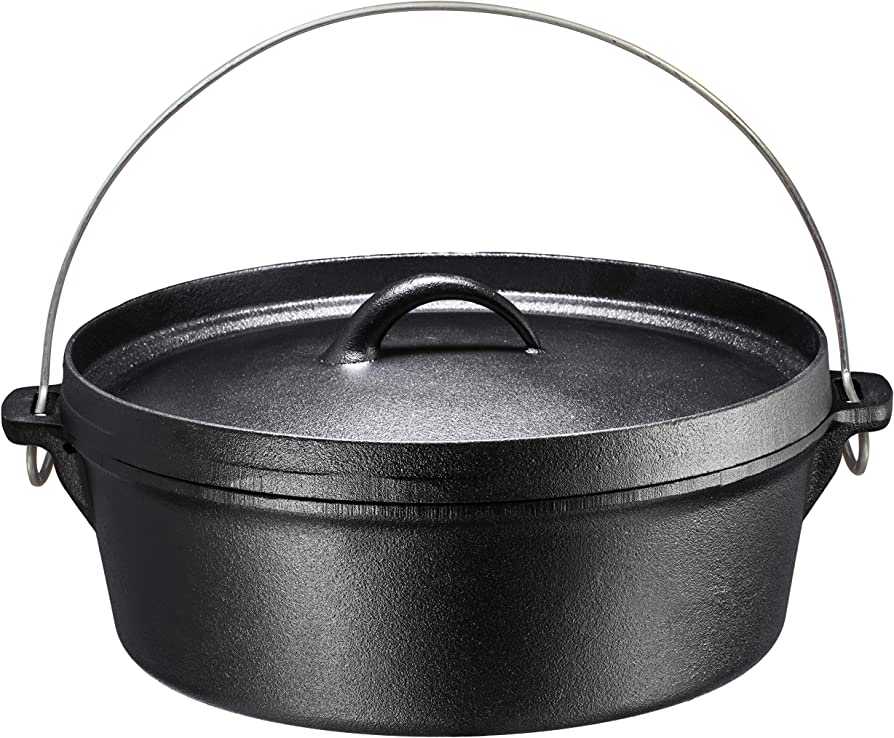 Though it may be hefty, its exceptional heat retention ensures that your delectable creations remain piping hot on the table for extended periods. If you have a sizeable family, this pot is undoubtedly a perfect match for your culinary needs!
Hailing from the esteemed Bruntmore brand, this Dutch oven embodies reliability and longevity. With proper care, it will accompany you throughout a lifetime of cooking adventures, further enhancing its performance with each successive use.
FAQs about Dutch oven for camping
Q: What is a Dutch oven?
A: A Dutch oven is a thick-walled cooking pot with a tight-fitting lid. It is commonly made of cast iron and is known for its versatility and ability to distribute heat evenly.
Q: Why is a Dutch oven suitable for camping?
A: Dutch ovens are popular for camping due to their durability, heat retention, and ability to cook a wide range of meals. They can be used over open fires, charcoal, or camp stoves, making them ideal for outdoor cooking.
Q: What size Dutch oven should I choose for camping?
A: The size of the Dutch oven depends on your specific needs. For larger groups, a 9-12 quart Dutch oven is recommended. For smaller families or couples, a 4-6 quart size is generally sufficient. Consider the number of people you'll be cooking for when selecting the size.
Q: Do I need to season a cast iron Dutch oven before using it for camping?
A: Most cast iron Dutch ovens come pre-seasoned, which means they have a protective layer of oil baked into the surface. However, it's a good idea to check the manufacturer's instructions to ensure proper seasoning and maintenance.
Q: Can I use a Dutch oven over an open fire?
A: Yes, Dutch ovens are designed to be used over open fires. They can withstand high temperatures and distribute heat evenly, making them suitable for campfire cooking.
Q: How do I clean and maintain a Dutch oven while camping?
A: After each use, allow the Dutch oven to cool down. Avoid using soap or harsh detergents, as they can strip the seasoning. Instead, use a brush or scraper to remove any food residue, and rinse with hot water. Dry the Dutch oven thoroughly and apply a light coat of oil to protect it from rust.
Q: Can I use a Dutch oven for baking bread or desserts while camping?
A: Yes, Dutch ovens are excellent for baking bread, cakes, cobblers, and other desserts. The even heat distribution and tight-fitting lid create a conducive environment for baking delicious treats in outdoor settings.
Q: Are there any accessories that can enhance my Dutch oven cooking experience?
A: Yes, there are various accessories available, such as lid lifters, trivets, gloves, and camping tripods. These accessories can make handling the Dutch oven easier and provide additional cooking options.
Q: Can I use a Dutch oven for cooking on a camp stove?
A: Yes, Dutch ovens are compatible with camp stoves. Just ensure that the stove's heat source is suitable for the size and weight of the Dutch oven to prevent any stability issues.
Q: Are there any safety precautions I should take when using a Dutch oven for camping?
A: When cooking with a Dutch oven, always use heat-resistant gloves or oven mitts to protect your hands from burns. Be cautious when handling hot coals and ensure the cooking area is clear of any flammable materials. Also, remember to follow proper fire safety guidelines when cooking over an open fire.