Hearty Dutch Oven Beet and Carrot Stew is a comforting and nutritious dish that is perfect for cooler weather. This flavorful stew is made with a variety of root vegetables, including beets and carrots, which are slow-cooked to perfection in a Dutch oven. The result is a deliciously tender and flavorful stew that is both satisfying and healthy. The stew can be customized to suit different tastes by adding spices or adjusting the sweetness level. It can be enjoyed on its own or served with bread, rice or potatoes for a complete meal.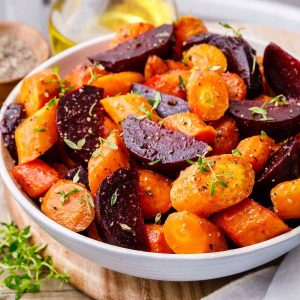 Beets and Carrots
Looking to make a delicious and filling Dutch breakfast? Look no further! We have all the information you need to make crispy potato skins using traditional techniques. Learn how to layer the filling, fry the potatoes to perfection, and get creative with toppings. Let's get started!
Ingredients
4

carrots whole

4

sliced young beetroots

¼

tsp.

Black pepper

1

tsp.

Olive oil

¼

tsp.

Salt

1

tbsps.

Lemon juice
Instructions
Preheat dutch oven to a temperature of 400°f (200°c.

Transfer beetroots and carrots to dutch oven basket and sprinkle salt and pepper. Drizzle olive oil and toss to combine.

Leave to cook for 12 minutes. Shake the basket of fryer after halftime. Remove from the dutch oven and drizzle lemon juice. Serve and enjoy!
Notes
Nutrition: Calories: 71 Protein: 92g Fat: 43g Carbs: 106g
Nutrition
Serving:
1
serving
Calories:
71
kcal
Frequently asked questions about the Beet and Carrot Stew recipe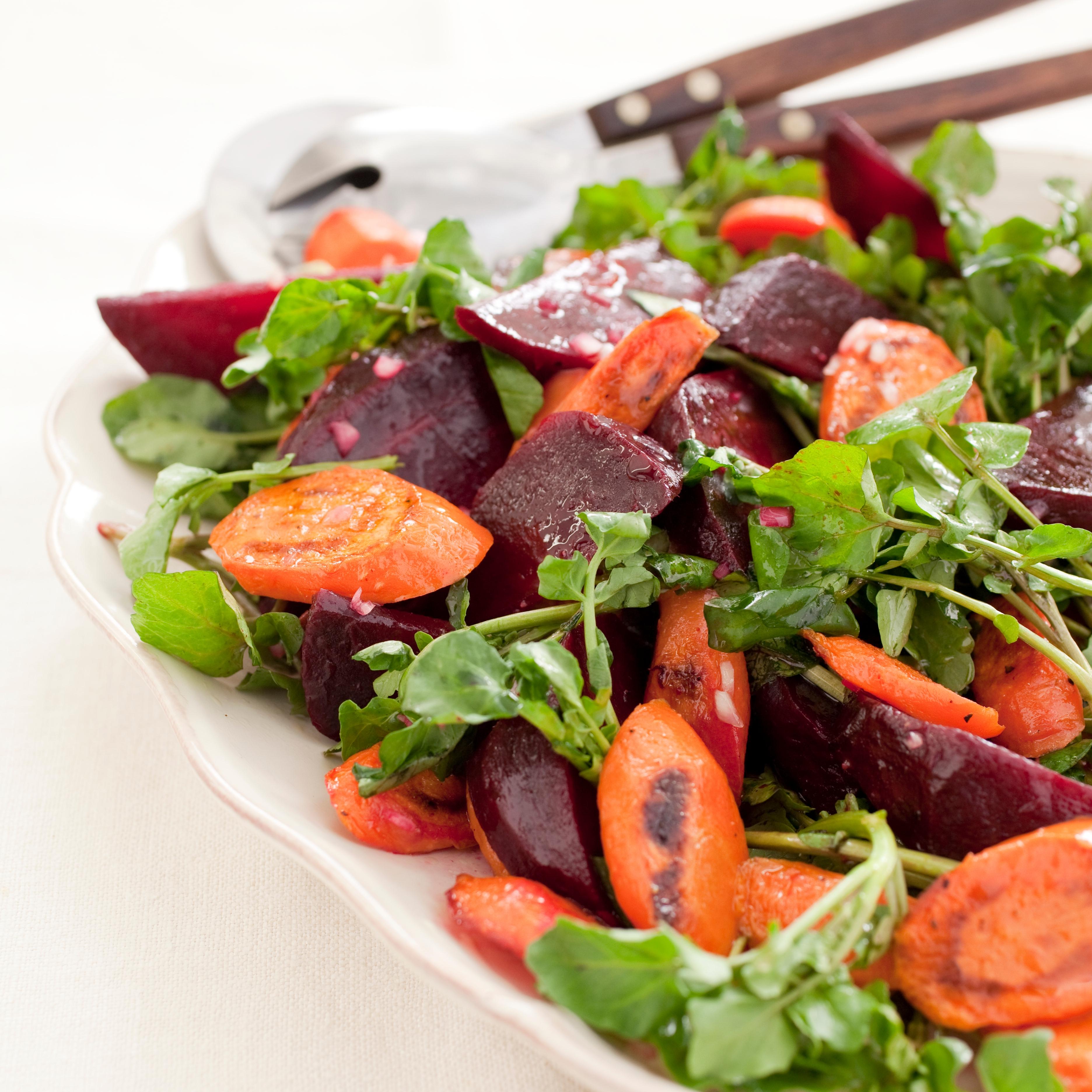 Here are some frequently asked questions (FAQs) about the Beet and Carrot Stew recipe:
Q: Can I use other vegetables instead of beets and carrots?
A: Yes, this recipe is quite versatile and can accommodate a variety of root vegetables, such as parsnips, turnips, sweet potatoes, and potatoes.
Q: Can I make this stew in a regular pot instead of a Dutch oven?
A: Yes, you can make this stew in a regular pot, but you may need to adjust the cooking time and temperature. A Dutch oven is preferred because it allows the stew to cook evenly and develop a deeper flavor.
Q: How do I store leftover Beet and Carrot Stew?
A: Allow the stew to cool completely before storing it in an airtight container in the refrigerator for up to 4 days. You can also freeze the stew in a freezer-safe container for up to 3 months.
Q: Can I add meat to the stew?
A: Yes, you can add cooked meat, such as beef or chicken, to the stew for added protein and flavor. Simply add the cooked meat to the stew during the last 10-15 minutes of cooking.
Q: How can I adjust the seasoning to my liking?
A: Feel free to adjust the seasoning to your taste by adding more or less salt, pepper, or herbs. You can also add spices, such as cumin, coriander, or paprika, for a more complex flavor.
Q: Can I make this stew in advance?
A: Yes, you can make this stew in advance and reheat it before serving. In fact, the flavors will deepen and develop over time, making it even more delicious the next day.
Some Tips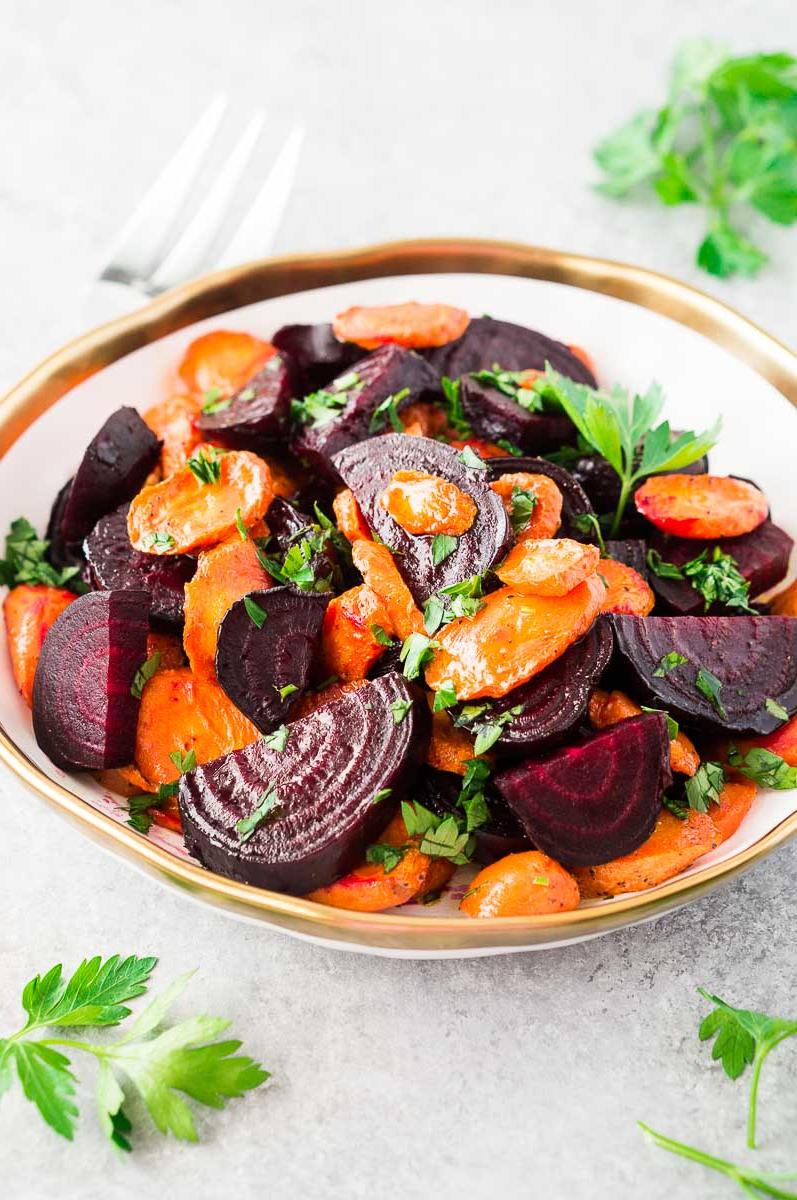 Here are some tips for making the perfect Beet and Carrot Stew:
Use fresh and high-quality ingredients: When making any dish, using fresh and high-quality ingredients is essential for achieving the best flavor and texture. Choose firm and vibrant beets and carrots that are free from any blemishes or soft spots.
Cut the vegetables into even-sized pieces: To ensure that the vegetables cook evenly and at the same rate, it's important to cut them into uniform pieces. Aim for 1-inch cubes or similar sizes.
Sauté the vegetables before adding the liquid: Sautéing the vegetables first allows them to develop a deeper flavor and enhances the overall taste of the stew. Make sure to sauté them until they are slightly caramelized and golden brown.
Use a Dutch oven: Using a Dutch oven allows the stew to cook evenly and at a low temperature, which results in a tender and flavorful dish. If you don't have a Dutch oven, you can use a heavy-bottomed pot or a slow cooker.
Adjust the sweetness level: Beets and carrots are naturally sweet, but you can adjust the sweetness level to your liking by adding a little bit of sugar or honey. Keep in mind that the sweetness will intensify as the stew cooks, so start with a small amount and add more if necessary.
Add herbs and spices: Adding herbs and spices, such as thyme, rosemary, or bay leaves, can enhance the flavor of the stew and add complexity. You can also experiment with different spice blends, such as curry powder or garam masala, for a unique twist.
Serve with crusty bread or grains: Beet and Carrot Stew is a hearty and filling dish that can be served on its own or with crusty bread or grains, such as rice or quinoa. The bread or grains can help soak up the delicious broth and make the dish even more satisfying.
Serving Suggestions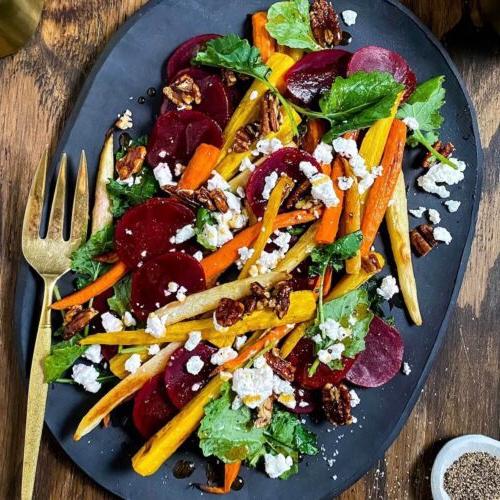 Crusty bread: Serve the Beet and Carrot Stew with a slice of crusty bread to soak up the delicious broth. Sourdough, rye, or whole grain bread are all great options.
Rice or grains: The stew can also be served over cooked rice or grains, such as quinoa or barley, for a more filling meal. The grains can help absorb the broth and add a nice texture.
Salad: To balance out the heartiness of the stew, serve it with a simple green salad dressed with a light vinaigrette. The freshness of the salad can complement the earthy flavors of the stew.
Yogurt or sour cream: A dollop of yogurt or sour cream on top of the stew can add a creamy and tangy element to the dish. You can also sprinkle some chopped herbs, such as parsley or chives, on top for a pop of color.
Crispy bacon: For a meaty and smoky flavor, sprinkle some crispy bacon bits on top of the stew before serving. The bacon can add a nice contrast to the soft and tender vegetables.
Pickled vegetables: If you like a tangy and crunchy element, serve the stew with some pickled vegetables, such as cucumbers or radishes. The pickled vegetables can add a refreshing and zesty flavor to the dish.