The question that often comes to mind is whether you can use a Dutch oven with a smoker. The answer is a resounding yes! With a few tips and tricks, you can even prepare traditional grilled or barbecued foods using this versatile cooking tool.
Having extensive experience in smoking, grilling, open fire cooking, Dutch oven cooking, and BBQing, Hearthcook have compiled a list of the best Dutch ovens for smoker. These ovens are incredibly convenient to use, and many people see them as the future of outdoor cooking.
Let's explore how these convenient cooking tools can come in handy and help you prepare delicious treats effortlessl
How To Choose The Best Dutch Oven for Smoker?
Weight
Dutch ovens are usually heavyweight. It's because they don't compromise with quality. So, if you find an oven that weighs way lighter than the others, maybe it's a substandard product. Although some lightweight products can be really good such as Camp Chef True Seasoned Classic Dutch Oven.
Lid
Another crucial component to look for in an ideal Dutch oven is the lid construction. It must be a great fit over the pan to retain heat and moisture. A slight manufacturing defect on the lid can make your recipe a great failure by not sealing the heat inside.
In fact, without a tight-fitted lid, a cast iron pan cannot guarantee even heat distribution. So, lids are the most important factor to look for.
Size
The size of a cooking pot majorly depends on your demand. Generally, a 14-inch oven with 8 Quart capacity is the standard size. It can cook for 14-18 guests approximately at a time.
If you need smaller pans, go for the ones with 4-6 Quart capacity. And for larger pans, a 12 Quart Dutch oven with 16-inch depth is highly suggested.
Material
Usually, three types of materials are used in forming a Dutch oven- cast iron, aluminum, and enameled cast iron. Among them, cast iron cooking pots are the most convenient ones as they last longer, retain high heat, and provide a non-stick surface.  However, aluminum ones are lighter than their cast iron counterparts. But they don't last that long.  And enameled cast iron is very expensive. Moreover, it cannot withstand high temperatures like the bare cast iron pans.
So, all things considered, cast iron ovens are the race winner. And thankfully, our top five picks are made of high-quality cast iron.
The Best Dutch Oven for Smoker
Top Features
Features loop handles
5 Quarts cooking capacity
500° F high-temperature range
Pre-seasoned cast iron cooking pot
Unbeatable heat retention capability
Includes seasoning spray, pan scraper, and silicone handle holder
Perfect Sizing
To be honest, it's a cute little oven that perfectly fits your needs. The depth of this 5-quart pot is 6-¼" with the lid and 4-½" without it.
Speaking of the handle-to-handle width, it provides a spacious 12-⅝". Moreover, you can also use the lid as a 10.25-inch skillet. That's definitely an unbeatable feature for any oven out there!
With a diameter of 10 inches and an overall depth of 5 inches, the double Dutch oven is perfect for efficiently cooking meals for a small family. Additionally, its perfect shape and size make it a great gift item for your neighbors or anyone else.
Lasts a Lifetime
Living up to Lodge's expectations, this oven lasts a lifetime if properly cared for. Being pre-seasoned, it offers ultimate durability with premium cast iron material.
Lodge is the most reliable name in Dutch oven manufacturing, and they prove it once again with this top-grade oven.
By sourcing the finest raw materials, the manufacturers pre-seasoned each piece, resulting in a caramelized surface that can withstand high temperatures.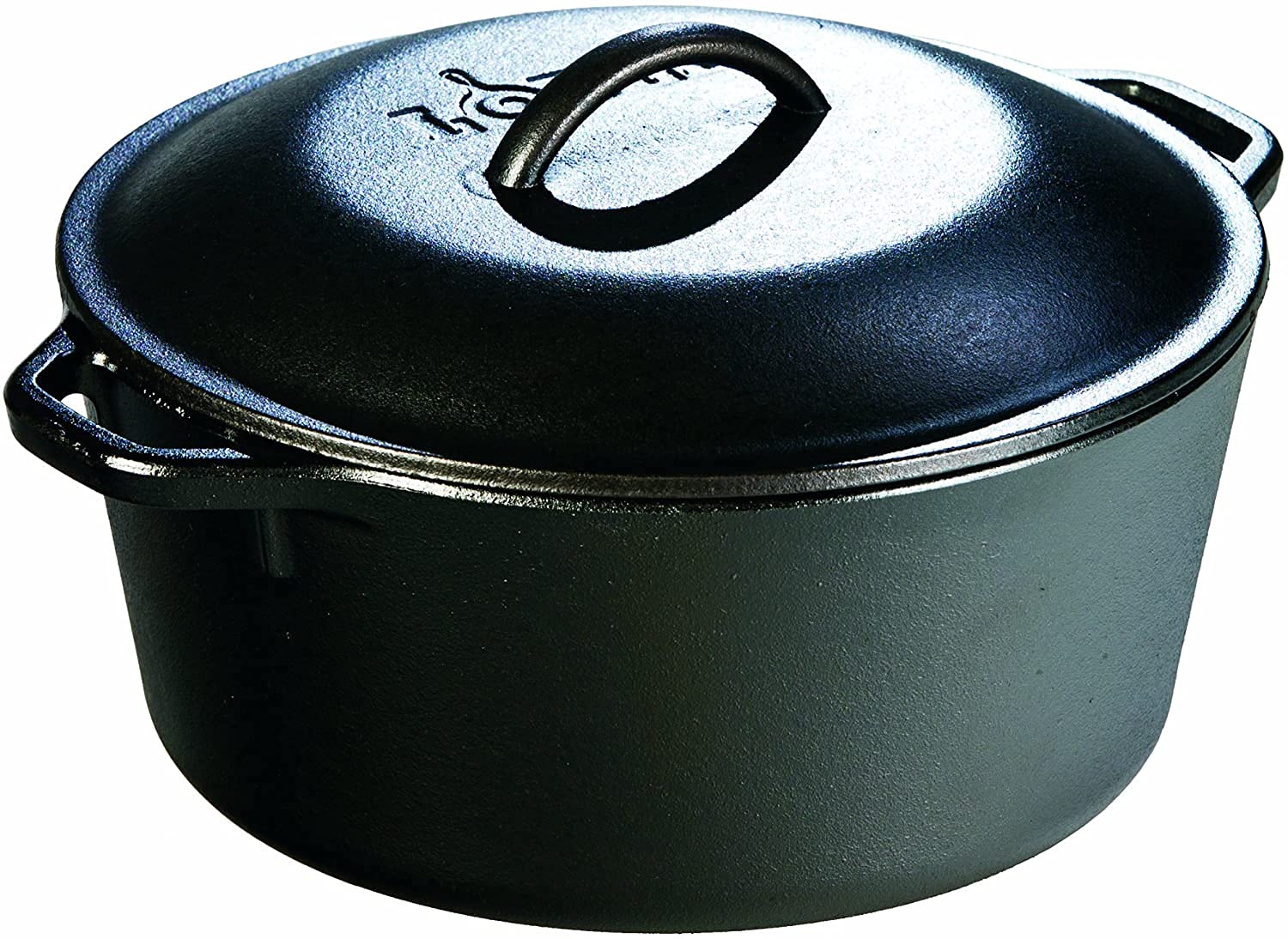 Versatile Cooking Range
You might be wondering how versatile this cooking pot is. Can you cook your favorite dishes in it? Can you use it with different cooktops?
Absolutely! This small yet sturdy pot is so convenient that you can use it with smokers, campfires, grills, induction systems, and more.
When it comes to recipes, whether it's roasting, frying, sautéing, searing, grilling, BBQing, or anything else, this double Dutch oven won't ever disappoint you.
You can even try making stews or curries with the perfect consistency. Yes, in addition to baking bread, this oven allows you to enjoy hundreds of other traditional recipes with ease.
Easy to Use
As mentioned earlier, it comes with two loop handles. This makes it a great purchase for those who find it difficult to use ovens on a smoker.
Using such ovens directly on smokers can be risky, but the handles make it easy and effortless to carry the cooking pot conveniently.
Moreover, the legs of this double Dutch oven are big enough to sit on the coals easily. Additionally, the lid can be used as a non-stick frying pan.
Do you think any other pot will provide you with such benefits? I don't think so! So, hurry up and add this amazing accessory to your cooking arsenal!
Pros
Sturdy architecture
Matchless heat holding capacity
Cooking gets better with every use
Entirely pre-seasoned to last longer
The lid offers a non-stick frying service
Cons
Initially, food gets brownish due to the seasoning
Top Features
Quick and easy cleanup
2 in 1 heavy duty camping oven
5 Quart cast iron cooking surface
Even heating with efficient cooking
Suitable for indoor and outdoor use
Takes care of a wide range of recipes
Ease of Use
Gone are the days of struggling with heavy cooking tools. Bruntmor has put an end to that struggle by designing a convenient cooking pot that prioritizes ease of use.
First and foremost, it features a sleek finish that allows for hassle-free cooking. This means you can effortlessly prepare meals for your dinner guests without any unnecessary complications.
Furthermore, the pot is equipped with two handles that have holes for easy carrying. Additionally, if your kitchen lacks space, you can conveniently hang it anywhere.
Chemical-Free Cooking
Rest assured, this cooking pot contains no harmful chemicals. You can enjoy 100% safe and natural nutrients that will boost your energy levels.
Thanks to its pre-seasoned surface, the cooking surface is completely non-stick. Say goodbye to struggling with food residue and grease.

Reliable Performance
Bruntmor has carefully crafted this cooking oven using heavy-duty cast iron, ensuring its reliability for a variety of meals. Whether you're baking, grilling, frying, broiling, searing, or braising, this double Dutch oven with its cast iron lid leaves no room for complaints.
Moreover, this pan can withstand extremely high heat in any cooking environment. This unquestionably solidifies its position as a trusted kitchen tool that you should choose without hesitation.
Flavorful Foods
With a cooking capacity of 5 quarts, this double Dutch cooking pot is an excellent tool for preparing delicious meals. Whether it's meats, veggies, seafood, or sausage, it evenly cooks all types of food while retaining heat.
Furthermore, it preserves the moisture in your food, ensuring it doesn't dry out. This helps maintain the perfect juicy flavor, whether you're cooking soups or stews. Every dish you prepare will be bursting with savory goodness.
Compatibility
Best of all, this premium cooking tool is highly compatible with all types of heat sources. Whether you're using a stove, smoker, grill, induction cooktop, or even an open campfire, this pot can handle it all.
Moreover, it is safe to use with various grill types, including pellet grills, electric grills, gas grills, or charcoal grills.
This wide range of compatibility makes this cooking oven one of the best Dutch ovens for smokers, and it's definitely worth giving it a try.
Pros
An affordable kitchen tool
Very easy to clean and maintain
The lid works as a skillet as well
Compatible with any heat source
High-quality oven with premium performance
Cons
Requires a thorough scrubbing while cleaning
Needs proper reseasoning before the first use
In fourth place, we have another exceptional Dutch oven from Lodge, the renowned manufacturer of cast iron ovens.
This specific model is a deep camp Dutch oven, specifically designed for outdoor cooking. Just like any other Lodge cookware, it comes with a cookbook that provides detailed cooking tips.
As many of you are aware, Lodge has been in the business since 1896. Throughout the years, they have dominated the cookware industry by producing exceptional products. Rest assured, this 8-quart cooking pan lives up to the high standards that Lodge has set.
Top Features
Non-stick finish
Includes a cookbook
No synthetic chemicals added
Properly seasoned to last longer
Premium quality cast iron material
Deep camp Dutch oven with 8 Quart capacity
One of the standout features of this Dutch pan is its three integral legs, which keep it stable over hot coals. This allows you to cook your meals consistently over a steady heat flow, ensuring even heating without temperature fluctuations.
Cleaning this pan is a breeze thanks to its non-stick surface. Simply use water and a brush to scrub the surface, and then ensure it is thoroughly dried. Since it is constructed with heavy-duty cast iron, proper seasoning after each wash is essential to maintain its longevity. Use natural vegetable oil for seasoning, and with each re-oiling, the pan will improve.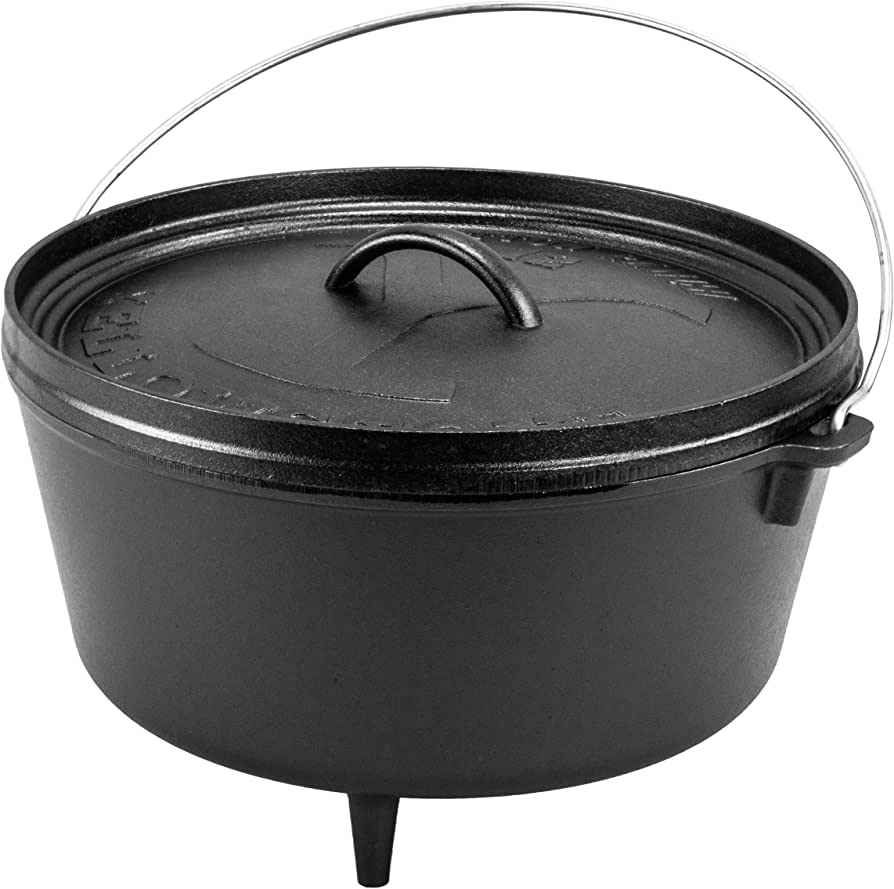 It's worth noting that while this cookware may be slightly more expensive compared to cheaper alternatives, it is the original Lodge oven made in the USA. As a result, it is meticulously crafted with premium materials and heavily pre-seasoned with a non-stick finish. No synthetic chemicals are used in its production—only 100% natural vegetable oil for seasoning. In other words, Lodge designed this product to last, so investing in quality cookware now will provide you with years of convenience.
The versatile lid of this Dutch oven is another highlight. It offers great flexibility, allowing you to use it as a griddle when needed. Additionally, it can hold hot coals, providing a convenient cooking method. This sets the oven apart from others, as it can maintain high heat for longer durations. Whether you're searing meats or baking biscuits, the temperature control offered by this flexible cast iron Dutch oven is truly exceptional.
Pros
Can cook lots of items
Holds heat pretty well
Perfect for heavy camping trips
Even and efficient cooking in any environment
Comes with a detailed cookbook as a guideline
Cons
A bit more expensive
Some customers raised the issue that it cracked too fast
Top Features
Very lightweight construction
Features an inbuilt thermometer notch
A 4 Quart pot with 3.25″ cooking depth
The lid features a loop handle for better portability
Comes with Camp Chef's signature "True Seasoned Finish"
With a 10″ diameter on the inside and a 10.5″ diameter on the outside, this Dutch oven offers a 4-quart volume, allowing you to cook for a maximum of 10-12 people at a time.
As a smaller cooking oven, it provides great convenience. The 3-¼" depth of the cooking surface is suitable for preparing most of your family's favorite recipes.
What sets this beautifully designed cast iron pan apart is its lightweight nature, weighing only 14 lbs. This makes it the easiest Dutch oven to carry from your kitchen to the campfire. Cleaning is also a breeze, as you don't have to struggle with lifting a heavy pan after cooking.
When used outdoors, especially on a campfire, this oven cooks food quickly. The flanged lid can hold hot charcoal briquettes or wood chunks, contributing to faster cooking. Additionally, the lid effectively seals in heat, keeping the food hot even after removing the oven from the campfire.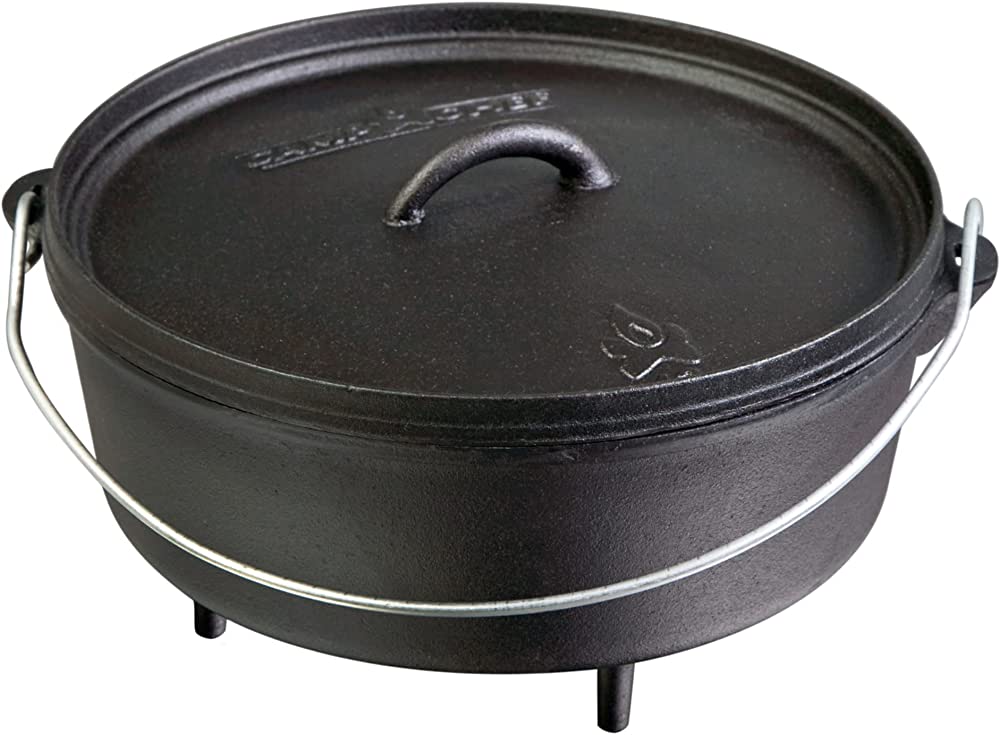 The cast iron pot is superbly seasoned with Camp Chef's "True Seasoned Finish," their signature seasoning technology that sets their cookware apart from the rest. This provides a non-stick cooking surface that is ready to use upon arrival. While it is recommended to re-season the pot each time, doing so will only extend its lifespan.
One of the notable advantages of this Dutch oven is its affordability. It is highly recommended for beginners in outdoor cooking who may not require high-end ovens with numerous features. This 10″ cooking pan can be a valuable addition to their cookware collection. Despite its low cost, it offers many features typically found in more expensive Dutch ovens.
For instance, it features a metal bail handle on the kettle for enhanced portability. The loop handles make it easy to store anywhere. Moreover, the built-in thermometer notch is an innovative add-on that allows for managing the temperature range effectively.
Pros
Very well priced
Natural non-stick surface
Easy cleanup and maintenance
Perfect size for effortless portability
Prepare a versatile range of heartiest meals