Indulge in the irresistible combination of garlic and Parmesan with this flavorful twist on classic French fries. Crispy and golden, these garlic Parmesan French fries are a gourmet snack that will elevate your taste buds to new heights. This easy-to-follow recipe guides you through the process of achieving perfectly seasoned and crispy fries, coated with a delightful blend of garlic and Parmesan cheese.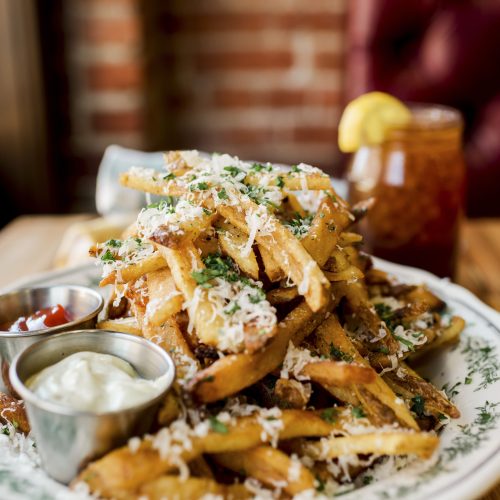 Garlic Parmesan French Fries
This flavorful recipe takes classic French fries to the next level. The combination of garlic, Parmesan cheese, and fresh parsley creates a delicious and slightly decadent taste that your taste buds will love. Enjoy as a snack or a side dish with your favorite entrée.
Ingredients
2

pounds

russet potatoes

2

tbsp

butter

2

cloves garlic

1/4

cup

parmesan

1/4

cup

parsley
Instructions
Peel and cut the potatoes into fries. Soak the potatoes in water, drain, and repeat to remove excess stress.

Pat the fries dry. Add the fries, oil, salt, and pepper to a bag and shake well.

Preheat the fryer to 400 degrees.

Cook it in the dutch oven for 25 minutes, tossing 2 or 3 times.

Toward the end of the cooking time, mince the garlic.

Heat the butter in a pan and sauté garlic

Remove from heat and add salt, pepper, parmesan, and parsley tothe butter stirring well

Combine Fries and butter in a bowl and toss to coat before serving.
Notes
Whether enjoyed as a side dish or a standalone snack, these fries are sure to satisfy your cravings and impress your friends and family. Get ready to upgrade your snacking game with these savory and cheesy garlic Parmesan French fries.
Nutrition
Calories:
313
kcal
Carbohydrates:
36.7
g
Protein:
7.9
g
Fat:
15.8
g
Sodium:
226
mg
Fiber:
5.6
g
Frequently asked questions about garlic Parmesan French fries
Here are some frequently asked questions about garlic Parmesan French fries:
1. Can I use frozen French fries for this recipe?
While it's recommended to use fresh potatoes for the best texture and flavor, you can use frozen French fries as a convenient alternative. However, keep in mind that the final result may differ slightly in terms of texture.
2. How do I achieve crispy French fries?
To achieve crispy French fries, start by soaking the freshly cut potato sticks in cold water for about 30 minutes. This step helps remove excess starch and results in crispier fries. Additionally, make sure to thoroughly dry the potato sticks before frying or baking to prevent excess moisture.
3. Can I bake the garlic Parmesan French fries instead of frying them?
Yes, if you prefer a healthier option, you can bake the garlic Parmesan French fries instead of frying them. Simply toss the dried potato sticks with oil, garlic, and Parmesan, spread them in a single layer on a baking sheet, and bake in a preheated oven until golden and crispy.
4. Can I adjust the amount of garlic and Parmesan cheese in the recipe?
Absolutely! The amount of garlic and Parmesan can be adjusted according to your personal taste preferences. If you're a garlic lover, feel free to increase the amount for a more intense garlic flavor. Similarly, you can add more or less Parmesan cheese to suit your liking.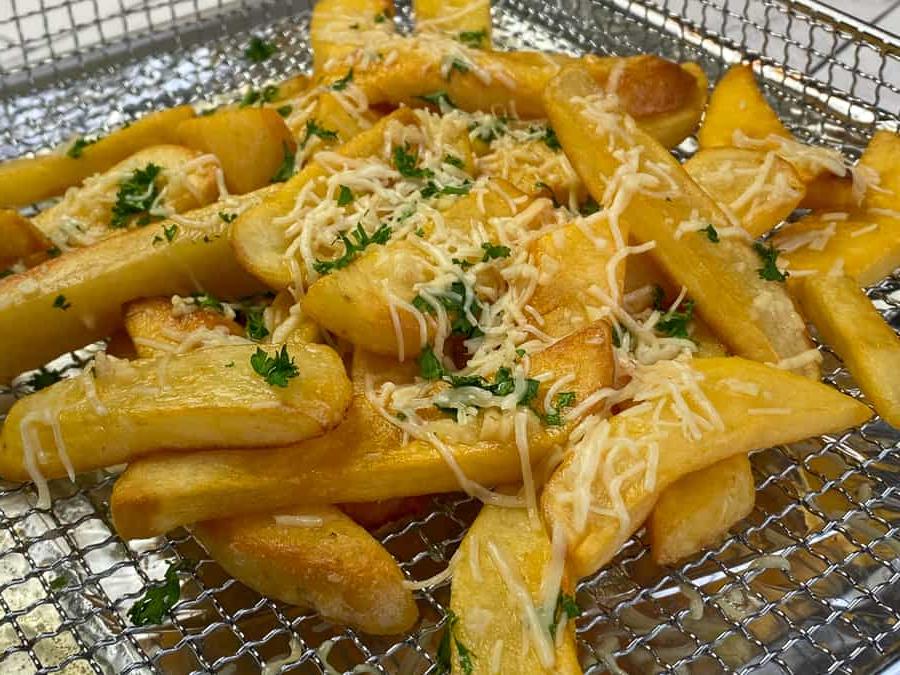 5. Can I use other types of cheese instead of Parmesan?
While Parmesan cheese adds a distinct flavor to the fries, you can certainly experiment with other types of cheese if desired. Grated cheeses like cheddar, Gouda, or a blend of cheeses can be used to create different flavor profiles.
6. How should I store leftover garlic Parmesan French fries?
Leftover garlic Parmesan French fries can be stored in an airtight container in the refrigerator. However, it's worth noting that the fries may lose some of their crispiness upon refrigeration. To reheat, you can place them in a preheated oven or air fryer for a few minutes until they are warmed through.
7. Can I serve these fries with a dipping sauce?
Absolutely! Garlic Parmesan French fries pair well with a variety of dipping sauces. Classic choices include ketchup, mayonnaise, or aioli. You can also experiment with dipping sauces like garlic aioli, ranch dressing, or spicy chipotle sauce for an extra kick.
8. Can I add additional seasonings to the fries?
Yes! Feel free to get creative with additional seasonings to enhance the flavor of the garlic Parmesan French fries. Herbs like parsley, thyme, or rosemary can add a fresh and aromatic touch. Smoked paprika or cayenne pepper can bring a hint of spiciness if desired.
With these FAQs, you'll be well-equipped to create delicious and flavorful garlic Parmesan French fries. Enjoy the irresistible combination of garlic and Parmesan in every crispy bite!
Cooking tips
Here are some tips to help you cook delicious Garlic Parmesan French Fries:
1. Choose the right potatoes: Russet potatoes work best for this recipe because they contain less moisture and are firmer in texture, which makes them perfect for producing crispy fries.
2. Cut the fries evenly: Make sure to cut the fries into even-sized pieces to ensure that they cook evenly.
3. Soak the potatoes: Soaking the potatoes in cold water for about 30 minutes helps to remove excess starch, which will give you crispier French fries.
4. Preheat the oven: Preheat the oven to 400°F (200°C) to ensure that the fries cook evenly and stay crispy.
5. Use high-quality Parmesan cheese: For the best flavor, use high-quality Parmesan cheese and grate it yourself at home.
6. Use a non-stick baking sheet or line it with parchment paper: This will prevent the fries from sticking to the baking sheet.
7. Spread out the fries: Make sure not to overcrowd the baking sheet, as this will result in soggy fries. Spread the fries out in a single layer with enough space between them.
By following these tips, you will end up with perfectly crispy and delicious Garlic Parmesan French Fries. Enjoy!
Serving Suggestions
Here are some serving suggestions for garlic Parmesan French fries:
1. As a Side Dish: Serve garlic Parmesan French fries as a tasty side dish alongside burgers, sandwiches, or grilled meats. They make a perfect accompaniment to a juicy steak or a flavorful chicken dish.
2. Appetizer or Snack: Serve garlic Parmesan French fries as an appetizer or snack at parties or gatherings. Arrange them in a basket or on a platter with toothpicks for easy grabbing. Pair them with a selection of dipping sauces such as ketchup, garlic aioli, or barbecue sauce.
3. Loaded Fries: Take your garlic Parmesan fries to the next level by loading them with delicious toppings. Add crispy bacon bits, green onions, diced tomatoes, and a drizzle of sour cream or ranch dressing for a loaded fries experience.
4. Parmesan Truffle Fries: Elevate the flavor of your garlic Parmesan fries by drizzling them with truffle oil. The earthy aroma and rich taste of truffle oil pair wonderfully with the garlic and Parmesan, creating a gourmet twist.
5. Party Platter: Create a mouthwatering party platter by serving garlic Parmesan fries alongside an assortment of other finger foods. Include items like sliders, chicken wings, onion rings, and vegetable sticks for a diverse and crowd-pleasing spread.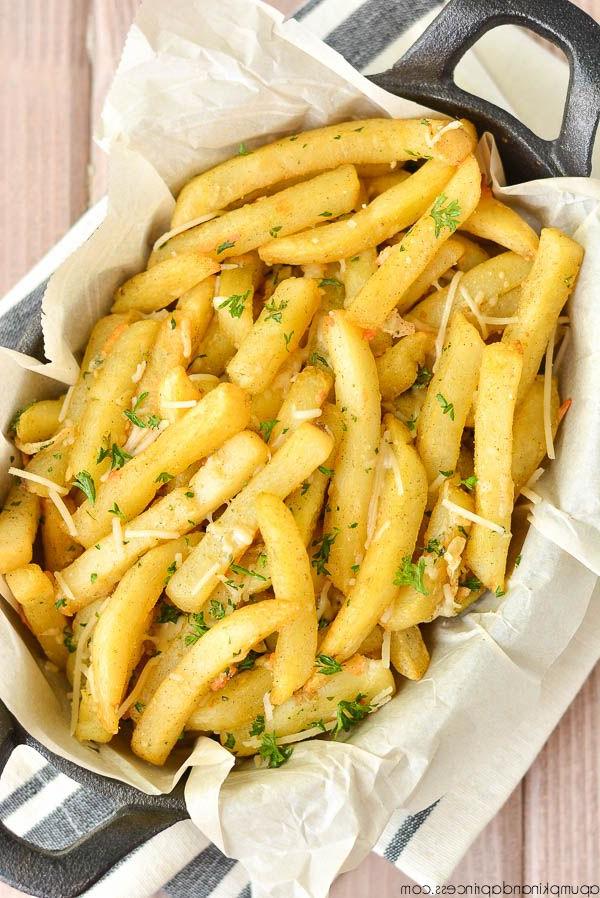 6. Poutine: Give your garlic Parmesan fries a Canadian-inspired twist by turning them into a delicious poutine. Top the fries with cheese curds and smother them in savory gravy for a decadent and comforting treat.
7. Salad Topping: Add an extra crunch and flavor to your favorite salad by using garlic Parmesan fries as a topping. Simply break the fries into smaller pieces and sprinkle them over a bed of fresh greens, along with other salad ingredients like tomatoes, cucumbers, and grilled chicken.
8. Sandwich or Wrap Filling: Take your sandwich or wrap to the next level by adding garlic Parmesan fries as a filling. The combination of the crispy fries, along with your choice of protein, veggies, and condiments, adds a delightful texture and flavor contrast.
Remember to get creative and customize your serving suggestions based on your personal preferences and the occasion. Whether you're enjoying them as a side dish, appetizer, or part of a larger meal, garlic Parmesan French fries are sure to be a crowd-pleaser.