If you're looking for a unique twist on a classic Dutch dish, you're in for a treat with this delicious Heirloom Tomato with Baked Feta. In this blog post, we'll cover everything from FAQs about Heirloom Tomatoes to tips on preparing and layering the baked feta and tomatoes. We'll also provide serving suggestions so you can make the most of this Dutch Delight. So, let's get started!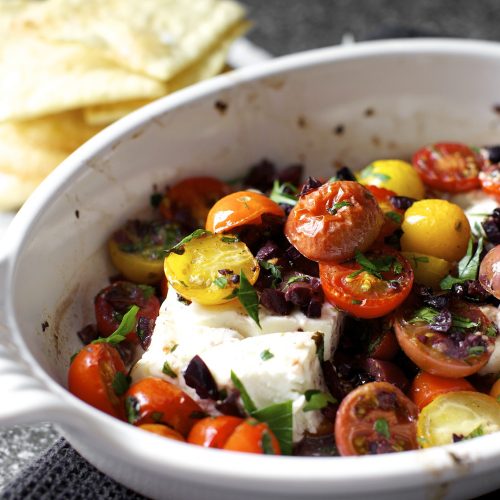 Heirloom Tomato with Baked Feta
Try this delicious Heirloom Tomato with Baked Feta for a unique twist on a classic Dutch dish - click to find out all the tips, FAQs, and serving suggestions you need to make the most of this Dutch Delight!
Ingredients
8

oz.

Feta cheese

Salt

2

heirloom tomatoes

½

cup

sliced red onions

1

tbsp.

Olive oil

For the basil pesto

½

cup

grated parmesan cheese

Salt

½

cup

olive oil

3

tbsps.

Toasted pine nuts

½

cup

chopped basil

1

garlic clove

½

cup

chopped parsley
Instructions
Prepare the pesto.

Put the toasted pine nuts, garlic, salt, basil, and parmesan in a food processor. Process until combined.

Gradually add oil as you mix. Process until everything is blended.

Transfer to a bowl and cover. Refrigerate until ready to use.

Slice the feta and tomato into round slices with half an inch thickness. Use paper towels to pat them dry.

Spread a tbsp. Of pesto on top of each tomato slice.

Top with a slice of feta.

In a small bowl, mix a tbsp. Of olive oil and red onions.

Scoop the mixture on top of the feta layer. Arrange them in the cooking basket. Cook for 14 minutes at 390 f.

Transfer to a platter and add a tbsp. Of basil pesto on top of each.

Sprinkle them with a bit of salt before serving.
Notes
Nutrition: Calories: 493 Fat: 423g Carbs: 61g Protein: 169g
Nutrition
Serving:
1
serving
Calories:
493
kcal
A Dutch Classic With A Sweet Twist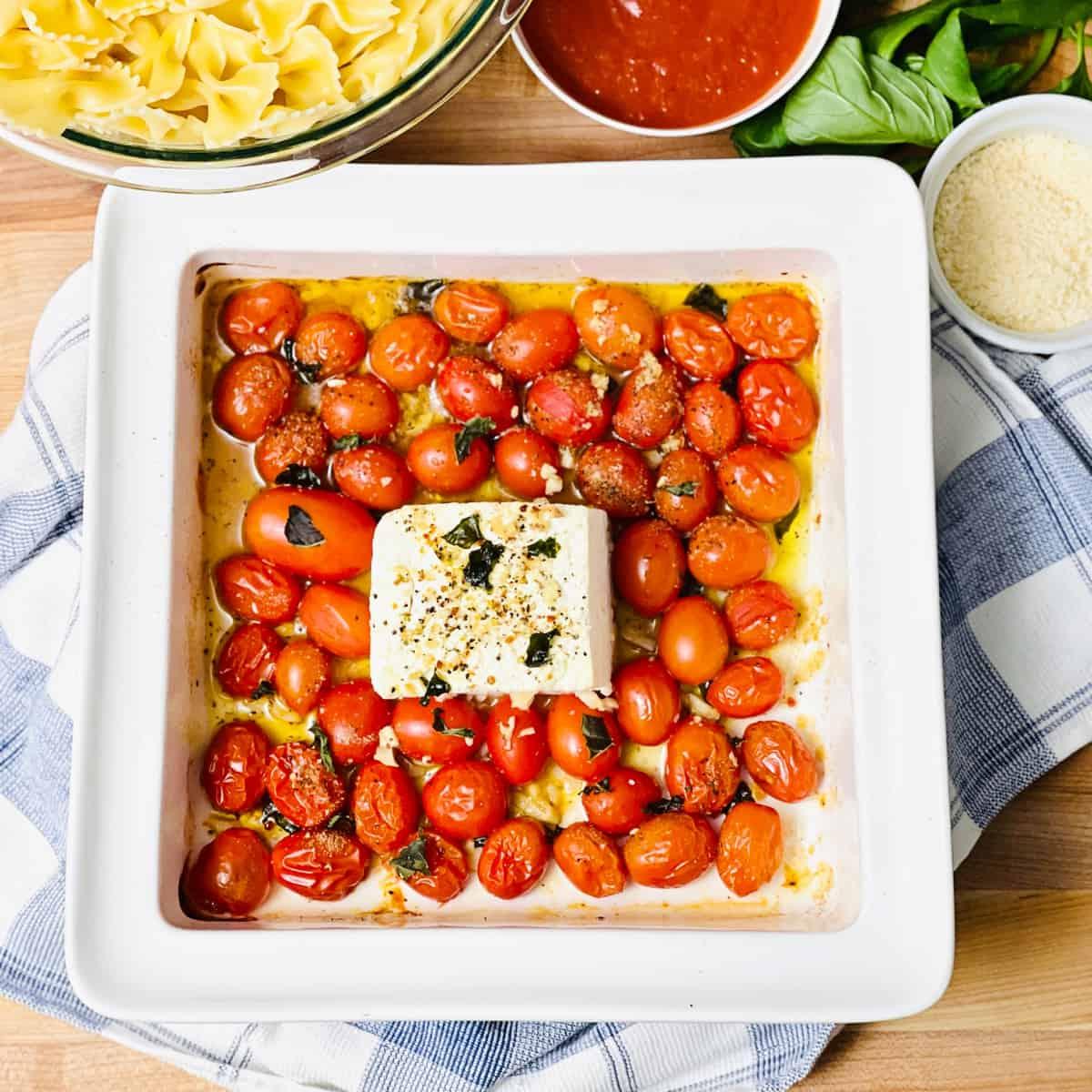 For a delicious twist on a Dutch classic, try making Heirloom Tomato with Baked Feta. This sweet, juicy, and flavorful dish is sure to be a crowd-pleaser! The recipe utilizes fresh heirloom tomatoes for a unique flavor and is easy for anyone to assemble.
First, flavor the feta cheese with your favorite herbs and spices. Baked feta brings out the tangy and salty flavors while adding depth to the dish. Next, layer lightly roasted heirloom tomatoes in an oven-safe pan or baking dish. Use mixed varieties of heirlooms to get a good mix of sweet and savory flavors in each bite. Striped heirlooms are often best as they provide a rich, juicy, and super sweet flavor when cooked.
Once all the ingredients are assembled, drizzle balsamic glaze over the top before popping it into a preheated oven at 375F (190C). Cook for 30-40 minutes until everything is golden brown and bubbling away. Once finished cooking, you'll have a healthy main course meal packed with essential vitamins and minerals that everyone will love. You can also easily prepare this meal for any occasion with minimal effort, but still makes for an impressive looking spread when served up on plates or platters.
If you're looking for an easy yet delicious way to enjoy Heirloom Tomatoes, look no further than Dutch Delight-Heirloom Tomato with Baked Feta! It's ready in just 30-40 minutes, giving you plenty of time to enjoy this classic dish with your friends or family today!
FAQs About Heirloom Tomatoes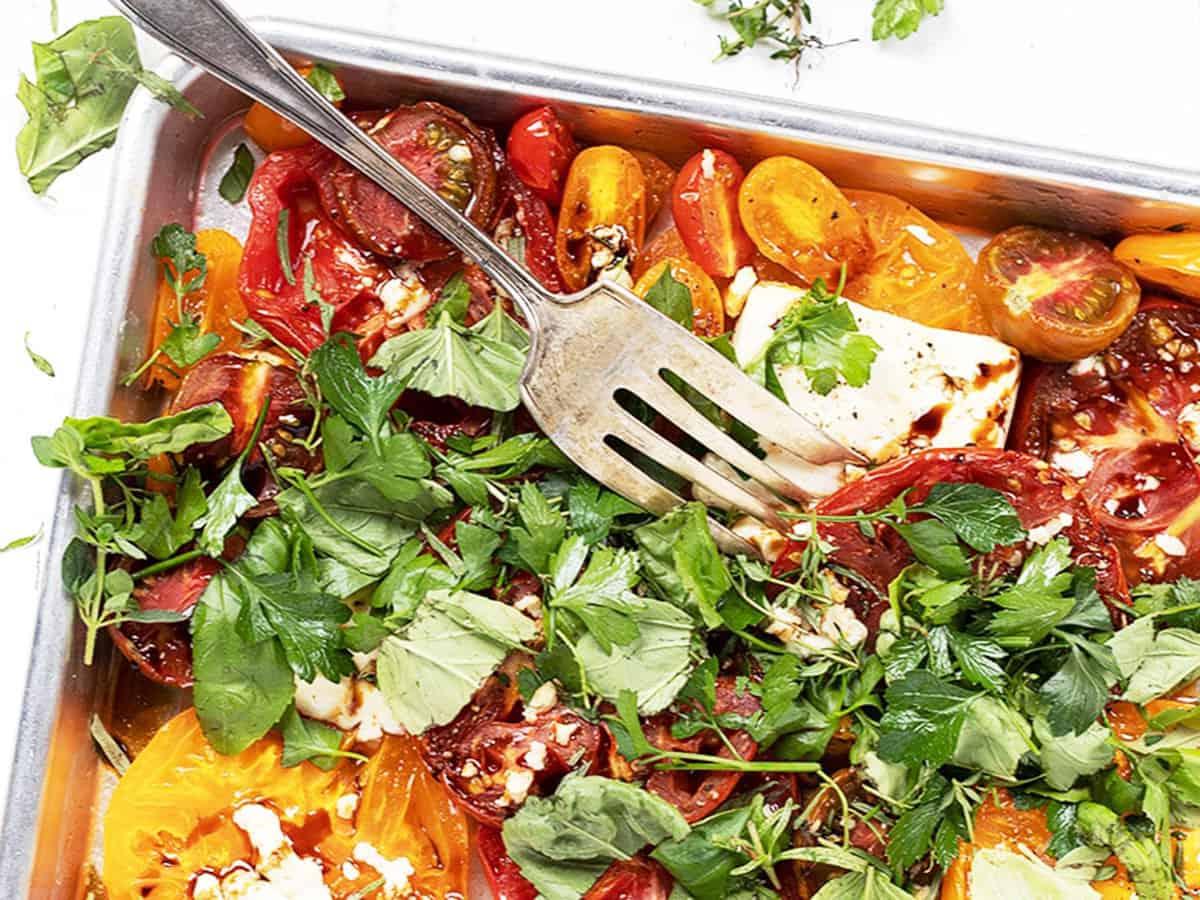 Heirloom tomatoes are a Dutch delicacy that offers a unique flavor to any dish. Many individuals have questions regarding these tomatoes, so below are some frequently asked questions about heirloom tomatoes, as well as a recipe for Baked Feta Heirloom Tomatoes.
Firstly, what are heirloom tomatoes?
Heirloom tomatoes are tomato varieties that have been passed down for generations, available in a range of sizes, shapes, and colors. These tomatoes are renowned for their unique flavors, visually appealing colors, and long history of being passed down through the generations. In contrast to the regular tomatoes found in stores, heirloom tomatoes have a significantly more pronounced taste.
Secondly, how can you tell if an heirloom tomato is ripe?
You can tell if an heirloom tomato is ripe by its color, which should be bright red or yellow, depending on the variety. Additionally, the skin should feel soft when lightly pressed with your fingers, but not too mushy or wrinkly.
Thirdly, what distinguishes heirloom tomatoes from other tomato varieties?
Heirlooms tend to be more flavorsome than regular supermarket varieties as they are not bred for shelf life but flavor and aroma. They also tend to be more vulnerable to rot or disease than regular supermarket varieties, as they contain fewer preservatives than store-bought tomatoes.
Fourthly, what are the nutritional benefits of eating heirloom tomatoes?
Eating an abundance of fresh vegetables has numerous health benefits, including vitamins A & C, which help to support vision health, vitamin K, which helps bone health, potassium, which helps regulate blood pressure, folate, which helps produce new cells, dietary fiber, which aids digestion, and antioxidants such as lycopene, which may help protect against certain cancers. All of these nutritional benefits can be found in one delicious bite of an heirloom tomato!
Fifthly, how do you store heirloom tomatoes for maximum freshness?
The best way to store heirloom tomatoes is at room temperature, away from direct sunlight, until you are ready to use them as refrigeration causes them to lose flavor quickly, even faster than other types of fruit! If you need your stored heirlooms sooner rather than later, keep them stored in a cool, dry place such as your refrigerator's vegetable drawer – this will help keep their shelf life longer!
Lastly, try this delicious recipe for Baked Feta Heirloom Tomatoes!
In this recipe, two large sliced (or quartered/halved) heirloom tomatoes are seasoned with extra virgin olive oil, flaky sea salt, freshly cracked black pepper, Italian seasoning, and panko breadcrumbs before being baked until golden brown perfection. This dish is then topped with a creamy feta sauce, arugula, and balsamic dressing, creating the perfect side dish that is sure to please everyone!
Heirloom Tomato Prep Tips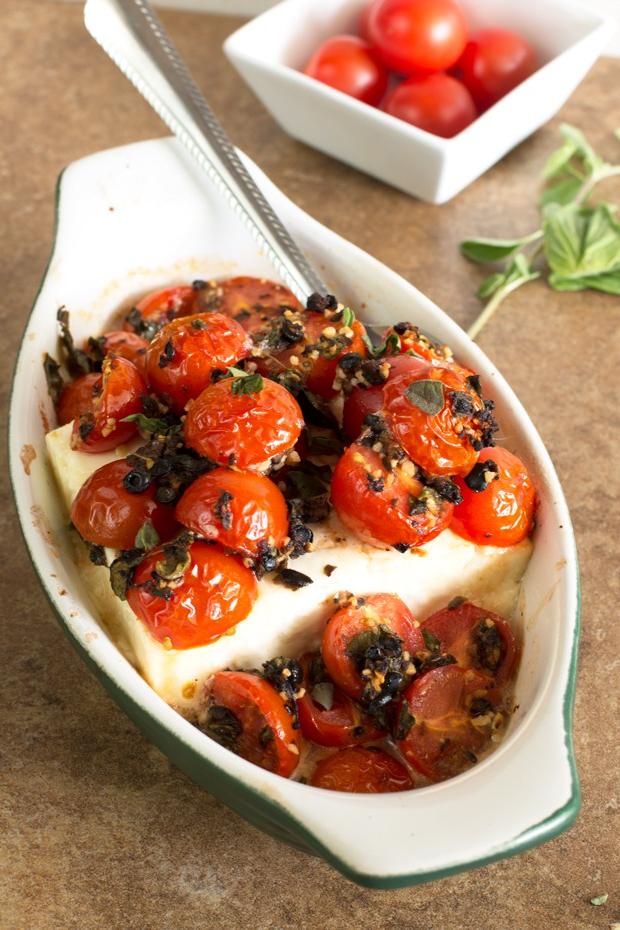 Heirloom tomatoes, a Dutch delight, can be used for a variety of dishes. Here are some helpful tips for preparing them for any recipe. Start by familiarizing yourself with the different types of heirloom tomatoes, which vary in size, shape, color, and taste. Choose ripe tomatoes with a glossy sheen and an earthy scent. Store them at room temperature away from direct sunlight to avoid spoiling quickly.
When slicing the tomato for your recipe, cut off the stem end first to ensure even cooking. For a delicious Dutch dish with baked feta cheese, preheat the oven to 375 degrees Fahrenheit. Roast sliced tomato pieces on a parchment paper-lined baking sheet with extra virgin olive oil, sea salt, freshly cracked black pepper, and Italian seasoning mix until golden brown, about 15 minutes. While the tomatoes roast, prepare a creamy feta sauce by combining Greek yogurt, crumbled feta cheese, and spices. Mix panko breadcrumbs with remaining Italian seasoning in a small bowl. Once the tomatoes are roasted, top each slice generously with breadcrumb mixture, then bake for an additional 10 minutes. Assemble the dish by spreading the creamy feta sauce onto each piece of toast, followed by roasted heirloom tomatoes, arugula leaves, and a drizzle of balsamic dressing if desired. Serve warm and enjoy!
How To Layer The Baked Feta & Tomatoes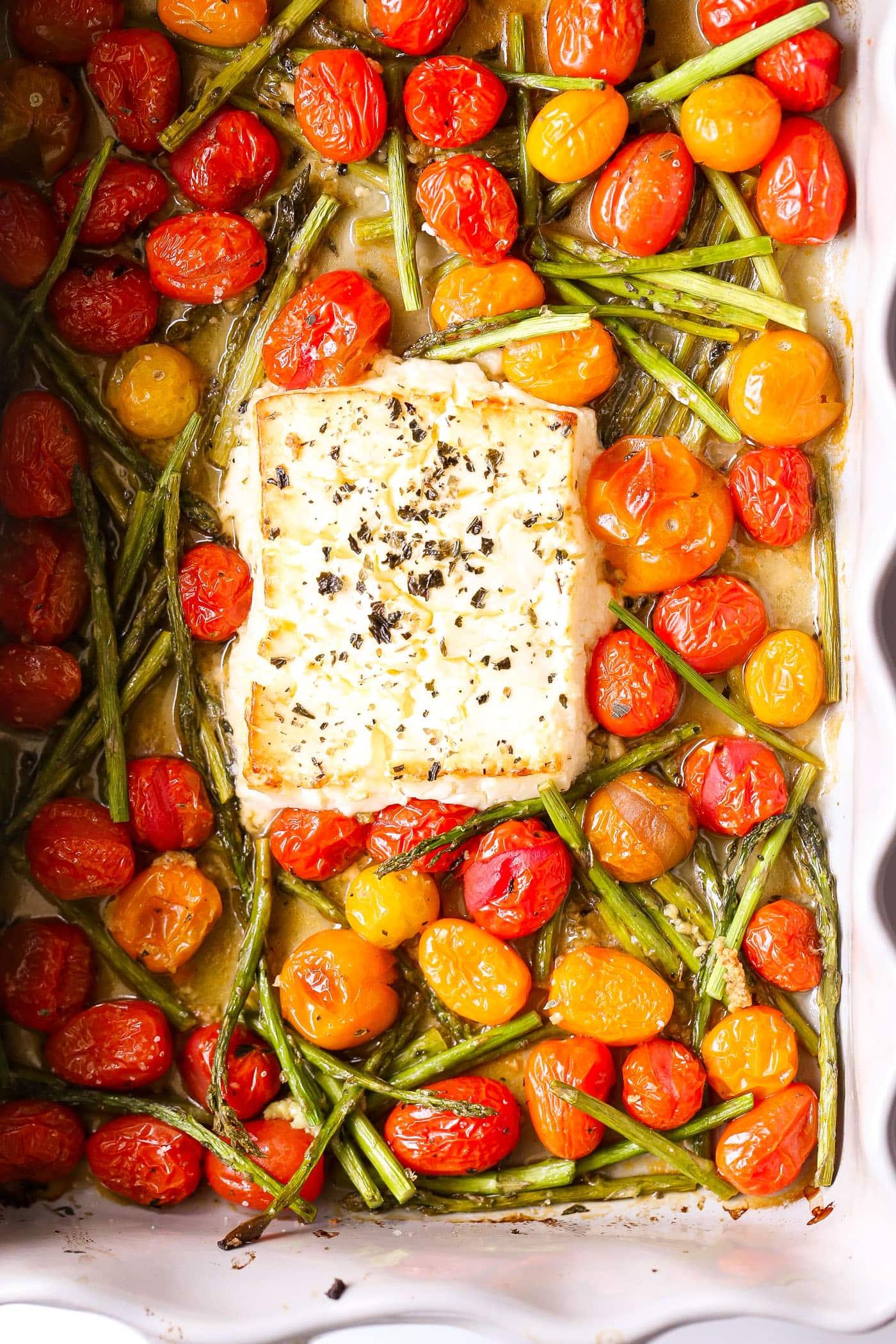 The Dutch Heirloom Tomato with Baked Feta is a delicious and flavorful dish that is sure to tantalize your taste buds. It's an easy recipe to make, but it's important to layer the ingredients correctly for the best results. Here are the steps you need to take for layering the baked feta and tomatoes, along with some tips on adding flavor and variations to this recipe.
The main ingredients for this recipe are heirloom tomatoes, feta cheese, pitted olives, garlic, and shallots. To begin layering these ingredients, preheat your oven to 375°F (190°C). Place a block of feta in an oven proof baking dish and surround it with cherry tomatoes, pitted olives, garlic, and shallots. In a small bowl, mix together olive oil, lemon juice, and herbs such as oregano or thyme (optional), red pepper flakes (if using), salt, and pepper. Drizzle this mixture over the tomatoes and the other layered ingredients before placing it in the oven for 25 minutes or until golden brown in color.
Meanwhile, mash 4 oz crumbled feta into a small bowl with a fork, then combine with ½ cup plain whole milk Greek yogurt until it is evenly mixed. Plate your rigatoni on dinner plates before topping them with this feta mixture. Sprinkle some flaky sea salt over them for added flavor. Serve with extra cherry tomatoes, olives, or red onion warm, spreadable over the top for extra deliciousness!
For added variation, you can roast vegetables like zucchini, eggplant, or bell peppers alongside the other layered vegetables before baking them all together or add different herbs like rosemary instead of oregano/thyme when preparing your mixture drizzle over top of everything prior to roasting it in the oven. This will help add more flavor complexity than just one set herb would provide alone – try out different combinations and get creative! The Dutch Heirloom Tomato & Baked Feta dish is sure to be a hit at any dinner table, so give it a try today!