Indulge in the savory delight of Vermouth Roasted Mushrooms, a recipe that takes your mushroom game to the next level. These flavorful mushrooms are infused with the aromatic essence of vermouth, creating a dish that will impress even the most discerning foodies. Perfect as a side dish or a gourmet addition to any meal, these roasted mushrooms are packed with umami and offer a rustic elegance that is sure to please.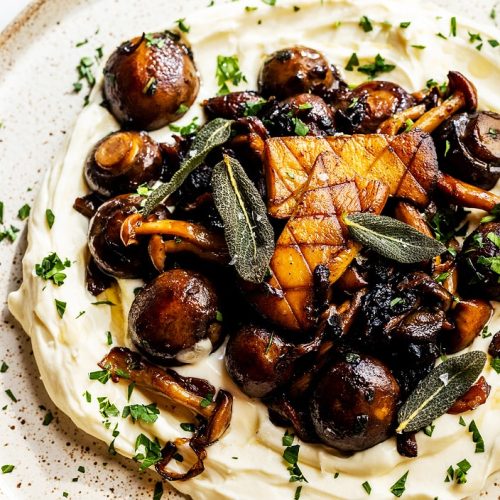 Vermouth Roasted Mushrooms
This recipe involves roasting mushrooms with vermouth, butter, garlic, and thyme to create a flavorful and satisfying side dish. The recipe is easy to prepare and includes helpful cooking tips, including choosing the right mushrooms, not overcrowding the pan, seasoning generously, and monitoring the cooking time.
Ingredients
2

pounds

button mushrooms

1

tbsp

duck fat

1/2

tsp

garlic powder

2

tbsp

herb de Provence

2

tbsp

white vermouth
Instructions
Wash the mushrooms and spin dry.

Warm up the duck fat, garlic powder, vermouth, and herbs in askillet for 5 minutes, mixing well.

Toss the mushrooms in the skillet and transfer to the basket.

Cook at 320 degrees for 25 minutes, tossing once at the 15-minutemark.
Notes
Whether you're hosting a dinner party or simply craving a delicious treat, the Vermouth Roasted Mushrooms recipe is a must-try. So unleash your inner chef and enjoy the gourmet goodness of this wine-infused culinary delight.
Nutrition
Calories:
86
kcal
Carbohydrates:
7.9
g
Protein:
7.2
g
Fat:
3.8
g
Sodium:
11
mg
Fiber:
2.3
g
FAQs about Vermouth Roasted Mushrooms
Q: Can I use a different type of mushroom for this recipe?
A: Absolutely! While the Vermouth Roasted Mushrooms recipe typically calls for button mushrooms, you can experiment with other varieties such as cremini, portobello, or shiitake mushrooms. Just keep in mind that different mushroom types may have slightly different textures and flavors, which can affect the overall taste of the dish.
Q: Can I substitute vermouth with another type of wine?
A: Yes, you can substitute vermouth with a dry white wine such as Sauvignon Blanc or Chardonnay. The purpose of the vermouth is to infuse the mushrooms with its unique flavor, so choosing a wine with similar characteristics will work well in this recipe.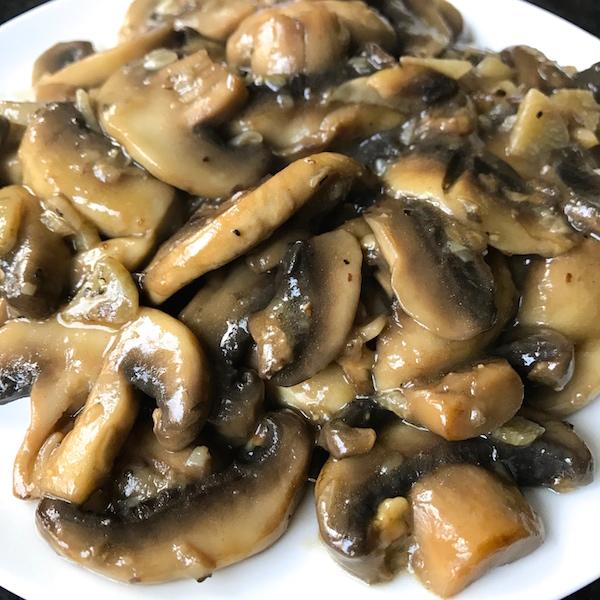 Q: Is this recipe suitable for vegetarians or vegans?
A: The Vermouth Roasted Mushrooms recipe is suitable for vegetarians. However, it is not suitable for vegans as vermouth typically contains fortified wine, which may not be vegan-friendly. If you are following a vegan diet, you can try using a vegan-friendly vermouth alternative or simply skip the vermouth and season the mushrooms with herbs and spices of your choice.
Q: Can I prepare the mushrooms in advance?
A: While it's best to enjoy the Vermouth Roasted Mushrooms fresh out of the oven, you can prepare them in advance and reheat them before serving. Keep the roasted mushrooms in an airtight container in the refrigerator for up to 2-3 days. When you're ready to serve, reheat them in the oven at a low temperature until warmed through.
Q: Can I freeze the Vermouth Roasted Mushrooms?
A: Roasted mushrooms tend to lose their texture and become watery when frozen and thawed. Therefore, it is not recommended to freeze the Vermouth Roasted Mushrooms. It's best to enjoy them fresh or store them in the refrigerator for a few days.
Tips for cooking
Here are some tips and tricks for making Vermouth Roasted Mushrooms:
1. Choose the right mushrooms: This recipe works well with a variety of mushroom types, including cremini, portobello, and shiitake. Make sure to choose fresh, firm mushrooms that are free of blemishes for the best results.
2. Use a quality vermouth: Vermouth is an essential ingredient in this recipe, so make sure to choose a good quality brand that you enjoy the taste of. Dry or semi-dry vermouth works best in this recipe.
3. Don't overcrowd the pan: When roasting mushrooms, it's important to give them enough space to breathe. If you overcrowd the pan, the mushrooms will steam instead of roast, and you won't get that nice crispy exterior.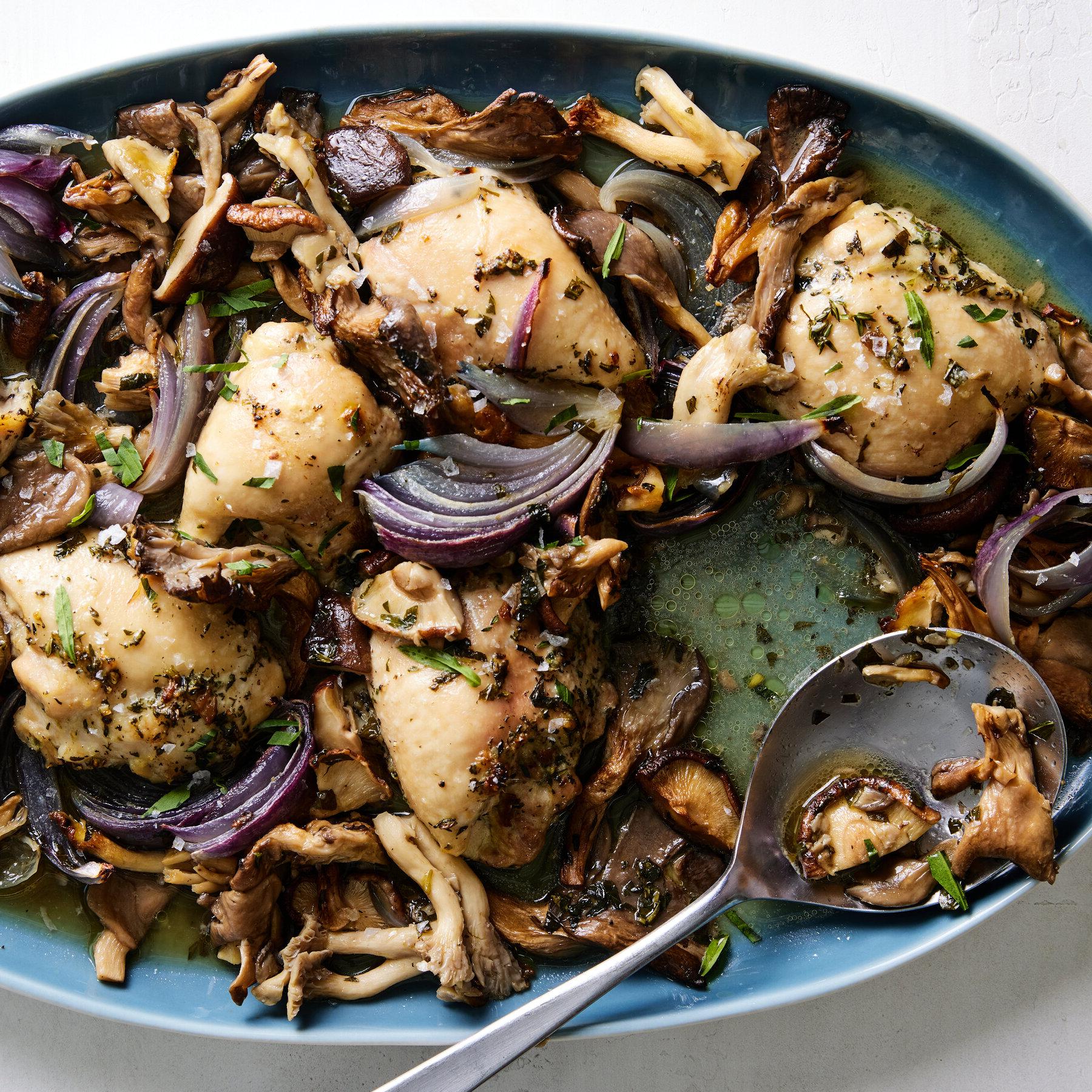 4. Season generously: Mushrooms can be quite bland on their own, so it's important to season them well. In addition to the vermouth, you'll want to add plenty of salt, pepper, and herbs like thyme or rosemary for extra flavor.
5. Monitor the cooking time: Roasting time can vary depending on the size and type of mushrooms you're using. Keep an eye on the mushrooms and don't be afraid to take them out of the oven early if they're looking done.
6. Serve immediately: Vermouth Roasted Mushrooms are best enjoyed immediately after cooking while they're still warm and crispy. Serve them as a side dish or use them to top salads or risottos for an extra burst of flavor.
I hope these tips help you make the perfect batch of Vermouth Roasted Mushrooms!
Serving Suggestions
1. Serve Vermouth Roasted Mushrooms as a side dish alongside roasted chicken, grilled steak, or seared salmon for a complete and satisfying meal.
2. Incorporate the roasted mushrooms into pasta dishes such as creamy mushroom fettuccine or mushroom risotto for a rich and earthy flavor.
3. Top a fresh green salad with Vermouth Roasted Mushrooms for an added depth of flavor and a gourmet touch.
4. Use the roasted mushrooms as a filling for savory crepes or omelets, adding a burst of flavor and texture to your breakfast or brunch.
5. Create a delicious appetizer by serving the Vermouth Roasted Mushrooms on crostini or toasted baguette slices, garnished with fresh herbs or grated Parmesan cheese.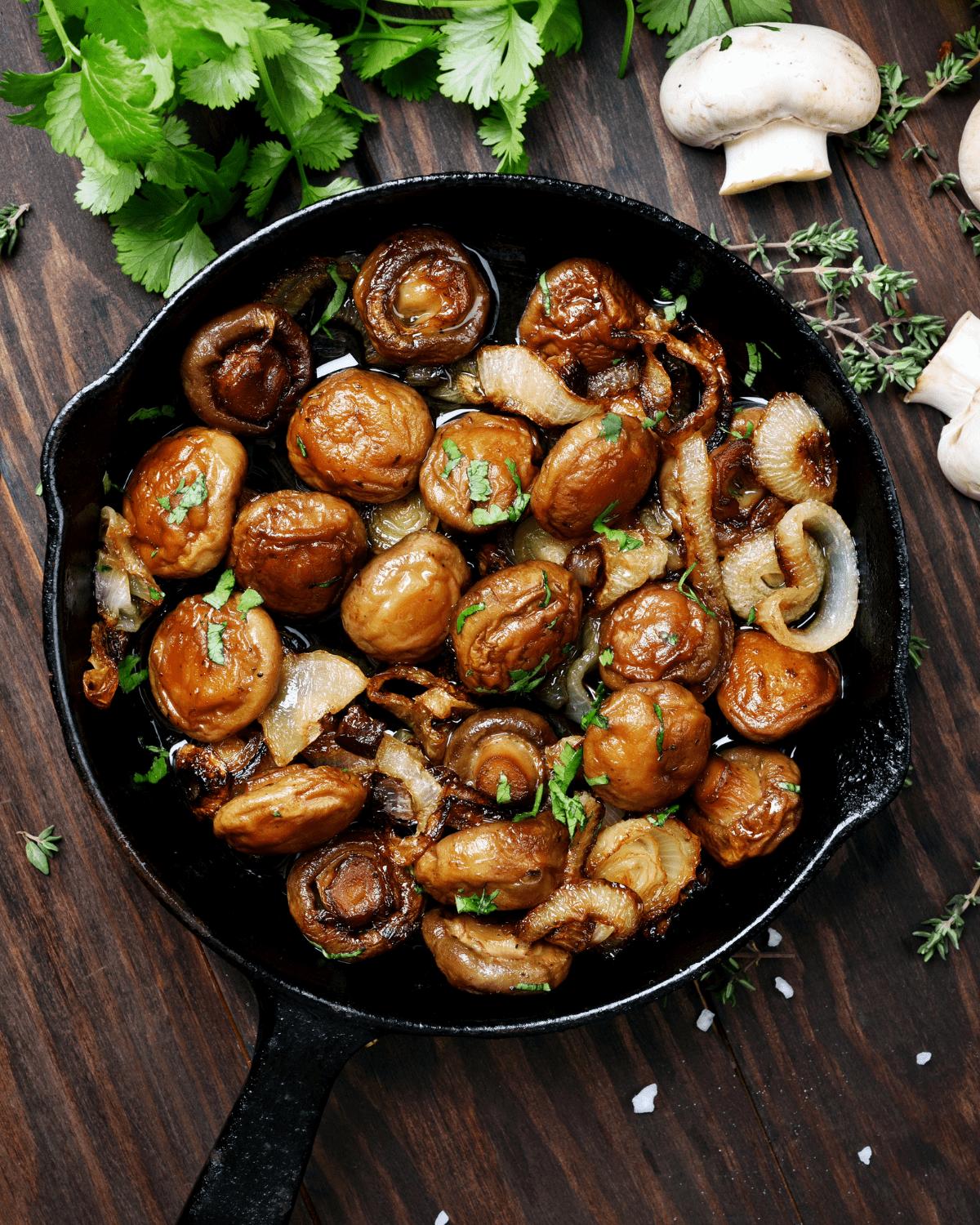 6. Pair the roasted mushrooms with a variety of roasted vegetables for a colorful and wholesome vegetable medley.
7. Add the Vermouth Roasted Mushrooms to a charcuterie board, complementing the assortment of cheeses, cured meats, and bread for a delightful combination of flavors.
8. Incorporate the roasted mushrooms into a gourmet sandwich or wrap, along with other fresh vegetables, spreads, and your choice of protein.
9. Use the Vermouth Roasted Mushrooms as a topping for homemade pizzas, adding a unique and delicious twist to your favorite pizza recipe.
10. Enjoy the roasted mushrooms as a standalone dish, accompanied by a crusty bread to soak up the flavorful vermouth-infused juices.