Healthy Low Carb Fish Nugget recipe is a nutritious and delicious way to eat fish without all the carbohydrates and calories of traditional breaded fish nuggets. This dish is perfect for those who are watching their carbohydrate intake or looking for a healthy protein-rich meal.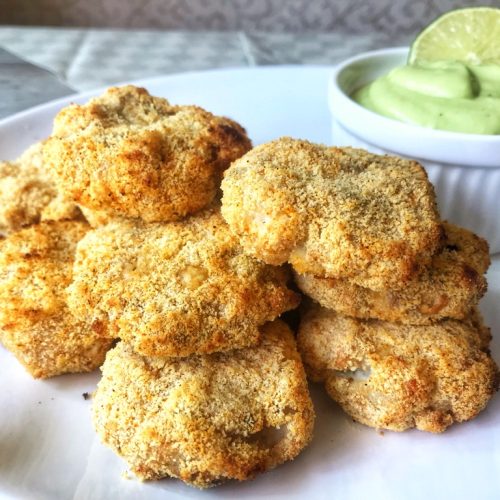 Healthy Low Carb Fish Nugget
A Healthy Low Carb Fish Nugget recipe is a nutritious and delicious alternative to traditional breaded and fried fish nuggets. This recipe focuses on using fresh fish and wholesome ingredients while keeping the carbohydrate content low. The fish, such as cod or tilapia, is cut into bite-sized pieces and coated in a mixture of almond flour, herbs, and spices.
Ingredients
1

pond

fresh cod

2

tbsp

olive oil

1/2

cup

almond flour

2

larges finely beaten eggs

1-2

cups

cups almond meal
Instructions
Preheat your Dutch oven to 388 degrees F

Take a food processor and add olive oil, almond meal, salt, and blend

Take three bowls and add almond flour, almond meal, beaten eggs individually

Take cods and cut them into slices of 1-inch thickness and 2-inchlength

Dredge slices into flour, eggs, and crumbs

Transfer nuggets to Dutch oven cooking basket and cook for 10minutes until golden
Notes
This dish can be served as a nutritious and tasty appetizer or a main course. Fish is a great source of high-quality protein, vitamin D, and omega-3 fatty acids, which support brain and heart health. Additionally, the low-carb breading provides a healthy alternative to typical high-carb, breadcrumb coatings.
Nutrition
Calories:
196
kcal
Protein:
14
g
Fat:
14
g
The nutritional ingredients
The nutritional ingredients of a Healthy Low Carb Fish Nugget recipe may vary depending on the specific fish used and the exact ingredients and quantities used in the recipe. However, here are some common nutritional aspects to consider:
1. Fish: The nutritional profile will depend on the type of fish used, but most fish varieties are rich in high-quality protein, omega-3 fatty acids, and various vitamins and minerals. Fish is generally low in carbohydrates.
2. Almond Flour: Almond flour is a popular low-carb alternative to traditional wheat flour. It is made from finely ground almonds and is a good source of healthy fats, protein, fiber, and various vitamins and minerals.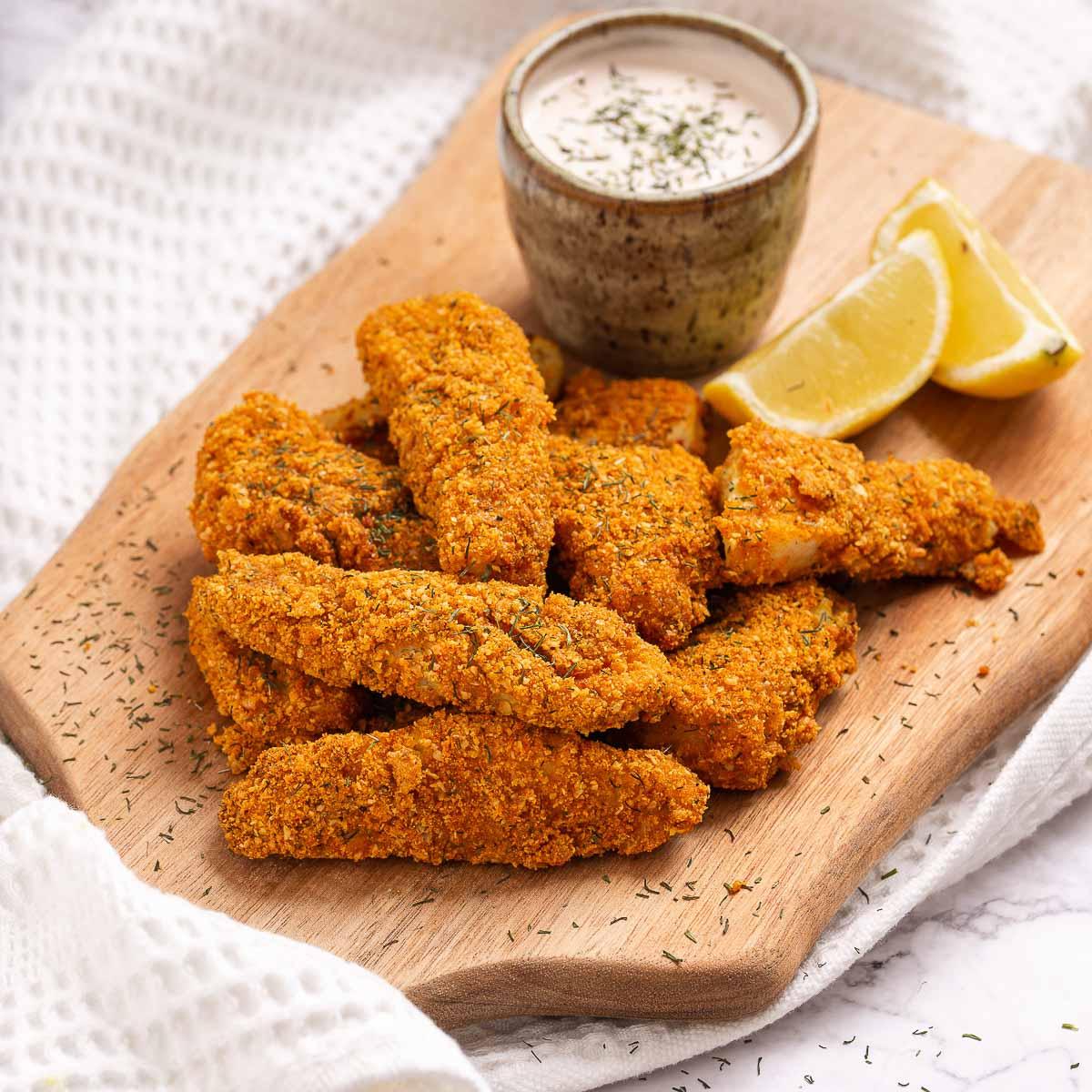 3. Herbs and Spices: The herbs and spices used in the recipe, such as garlic powder, paprika, or dried herbs, contribute minimal calories but can add flavor and beneficial compounds to the dish.
4. Optional Ingredients: Depending on the recipe, additional ingredients such as eggs, lemon juice, or grated Parmesan cheese may be used. These ingredients can provide additional nutrients, flavor, and texture.
It's important to note that the exact nutritional composition of the dish will depend on the specific recipe and ingredients used. To get accurate nutritional information, it's best to refer to a specific recipe or calculate the nutritional content using a reliable nutritional analysis tool or database.
Tips for cooking
Here are some tips for cooking Healthy Low Carb Fish Nuggets:
1. Choose fresh fish: Opt for fresh fish fillets that are firm, moist, and have a mild aroma. Fresh fish will yield the best flavor and texture for your nuggets.
2. Use a low-carb coating: Instead of using traditional breadcrumbs or flour, coat your fish nuggets with almond flour or a mixture of almond flour and flaxseed meal. This will provide a low-carb and gluten-free coating that still gives a crispy texture when baked.
3. Season generously: Don't skimp on the seasonings! Add a variety of herbs and spices to your coating mixture to enhance the flavor of the fish. Popular options include garlic powder, paprika, dried herbs like thyme or parsley, and a pinch of salt and pepper.
4. Preheat the oven: Make sure to preheat your oven to the recommended temperature before baking the fish nuggets. This will ensure even cooking and help achieve a crispy exterior.
5. Use parchment paper or a non-stick baking mat: Line your baking sheet with parchment paper or a non-stick baking mat to prevent the fish nuggets from sticking and to facilitate easy cleanup.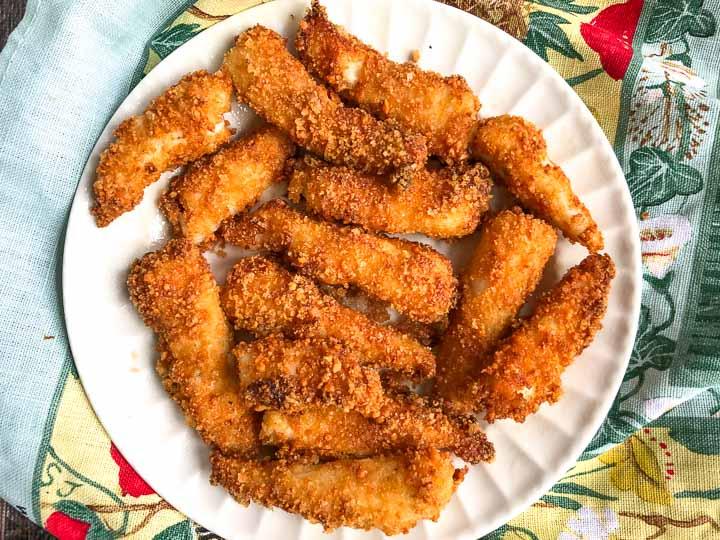 6. Bake until golden and crispy: Arrange the coated fish nuggets in a single layer on the baking sheet and bake in the preheated oven until they are golden brown and crispy. The exact cooking time will vary depending on the size and thickness of the nuggets, but it usually takes around 12-15 minutes at a temperature of 400°F (200°C).
7. Flip halfway through: For even browning, flip the fish nuggets halfway through the cooking time. This will ensure that both sides become crispy and golden.
8. Serve immediately: Once the fish nuggets are baked to perfection, serve them immediately while they're still hot and crispy. They are best enjoyed fresh out of the oven.
By following these tips, you can achieve delicious and healthy low-carb fish nuggets that are flavorful, crispy, and satisfying.
Serving Suggestions
Here are some serving suggestions for Healthy Low Carb Fish Nuggets:
1. Dip and Sauce: Serve the fish nuggets with a variety of dipping sauces to enhance their flavor. Consider options like tartar sauce, garlic aioli, sriracha mayo, or a squeeze of fresh lemon juice. These sauces can add a tangy or creamy element that complements the fish nuggets.
2. Side Salad: Pair the fish nuggets with a side salad to create a well-rounded and nutritious meal. Opt for a fresh green salad with a mix of vegetables, such as lettuce, cherry tomatoes, cucumber, and avocado. You can dress it with a light vinaigrette or a creamy dressing of your choice.
3. Roasted Vegetables: Serve the fish nuggets alongside a medley of roasted vegetables. Roast vegetables like zucchini, bell peppers, broccoli, or cauliflower with a drizzle of olive oil, salt, and pepper. The roasted veggies will add color, flavor, and nutritional value to the meal.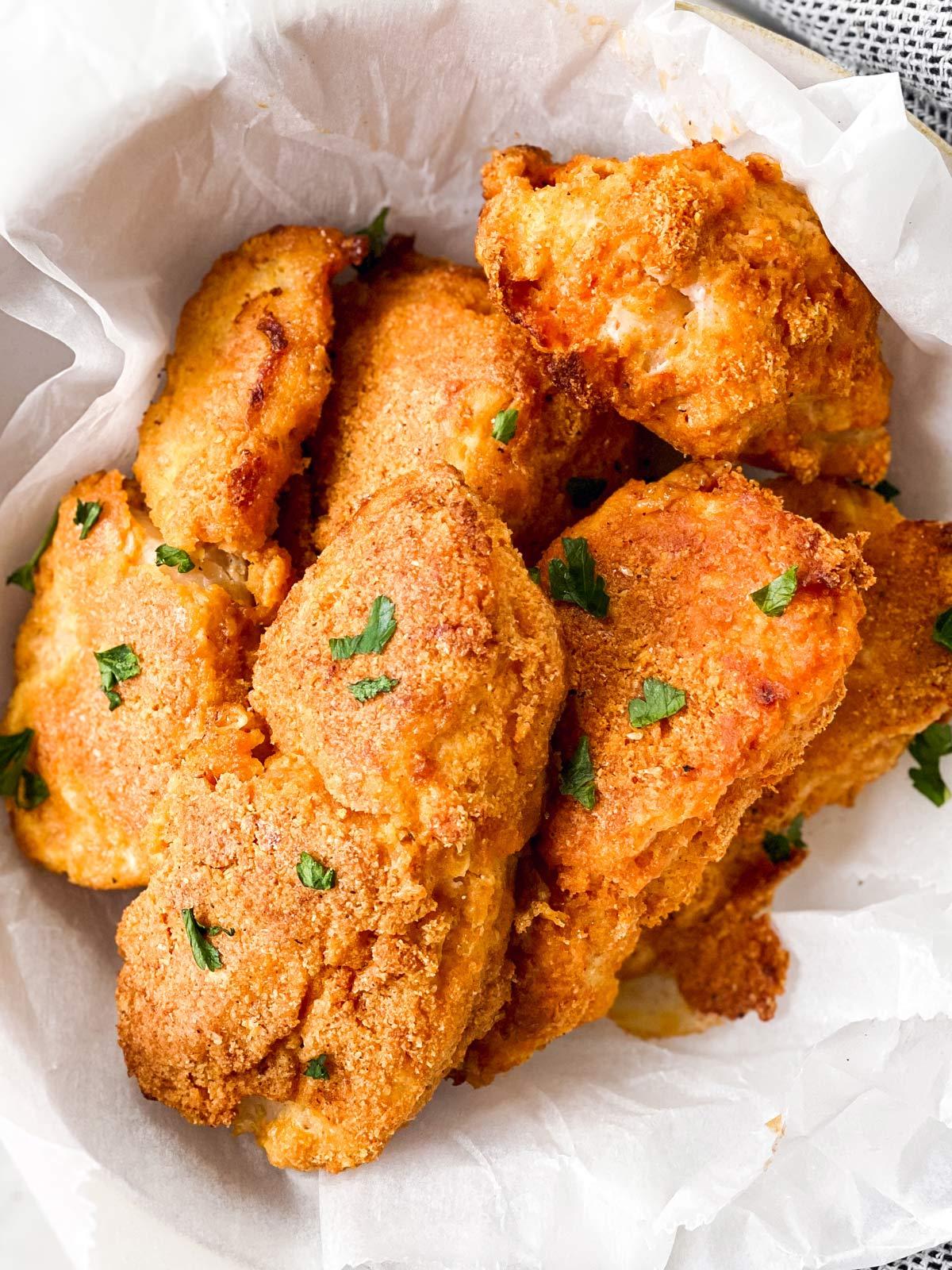 4. Low Carb Wraps: Create a low-carb wrap by wrapping the fish nuggets in lettuce leaves or using low-carb tortillas. Add some sliced tomatoes, avocado, and a dollop of your favorite sauce to create a delicious and satisfying fish nugget wrap.
5. Cauliflower Rice: Serve the fish nuggets with cauliflower rice as a low-carb alternative to regular rice. Sauté cauliflower rice with garlic, onion, and your preferred seasonings for a nutritious and flavorful side dish.
6. Appetizer Platter: Arrange the fish nuggets on a platter with a selection of other appetizers or finger foods. Include items like vegetable crudités, cheese cubes, olives, and sliced cucumber. This presentation works well for parties or gatherings.
Remember to consider your dietary preferences and any specific dietary restrictions when choosing serving suggestions. The goal is to create a balanced and satisfying meal that complements the flavors and textures of the Healthy Low Carb Fish Nuggets.