Bacon and Asparagus Spears recipe is a delicious and easy-to-make dish that combines the rich, smoky flavor of bacon with the fresh, crunchy taste of asparagus. To prepare this dish, fresh asparagus spears are washed and trimmed, then wrapped in slices of bacon. The bacon-wrapped asparagus is then roasted in the oven until the bacon is crisp and the asparagus is tender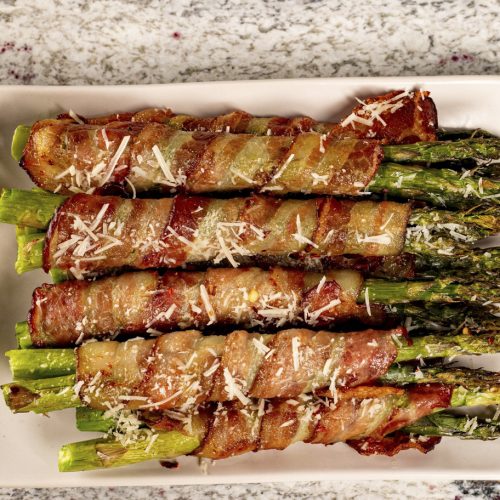 Bacon and Asparagus
Bacon-wrapped asparagus spears are a tasty and simple appetizer or side dish that is perfect for any occasion. This recipe involves wrapping fresh asparagus spears in crispy bacon slices and roasting them in the oven until they are tender and golden brown. The combination of salty bacon and tender asparagus is a winning combination that will impress your guests and leave them asking for more. This dish is also easy to prepare and can be ready in just a few minutes, making it a great choice for a last-minute appetizer or side dish.
Ingredients
20

spears asparagus

4

bacon slices

1

tbsp

olive oil

1

tbsp

sesame oil

1

garlic clove, crushed
Instructions
Warm your Dutch oven to 380 degrees F

Take a small bowl and add oil, crushed garlic, and mix

Separate asparagus into four bunches and wrap them in bacon

Brush wraps with oil and garlic mix, transfer to your Dutch oven basket
Nutrition
Calories:
175
kcal
Protein:
5
g
Fat:
15
g
Tips for cooking
Here are some tips to help you cook Bacon and Asparagus Spears:
1. Choose fresh asparagus: Look for firm, bright green asparagus spears with tight tips. Avoid any that are limp or have yellowed ends.
2. Trim the asparagus: Before wrapping the asparagus with bacon, trim off the tough ends. You can do this by gently bending each spear until it naturally snaps at the woody part.
3. Precook the bacon: To ensure that the bacon cooks evenly and becomes crispy, you can partially precook the bacon slices in a skillet or microwave for a few minutes before wrapping them around the asparagus.
4. Wrap tightly: Wrap each asparagus spear with a slice of bacon, making sure to wrap it tightly to secure it. This will help the bacon stay in place during cooking.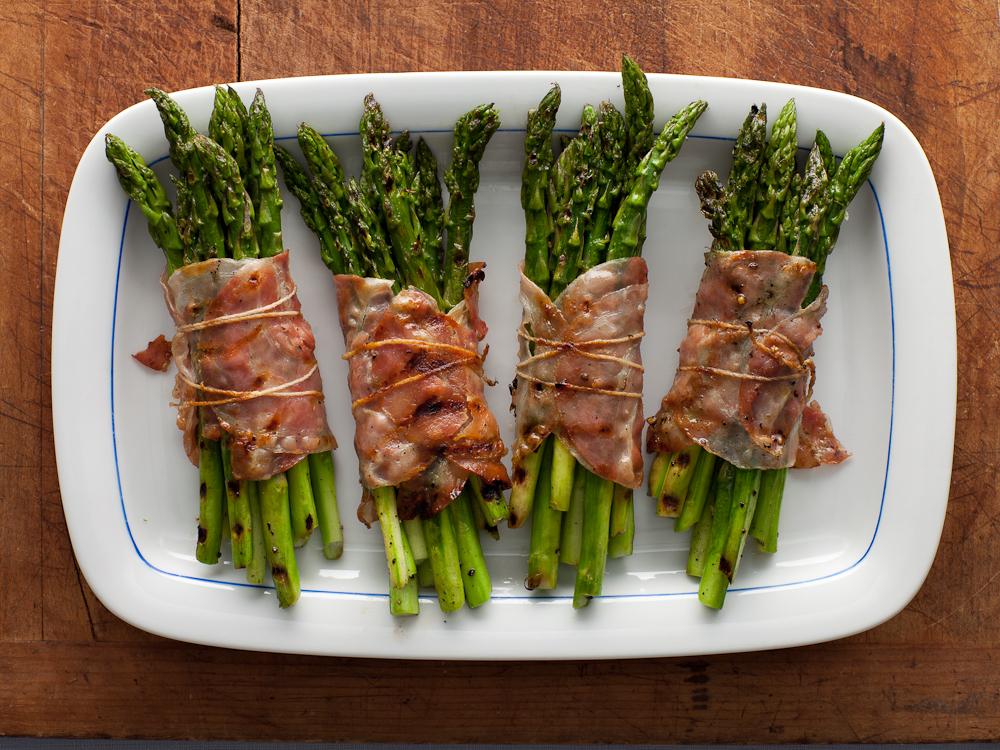 5. Use toothpicks: To prevent the bacon from unraveling during cooking, you can secure each end of the bacon with toothpicks.
6. Season as desired: You can add extra flavor to the dish by sprinkling some black pepper, garlic powder, or grated Parmesan cheese over the bacon-wrapped asparagus before cooking.
7. Oven roasting: Preheat your oven to a moderate temperature, around 400°F (200°C). Place the bacon-wrapped asparagus spears on a baking sheet lined with parchment paper or foil. Roast them for about 15-20 minutes, or until the bacon is crispy and the asparagus is tender.
8. Watch the cooking time: Cooking times may vary depending on the thickness of the asparagus spears and the bacon. Keep an eye on them while they are in the oven to prevent overcooking or burning.
9. Serve hot: Bacon and Asparagus Spears are best served hot, so make sure to serve them immediately after they come out of the oven. They make a delicious appetizer or side dish that pairs well with a variety of main courses.
By following these tips, you'll be able to cook Bacon and Asparagus Spears that are flavorful, crispy, and perfectly cooked. Enjoy!
Serving Suggestions
Here are some serving suggestions for Bacon and Asparagus Spears:
1. Appetizer: Serve the Bacon and Asparagus Spears as a delicious appetizer. Arrange them on a platter or serving board and serve them with a dipping sauce like garlic aioli, ranch dressing, or a balsamic glaze.
2. Side dish: Bacon and Asparagus Spears make a flavorful and visually appealing side dish. Pair them with grilled chicken, steak, or fish for a complete meal. They also work well alongside roasted potatoes or a fresh salad.
3. Brunch addition: These spears can be a great addition to a brunch spread. Serve them alongside scrambled eggs, quiche, or a breakfast casserole for a delightful brunch combination.
4. Party or potluck dish: If you're hosting a party or attending a potluck, Bacon and Asparagus Spears are sure to be a crowd-pleaser. They can be served at room temperature, making them convenient for gatherings.
5. Salad topping: Crumble the cooked Bacon and Asparagus Spears and use them as a tasty and crunchy topping for salads. They add a savory element and can complement a variety of salad greens and dressings.
Remember to adjust the quantity of Bacon and Asparagus Spears based on the number of guests and the occasion. Whether served as an appetizer, side dish, or part of a larger meal, these delicious spears are sure to be enjoyed by everyone.