Prepare to tantalize your taste buds with the delightful flavors of Breaded Shrimp with Lemon, a dish that brings together the irresistible crunch of perfectly breaded shrimp with the vibrant tang of lemon. Each bite of this dish is a symphony of textures and flavors, with the crispy coating enveloping succulent shrimp and the zingy lemon infusing a burst of freshness. Whether you're a seafood aficionado or seeking a vibrant and satisfying meal, Breaded Shrimp with Lemon is sure to captivate your senses.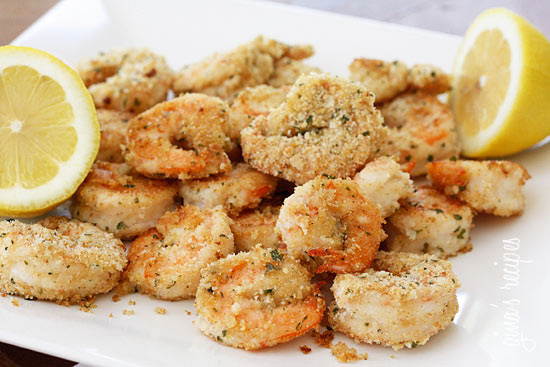 Breaded Shrimp with Lemon
Indulge in the delectable flavors of breaded shrimp with a refreshing lemon twist. Each bite of this dish is a harmonious blend of crispy, golden-brown coating and the tangy zest of lemon. Whether you're a seafood enthusiast or a fan of citrus-infused dishes, this recipe will satisfy your cravings. The shrimp are coated in a perfectly seasoned breading, delivering a satisfying crunch with each bite.
Ingredients
1/2

cup

plain flour

2

egg whites

1

cup

breadcrumbs

1

pound

large shrimp, peeled and deveined

Salt and ground black pepper, as required

1/4

tsp

lemon zest

1/4

tsp

cayenne pepper

1/4

tsp

red pepper flakes, crushed

2

tbsp

vegetable oil
Instructions
Preheat the Dutch oven to 400 o F and grease an Dutch ovenbasket.

Mix flour, salt, and black pepper in a shallow bowl.

Whisk the egg whites in a second bowl and mix the bread crumbs, lime zest and spices in a third bowl.

Coat each shrimp with the flour, dip into egg whites and finally, dredge in the breadcrumbs.

Drizzle the shrimp evenly with olive oil and arrange half of the coated shrimps into the Dutch oven basket.

Cook for about 7 minutes and dish out the coated shrimps ontoserving plates.

Repeat with the remaining mixture and serve hot.
Notes
Discover the secrets to achieving a crispy and flavorful coating while infusing the shrimp with the vibrant taste of lemon. Whether you choose to bake, fry, or air-fry the shrimp, the result is a dish that is irresistibly crispy on the outside and succulent on the inside. Get ready to savor the delightful aroma and mouthwatering taste of breaded shrimp with a zing of lemon, as each bite transports you to a realm of culinary bliss. Let's dive into the recipe and unlock the secrets to creating this delightful seafood delicacy that will surely impress your taste buds and leave you craving more
Nutrition
Calories:
432
kcal
Carbohydrates:
44.8
g
Protein:
37.7
g
Fat:
11.3
g
Sodium:
526
mg
Sugar:
2.5
g
Cooking Tip for Breaded Shrimp with Lemon:
To ensure the best results when preparing Breaded Shrimp with Lemon, consider the following cooking tip:
1. Properly bread the shrimp: When coating the shrimp with breadcrumbs, ensure that the shrimp is well coated by pressing the breadcrumbs firmly onto each piece. This helps to create a crispy and even coating that adheres well during cooking.
2. Use a hot oil temperature: When frying the breaded shrimp, make sure the oil is hot enough before adding the shrimp. A temperature between 350-375°F (175-190°C) is ideal. This ensures that the shrimp cooks quickly and evenly, resulting in a crispy exterior while maintaining a tender interior.
3. Avoid overcrowding the pan: To achieve a crispy texture, avoid overcrowding the pan or fryer. Fry the shrimp in small batches, allowing enough space between each piece for even cooking. Overcrowding the pan can cause the shrimp to steam instead of frying, resulting in a less crispy coating.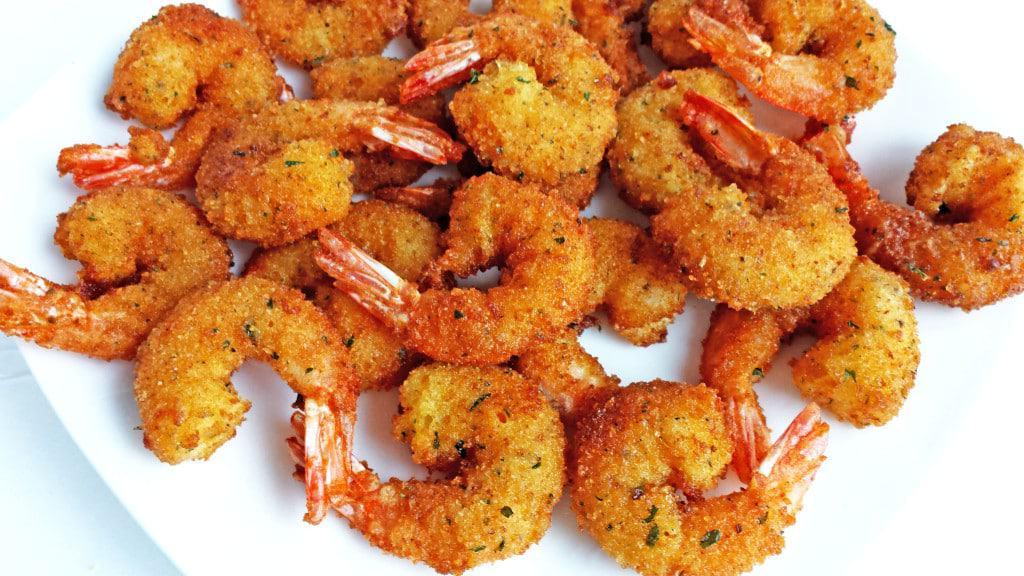 4. Drain excess oil: After frying the shrimp, place them on a paper towel-lined plate or wire rack to drain any excess oil. This helps to remove any greasiness and keeps the shrimp crispy.
5. Squeeze fresh lemon just before serving: For a vibrant burst of citrus flavor, squeeze fresh lemon juice over the breaded shrimp just before serving. The acidic tang of the lemon complements the crispy shrimp and adds a refreshing element to the dish.
By following these cooking tips, you can achieve perfectly breaded shrimp with a delightful lemon twist. Enjoy the combination of crispy texture, succulent shrimp, and zesty lemon flavor in each delectable bite!
Serving Suggestions for Breaded Shrimp with Lemon:
Breaded Shrimp with Lemon is a versatile dish that can be served in various ways to create a satisfying and flavorful meal. Here are some serving suggestions to enhance your dining experience:
1. Lemon-Dill Aioli Dip: Serve the Breaded Shrimp with a side of homemade lemon-dill aioli dip. The creamy and tangy dip pairs perfectly with the crispy shrimp, adding an extra layer of flavor.
2. Lemon-Infused Salad: Toss together a refreshing salad with mixed greens, cherry tomatoes, sliced cucumbers, and a light lemon vinaigrette. Top the salad with a generous portion of Breaded Shrimp for a satisfying and well-balanced meal.
3. Shrimp Po' Boy Sandwich: Create a delicious Shrimp Po' Boy sandwich by placing the Breaded Shrimp in a crusty roll or baguette. Top it with shredded lettuce, sliced tomatoes, pickles, and a drizzle of spicy mayo for a mouthwatering seafood sandwich.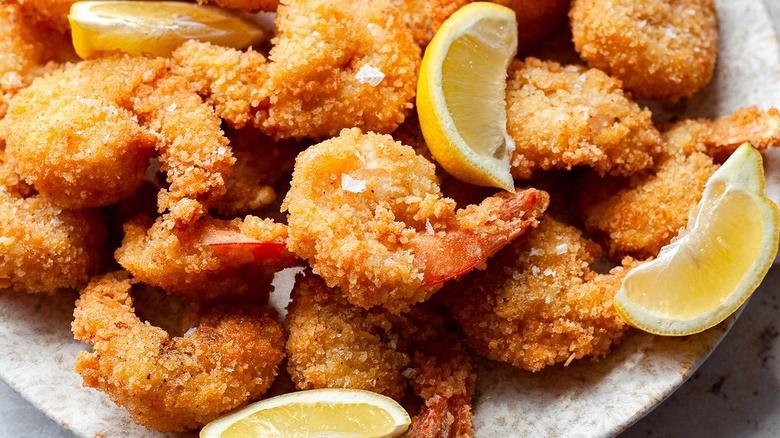 4. Lemon-Garlic Butter Pasta: Prepare a simple and flavorful pasta dish by tossing cooked spaghetti or linguine with melted lemon-garlic butter. Add the Breaded Shrimp on top and garnish with chopped parsley and grated Parmesan cheese for a satisfying and comforting meal.
5. Shrimp Tacos: Fill warm tortillas with the Breaded Shrimp, shredded lettuce, diced tomatoes, sliced avocado, and a squeeze of fresh lemon juice. Top with a dollop of tangy sour cream or a sprinkle of crumbled feta cheese for a delightful seafood taco experience.
6. Shrimp and Vegetable Stir-Fry: Create a vibrant stir-fry by combining the Breaded Shrimp with a colorful medley of stir-fried vegetables such as bell peppers, snap peas, carrots, and broccoli. Toss them together with a savory sauce and serve over steamed rice for a satisfying and complete meal.
Remember to garnish your dish with fresh lemon wedges and a sprinkle of chopped parsley for an extra pop of color and citrusy freshness. These serving suggestions will elevate your Breaded Shrimp with Lemon, allowing you to enjoy its crispy texture and tangy flavor in a variety of delicious ways.