Beef Roasted in Wine Sauce is a sophisticated and indulgent dish that combines the richness of beef with the deep flavors of a wine-infused sauce. This recipe offers a culinary experience that is sure to impress both your palate and your guests. The beef is carefully roasted to perfection, resulting in tender, juicy, and flavorful meat that is enhanced by the robustness of the wine sauce. The sauce, made with a combination of aromatic herbs, spices, and a generous amount of wine, imparts a velvety texture and complex flavors to the dish.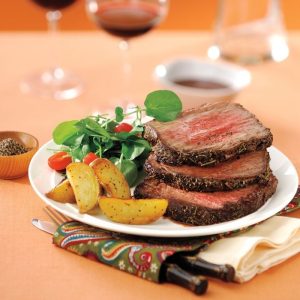 Beef Roasted Wine Sauce
Beef Roasted in Wine Sauce is an exquisite and flavorful dish that combines tender beef with a rich and savory wine-based sauce. The beef is expertly roasted to perfection, resulting in a succulent and melt-in-your-mouth texture. The star of the dish is the wine sauce, which adds depth and complexity to the flavor profile. The sauce is made by reducing wine with aromatic herbs, spices, and other ingredients, creating a luscious and velvety texture that complements the beef beautifully.
Ingredients
3

lb

beef roast carrot (chopped)

3

oz

red wine

1/2

tsp

smoked paprika

5

potatoes chopped

1/2

tsp

salt

1

yellow onion (chopped)

4

garlic cloves (pressed)

17

oz

beef stock

1/2

tsp

chicken salt
Instructions
Preheat the dutch oven to 3600F.

In a bowl, add salt, paprika, and chicken salt, stir. Rub the beef with the mixture and transfer to a plan that will fit into the air dryer.

Add the remaining ingredients and cook for 45 minutes.
Notes
Serve it with roasted vegetables, creamy mashed potatoes, or crusty bread to soak up the delightful sauce. Prepare to indulge in a luxurious and unforgettable dining experience with this tantalizing Beef Roasted in Wine Sauce recipe.
Nutrition
Calories:
304
kcal
Carbohydrates:
28
g
Protein:
32
g
Fat:
20
g
FAQs about Beef Roasted in Wine Sauce
Q: What type of wine should I use for the sauce?
A: It is recommended to use a dry red wine, such as Cabernet Sauvignon, Merlot, or Pinot Noir, for the sauce. These wines provide robust flavors that complement the beef well. However, feel free to choose a wine that you enjoy and that suits your taste preferences.
Q: Can I use a different meat instead of beef?
A: Absolutely! While the recipe is specifically designed for beef, you can adapt it to other meats like lamb or pork. Keep in mind that cooking times and temperatures may vary depending on the meat you choose, so adjust accordingly.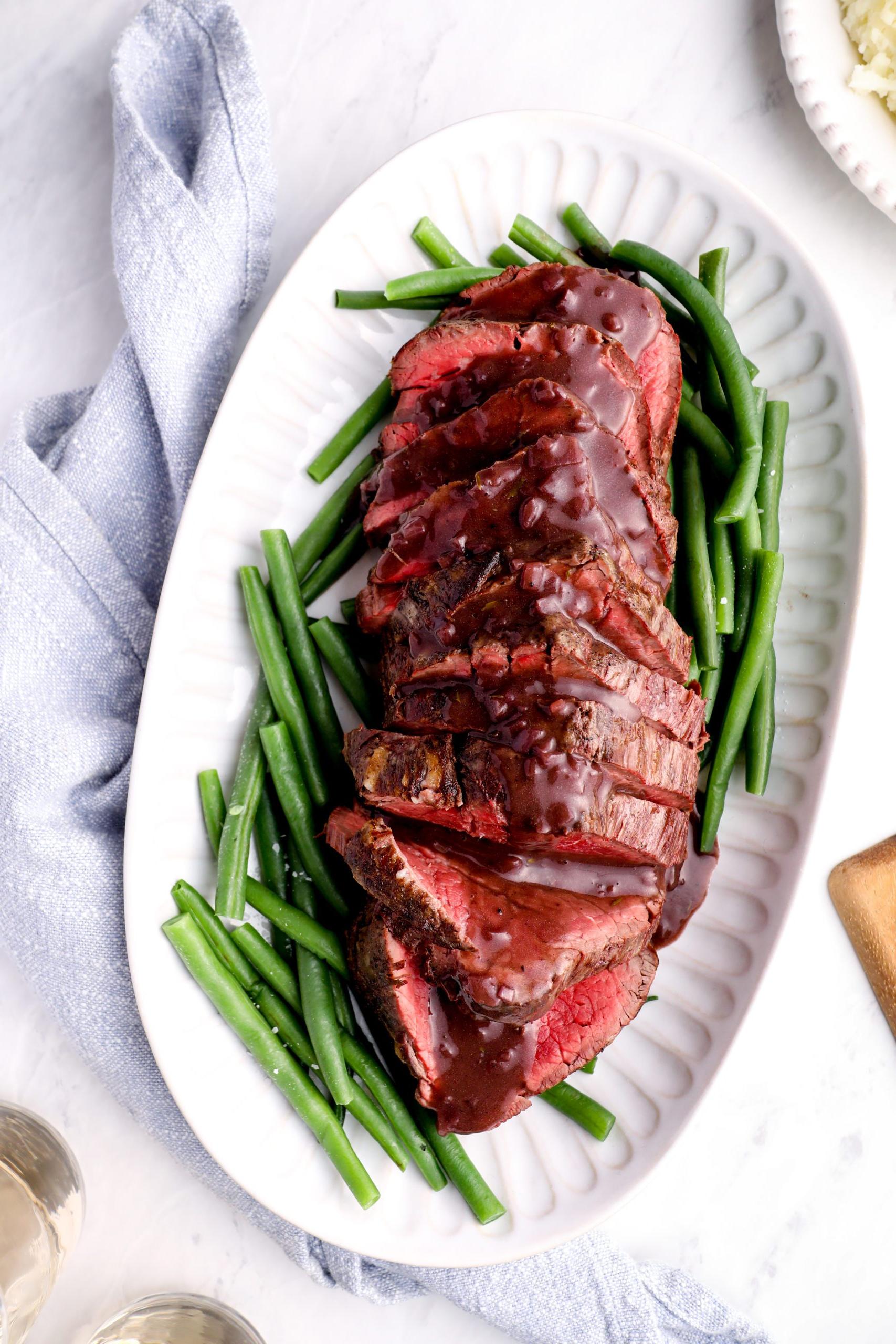 Q: How do I know when the beef is properly roasted?
A: The best way to determine the doneness of the beef is by using a meat thermometer. For a medium-rare roast, the internal temperature should be around 130-135°F (55-57°C). Allow the meat to rest for a few minutes before slicing to ensure the juices redistribute and the flavors settle.
Q: Can I make the wine sauce in advance?
A: Yes, you can prepare the wine sauce in advance. Once cooked, allow the sauce to cool and store it in an airtight container in the refrigerator. When you're ready to serve, gently reheat the sauce on the stovetop, stirring occasionally until warmed through.
Q: Can I substitute non-alcoholic wine or omit the wine altogether?
A: If you prefer to avoid alcohol or don't have wine on hand, you can substitute non-alcoholic wine or use beef broth as a replacement in the sauce. While the flavor profile will be slightly different, it will still contribute to a delicious sauce.
Q: What side dishes pair well with Beef Roasted in Wine Sauce?
A: This dish pairs wonderfully with a variety of sides. Consider serving it with roasted vegetables like potatoes, carrots, or Brussels sprouts. Creamy mashed potatoes, steamed asparagus, or a fresh green salad also make excellent accompaniments. Don't forget to have crusty bread on hand to soak up the savory sauce.
These FAQs should help address some common questions about preparing Beef Roasted in Wine Sauce. If you have any additional inquiries or need further assistance, feel free to ask for more guidance.
Cooking tips
Here are some cooking tips for making Beef Roasted Wine Sauce:
1. Use high-quality beef – The quality of your beef will directly impact the quality of your sauce. Choose a high-quality beef cut, such as sirloin or filet, for the best flavor.
2. Roast the beef to perfection – Take your time when roasting the beef to ensure it is cooked to your desired doneness. Use a meat thermometer to get the perfect cooked beef as per your preferences.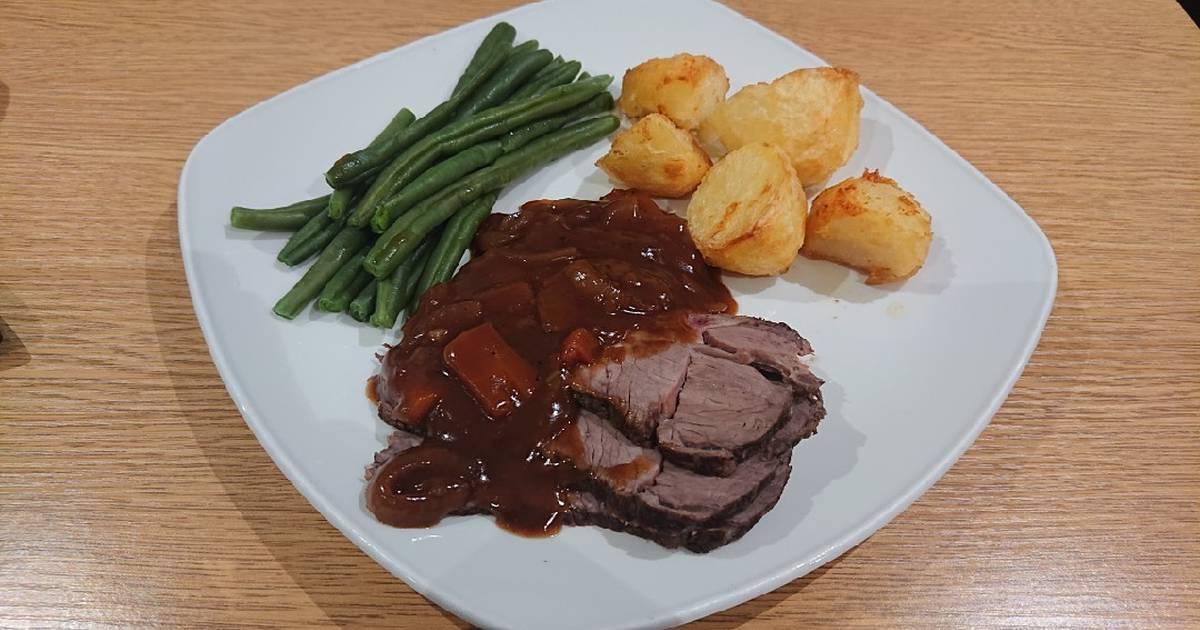 3. Save the pan drippings – Don't discard the pan drippings, as they will be essential to the sauce's flavor. Be sure to scrape up all the bits from the bottom of the pan when making the sauce.
4. Use a good-quality wine – The type of wine you use will also impact the taste of your sauce. Choose a full-bodied, dry red wine, such as Cabernet Sauvignon or Merlot, for the best flavor.
5. Slowly simmer the sauce – Take your time when cooking the sauce, and let it simmer slowly to develop the flavors. This will help the sauce thicken and become more flavorful.
6. Add butter for richness – After the sauce has simmered, add some butter to give it a rich, velvety texture. This will also help balance out the acidity of the wine.
7. Season to taste – Taste the sauce as you cook it, and adjust the seasoning as needed. Add salt, pepper, or herbs, such as thyme or rosemary, to bring out the dish's flavors. Using these tips, you can make a rich, flavorful Beef Roasted Wine Sauce that pairs perfectly with roasted beef, vegetables, potatoes, and much more.
Serving Suggestions
Here are some serving suggestions for the Beef Roasted Wine Sauce recipe:
1. Over Mashed Potatoes – Serve the Beef Roasted Wine Sauce over a bed of creamy mashed potatoes. The sauce pairs perfectly with the rich, savory flavor of the potatoes.
2. With Roasted Vegetables – Roasted carrots, parsnips, and Brussels sprouts are all great vegetables that would pair well with the beef and wine sauce. Place the vegetables on a large platter and spoon the sauce over the top.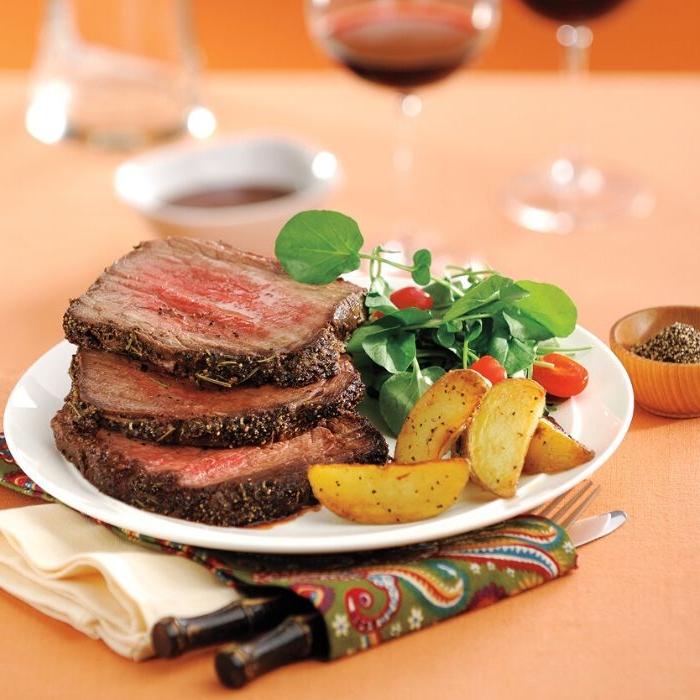 3. On Toasted Crostini – Slice a baguette into thin rounds and toast them under the broiler until crispy. Spread some goat cheese on top of each crostini and spoon the beef and wine sauce over the top.
4. With Pasta – Toss cooked pasta, such as linguine or fettuccine, with some olive oil and parmesan cheese. Spoon the Beef Roasted Wine Sauce over the top for a rich and delicious pasta dish.
5. With a Side Salad – Serve the Beef Roasted Wine Sauce alongside a simple green salad with a vinaigrette dressing. The fresh acidity of the salad will help balance out the richness of the beef and wine sauce. No matter how you choose to serve it, the Beef Roasted Wine Sauce will be a showstopper on any plate. Be sure to pair it with a nice glass of red wine to bring out the flavors even more!