Onion rings are a popular and delicious appetizer or side dish known for their crispy texture and savory flavor. This classic recipe involves coating sliced onions with a batter or breading and frying or baking them until golden brown and crispy.
To make onion rings, large onions are typically sliced into rings and separated. They are then dipped in a seasoned batter or coated with breadcrumbs, flour, or a mixture of both. The rings are carefully fried in hot oil until they turn crispy and golden on the outside while remaining tender on the inside.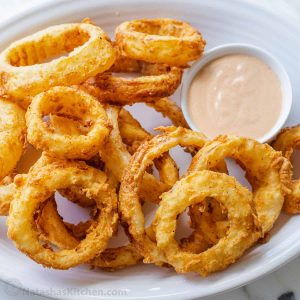 Onion Ring
Onion rings are a versatile dish that can be enjoyed on their own, added to burgers, served as a side with sandwiches, or incorporated into a platter of appetizers. They are often served at casual gatherings, sports events, or as a popular choice in restaurants.
Ingredients
1

tsp

baking powder

1

cup

panko breadcrumbs

2

eggs

1

large Vidalia onion

1

cup

all-purpose flour
Instructions
Peel, core, and cut the onion into rings.

Combine the flour, salt, and baking powder in a bag and shake well to combine.

Add the onions to the bag and toss to coat.

Beat the eggs in a shallow bowl

Spread the panko crumbs over a plate.

Remove one ring at a time, shake off any extra flour, dip in the egg, then dredge through the bread crumb.

Add 5 to 7 rings to the fryer and cook at 400 degrees for 7 minutes.

Flip the rings halfway through and serve hot.
Notes
Onion Rings are a popular deep-fried snack that are often served as a side dish or appetizer. To make Onion Rings, you can begin by preparing the batter and slicing onions into thick rings. The batter is typically made of flour, cornmeal, baking powder, salt, and milk. To make the batter smooth, it's important to whisk it well and let it sit for a few minutes. In the meantime, heat up the oil in a deep fryer or a large pot.
Nutrition
Calories:
185
kcal
Carbohydrates:
33.3
g
Protein:
7.1
g
Fat:
2.6
g
Sodium:
615
mg
Fiber:
1.8
g
The nutritional value
The nutritional value of onion rings can vary based on the specific recipe and cooking method used. However, here are the general nutritional components of onion rings:
1. Onions: Onions are low in calories and fat while being a good source of dietary fiber, vitamin C, and various antioxidants. They also provide small amounts of vitamins B6 and folate.
2. Breading or Batter: The nutritional value of the breading or batter used for onion rings will depend on the ingredients and cooking method. Common ingredients include flour, breadcrumbs, cornmeal, or a combination of these. They contribute to the carbohydrate and calorie content of the dish.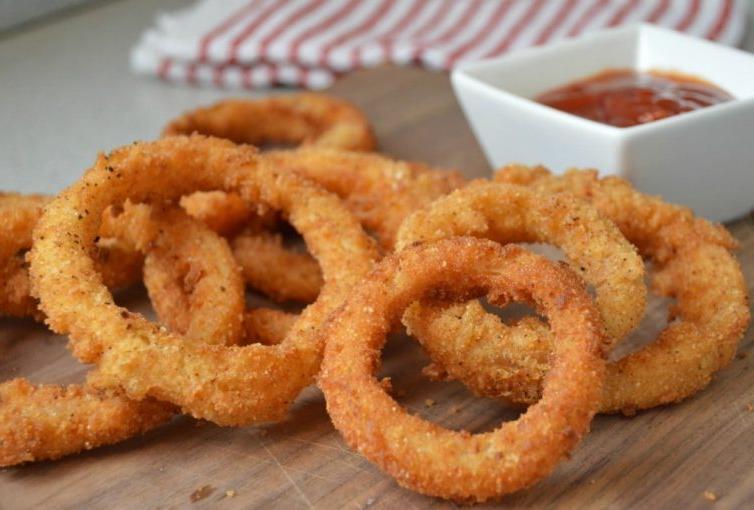 3. Oil for Frying: If the onion rings are deep-fried, the type and amount of oil used will impact their nutritional profile. Generally, frying adds calories and fat to the dish. Options like vegetable oil, canola oil, or peanut oil are commonly used.
It's important to note that deep-fried onion rings tend to be higher in calories, fat, and sodium compared to baked or air-fried versions. However, baking or air-frying onion rings can help reduce the overall calorie and fat content while still providing a satisfying crunch.
When it comes to nutritional balance, it's best to enjoy onion rings in moderation as an occasional treat due to their higher calorie and fat content. Consider pairing them with a balanced meal that includes lean proteins, whole grains, and plenty of vegetables to create a well-rounded plate.
Remember to check specific recipes and adjust the ingredients and cooking methods to align with your dietary preferences and health goals.
Some tips for cooking Onion Rings
1. Slice onions evenly: Cut the onions into thick and even slices to ensure that they are cooked evenly.
2. Let the batter rest: Mix the batter well and let it rest for at least 10 minutes before dipping the onion rings. This will allow the batter to thicken and will result in better adhesion to the onion rings.
3. Use cold ingredients: Make sure the milk or any other liquid ingredients in the batter are cold because cold ingredients mix better with dry ingredients and create a crunchier batter.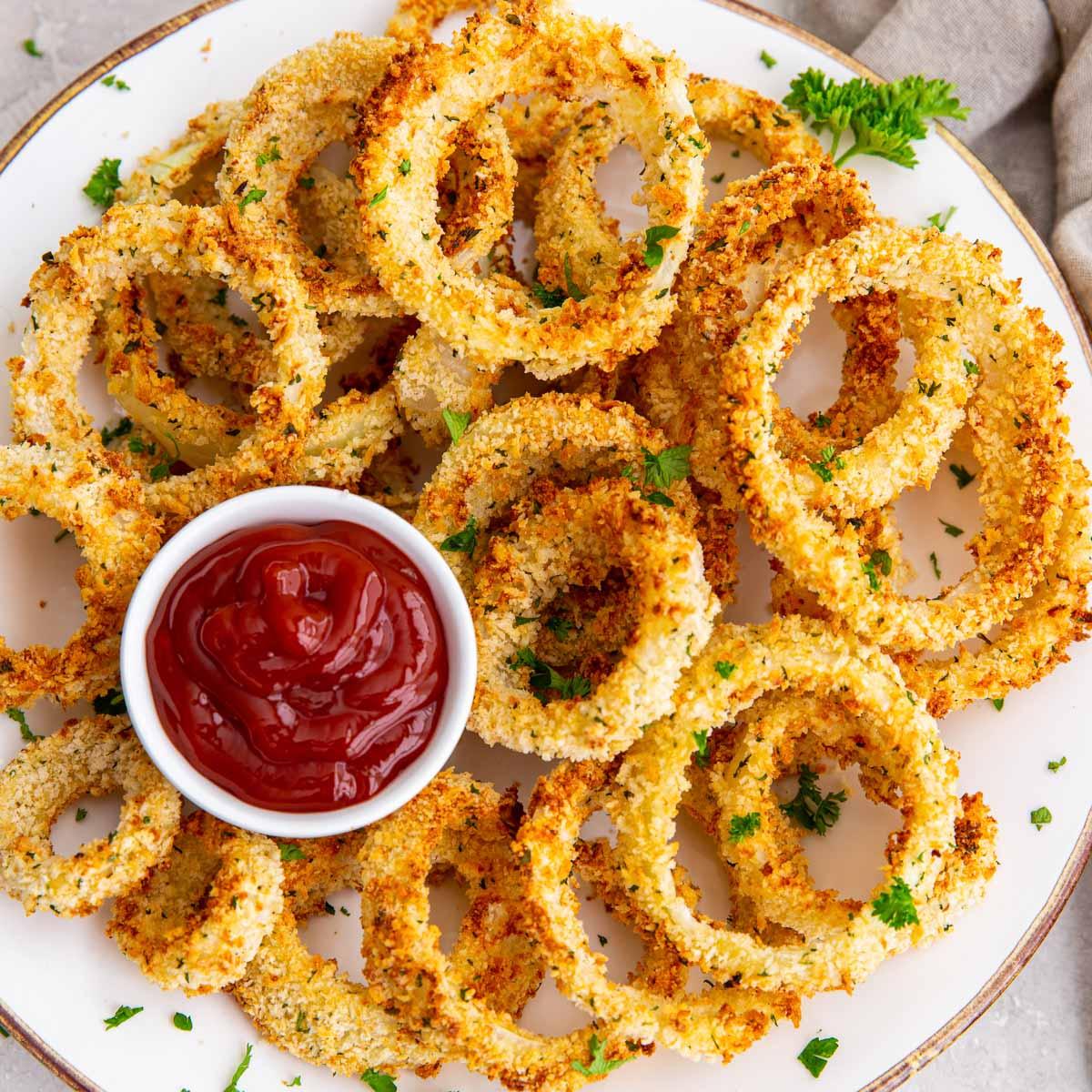 4. Heat oil to the right temperature: Heat the oil to around 375°F or until bubbles start appearing around a wooden spoon handle when inserted into the oil. If the oil is not hot enough, the Onion Rings will absorb more oil and become greasy, but if it's too hot, the Onion Rings will burn.
5. Don't overcrowd the fryer: Fry the Onion Rings in small batches and avoid over-crowding the fryer to ensure even cooking and a crunchier texture.
6. Drain the excess oil: Place the fried Onion Rings on paper towels to remove the excess oil and sprinkle some salt over them while still hot.
7. Serve hot: To enjoy the Onion Rings at their best, serve them hot with your favorite dipping sauce. I hope these tips will help you to make crispy and savory Onion Rings at home.
Serving Suggestions
Here are some serving suggestions for onion rings:
1. Classic Appetizer: Serve onion rings as a delicious appetizer before a meal. Arrange them on a platter and provide various dipping sauces such as ketchup, barbecue sauce, or spicy mayo for guests to enjoy.
2. Burger Topping: Add a flavorful crunch to your burgers by using onion rings as a topping. Place a few onion rings on your burger patty along with lettuce, tomato, and other condiments for a satisfying and indulgent burger experience.
3. Side Dish for Sandwiches: Pair onion rings with your favorite sandwiches for a delightful side dish. Whether it's a crispy chicken sandwich, a juicy steak sandwich, or a veggie burger, the onion rings will add a tasty and textural contrast.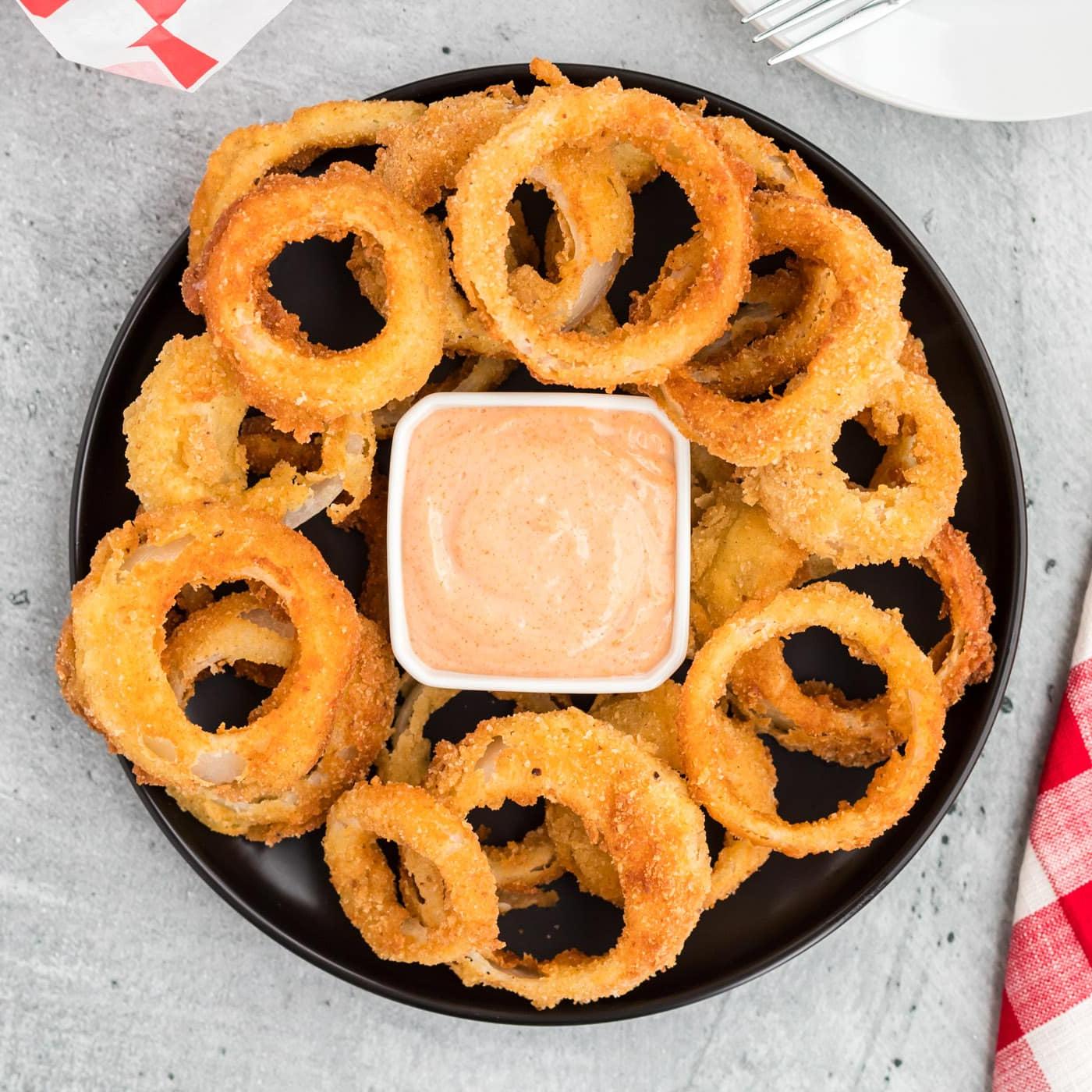 4. Game Day Snack: Onion rings make for a fantastic snack option during game days or social gatherings. Serve them alongside other finger foods like chicken wings, sliders, and chips for a crowd-pleasing spread.
5. Salad Topping: Sprinkle some crispy onion rings on top of your favorite salad for an added crunch and flavor. They work well with green salads, Caesar salads, or even grain-based salads, adding a tasty twist to your healthy meal.
6. Party Platter: Create a party platter by combining onion rings with an assortment of appetizers like mozzarella sticks, jalapeno poppers, and mini spring rolls. This diverse spread will cater to different tastes and preferences.
7. Snack Sampler: Arrange onion rings alongside other snack items like chicken tenders, mini sliders, or loaded potato skins to create a delicious sampler platter. It's perfect for sharing and sampling a variety of flavors.
8. Dipping Station: Set up a dipping station with different sauces and condiments to accompany the onion rings. Offer options like chipotle aioli, honey mustard, ranch dressing, or a tangy salsa to enhance the flavors and provide a customizable experience.
Remember to adjust serving suggestions based on your personal preferences and the occasion. Onion rings are versatile and can be enjoyed in various ways, whether as a standalone appetizer, a topping, or a side dish. Their crispy texture and savory taste make them a crowd-pleaser for casual gatherings, parties, or simply as a tasty treat.