Cheesy Steak Fries are a delicious and satisfying way to enjoy a classic dish. The dish consists of thick-cut fries smothered in a layer of melted cheese and topped with savory steak pieces. Cheesy Steak Fries are a mouth-watering dish that is easy to prepare and is loved by people of all ages. Its combination of flavors and textures is irresistible, making it an excellent snack to treat yourself to.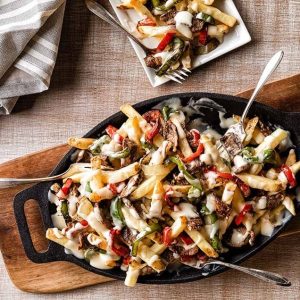 Cheesy Steak Fries
Cheesy Steak Fries are a delicious and satisfying dish that combines the savory flavors of steak with the indulgence of melted cheese. These steak fries are typically made by cutting potatoes into thick wedges, seasoned with herbs and spices, and baked until crispy. They are then generously topped with a variety of melted cheese, creating a gooey and cheesy delight.
Ingredients
1

(28-ounce / 794-g)

bag frozen steak fries

1/2

cup

beef gravy

1

cup

shredded Mozzarella cheese

2

scallions, green parts only, chopped

Cooking spray
Instructions
Preheat the dutch oven oven to 400ºF (204ºC).

Place the frozen steak fries in the dutch oven basket.

Place the dutch oven basket onto the baking pan

Slide into Rack Position 2, select Air Fry, and set time to 10minutes.

Shake the basket and spritz the fries with cooking spray. Sprinklewith salt and pepper. Air fry for an additional 8 minutes.

Pour the beef gravy into a medium, microwave-safe bowl—microwave for 30 seconds, or until the sauce is warm.

Sprinkle the fries with the cheese. Air fry for an additional 2minutes until the cheese is melted.

Transfer the fries to a serving dish. Drizzle the fries with gravy and sprinkle the scallions on top for a green garnish. Serve warm.
Notes
Cheesy Steak Fries are a versatile dish that can be enjoyed as a main course, side dish, or even as a delicious appetizer. They are perfect for casual gatherings, game nights, or even as a comforting meal on a cozy night in. Serve them with a side of ketchup, barbecue sauce, or sour cream for dipping, or top them with additional toppings like crispy bacon, green onions, or jalapeños for added flavor.
Nutrition
Calories:
1536
kcal
Protein:
103.4
g
Fat:
123.7
g
Cooking tips
Here are some cooking tips to help you make delicious Cheesy Steak Fries:
1. Choose the right potatoes: Opt for starchy or all-purpose potatoes like Russet or Yukon Gold, as they tend to become crispy on the outside and tender on the inside when baked.
2. Cut them into uniform wedges: Slice the potatoes into evenly sized wedges to ensure even cooking. Aim for a thickness of about ½ inch to ¾ inch.
3. Preheat the baking sheet: Preheat the baking sheet in the oven before adding the potato wedges. This helps to ensure a crispy exterior.
4. Parboil the potatoes: To achieve a soft interior and crispy exterior, parboil the potato wedges for a few minutes before baking. This step helps to partially cook the potatoes and speeds up the baking process.
5. Season generously: Season the potato wedges with a combination of herbs, spices, and salt to enhance their flavor. Common choices include garlic powder, paprika, dried herbs like thyme or rosemary, and black pepper.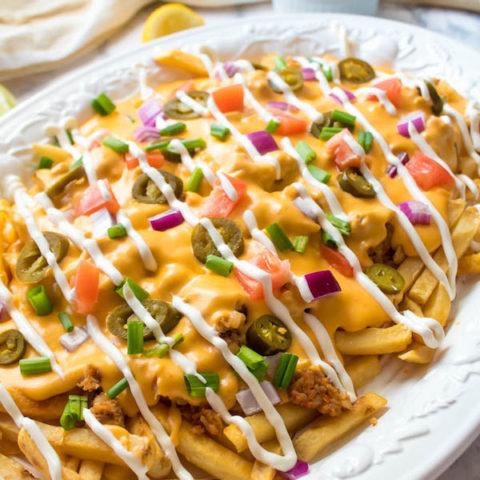 6. Use high heat for baking: Bake the potato wedges at a high temperature, such as 425°F (220°C), to promote browning and crispiness. Flip the wedges halfway through the baking time to ensure even browning.
7. Choose your cheese: Select your preferred cheese for melting over the steak fries. Cheddar, mozzarella, Monterey Jack, or a combination of cheeses work well. Grate or slice the cheese, and add it during the final minutes of baking to allow it to melt and become gooey.
8. Customize your toppings: Consider adding additional toppings to your Cheesy Steak Fries. Crispy bacon, green onions, jalapeños, or even a drizzle of barbecue sauce can add extra flavor and excitement to the dish.
9. Let them cool slightly: Allow the Cheesy Steak Fries to cool for a few minutes after removing them from the oven. This helps the cheese to set slightly, making them easier to handle and preventing burns.
10. Serve immediately: Cheesy Steak Fries are best enjoyed fresh and hot. Serve them immediately after baking for the perfect combination of crispy potatoes and gooey cheese.
With these tips in mind, you'll be able to create delicious Cheesy Steak Fries that are crispy, flavorful, and loaded with melted cheese. Enjoy them as a satisfying meal or a crowd-pleasing appetizer.
Serving Suggestions
Here are some serving suggestions for Cheesy Steak Fries:
1. Classic main dish: Serve Cheesy Steak Fries as a delicious and filling main course. Pair them with a side salad or steamed vegetables for a well-rounded meal.
2. Game day snack: These Cheesy Steak Fries make a fantastic snack for game day. Serve them alongside other finger foods like chicken wings, sliders, or nachos for a crowd-pleasing spread.
3. Party appetizer: Arrange Cheesy Steak Fries on a platter and serve them as an appetizer at parties or gatherings. Provide toothpicks or skewers for easy serving.
4. Burger topping: Take your burger to the next level by using Cheesy Steak Fries as a delicious and indulgent topping. Place them on top of your burger patty for a burst of flavor and texture.
5. Movie night treat: Enjoy Cheesy Steak Fries as a tasty and satisfying snack during movie nights at home. Serve them in individual portions or share them with friends and family.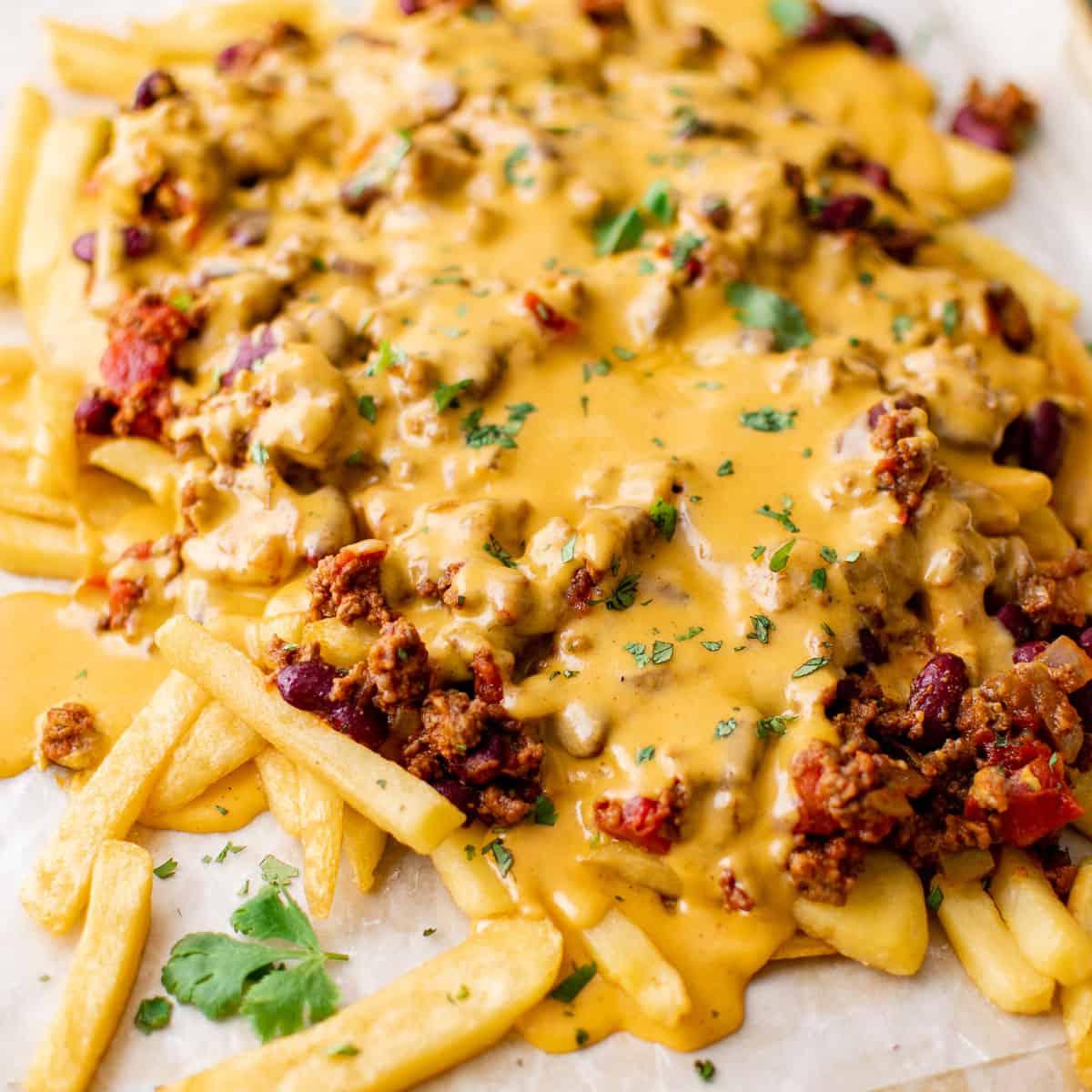 6. Side dish for grilled meats: Pair Cheesy Steak Fries with grilled steaks, burgers, or barbecue ribs. They make a perfect accompaniment, complementing the smoky flavors of the grilled meats.
7. Brunch or breakfast addition: Serve Cheesy Steak Fries as a unique twist on a traditional brunch or breakfast spread. They pair well with eggs, bacon, or breakfast sandwiches, adding a savory and cheesy element to the meal.
8. Late-night indulgence: Craving a delicious late-night snack? Cheesy Steak Fries are a satisfying choice. Serve them alongside your favorite dipping sauces for a tasty and comforting treat.
Remember to adjust the serving size and quantity based on the number of guests and their preferences. Cheesy Steak Fries are versatile and can be enjoyed in various settings, so get creative and have fun exploring different serving options.