Honey roasted carrots are versatile and can be enjoyed in various settings. They make a fantastic side dish for holiday feasts, dinner parties, or weeknight family meals. The combination of sweet and savory flavors complements a wide range of proteins, such as roasted chicken, grilled steak, or baked fish.
Not only are honey roasted carrots delicious, but they also provide nutritional benefits. Carrots are rich in vitamins, minerals, and fiber, making them a healthy addition to your plate. The addition of honey provides a natural sweetener with potential antioxidant properties.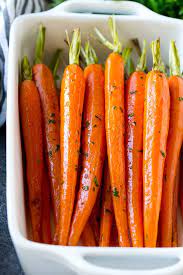 Honey Roasted Carrots
Honey roasted carrots are a delightful side dish that combines the natural sweetness of carrots with a rich and caramelized glaze of honey. This simple yet flavorful recipe enhances the natural flavors of carrots and creates a deliciously tender and slightly sticky texture.
Ingredients
1

tbsp

olive oil

3

cups

baby carrots

1

tbsp

honey

salt and pepper to taste
Instructions
In a container, put the carrots, then using oil and honey, drizzle it

.Sprinkle on salt and pepper, then using a wooden spoon, blend itentirely

Position the carrots in the basket, then cook at 400 degrees for 10minutes

For best results, serve immediately
Notes
The result is a dish that balances the inherent sweetness of the carrots with the depth of flavor from the honey. The caramelization process enhances the sweetness even further and adds a touch of richness. The carrots become tender and slightly crispy on the outside, making them a perfect accompaniment to various main courses or a standalone vegetable dish.
Nutrition
Calories:
83
kcal
Carbohydrates:
13
g
Protein:
1.3
g
Fat:
3.5
g
Sodium:
73
mg
Fiber:
2.5
g
FAQs about Honey roasted carrots
Q: Can I use baby carrots instead of regular carrots for honey roasted carrots?
A: Yes, you can use baby carrots for honey roasted carrots. Keep in mind that baby carrots are already peeled and have a smaller size, so they may require less cooking time. Adjust the roasting time accordingly and monitor their tenderness while baking.
Q: Can I use other sweeteners instead of honey?
A: Yes, if you prefer to use a different sweetener, you can substitute honey with alternatives like maple syrup, agave nectar, or brown sugar. Keep in mind that the flavor profile may slightly differ depending on the sweetener used.
Q: How long do honey roasted carrots take to cook?
A: The cooking time for honey roasted carrots can vary depending on the size and thickness of the carrot pieces, as well as the desired level of tenderness. On average, they usually take about 25-30 minutes in a preheated oven at 400°F (200°C). It's recommended to check their doneness by piercing them with a fork to ensure they are tender to your liking.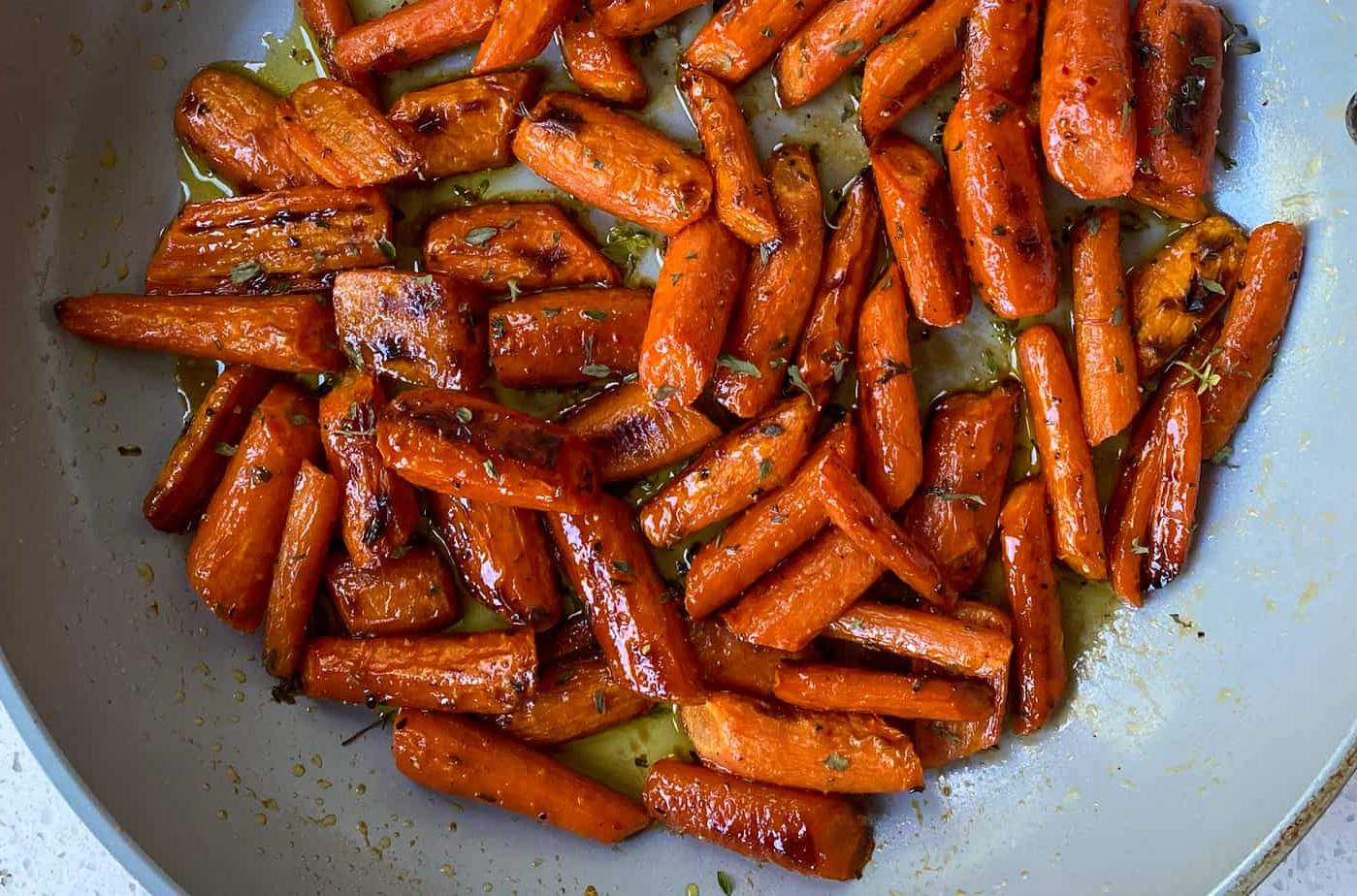 Q: Can I make honey roasted carrots ahead of time?
A: Honey roasted carrots are best enjoyed fresh out of the oven to preserve their texture and flavor. However, you can prep the carrots ahead of time by peeling and cutting them. Store them in an airtight container in the refrigerator, and when ready to cook, toss them with the honey glaze and roast them. This way, you can save some preparation time while still enjoying the roasted carrots at their best.
Q: Can I add other seasonings or spices to the honey glaze?
A: Absolutely! While honey provides a deliciously sweet glaze, you can enhance the flavor by adding additional seasonings or spices. Popular choices include a pinch of cinnamon, a sprinkle of thyme or rosemary, or a touch of cayenne pepper for a hint of heat. Experiment with different flavor combinations to suit your taste preferences.
Q: Can I make honey roasted carrots on the stovetop?
A: While roasting in the oven is the most common method for honey roasted carrots, you can also cook them on the stovetop. Heat a skillet or sauté pan over medium heat, add the carrots, honey glaze, and a bit of butter or oil. Cook, stirring occasionally, until the carrots are tender and caramelized, adjusting the heat as needed.
Remember to adjust cooking times, temperatures, and ingredients based on your personal preferences and dietary restrictions. Feel free to experiment and customize the recipe to suit your taste and desired level of sweetness.
Cooking tips
Sure, here are some tips for cooking Sweet and Savory Honey Roasted Carrots:
1. Choose the right carrots: Select fresh and firm carrots with bright orange color. This will ensure that your Sweet and Savory Honey Roasted Carrots come out looking and tasting delicious.
2. Cut the carrots evenly: Cut the carrots into even pieces to ensure that they cook evenly and have the same texture.
3. Use parchment paper: Line a baking sheet with parchment paper to ensure that the carrots don't stick to the sheet. This will also make clean-up easier.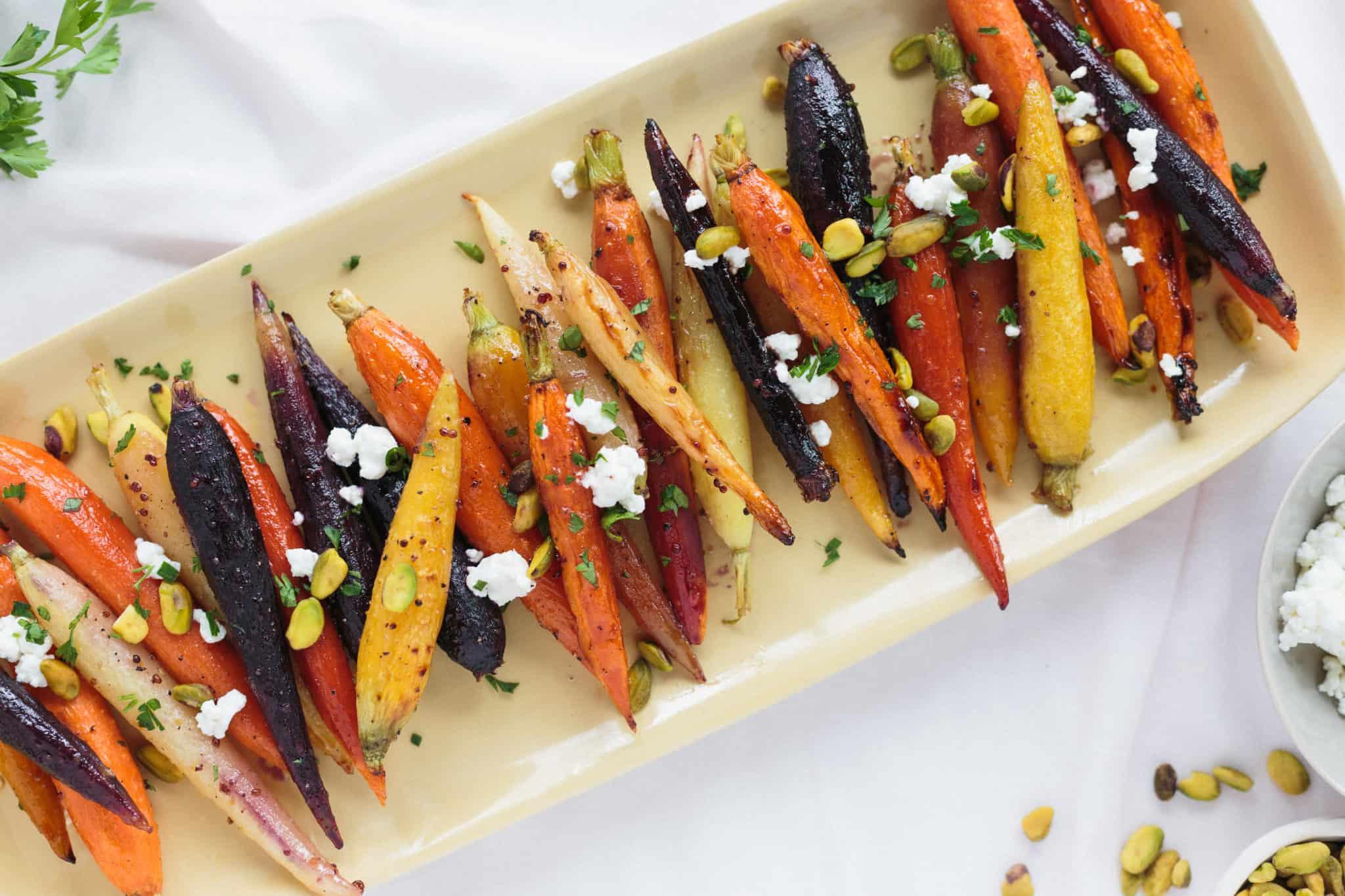 4. Coat the carrots evenly: Toss the carrots well in the honey mixture to ensure they are coated evenly before roasting. Give them time to marinate in the mixture for even better flavor.
5. Don't overcrowd the pan: Arrange the carrots in a single layer on the baking dish to ensure they roast evenly. Overcrowding the pan can cause the carrots to steam instead of roast. 6
. Add freshness: Adding chopped fresh herbs like parsley, dill, or thyme, or a squeeze of lemon juice at the end can brighten the flavors and add freshness to the dish.
7. Roast at the right temperature: Roast the carrots in the oven at around 400°F for 20-25 minutes, or until they are tender and caramelized. I hope these tips will help you to make delicious Sweet and Savory Honey Roasted Carrots.
Serving Suggestions
Here are some serving suggestions for honey roasted carrots:
1. Holiday Feast: Serve honey roasted carrots as a delicious and colorful side dish for holiday meals such as Thanksgiving, Christmas, or Easter. They complement traditional dishes like roasted turkey, glazed ham, or prime rib.
2. Roasted Vegetable Medley: Combine honey roasted carrots with other roasted vegetables like Brussels sprouts, sweet potatoes, and parsnips for a flavorful and vibrant medley. It makes a fantastic side dish for any meal.
3. Salad Topping: Add a sweet and savory touch to your salads by incorporating honey roasted carrots. Chop them into smaller pieces and toss them into a green salad, grain bowl, or roasted vegetable salad for added texture and flavor.
4. Vegetable Platter: Include honey roasted carrots on a vegetable platter alongside other roasted or raw vegetables. Serve them with a variety of dips such as hummus, ranch dressing, or balsamic glaze for a beautiful and tasty appetizer spread.
5. Brunch Side Dish: Pair honey roasted carrots with brunch favorites like quiche, frittata, or breakfast hash. They add a touch of sweetness and vibrant color to the plate.
6. Grain Bowl or Buddha Bowl: Create a nourishing and balanced meal by incorporating honey roasted carrots into a grain bowl or Buddha bowl. Combine them with cooked grains, protein (such as grilled chicken, tofu, or chickpeas), leafy greens, and other toppings for a satisfying and wholesome dish.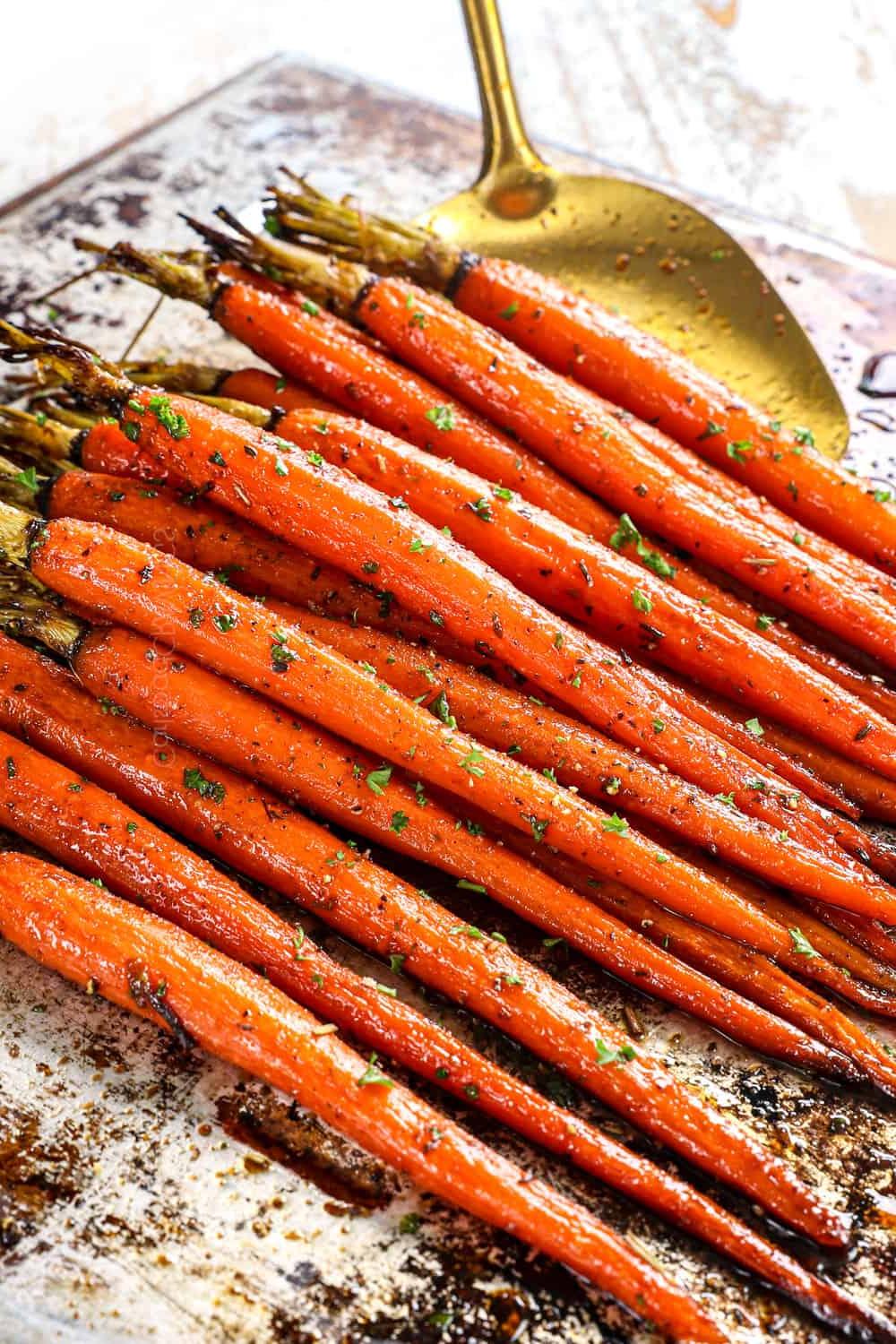 7. Sandwich or Wrap Filling: Use honey roasted carrots as a flavorful filling for sandwiches or wraps. Their sweetness and tenderness complement various fillings like roasted turkey, grilled chicken, avocado, and fresh greens.
8. Appetizer Skewers: Thread honey roasted carrots onto skewers along with cherry tomatoes, cubes of cheese, and olives for an easy and appetizing finger food option. They are perfect for parties, potlucks, or as a pre-dinner snack.
9. Vegetable Stir-Fry: Incorporate honey roasted carrots into a vegetable stir-fry for added depth of flavor. Combine them with other stir-fry vegetables, protein, and your choice of sauce for a tasty and colorful meal.
10. Standalone Side Dish: Honey roasted carrots can be enjoyed on their own as a delicious side dish. Serve them alongside grilled or roasted meats, fish, or vegetarian mains as a flavorful and nutritious addition to the plate.
Remember to adjust the serving suggestions based on your personal preferences and the occasion. Honey roasted carrots add a touch of sweetness and elegance to any meal, making them a versatile and tasty side dish option.