Ranch chicken fingers is a popular recipe that combines the classic flavors of ranch dressing with crispy chicken fingers. To make the dish, chicken tenders are coated in a mixture of panko crumbs, parmesan cheese, and ranch seasoning before being baked in the oven until golden and crisp. The result is a flavorful and satisfying dish that is perfect for game day, family meals or as an appetizer. It is also a healthier alternative to deep-fried chicken fingers, making it a popular choice for those who are health conscious but still want to enjoy tasty food.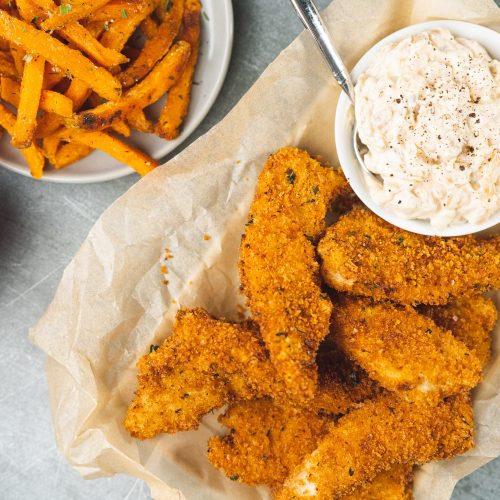 Ranch Chicken Fingers
Homemade Ranch Chicken Fingers are a delicious and easy-to-make appetizer or main course that are perfect for any occasion. This recipe involves coating chicken tenderloins with a seasoned flour mixture, dipping them in a buttermilk and egg mixture, and then coating them with a seasoned breadcrumb mixture before baking in the oven.
Ingredients
2

lb

chicken breast fillet, sliced into strips

1

tbsp

olive oil

1

oz

ranch dressing seasoning mix

4

cups

breadcrumbs

Salt to taste
Instructions
Coat chicken strips with olive oil.

Sprinkle all sides with ranch seasoning.

Cover with foil and refrigerate for 1 to 2 hours.

In a bowl, mix breadcrumbs and salt

Dredge the chicken strips with seasoned breadcrumbs

Add crisper plate to the dutch oven basket inside the Power XL Grill.

Set it to 390 degrees F.9. Preheat for 3 minutes

Add chicken strips to the crisper plate.

Cook for 15 to 20 minutes, flipping halfway through.
Notes
Nutrition: Calories – 188 Fat – 3.2g Carbohydrates – 28.5g Fiber – 6.2g
Protein – 29.4g
Frequently asked questions
Q: What cut of chicken is best for making chicken fingers?
A: Chicken tenders or boneless, skinless chicken breasts are the best cuts for making chicken fingers.
Q: How do I make sure the chicken fingers are crispy?
A: To ensure crispy chicken fingers, use a mixture of flour, breadcrumbs, and spices for coating the chicken. You can also use panko breadcrumbs for an extra crispy texture. Fry the chicken fingers in hot oil until they are golden brown and crispy.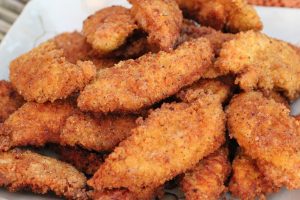 Q: Can I bake the chicken fingers instead of frying them?
A: Yes, you can bake the chicken fingers in the oven for a healthier version. Preheat the oven to 425°F and place the chicken fingers on a baking sheet lined with parchment paper. Bake for 18-20 minutes, or until the chicken is cooked through and the coating is crispy.
Q: Can I make the ranch dip ahead of time?
A: Yes, you can make the ranch dip ahead of time and store it in an airtight container in the refrigerator for up to 1 week.
Q: What can I serve with ranch chicken fingers?
A: Ranch chicken fingers pair well with a variety of sides, such as french fries, roasted vegetables, coleslaw, or a side salad.
Tips to cooking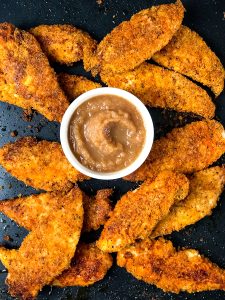 Here are some tips for cooking homemade ranch chicken fingers:
1. Use boneless, skinless chicken breasts: Cut the chicken breasts into strips or nugget shapes so they cook evenly.
2. Dip in egg wash: Before coating the chicken with the dry ingredients, dip it in an egg wash. This will help the coating stick to the chicken and create a crispy outer layer.
3. Season the dry ingredients: Mix the dry ingredients (flour, breadcrumbs, and seasonings) well and season generously to ensure the chicken fingers are well-flavored.
4. Use a wire rack: Place the coated chicken fingers on a wire rack before baking or frying them. This will allow air to circulate around the chicken and help them become crispy.
5. Monitor the temperature: If frying the chicken fingers, make sure the oil is heated to the correct temperature (around 350°F/180°C). If baking, preheat the oven to 425°F/220°C.
6. Don't overcook: Overcooked chicken fingers can become dry and tough. Follow the recipe's cooking time and use a meat thermometer to ensure the chicken is cooked through (165°F/74°C).
7. Serve with dipping sauce: Ranch chicken fingers pair well with ranch dressing, honey mustard, or BBQ sauce. Serve them hot and enjoy!
Serving Sugggestions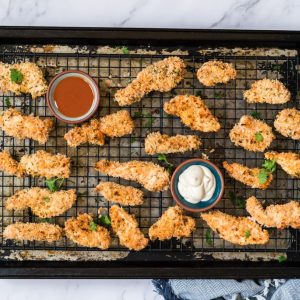 Ranch chicken fingers can be served with a variety of side dishes and dips. Some serving suggestions include:
– Classic dipping sauces like ketchup, honey mustard, or BBQ sauce
– Ranch dressing or blue cheese dressing for an extra dose of ranch flavor
– French fries or sweet potato fries as a side dish
– A side salad or steamed vegetables to add some greens to the meal
You can also get creative and serve the chicken fingers in a wrap or on top of a salad for a more substantial meal.