Indulge in the irresistible combination of gooey melted cheese encased in a crispy breaded coating with homemade Mozzarella Sticks. These savory treats are a classic snack that never fails to delight cheese lovers of all ages.
Picture biting into a warm Mozzarella Stick and experiencing the satisfying pull of melted cheese as it stretches from the crunchy breading. Each bite offers a perfect balance of textures, with the crispy exterior giving way to the gooey and creamy interior.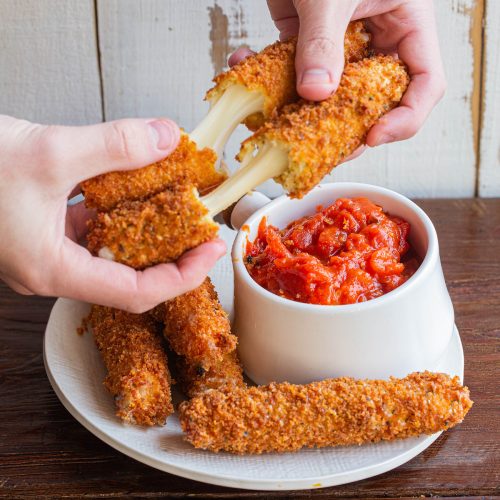 Mozzarella Sticks
Creating Mozzarella Sticks at home is a breeze. Simply coat sticks of mozzarella cheese with seasoned breadcrumbs, and then fry or bake them until golden and crispy. The result is a batch of cheesy delights that are sure to please.
Ingredients
6

mozzarella string cheese sticks

1/2

grated Parmesan cheese

1/2

pork rinds, finely ground

1

tsptsp

dried parsley

2

large eggs
Instructions
Put mozzarella sticks on a cutting board and cut in half. Freeze 45minutes or until stable. If freezing overnight, remove frozen stick safter 1 hour, place it into an airtight zip-top storage bag, then put it again in the freezer for future use

In a large container, mix Parmesan, ground pork rinds, andparsley

In a medium bowl, whisk eggs

Dip a frozen mozzarella stick into beaten eggs and then into Parmesan mixture to coat. Repeat with remaining sticks. Position mozzarella sticks into the dutch oven basket.

Regulate the temperature to 400°F and set the timer for 10 minutes or until golden.
Notes
Whether you're hosting a game night, looking for a delicious appetizer, or simply craving a comforting snack, Mozzarella Sticks are a go-to option. Serve them with marinara sauce, ranch dressing, or your preferred dipping sauce to elevate the flavor and add a tangy kick.
Get ready to savor the joy of homemade Mozzarella Sticks, whether you're enjoying them as a snack on their own or sharing them with friends and family. The combination of the oozing cheese and crispy coating will leave you wanting more.
Nutrition
Calories:
236
kcal
Carbohydrates:
4.7
g
Protein:
19.2
g
Sodium:
609
mg
Sugar:
1.1
g
Cooking Tip for Mozzarella Sticks:
To ensure the perfect batch of crispy and gooey Mozzarella Sticks, here's a helpful cooking tip:
1. Freeze the Mozzarella Cheese: Before breading and frying or baking the Mozzarella Sticks, it's important to freeze the cheese for about 30 minutes. This step helps the cheese hold its shape during the cooking process, preventing it from melting too quickly and leaking out of the breading.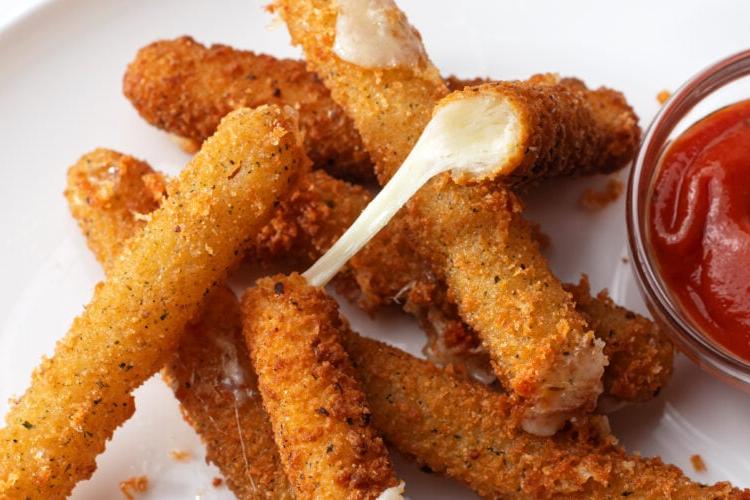 By freezing the Mozzarella cheese, you'll achieve a better texture and ensure that the cheese remains intact inside the crispy coating, resulting in that delightful stretchy and gooey cheese pull.
Remember to slice the Mozzarella cheese into sticks of your desired size before freezing. Arrange the cheese sticks on a baking sheet lined with parchment paper and place them in the freezer until firm.
So, take the time to freeze the Mozzarella cheese sticks before breading and cooking them. This will help you achieve the perfect balance of crispy coating and gooey cheese in your homemade Mozzarella Sticks. Enjoy the deliciousness and experience the satisfying cheese pull with every bite!
Serving Suggestion for Mozzarella Sticks:
Mozzarella Sticks are a versatile snack that can be enjoyed in various ways. Here's a serving suggestion to enhance your culinary experience:
1. Classic Dipping Duo: Serve Mozzarella Sticks with a side of warm marinara sauce for a classic combination. The tangy and savory marinara sauce complements the cheesy sticks perfectly, adding a burst of flavor to each bite. Arrange the Mozzarella Sticks on a platter with a small bowl of marinara sauce in the center for easy dipping.
2. Party Platter: Create a Mozzarella Stick platter as a crowd-pleasing appetizer for parties or gatherings. Arrange the cooked Mozzarella Sticks on a large serving tray and garnish with fresh parsley for a pop of color. Serve them with an assortment of dipping sauces, such as ranch dressing, barbecue sauce, or honey mustard, to cater to different taste preferences.
3. Salad Toppers: Slice the Mozzarella Sticks into bite-sized pieces and use them as crunchy salad toppers. Sprinkle the Mozzarella Stick pieces over a bed of mixed greens, cherry tomatoes, and cucumbers. The warm and crispy cheese will add a delightful contrast to the fresh and crisp salad components.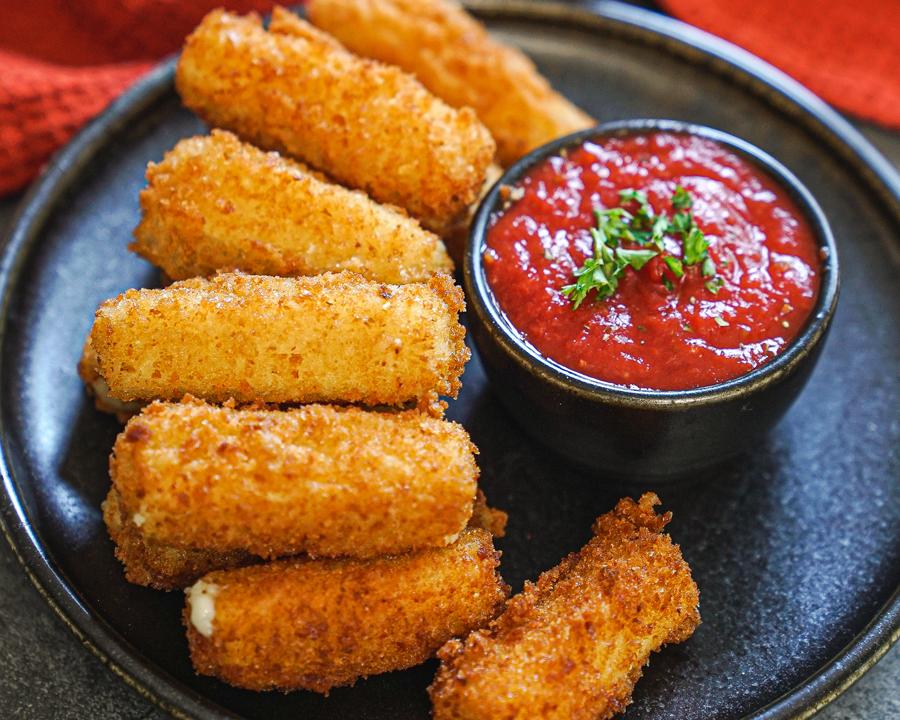 4. Slider Sensation: Take your sliders to the next level by using Mozzarella Sticks as a filling. Cut the Mozzarella Sticks in half widthwise and place them between mini burger buns along with your choice of protein, such as beef, chicken, or vegetarian patties. The melted cheese inside the sliders will elevate the flavor and create a gooey surprise with each bite.
5. Game Day Snack: Serve Mozzarella Sticks as a tasty snack during game day or movie nights. Arrange them in a basket or on a serving platter alongside other finger foods like chicken wings, onion rings, or potato wedges. This irresistible combination is sure to be a hit among sports fans and snack enthusiasts alike.
Remember to serve the Mozzarella Sticks while they are still warm and crispy for the best taste and texture. Experiment with different dipping sauces or creative serving ideas to customize your Mozzarella Stick experience. Enjoy the cheesy, crispy goodness and savor the joy of these irresistible snacks!