Crunchy Parmesan asparagus is a simple yet tasty recipe that features fresh asparagus coated in a crispy, cheesy parmesan crust. The dish is quick and easy to prepare, making it a popular side dish for weeknight meals or dinner parties.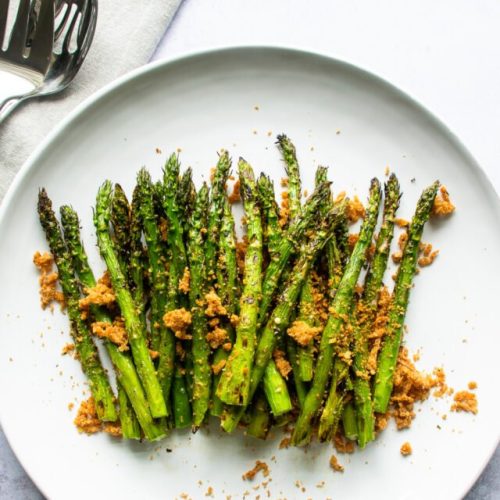 Crunchy Parmesan Asparagus
Crispy Parmesan Asparagus Spears are a delicious and healthy side dish that can be made quickly and easily. Fresh asparagus spears are coated in a mixture of breadcrumbs, parmesan cheese, and seasonings, then baked in the oven until crispy and golden brown. This dish is perfect for any occasion, from a simple weeknight dinner to a fancy dinner party. The combination of crispy coating and tender asparagus make for a perfect flavor and texture contrast.
Ingredients
1/4

cup

cup all-purpose flour

Salt to taste

2

eggs, beaten

1/4

cup

Parmesan cheese, grated

1/2

cup

breadcrumbs

1

cup

asparagus, trimmed

Cooking spray
Instructions
Mix flour and salt in a bowl.

Add eggs to a second bowl.

Combine Parmesan cheese and breadcrumbs in a third bowl.

Dip asparagus spears in the first, second and third bowls.

Add crisper plate to the dutch oven basket inside the Power XL Grill.

Preheat at 390 degrees F for 3 minutes.

Add asparagus to the plate.

Air fry for 5 minutes per side.
Notes
Nutrition: Calories: 243 Fat: 10.5g Saturated Fat: 3g Trans Fat: 0g
Carbohydrates: 10g Fiber: 3g Sodium: 824mg
Protein: 35g
Frequently asked questions about Crunchy Parmesan Asparagus
1. What type of asparagus should I use for this recipe?
– You can use either thin or thick asparagus spears for this recipe, depending on your preference.
2. Can I use pre-grated Parmesan cheese?
– Yes, you can use pre-grated Parmesan cheese for this recipe, but freshly grated cheese will give the dish a better flavor.
3. Can I make this recipe ahead of time?
– It is best to serve this dish immediately after it is cooked for optimal texture and flavor, but you can prepare the asparagus ahead of time and store it in the refrigerator until you are ready to cook it.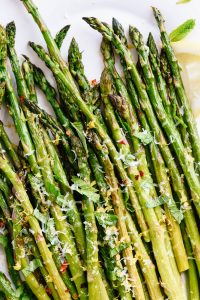 4. Can I use a different type of cheese?
– Yes, you can use a different type of hard cheese in place of Parmesan, such as Pecorino Romano or Asiago.
5. Can I bake the asparagus instead of frying it?
– Yes, you can bake the asparagus at 400°F (205°C) for 10-12 minutes, or until it is tender and the cheese is golden and crispy.
Tips to cooking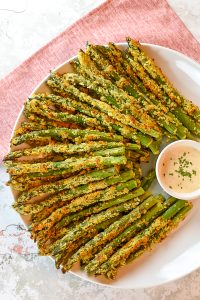 Here are some tips to cook crunchy parmesan asparagus:
1. Choose fresh asparagus spears that are firm and straight with tightly closed tips. Avoid asparagus with wilted or slimy stalks.
2. Wash the asparagus spears thoroughly and trim the woody ends. You can snap them off by holding the spear at each end and bending it until it snaps.
3. Preheat your oven to 400°F (200°C) and line a baking sheet with parchment paper.
4. Toss the trimmed asparagus spears in a mixture of olive oil, minced garlic, salt, and pepper until they are evenly coated.
5. Spread the asparagus spears out on the prepared baking sheet in a single layer, making sure they are not touching each other.
6. Sprinkle parmesan cheese and breadcrumbs over the asparagus spears and lightly press them into the coating.
7. Bake the asparagus for 12-15 minutes, or until they are golden brown and crispy.
Serve immediately and enjoy!
Serving Suggestions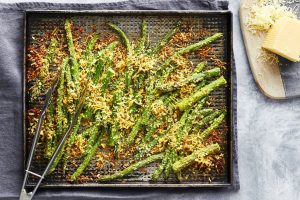 Crispy Parmesan Asparagus Spears make a great side dish for any meal. They pair well with grilled chicken, steak, or fish. They can also be served as an appetizer or snack. To add a pop of color and flavor, consider serving them with a side of fresh lemon wedges or a sprinkle of chopped parsley.