Eggs and spinach side is a simple and healthy side dish that is easy to prepare and can be served for breakfast, lunch, or dinner. The dish is made by sautéing fresh spinach with garlic and onion in a skillet until it wilts. Then, eggs are added to the skillet and cooked until the whites are set but the yolks are still runny. The spinach adds a nutritious and flavorful twist to the traditional eggs, making it a great way to incorporate more greens into your diet.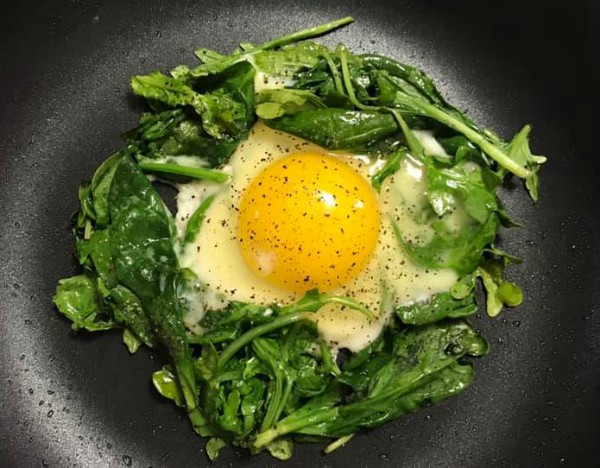 Spinach and Egg Side
Healthy spinach and egg scramble is a flavorful, protein-rich breakfast dish made by scrambling eggs with spinach in olive oil. This recipe is a great way to add some green to your breakfast while also increasing the nutrient content of your meal. Spinach is a superfood rich in vitamins, minerals, fiber, and antioxidants that can help support your overall health.
Ingredients
1

medium-sized

1 medium-sized tomato, chopped1 teaspoon lemon juice1/2 teaspoon coarse salt2 tablespoons olive oil4 eggs, whisked5 ounces spinach, chopped1/2 teaspoon black pepper1/2 cup basil, roughly chopped

1

teaspoon

lemon juice

1/2

teaspoon

coarse salt

2

teaspoons

olive oil

4

eggseggs

5

ounces spinach

1/2

teaspoon

black pepper

1/2

cupcup

basil, roughly chopped
Instructions
Place your dutch oven on a flat kitchen surface; plug it and turn iton. Set temperature to 280 degrees F and let it preheat for 4-5minutes.

Take out the air-frying basket and gently coat it using the oliveoil

In a bowl of medium size, thoroughly mix the ingredients except for the basil leaves

In a bowl of medium size, thoroughly mix the ingredients exceptfor the basil leaves.

Add the mixture to the basket. Push the air-frying basket in the dutch oven. Cook for 10-12 minutes.

.Slide out the basket; top with basil and serve warm with sour cream
Notes
Nutrition: Calories – 272 Fat – 23g Carbohydrates – 5.4g Fiber – 2g Protein
– 13.2g
Describe the taste of Eggs and Spinach Side
Eggs spinach side has a savory taste with a hint of bitterness from the spinach. The combination of spinach, garlic, and cheese adds a depth of flavor that pairs well with the richness of the egg yolk. Overall, it is a delicious and satisfying dish with a balance of flavors.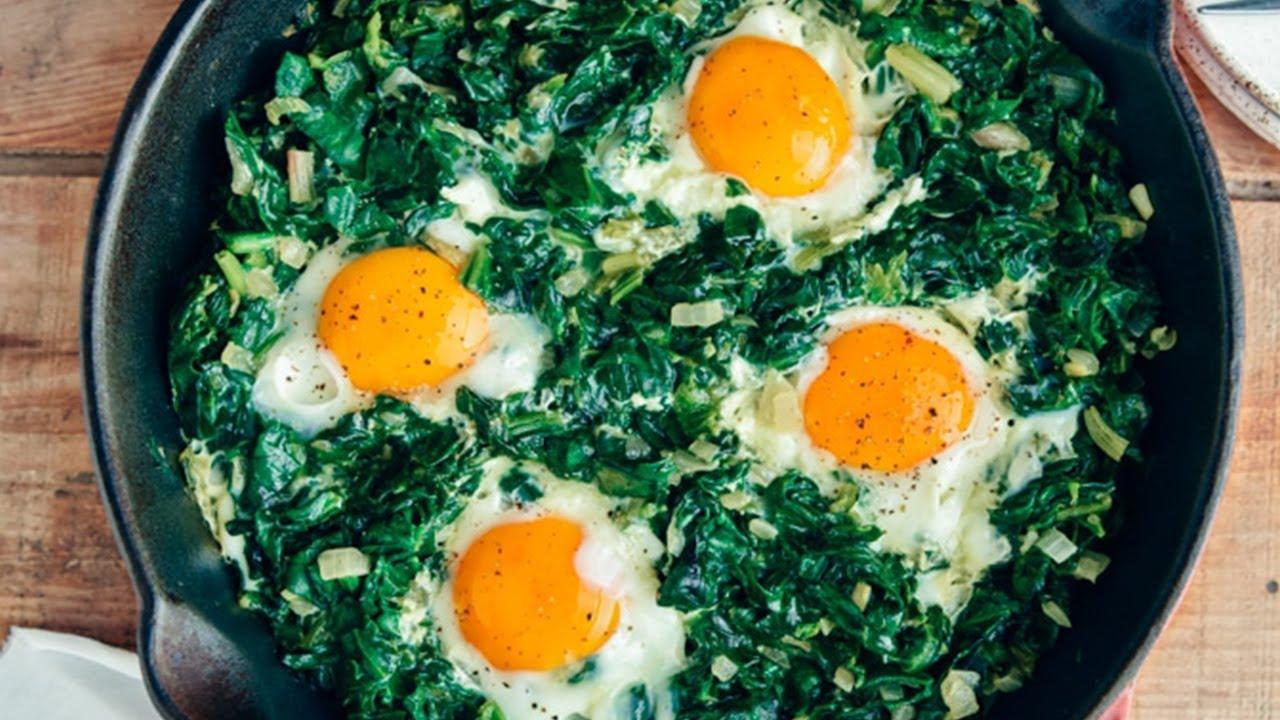 The taste of eggs spinach side is a delicious combination of savory and slightly bitter flavor. The eggs have a satisfying texture that is fluffy and light. The spinach adds a slightly earthy and slightly sweet flavor which pairs nicely with the eggs. The olive oil used to cook the eggs and spinach gives the dish a rich and slightly nutty flavor. When seasoned with salt and pepper, the dish becomes even more flavorful, with a subtle kick and depth of taste. Depending on the recipes, other ingredients like onions, garlic, cheese, and herbs such as thyme or oregano can be added to enhance the flavor profile of the dish. Overall, the taste of eggs spinach side is a fresh and healthy breakfast option that is satisfying and packed with nutrients.
Tips for cooking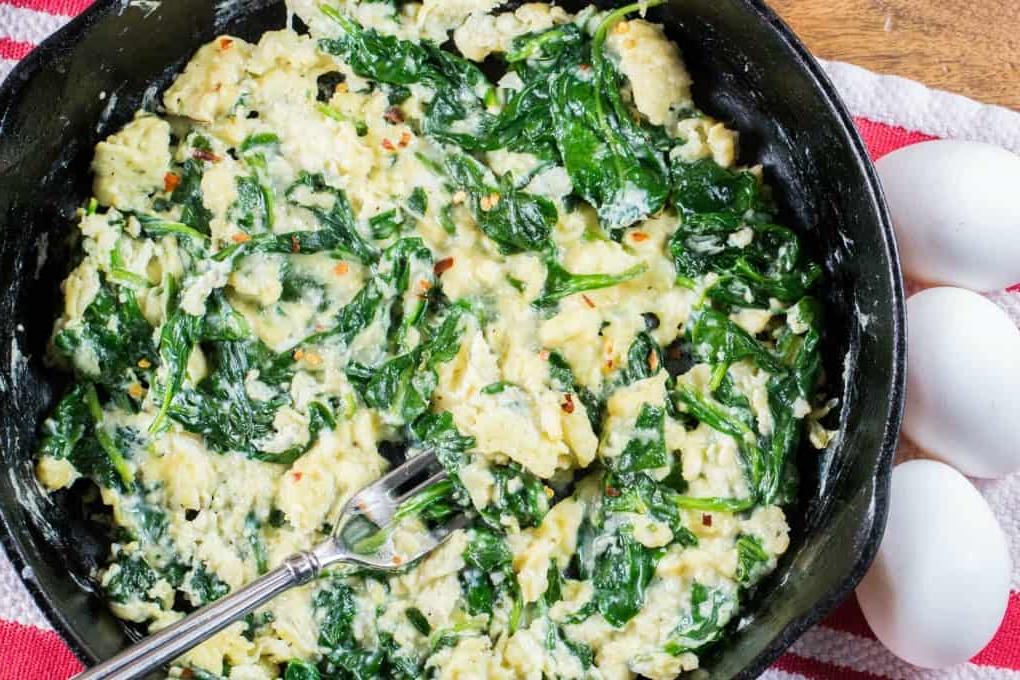 Here are some tips for cooking Eggs Spinach Side:
1. Use fresh spinach: Fresh spinach has a better texture and flavor than frozen spinach, so it's recommended to use fresh spinach in this recipe.
2. Cook the spinach properly: Be sure to cook the spinach until it's wilted and most of the moisture has evaporated. This will ensure that the final dish isn't too watery.
3. Season well: Adding salt, pepper, and other spices to the dish can enhance the flavors. Experiment with different spices to find what works best for you.
4. Cook the eggs to your preference: You can prepare the eggs sunny-side up, over-easy, or scrambled, depending on your preference.
5. Serve immediately: Eggs Spinach Side is best enjoyed hot and fresh out of the pan, so try to serve it immediately after cooking.
Serving Suggestions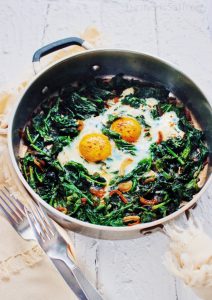 Eggs and spinach can be served in various ways, depending on personal preference and the occasion. Here are some serving suggestions for Eggs Spinach Side:
1. Serve as a side dish with roasted chicken or grilled steak for a complete meal.
2. Top with shredded cheese and bake until melted for a cheesy twist.
3. Serve over toast or English muffin for a breakfast or brunch dish.
4. Garnish with fresh herbs such as parsley, chives, or dill for added flavor and visual appeal.
5. Serve with a side of roasted vegetables or a mixed greens salad for a healthy and well-balanced meal.
6. Top with avocado slices and hot sauce for a delicious and satisfying breakfast or lunch option.
7. Serve in a wrap or pita bread with some hummus or tzatziki for a delicious and portable lunch.