Crispy Parmesan French fries are a tasty variation of the classic French fries that are baked or fried to perfection. The potatoes are cut into thin slices and coated with a mixture of Parmesan cheese, garlic powder, olive oil, salt and pepper, and then baked or fried until golden and crispy. The Parmesan cheese adds a rich flavor and a crispy texture to the fries, which are perfect as a snack or side dish. The preparation of crispy Parmesan French fries is simple and straightforward, but the results are impressive and delicious. Whether you prefer them dipped in ketchup or enjoyed on their own, these fries are sure to be a hit with anyone craving a crispy and flavorful snack.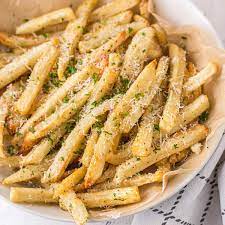 Parmesan French Fries
The recipe involves cutting potatoes into fries, seasoning them with herbs and Parmesan cheese, and then baking them until they are crispy and golden brown. The end result is a crunchy and savory treat that can be enjoyed on its own or paired with a variety of dips and sauces.
Ingredients
1

lb

French fries

1/2

cupcup

mayonnaise

2

cloves garlic, minced

1

tablespoon

oiloil

Salt and pepper to taste

1

teaspoon

garlic powder

1/2

cup

Parmesan cheese, grated

1

teaspoon

lemon juice
Instructions
Add crisper basket to your Power XL Grill.

Set it to 375 degrees F for 22 minutes.

Set it to 375 degrees F for 22 minutes.

Shake and cook for another 5 minutes.

Toss in oil and sprinkle with Parmesan cheese

Mix the remaining ingredients in a bowl.

Serve fries with this sauce.
Notes
Nutrition: Calories - 445 Fat – 27g Carbohydrates – 25g Fiber – 2g Protein
– 20g
Characteristics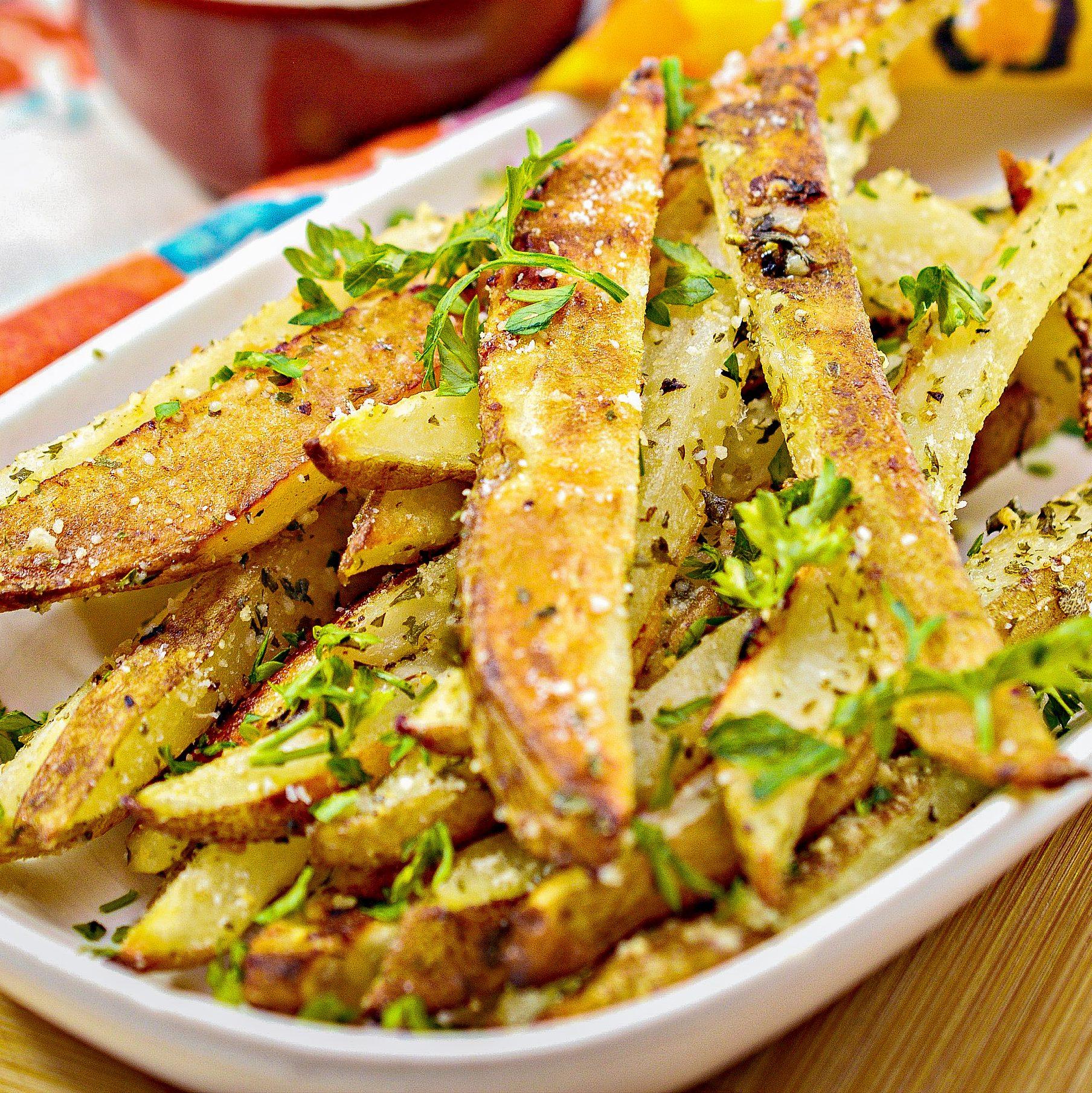 Some characteristics of Parmesan French Fries include:
Crunchy texture: Parmesan French Fries are baked until they are crispy and golden brown on the outside, while remaining soft and fluffy on the inside.
Savory flavor: The fries are seasoned with Parmesan cheese, garlic, herbs, and other spices, giving them a delicious savory flavor.
Versatile: Parmesan French Fries can be enjoyed on their own as a snack or served as a side dish to a variety of meals, such as burgers, sandwiches, and salads.
Easy to make: This recipe is simple and easy to follow, requiring only a few ingredients and minimal prep work.
Customizable: The recipe can be easily adapted to include other ingredients, such as truffle oil or cajun seasoning, to create different variations of the dish.
Overall, Parmesan French Fries are a delicious and versatile dish that can be enjoyed by anyone who loves the classic combination of crispy potatoes and savory cheese.
Tips for cooking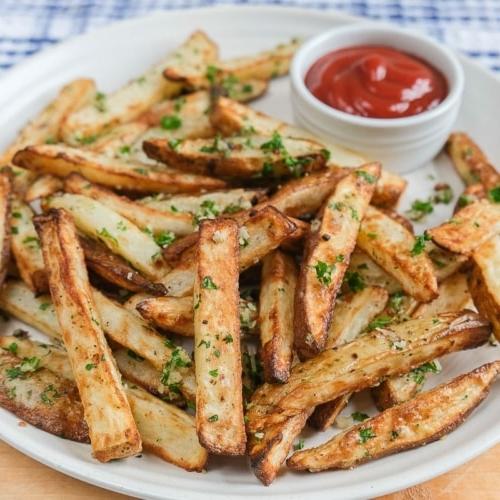 Here are some tips for cooking delicious Parmesan French Fries:
Use the right potatoes: Russet potatoes are the best choice for making French fries as they are high in starch and low in moisture, resulting in crispy fries.
Cut the potatoes evenly: Cut the potatoes into evenly-sized strips so that they cook evenly.
Soak the potatoes: Soaking the potatoes in cold water for 30 minutes to an hour before cooking helps remove excess starch and makes the fries crispier.
Dry the potatoes: Pat the potatoes dry with a clean kitchen towel or paper towel before seasoning and baking to remove excess moisture.
Preheat the oven: Make sure to preheat the oven to a high temperature (around 400°F or 200°C) to ensure that the fries cook evenly and become crispy.
Add seasoning after baking: Sprinkle the Parmesan cheese and any other seasonings on the fries after baking to prevent the cheese from burning.
By following these tips, you can achieve perfectly crispy and delicious Parmesan French Fries every time.
Serving suggestions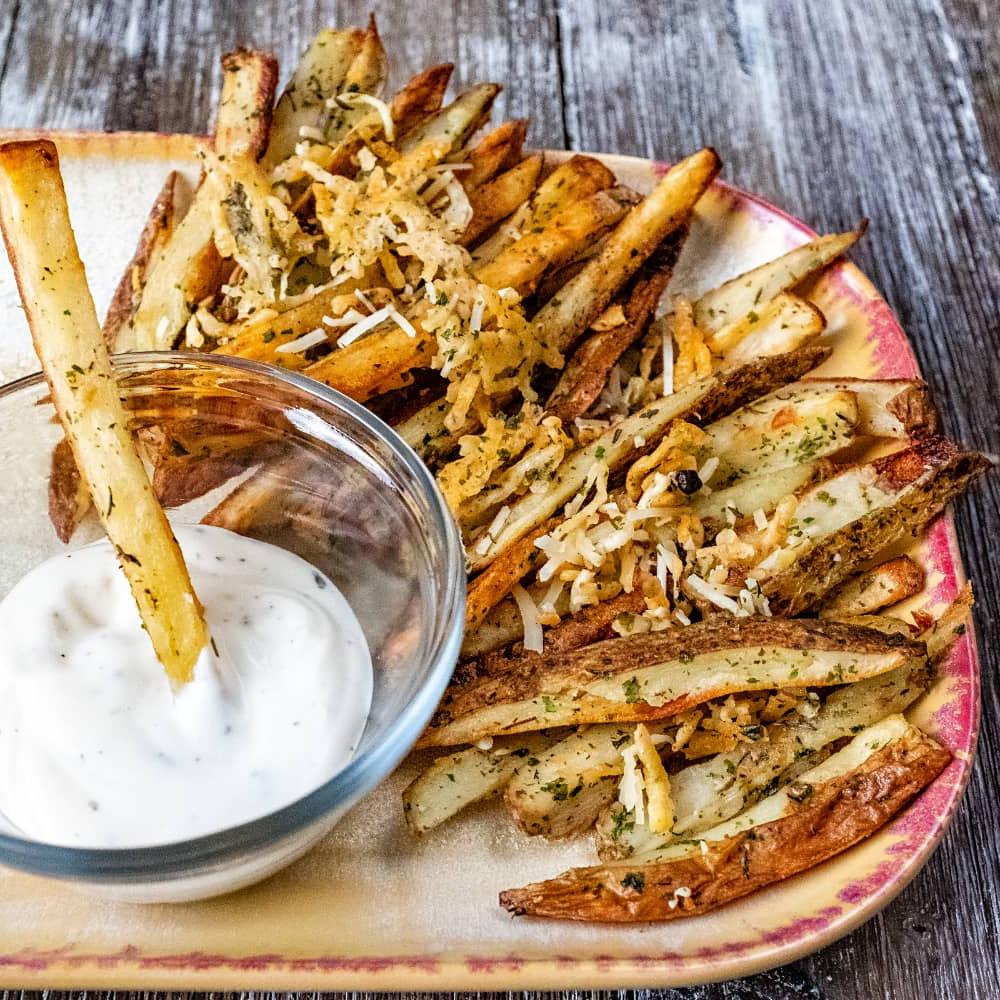 Here are some serving suggestions for Parmesan French Fries:
Dip: Serve the fries with your favorite dipping sauce, such as ketchup, aioli, or ranch dressing.
Side dish: Pair the fries with your favorite main course, such as burgers, sandwiches, or grilled chicken.
Appetizer: Serve the fries as a tasty and easy-to-prepare appetizer at your next gathering or party.
Snack: Enjoy the fries on their own as a savory and satisfying snack.
Toppings: Top the fries with additional ingredients, such as bacon bits, green onions, or chopped herbs, to add extra flavor and texture.
Whether you serve them as a side dish or as an appetizer, Parmesan French Fries are a crowd-pleaser that are sure to satisfy everyone's cravings for crispy and savory potatoes.