Cauliflower fritters are a versatile and flavorful dish that showcases the incredible potential of this humble vegetable. By combining cauliflower with a variety of ingredients, spices, and herbs, you can create crispy and delicious fritters that are perfect as appetizers, snacks, or even as a side dish. These fritters offer a creative and tasty way to incorporate more vegetables into your meals while enjoying a satisfying and savory experience.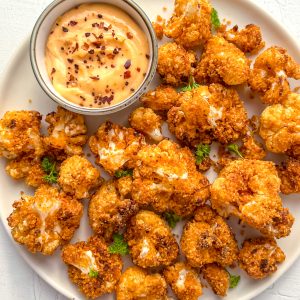 Cauliflower Fritters
Cauliflower fritters are a delightful and versatile dish that offers a flavorful twist to traditional fritters. These crispy bites showcase the natural sweetness and texture of cauliflower, making them a fantastic way to incorporate more vegetables into your diet. Whether you're looking for a tasty appetizer, a satisfying snack, or a side dish, cauliflower fritters are a perfect choice.
Ingredients
4

cups

Cauliflower Florets

1

cup

Bread Crumbs

1

tsp

Salt

1/4

cup, melted.

Butter

1/4

cup

Buffalo sauce
Instructions
Twitch by melting the butter in the microwave for 10 seconds.

Add the buffalo sauce into the butter and whisk well.

Hold each cauliflower by its stem and dip it into the mixture.

Next, coat the cauliflower into the bread crumbs.

Place the coated cauliflowers into the air fryer.

Cook 400 degrees F for 12 minutes.

After 7 minutes, toss the cauliflowers and cook for another 6minutes.

Once done, serve hot and enjoy or with your favorite dip.
Notes
The fritters can be easily customized with a variety of spices, herbs, and dipping sauces, allowing you to create a unique and delicious culinary experience. Enjoy the crunchy exterior and tender interior of these cauliflower fritters as a standalone dish or as part of a larger meal. They're a wonderful way to add a burst of flavor and nutrition to your table.
Nutrition
Calories:
80
kcal
Carbohydrates:
1
g
Protein:
6
g
Fat:
6
g
Cooking Tip for Cauliflower Fritters:
To ensure the best results when making cauliflower fritters, consider the following cooking tip:
1. Properly Drain the Cauliflower: After chopping or grating the cauliflower, it's essential to remove excess moisture to achieve crispier fritters. Place the cauliflower in a clean kitchen towel or cheesecloth and squeeze firmly to remove any liquid. Alternatively, you can steam or blanch the cauliflower briefly before incorporating it into the fritter mixture to reduce moisture content.
2. Use a Binder: To help bind the fritter mixture together and prevent it from falling apart during cooking, include a suitable binder such as eggs, flaxseed meal, or chickpea flour. These ingredients provide structure and help the fritters hold their shape.
3. Adjust Consistency: The consistency of the fritter batter is crucial. If it's too wet, the fritters may become soggy and fail to crisp up properly. On the other hand, if the mixture is too dry, the fritters may crumble. Gradually add the liquid components (such as eggs, milk, or water) to the dry ingredients until you achieve a slightly thick and cohesive batter.
4. Control the Cooking Temperature: For perfectly crispy and golden-brown fritters, it's important to maintain the right cooking temperature. Heat your frying oil or cooking surface over medium heat and allow it to reach the optimal temperature before adding the fritters. Cooking them on too high heat can lead to burning on the outside while the inside remains undercooked.
5. Cook in Batches: Avoid overcrowding the pan or cooking surface when frying or baking the fritters. Give each fritter enough space to cook evenly and allow for easy flipping or turning. Cook in batches if needed, ensuring consistent heat distribution and a crispy exterior on each fritter.
6. Drain Excess Oil: After frying the fritters, place them on a paper towel-lined plate or wire rack to drain any excess oil. This helps to keep the fritters light and prevents them from becoming greasy.
Remember, cooking times and methods may vary based on the specific recipe you're using, so always follow the instructions provided. By following these tips, you'll be well on your way to achieving perfectly crispy and delicious cauliflower fritters that are sure to impress!
Serving Suggestion for Cauliflower Fritters:
Cauliflower fritters can be enjoyed in various ways, whether as a standalone appetizer, a side dish, or even as a main course. Here are some serving suggestions to elevate your cauliflower fritters:
1. Dipping Sauces: Serve the cauliflower fritters with an array of flavorful dipping sauces to enhance their taste. Consider options like tangy yogurt-based sauces, spicy sriracha mayo, zesty lemon aioli, or a refreshing mint chutney. These sauces complement the fritters and add an extra layer of deliciousness.
2. Salad Topping: Use cauliflower fritters as a crispy topping for salads. Arrange a bed of fresh mixed greens or your favorite salad base, then place a few fritters on top. This adds texture and flavor to your salad, creating a satisfying and wholesome meal.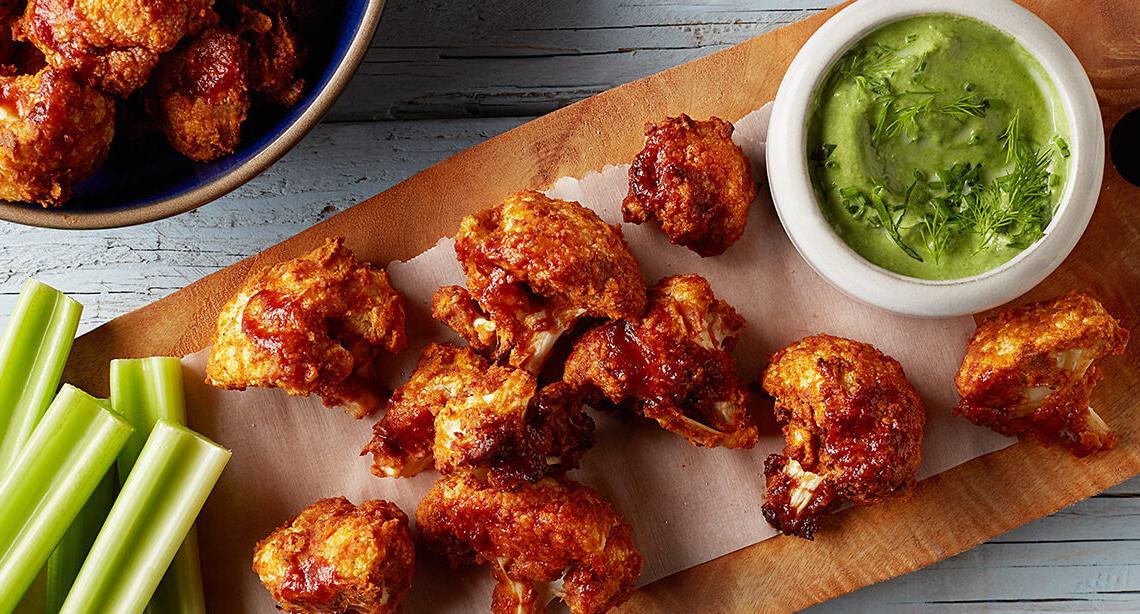 3. Sandwiches or Burgers: Take your sandwiches or veggie burgers to the next level by including cauliflower fritters as a tasty filling. Place a fritter between your choice of buns or bread, along with other fillings like lettuce, tomato slices, avocado, or pickles. The combination of flavors and textures makes for a delicious and hearty sandwich.
4. Wraps or Tacos: Wrap the cauliflower fritters in warm tortillas with a variety of fresh vegetables, salsa, and your favorite condiments. This creates a flavorful and portable meal, perfect for a quick lunch or an on-the-go option.
5. Bowls or Grain Salads: Add cauliflower fritters to grain bowls or salads for a substantial and nutritious meal. Combine cooked grains like quinoa or brown rice with roasted vegetables, leafy greens, and a couple of cauliflower fritters. Drizzle with a dressing of your choice for a well-balanced and satisfying bowl.
6. Party Platter: Arrange a platter of cauliflower fritters alongside an assortment of dipping sauces and serve them as a party appetizer. This allows guests to customize their fritters with different flavors while enjoying a delightful and shareable snack.
Remember to garnish your cauliflower fritters with fresh herbs like cilantro or parsley for a pop of color and added freshness. Get creative and explore different serving ideas to suit your preferences and the occasion. Cauliflower fritters are versatile, flavorful, and offer a unique twist to your meals. Enjoy the crispy texture and savory taste of these delicious fritters in whichever way appeals to you!