Zucchini with tuna can be prepared in various ways, offering versatility and creativity in the kitchen. One popular method is to create zucchini boats by scooping out the center of the zucchini and filling it with a mixture of tuna, herbs, vegetables, and seasonings. The boats are then baked until the zucchini is tender and the filling is heated through, creating a delicious and nutritious meal.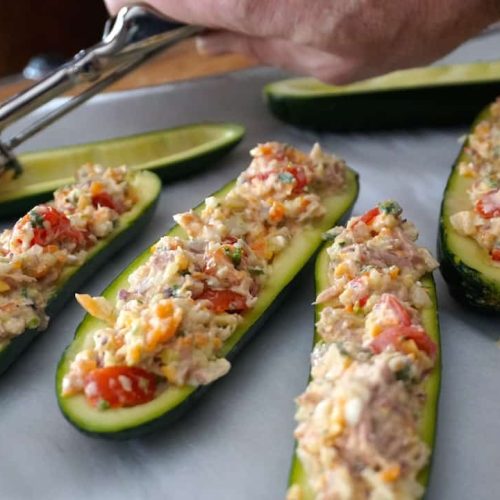 Zucchini Tuna Boats: A Light and Flavorful Delight
Zucchini with tuna offers a range of benefits, including being rich in nutrients, high in protein, and low in calories. It's a versatile dish that can be enjoyed as a main course, a light lunch, or even as an appetizer.
Ingredients
4

medium zucchinis

120

gram

of tuna in oil (canned) drained

30

gram

grated cheese

Salt, pepper to taste

tsp

pine nuts
Instructions
Cut the zucchini in half lengthways and empty it with a smallspoon (set aside the pulp that will be used for the filling); placethem in the basket.

In a food processor, put the zucchini pulp, drained tuna, pine nuts,and grated cheese. Blend everything until you get a homogeneousand dense mixture.

Fill the zucchini. Set the dutch oven to 1800C.

Depending on the size of the zucchini. Let cool before serving
Notes
Whether you prefer stuffed zucchini boats, zucchini and tuna medleys, or zucchini noodles with tuna, this pairing is a delicious and healthy choice. It allows you to incorporate vegetables and seafood into your diet while exploring a variety of flavors and textures.
Zucchini with tuna is a versatile dish that can be adapted to suit individual tastes and dietary preferences. Get creative with your ingredients, experiment with different seasonings, and enjoy the delightful combination of zucchini and tuna in a range of delicious preparations.
Nutrition
Calories:
389
kcal
Carbohydrates:
10
g
Protein:
23
g
Fat:
29
g
Cholesterol:
40
mg
Sugar:
5
g
FAQs about Zucchini Tuna Boats
Q: Can I use canned tuna for zucchini with tuna recipes?
A: Yes, canned tuna is a convenient and widely used option for zucchini with tuna recipes. It is recommended to use tuna packed in water or olive oil for better flavor and texture. Drain the excess liquid before incorporating it into your recipe.
Q: What type of zucchini works best for zucchini with tuna dishes?
A: Both green and yellow zucchini can be used for zucchini with tuna recipes. Choose zucchini that are firm, with smooth skin and no signs of soft spots or blemishes. The size of the zucchini can vary based on personal preference, but medium-sized zucchini are often ideal for creating zucchini boats or noodles.
Q: Can I customize the filling for zucchini boats?
A: Absolutely! Zucchini boats offer great flexibility for customization. You can experiment with various fillings such as adding chopped vegetables like bell peppers, onions, or tomatoes, incorporating different herbs and spices, or even mixing in additional ingredients like cheese, breadcrumbs, or grains to enhance the flavor and texture.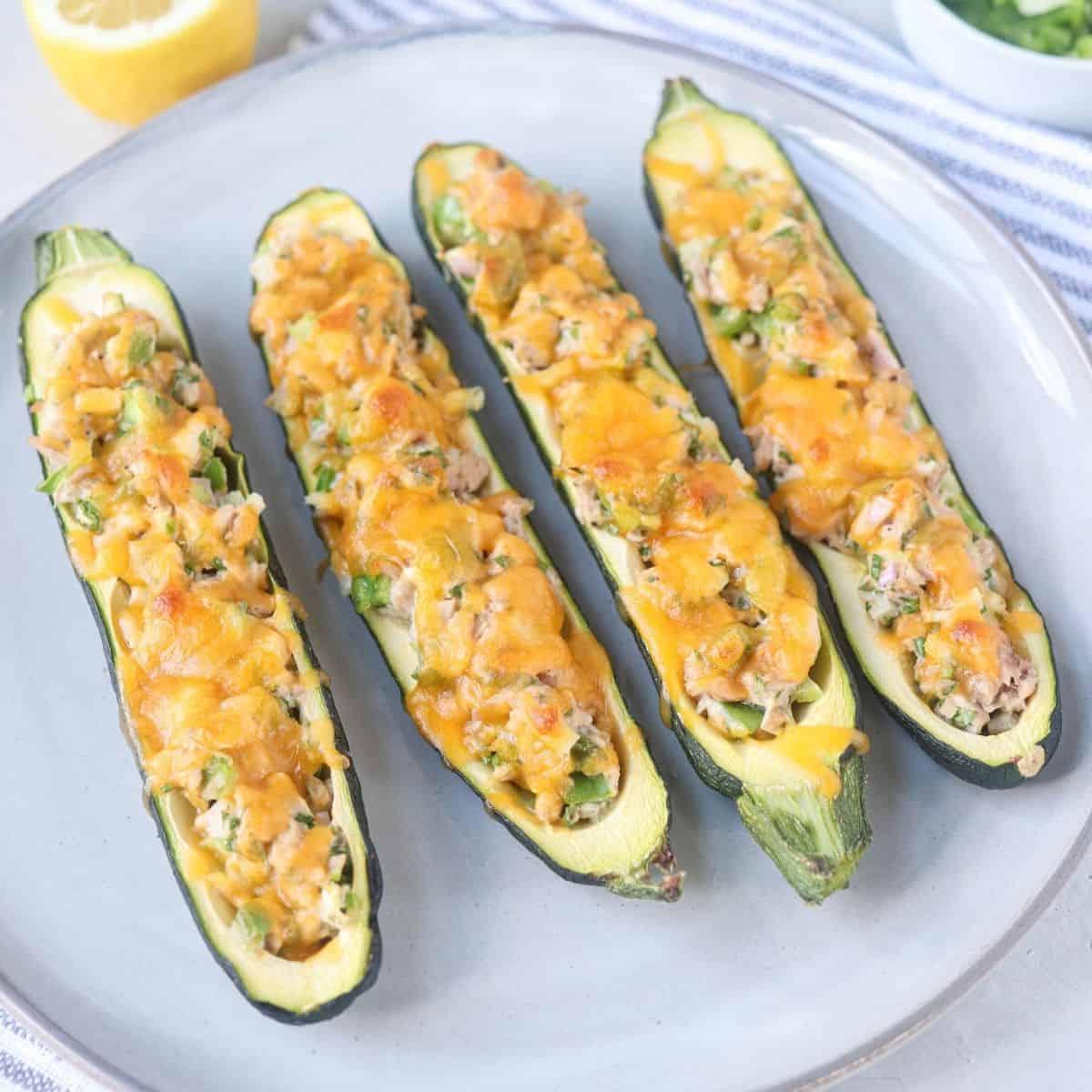 Q: How long does it take to cook zucchini with tuna?
A: The cooking time for zucchini with tuna depends on the recipe and the size of the zucchini. Generally, baking zucchini boats filled with tuna can take around 20-30 minutes in a preheated oven at 375°F (190°C). For zucchini and tuna medleys or casseroles, it may take 30-40 minutes or until the zucchini is tender and the dish is heated through.
Q: Can zucchini with tuna be prepared in advance?
A: Yes, zucchini with tuna can be prepared in advance. If making stuffed zucchini boats, you can assemble them ahead of time and refrigerate them until ready to bake. For zucchini and tuna medleys or casseroles, you can prepare the mixture in advance and refrigerate it. When ready to serve, simply bake until heated through.
Q: Can I substitute tuna with another type of fish?
A: While the combination of zucchini and tuna is popular, you can certainly substitute tuna with other types of fish, such as salmon, cod, or tilapia. Adjust the cooking time and seasonings accordingly to accommodate the specific fish you choose.
Remember to follow proper food safety guidelines when storing and reheating any leftovers. Enjoy the versatility of zucchini with tuna and feel free to adapt the recipes to suit your taste preferences and dietary needs.
Cooking Tip for Zucchini with Tuna:
When preparing zucchini with tuna, consider the following cooking tip to ensure the best results:
1. Properly season the zucchini: Zucchini has a high water content, and salting it before cooking can help draw out some of the moisture. This step is particularly useful when making zucchini boats or noodles. After slicing or hollowing out the zucchini, sprinkle it with salt and let it sit for about 10-15 minutes. Then, rinse off the salt and pat the zucchini dry with paper towels. This process helps prevent excess moisture from making the dish watery and ensures a better texture.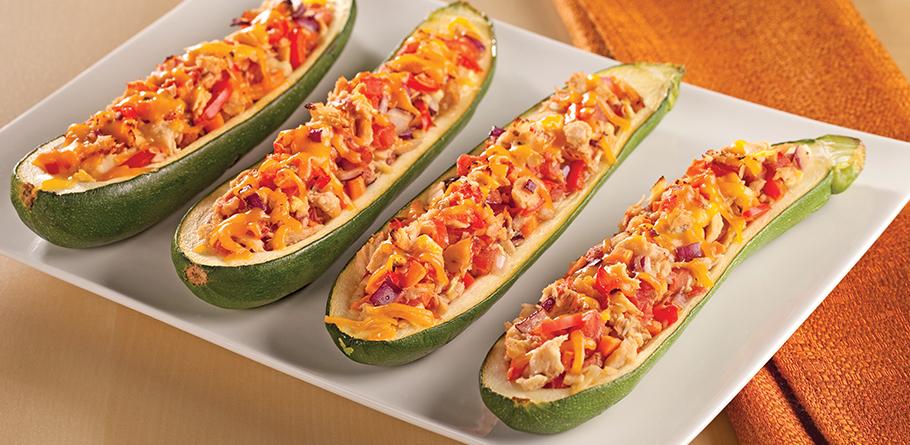 By following this cooking tip, you can reduce the water content of the zucchini and enhance its texture when combined with the tuna and other ingredients. Enjoy zucchini with tuna that is flavorful, moist, and perfectly cooked.
Serving Suggestion for Zucchini with Tuna:
Zucchini with tuna can be served in various ways to create a satisfying and delicious meal. Here's a serving suggestion to enhance your zucchini with tuna dish:
1. Zucchini Boats with Tuna Salad: For zucchini boats, fill the hollowed-out zucchini halves with a flavorful tuna salad mixture. The tuna salad can be made with canned tuna, diced vegetables like celery and onions, mayonnaise, lemon juice, and seasonings. Garnish with fresh herbs like parsley or dill for an added burst of flavor.
2. Zucchini Noodles with Tuna Sauce: Spiralize zucchini into noodle-like strands and lightly sauté them in olive oil until tender. Prepare a tasty tuna sauce by combining flaked tuna, cherry tomatoes, garlic, olive oil, and herbs like basil or oregano. Toss the zucchini noodles with the tuna sauce and serve it as a healthy and low-carb alternative to traditional pasta.
3. Grilled Zucchini and Tuna Skewers: Cut zucchini into thick slices and alternate them with chunks of marinated tuna on skewers. Grill the skewers until the zucchini is tender and the tuna is cooked through. Serve with a squeeze of lemon juice and a sprinkle of fresh herbs for a delightful and visually appealing presentation.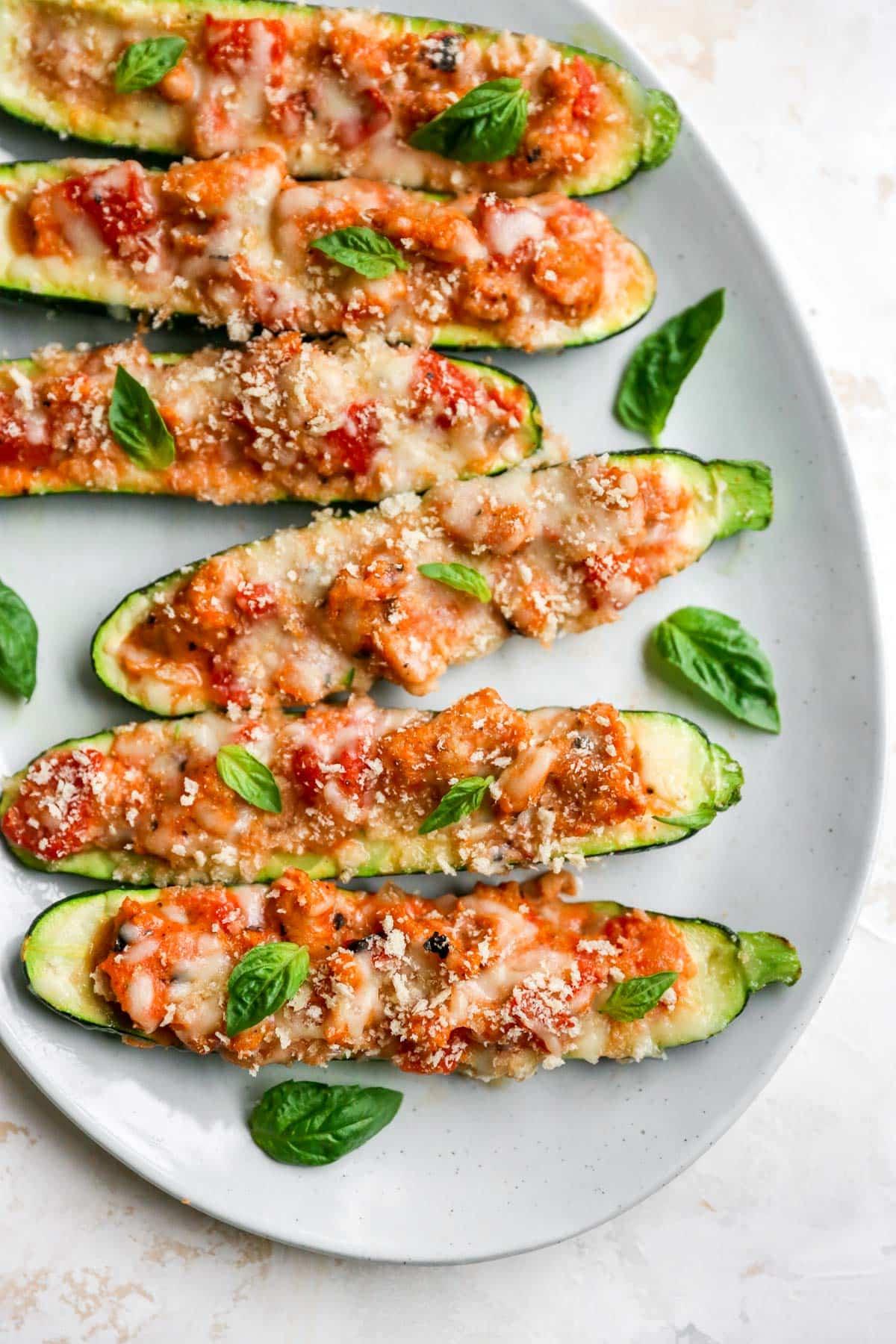 4. Zucchini and Tuna Casserole: Create a comforting casserole by layering sliced zucchini, cooked tuna, tomato sauce, and cheese in a baking dish. Bake until the zucchini is tender and the cheese is melted and bubbly. Serve the casserole as a main dish with a side salad or crusty bread.
5. Zucchini and Tuna Stuffed Peppers: Combine diced zucchini and canned tuna with cooked rice, onions, garlic, and herbs. Stuff the mixture into bell peppers, top with cheese, and bake until the peppers are tender and the filling is heated through. Serve the stuffed peppers as a colorful and satisfying meal.
Remember to garnish your zucchini with tuna dish with fresh herbs, a drizzle of olive oil, or a sprinkle of Parmesan cheese to add extra flavor and visual appeal. These serving suggestions offer different ways to enjoy zucchini with tuna, providing a variety of textures and flavors to suit your preferences.