Buffalo cauliflower has gained popularity as a delicious and versatile vegan alternative to traditional buffalo wings. This plant-based dish offers a flavorful twist on a classic favorite, providing a satisfying option for those looking to explore new culinary horizons or incorporate more plant-based meals into their diet. The combination of crispy cauliflower florets and tangy buffalo sauce creates a delightful balance of textures and flavors that is sure to tantalize your taste buds.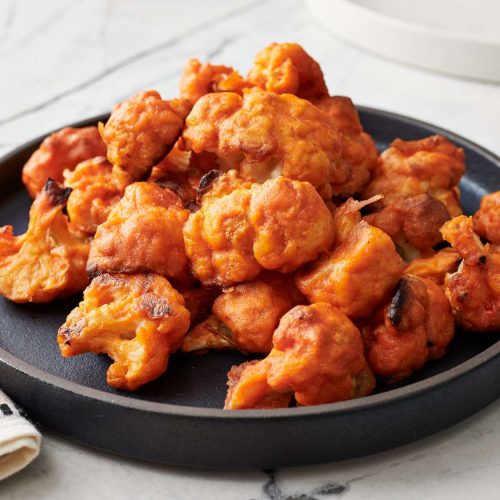 Buffalo Cauliflower
These recipes provide a vegan and flavorful twist on traditional buffalo wings. From crispy bites and wings to tacos and salads, there are options for various meals and occasions. The recipes incorporate tangy and spicy flavors, showcasing the versatility of buffalo cauliflower.
Ingredients
4

cups

Cauliflower Florets

1

cup

Panko Breadcrumbs

1

tsp

Sea Salt

1/4

cup, melted

Vegan Butter

1/4

cup

Vegan Buffalo Sauce
Instructions
Melt the vegan butter in a bowl.

Add buffalo sauce into the butter and stir.

Hold the stem and dip each floret into the buffalo mixture, making sure most floret is coated with sauce. Shake off the excess.

Mix sea salt with breadcrumbs and coat the dipped floret evenly with it.

Place the floret into the dutch oven and cook for 10 minutes at350°F. After 5 minutes, shake the florets, making sure they are evenly cooked.

Place the floret into the dutch ovenand cook for 10 minutes at350°F. After 5 minutes, shake the florets, making sure they areevenly cooked.

Once done, serve and enjoy
Notes
Additionally, there are healthier alternatives such as baked versions, making it a guilt-free choice. Whether you're craving a pizza topping, a lunch wrap, or a party dip, these buffalo cauliflower recipes offer tasty and plant-based options for everyone to enjoy.
Nutrition
Calories:
160
kcal
Carbohydrates:
3
g
Protein:
1
g
Fat:
4
g
Cooking Tips for Buffalo Cauliflower:
1. Prepping the Cauliflower: Cut the cauliflower into bite-sized florets to ensure even cooking and easy eating. Remove any excess moisture from the cauliflower by patting it dry with a clean kitchen towel or paper towels. This helps achieve a crispy texture when baking or frying.
2. Breading Technique: For a crispy coating, use a two-step breading process. First, dip the cauliflower florets in a flour mixture seasoned with your desired spices. Then, dip them into a liquid batter such as a mixture of non-dairy milk and flour or a vegan egg substitute like aquafaba or flaxseed meal. Finally, coat them with breadcrumbs or panko for an extra crunch.
3. Baking vs. Frying: While traditional buffalo wings are often deep-fried, you can achieve a similar texture and flavor by baking the cauliflower. Preheat your oven to a high temperature (around 425°F/220°C) and arrange the coated cauliflower on a baking sheet lined with parchment paper or a silicone mat. Bake until golden brown and crispy, flipping halfway through. If you prefer the deep-fried texture, you can shallow fry the cauliflower in a pan with a small amount of oil until crispy.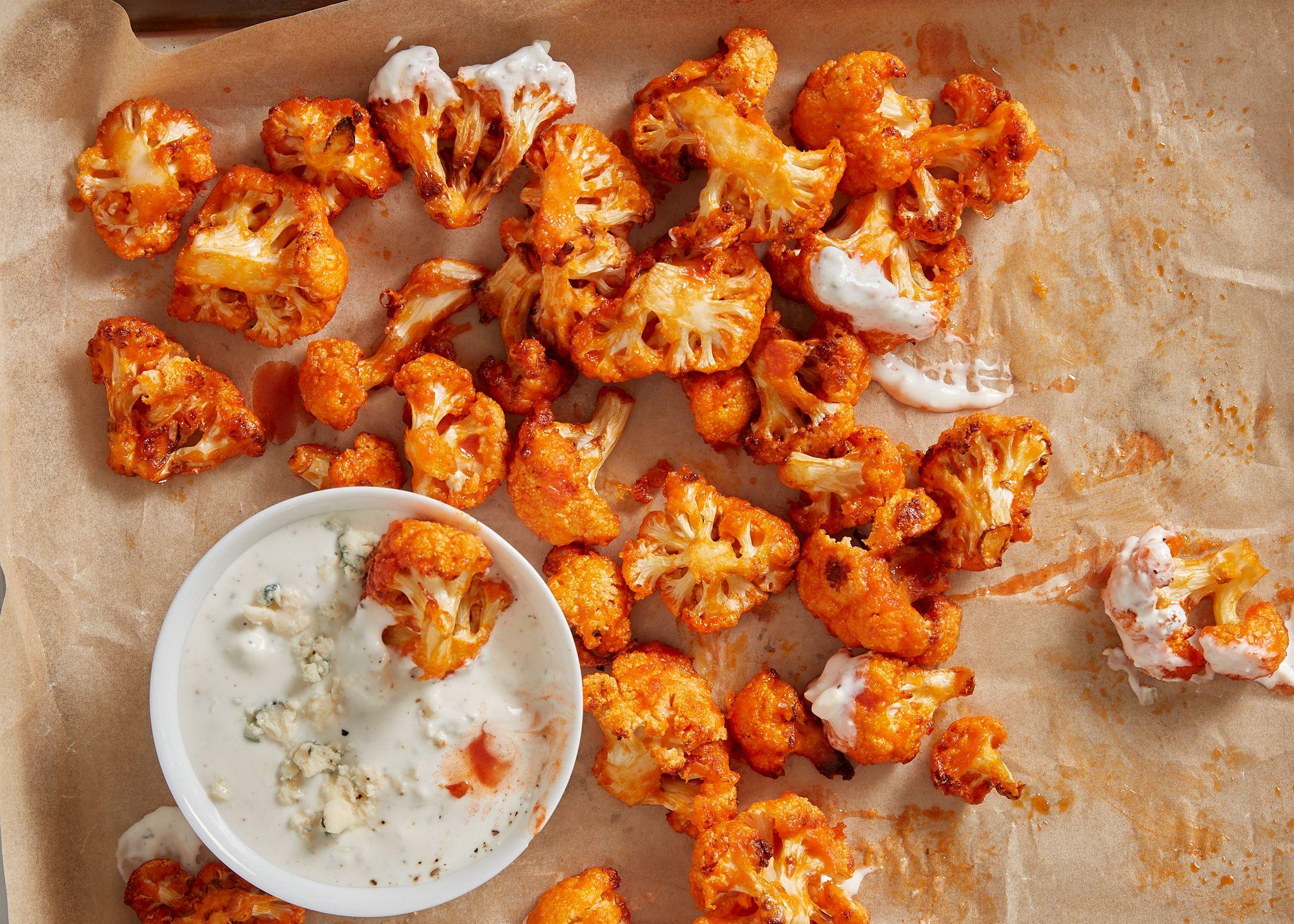 4. Adjusting Spiciness: Buffalo sauce typically has a spicy kick, but you can adjust the heat level according to your preference. Increase or decrease the amount of hot sauce or cayenne pepper in the buffalo sauce recipe to make it milder or spicier. Remember to taste and adjust as you go to achieve your desired level of heat.
5. Sauce Application: Coat the baked or fried cauliflower in the buffalo sauce immediately after cooking to ensure the sauce adheres well. Toss the cauliflower in the sauce or use a brush to evenly coat each piece. For extra flavor, you can also reserve some sauce to drizzle over the cauliflower before serving.
6. Garnishes and Dips: Enhance the flavor and presentation of your buffalo cauliflower by adding garnishes such as chopped fresh herbs, green onions, or sesame seeds. Serve with a variety of dipping sauces like ranch dressing, blue cheese dressing, vegan aioli, or even a cooling cucumber-yogurt sauce to complement the spiciness.
Remember to follow the recipe instructions carefully, but don't be afraid to experiment and add your own personal touch to create the perfect buffalo cauliflower dish that suits your taste preferences. Enjoy the process and savor the delicious results!
Serving Suggestion:
When it comes to serving buffalo cauliflower, there are numerous ways to present and enjoy this delectable dish. Here are a few serving suggestions to enhance your buffalo cauliflower experience:
1. Appetizer Platter: Arrange the crispy buffalo cauliflower bites or wings on a platter alongside a variety of dipping sauces such as ranch dressing, blue cheese dressing, or a tangy vegan aioli. Garnish with fresh herbs like cilantro or parsley for an added touch of freshness.
2. Tacos or Wraps: Fill soft tortillas or wraps with buffalo cauliflower, along with shredded lettuce, diced tomatoes, avocado slices, and a drizzle of your favorite sauce. The combination of spicy buffalo cauliflower and cool, crisp toppings creates a satisfying and flavorful handheld meal.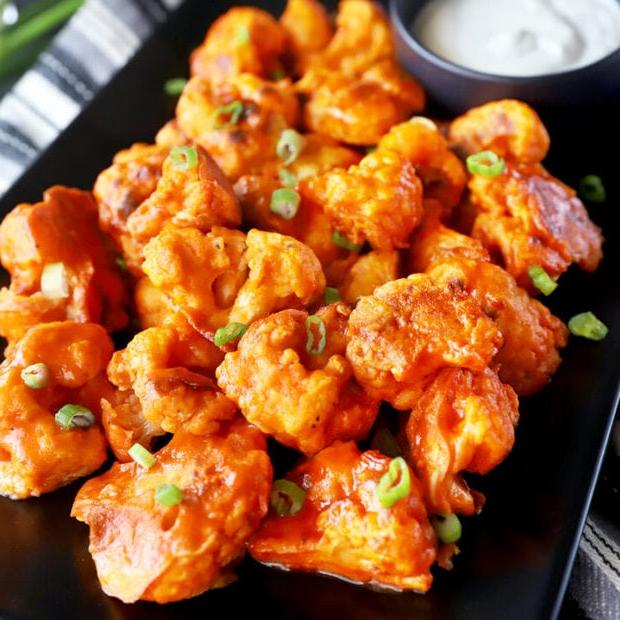 3. Salad Topping: Add a twist to your favorite salad by incorporating buffalo cauliflower as a topping. Combine mixed greens, cherry tomatoes, cucumber slices, and any other desired veggies. Then, place a generous portion of buffalo cauliflower on top, creating a spicy and crunchy element to your salad. Finish it off with a drizzle of dressing, such as a creamy vegan ranch or a tangy vinaigrette.
4. Pizza Topping: Transform your pizza night by using buffalo cauliflower as a unique and flavorful topping. Spread your favorite pizza sauce on a prepared crust, then add buffalo cauliflower, sliced red onions, and vegan cheese. Bake until the crust is crispy and the cheese is melted for a mouthwatering buffalo cauliflower pizza experience.
5. Party Snack: For a crowd-pleasing party snack, serve buffalo cauliflower bites with toothpicks alongside a variety of dipping sauces. This will allow guests to enjoy the spicy and crispy bites while mingling and socializing.
Remember, presentation is key, so garnish your buffalo cauliflower creations with fresh herbs, a sprinkle of paprika, or a squeeze of fresh lemon or lime juice for added visual appeal and flavor. Get creative and enjoy the versatility of buffalo cauliflower in various culinary settings.