Welcome to the world of Cute Mozzarella Bites! These adorable and cheesy treats are sure to bring a smile to your face and satisfy your cravings for a tasty snack. Made with creamy mozzarella cheese, these bite-sized delights are perfect for parties, gatherings, or simply enjoying as a fun snack.
The combination of the soft and melty mozzarella cheese with a crispy coating creates a delightful texture and flavor contrast that will leave you wanting more. Whether you're a cheese lover or looking for a crowd-pleasing appetizer, these Cute Mozzarella Bites are sure to impress.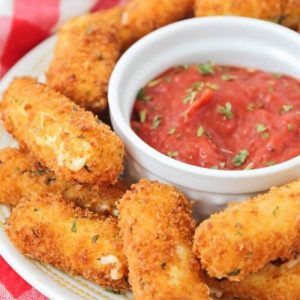 Cute Cheesy Mozzarella Bites: Bite-Sized Goodness
These Mozzarella Bites are not only delicious but also visually appealing, making them a great addition to any party or gathering. Their cute size and cheesy goodness are sure to impress your guests and leave them wanting more.
Ingredients
1

cup

breadcrumbs

1/4

cup

butter, melted

12

mozzarella strips
Instructions
Dip the mozzarella strips in butter

Dredge them with breadcrumbs

Add mozzarella strips to your Dutch oven

Cook at 320 degrees F for 8 minutes on AIR CRISP mode

Cook for 8 minutes, making sure to flip once
Video
Notes
So, get ready to dive into the world of Cute Mozzarella Bites and discover a fun and cheesy treat that will leave you wanting more. Let's get cooking and enjoy these delightful bites of cheesy goodness!
Nutrition
Calories:
206
kcal
Carbohydrates:
16
g
Protein:
10
g
Fat:
12
g
Saturated Fat:
5
g
Sodium:
284
mg
Fiber:
5
g
Cooking Tip:
To ensure your Cute Mozzarella Bites turn out perfectly every time, here's a helpful cooking tip:
1. Use cold mozzarella: It's important to use cold mozzarella cheese when making these bites. Cold cheese holds its shape better and prevents excessive melting during cooking. Place the mozzarella in the refrigerator for about 30 minutes before cutting it into bite-sized pieces.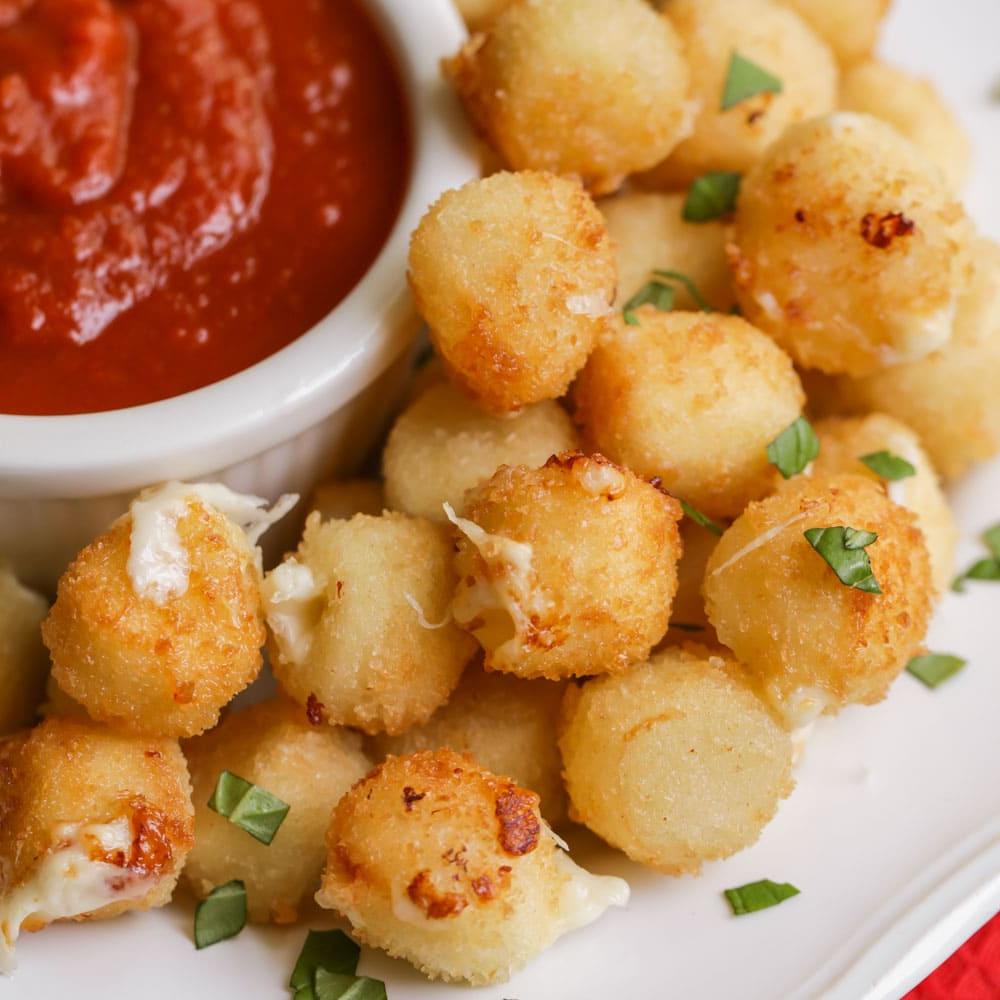 2. Double coating: For an extra crispy and flavorful coating, consider double coating the mozzarella bites. After the first coating of flour or breadcrumbs, dip the coated mozzarella bites into a beaten egg mixture, and then coat them again with the flour or breadcrumbs. This double coating creates a thicker and crunchier outer layer.
3. Freeze before frying: If you're planning to fry the mozzarella bites, it's recommended to freeze them for about 30 minutes before frying. Freezing helps the coating adhere better to the cheese and prevents it from melting too quickly during frying, resulting in a golden and crispy exterior.
4. Don't overcrowd the pan: When frying or baking the mozzarella bites, it's essential not to overcrowd the pan or baking sheet. Leave some space between each bite to ensure even cooking and to prevent them from sticking together. Fry or bake them in batches if necessary.
5. Watch the cooking time: Cooking times may vary depending on the size of the mozzarella bites and the cooking method you choose. Keep a close eye on the bites while cooking to prevent them from overcooking or becoming too brown. The cheese should be melty and the coating golden and crispy.
By following these cooking tips, you'll achieve perfectly cooked Cute Mozzarella Bites with a crispy exterior and a gooey, melty cheese center. Serve them immediately while they're still hot and enjoy the cheesy deliciousness!
Serving Suggestion:
Cute Mozzarella Bites are incredibly versatile and can be enjoyed in various ways. Here are some serving suggestions to enhance your culinary experience:
1. Dipping Platter: Create a tantalizing dipping platter by serving the Cute Mozzarella Bites with an array of flavorful dipping sauces. Offer classic marinara sauce, tangy barbecue sauce, zesty ranch dressing, or spicy sriracha mayo. Guests can mix and match the bites with their preferred sauces for a personalized taste adventure.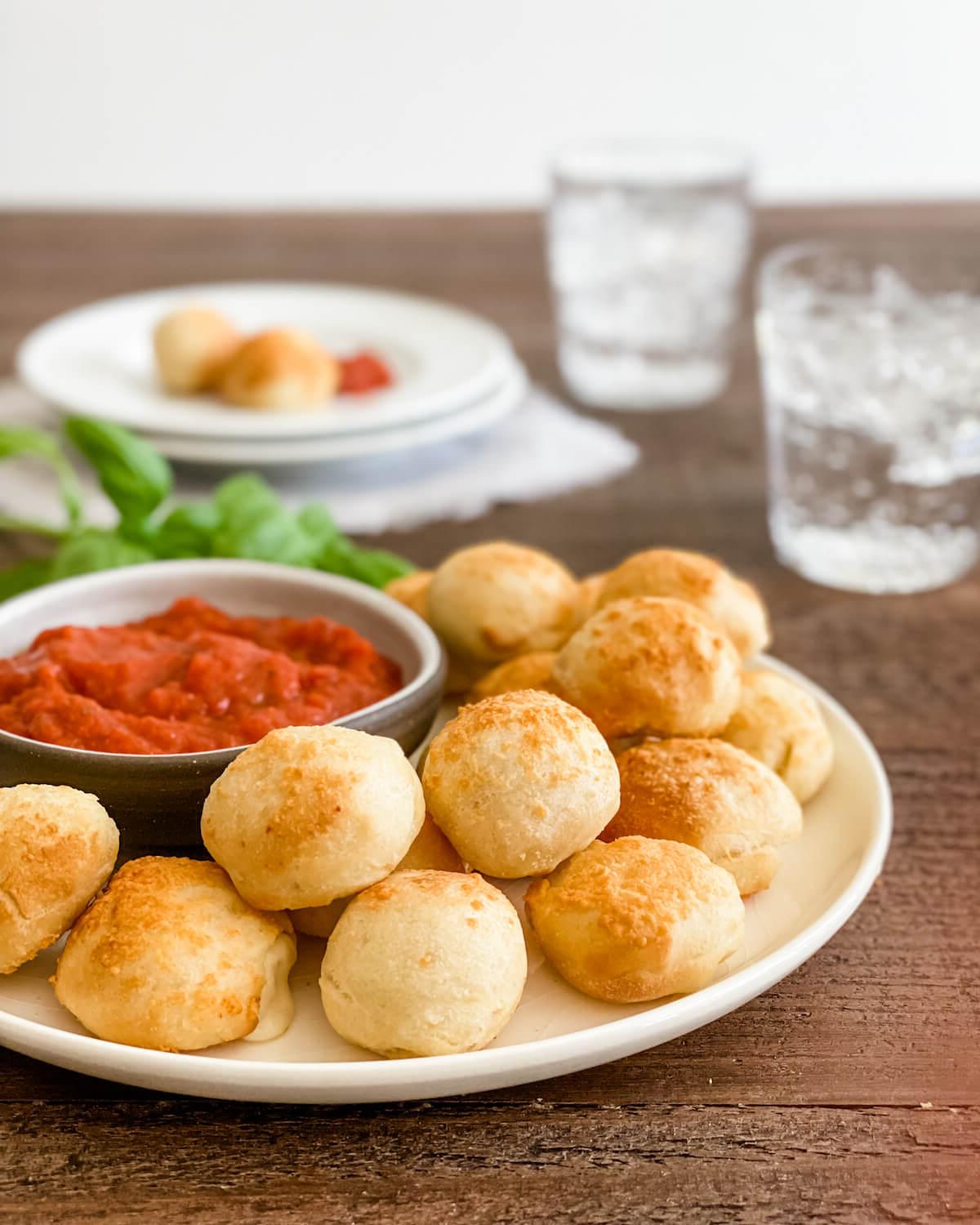 2. Salad Topping: Sprinkle the Cute Mozzarella Bites over a fresh green salad to add a delightful cheesy twist. Their warm, melty centers complement the crispness of the greens, creating a delicious combination of textures and flavors. Add some cherry tomatoes, sliced cucumbers, and a drizzle of balsamic glaze for a complete salad experience.
3. Appetizer Skewers: Thread the Cute Mozzarella Bites onto skewers along with cherry tomatoes, basil leaves, and black olives for a beautiful and delicious appetizer presentation. Drizzle the skewers with a light vinaigrette or pesto sauce for added flavor. These bite-sized skewers are perfect for parties and gatherings.
4. Slider Toppings: Use the Cute Mozzarella Bites as a flavorful topping for mini sliders. Place them on grilled beef or chicken patties along with lettuce, tomato, and a dollop of tangy sauce. The melted cheese will add an extra level of indulgence to these bite-sized sandwiches.
5. Pizza Topping: Sprinkle the Cute Mozzarella Bites over a freshly baked pizza just before serving. The warm, melted cheese will create pockets of cheesy goodness that perfectly complement the other toppings. Whether it's a classic Margherita pizza or a customized creation, the Cute Mozzarella Bites will take it to the next level.
Remember to serve the Cute Mozzarella Bites while they're still warm and gooey to fully enjoy their delightful texture. Get creative with your serving suggestions and let your taste buds guide you. Whether you're hosting a party, enjoying a casual meal, or looking for an appetizing snack, these Cute Mozzarella Bites are sure to impress with their cheesy deliciousness.