Step into the world of culinary delight with Roasted Salmon Croquettes, a dish that combines the natural richness of salmon with a crispy, golden exterior. These delectable croquettes are a perfect way to enjoy the delicate flavors of salmon in a new and exciting form. With their flaky texture, savory seasonings, and irresistible crunch, they are sure to captivate your taste buds. Whether you're a seafood lover or simply looking to add a gourmet touch to your meals, Roasted Salmon Croquettes are a standout option. Join us as we dive into the world of these mouthwatering treats, exploring the process of roasting salmon to perfection and transforming it into delightful croquettes.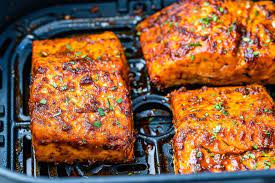 Roasted Salmon Croquettes
Experience the savory bliss of Roasted Salmon Croquettes, a dish that elevates the natural flavors of salmon to new heights. These delectable bites offer a delightful combination of flaky roasted salmon and a crispy, golden crust. From the first bite, you'll be greeted with a burst of flavors that will leave you craving more.
Ingredients
1

(14.75-ounce / 418-g)

can Alaskan pink salmon, drained and bones removed

Alaskan pink salmon, drained and bones removed

1

egg whisked

1/2

cup

bread crumbs

1

tsp

garlic powder

2

scallions, diced
Instructions
Heat the dutch oven to 400ºF (205ºC).

Add the salmon, whisked egg, bread crumbs, garlic powder, scallions, salt, and pepper to a large bowl. Stir to combine well.

Make the salmon croquettes: Scoop out the salmon mixture and shape into six equal-sized patties with your hands.

Place the patties in the basket and spray with cooking spray.

Roast in the preheated dutch oven for 7 minutes.6. Turn the patties and cook for 3 to 4 minutes more, or until thepatties are golden brown.

Remove the salmon croquettes from the basket and serve.
Notes
Whether you're hosting a gathering or looking for a gourmet appetizer, these croquettes are sure to impress. With their delicate texture and savory goodness, they offer a perfect fusion of taste and elegance. Indulge in the delight of savoring the sea as you enjoy these perfectly roasted salmon croquettes. Get ready to tantalize your taste buds and elevate your dining experience with this sumptuous recipe.
Nutrition
Calories:
143
kcal
Carbohydrates:
7.1
g
Protein:
17
g
Fat:
6.1
g
Cooking Tip for Roasted Salmon Croquettes:
To ensure your Roasted Salmon Croquettes turn out perfectly cooked and flavorful, consider the following cooking tip:
1. Use chilled ingredients: Before preparing the croquettes, ensure that all the ingredients, especially the salmon, are thoroughly chilled. Cold ingredients help the croquettes hold their shape better during cooking and prevent them from falling apart. Place the salmon in the refrigerator for at least 30 minutes before using it in the recipe.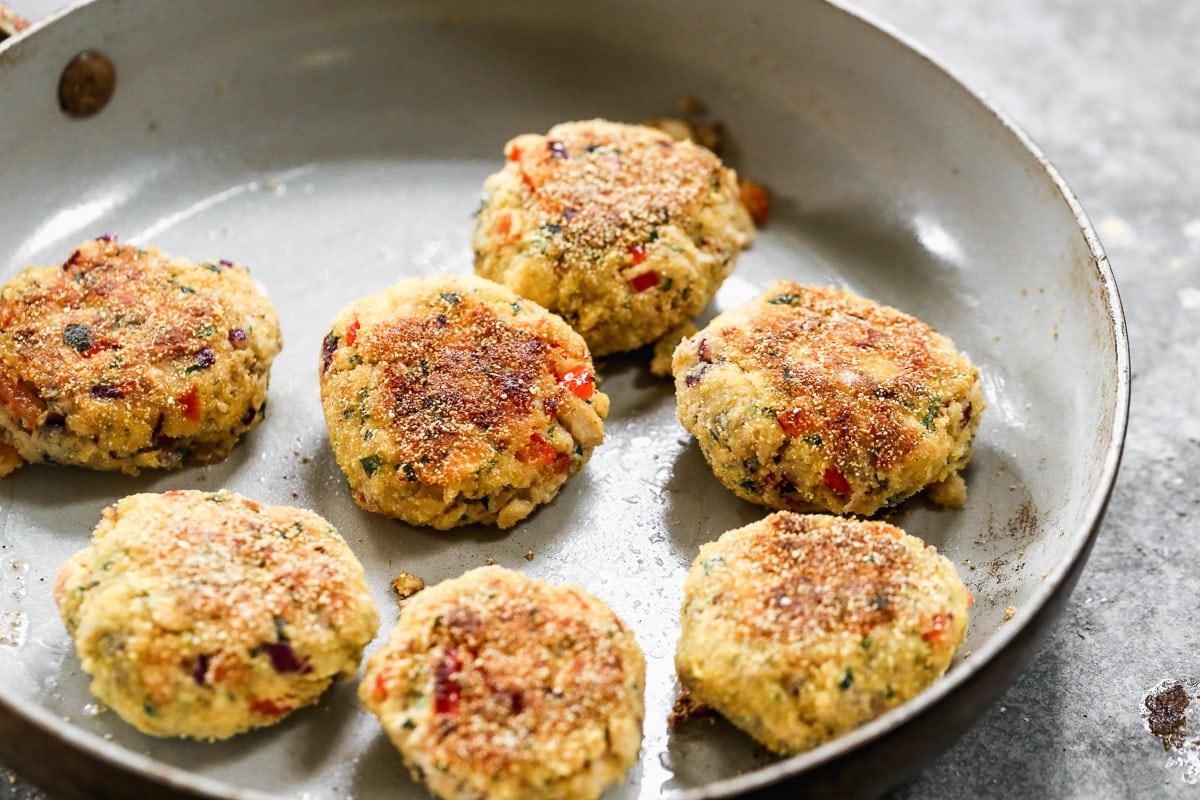 Using chilled ingredients not only helps maintain the structural integrity of the croquettes but also ensures that the salmon retains its moistness and flavor during the roasting process. Enjoy the crispy exterior and succulent interior of your perfectly cooked Roasted Salmon Croquettes!
Serving Suggestions for Roasted Salmon Croquettes:
Roasted Salmon Croquettes can be served in various ways to create a delightful and satisfying meal. Here are some serving suggestions to enhance your dining experience:
1. Lemon-Dill Sauce: Serve the Roasted Salmon Croquettes with a side of tangy lemon-dill sauce. The bright flavors of lemon and fresh dill complement the richness of the salmon and add a refreshing touch. Drizzle the sauce over the croquettes or serve it on the side for dipping.
2. Bed of Greens: Create a light and refreshing meal by serving the Roasted Salmon Croquettes on a bed of fresh salad greens. Toss together a mix of baby spinach, arugula, or mesclun greens with your favorite vegetables like cherry tomatoes, cucumbers, and radishes. Add a light vinaigrette or citrus dressing for added zest.
3. Sandwich or Slider: Transform the Roasted Salmon Croquettes into a tasty sandwich or slider. Place them on a soft bun or mini slider rolls, and add your favorite toppings such as lettuce, sliced tomatoes, red onions, and a creamy sauce like tartar or aioli. This option is perfect for a quick and satisfying meal.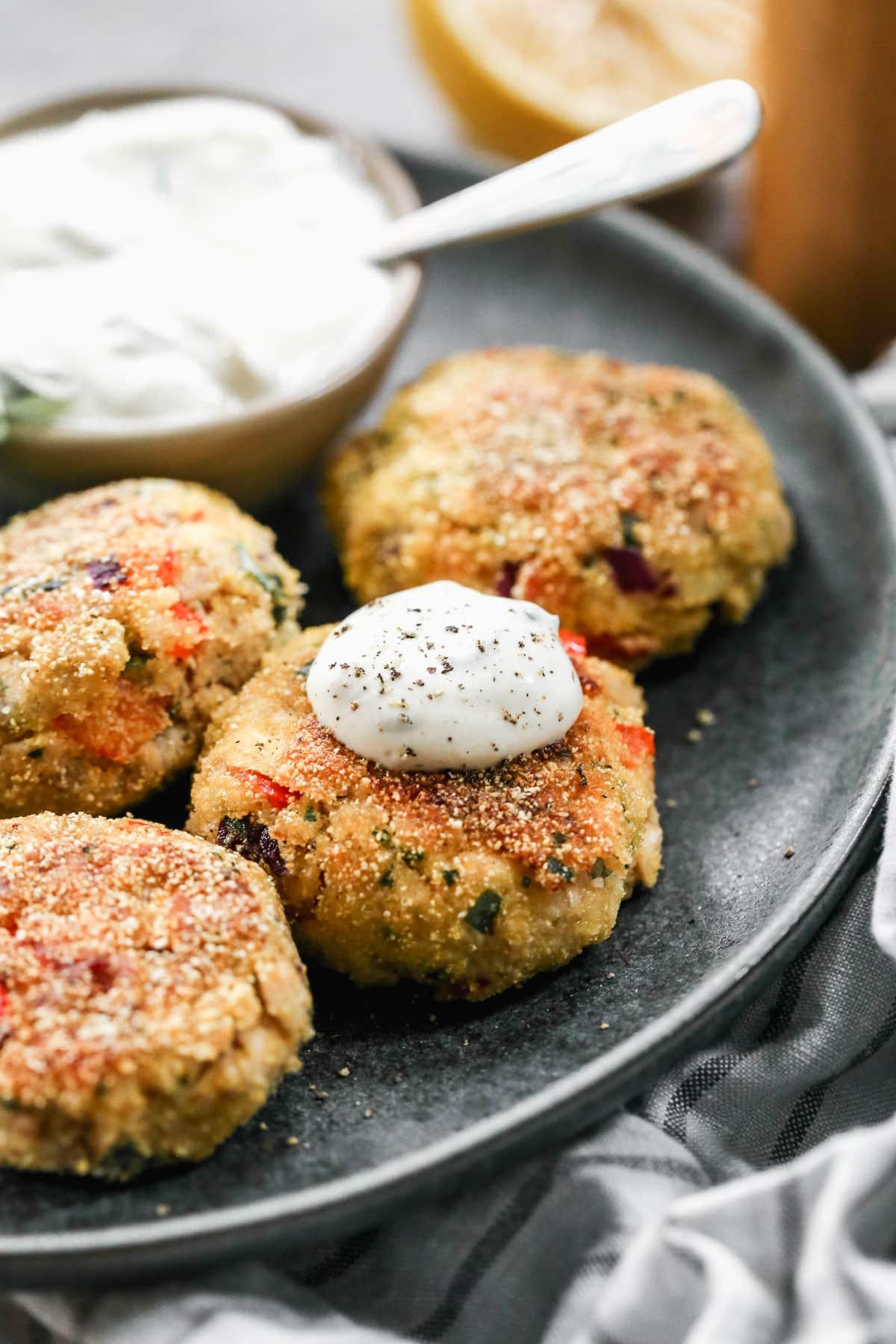 4. Grain Bowl: Build a nourishing grain bowl by layering cooked quinoa, brown rice, or couscous with roasted vegetables, such as zucchini, bell peppers, and asparagus. Top the bowl with the Roasted Salmon Croquettes and garnish with fresh herbs like parsley or basil. Drizzle with a lemony dressing or tahini sauce for added flavor.
5. Pasta Dish: Incorporate the Roasted Salmon Croquettes into a pasta dish for a comforting and hearty meal. Toss cooked spaghetti or fettuccine with a light cream sauce, lemon zest, and fresh herbs. Break the croquettes into chunks and mix them into the pasta. Garnish with grated Parmesan cheese and chopped parsley.
6. Appetizer Platter: Serve the Roasted Salmon Croquettes as an appetizer on a platter. Arrange the croquettes alongside other bite-sized treats like cucumber slices, cherry tomatoes, olives, and cheese cubes. Add a variety of dips and spreads for dipping, such as tzatziki, hummus, or spicy mayo.
Remember to garnish your dishes with fresh herbs, lemon wedges, or a sprinkle of sea salt for added visual appeal. These serving suggestions will elevate your Roasted Salmon Croquettes and allow you to explore different flavor combinations. Enjoy the deliciousness of the crispy exterior and tender salmon in every bite!