Prepare to embark on a culinary journey with Sweet and Savory Breaded Shrimp, a dish that combines the best of both worlds. This recipe takes succulent shrimp and elevates them to new heights by coating them in a delectable blend of sweet and savory flavors. The crispy breading adds a delightful crunch, while the sweet and savory seasoning creates a symphony of tastes that will tantalize your palate.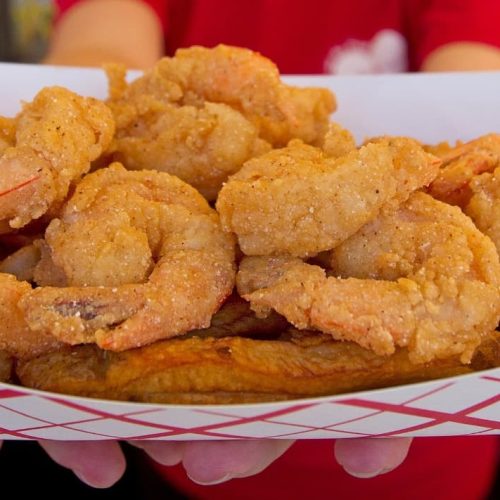 Sweet and Savory Breaded Shrimp
Indulge in the harmonious blend of flavors with Sweet and Savory Breaded Shrimp, a delectable dish that combines the crispy texture of breaded shrimp with a tantalizing sweet and savory twist. Each succulent shrimp is coated in a crunchy breading infused with a perfect balance of sweetness and savory notes
Ingredients
1/2

pound

of fresh shrimp, peeled from their shells and rinsed

2

raw eggs

1/2

cup

of breadcrumbs (we like Panko, but any brand or home recipe will do)

1/2

white onion, peeled and rinsed and finely chopped

1

tsp

of ginger-garlic paste

1/2

tsp

of turmeric powder

1/2

tsp

of cumin powder

1/2

tsp

of black pepper powder

1/2

tsp

of dry mango powder

Pinch of salt
Instructions
Preparing the Ingredients. Cover the basket of the Dutch oven with a lining of tin foil, leaving the edges uncovered to allow air to circulate through the basket.

Preheat the Dutch oven to 350 degrees.

In a mixing bowl, whisk the eggs until fluffy and until the yolks and whites are fully combined.

Dunk all the shrimp in the egg mixture, fully submerging.

In a separate mixing bowl, combine the bread crumbs with all thedry ingredients until evenly blended

One by one, coat the egg-covered shrimp in the mixed drying redients so that fully covered, and place on the foil-lined air fryer basket.

Air Frying. Set the air-fryer timer to 20 minutes.

Halfway through the cooking time, shake the handle of the air fryer so that the breaded shrimp jostles inside and fry-coverage is even.

After 20 minutes, when the fryer shuts off, the shrimp will be perfectly cooked and their breaded crust golden-brown and delicious! Using tongs, remove from the air fryer oven and set on a serving dish to cool.
Notes
This recipe takes shrimp to a new level, transforming them into a gourmet delight that will leave a lasting impression. Prepare to savor the symphony of flavors, from the crispy exterior to the irresistible sweet and savory combination, with each bite of this elevated seafood fare. Treat yourself and your loved ones to the perfect balance of tastes and textures with this extraordinary Sweet and Savory Breaded Shrimp recipe.
Nutrition
Calories:
195
kcal
Protein:
25
g
Fat:
11
g
FAQs about Sweet and Savory Breaded Shrimp
Here are some frequently asked questions about Sweet and Savory Breaded Shrimp:
Q: What kind of shrimp should I use for this recipe?
A: You can use any variety of shrimp for this recipe, such as medium-sized or large shrimp. It's best to use peeled and deveined shrimp for convenience.
Q: Can I use pre-cooked shrimp for this recipe?
A: It's recommended to use raw shrimp for this recipe, as they will cook and develop a crispy exterior while being breaded. Pre-cooked shrimp may not have the same texture and may become overcooked or rubbery during the cooking process.
Q: What is the breading made of?
A: The breading typically consists of a mixture of breadcrumbs, flour, and seasonings. The seasonings can include a combination of sweet and savory elements, such as brown sugar, garlic powder, paprika, salt, and pepper. The exact recipe may vary, so be sure to follow the specific instructions provided.
Q: Can I adjust the sweetness or savory flavors to my liking?
A: Absolutely! Feel free to adjust the amount of sweetness or savory flavors in the breading to suit your taste preferences. You can add more or less sugar, or adjust the other seasonings accordingly.
Q: What is the best method for cooking the breaded shrimp?
A: The most common method is to deep-fry the breaded shrimp until they are golden brown and crispy. However, you can also bake them in the oven for a healthier alternative. Follow the specific instructions in your recipe for the recommended cooking method.
Q: What can I serve with Sweet and Savory Breaded Shrimp?
A: Sweet and Savory Breaded Shrimp can be served as a standalone appetizer or as part of a larger meal. It pairs well with a variety of side dishes, such as a fresh salad, steamed vegetables, rice, or noodles. Consider complementing the sweet and savory flavors with contrasting or complementary flavors in your side dishes.
Q: Can I prepare the breaded shrimp in advance?
A: It's best to cook the breaded shrimp just before serving to maintain their crispiness. However, you can prepare the breading mixture in advance and store it in an airtight container. When ready to cook, coat the shrimp in the breading and proceed with the cooking process.
Remember, specific cooking times and temperatures may vary depending on the recipe you are using. It's always a good idea to refer to the recipe instructions and adjust as needed based on your preferences and equipment. Enjoy the delightful combination of sweet and savory flavors with your delectable Sweet and Savory Breaded Shrimp!
Cooking tips
Here are some cooking tips for preparing sweet and savory breaded shrimp:
1. Choose the right shrimp: When selecting shrimp, look for fresh, large, and deveined ones for the perfect texture and flavor.
2. Season the shrimp: Marinate the shrimp with your favorite spices and herbs to add a depth of flavor. Paprika, cumin, garlic, and onion powder are excellent options.
3. Get ready to bread: Set up a breading station with flour, beaten egg and breadcrumbs in separate bowls or plates.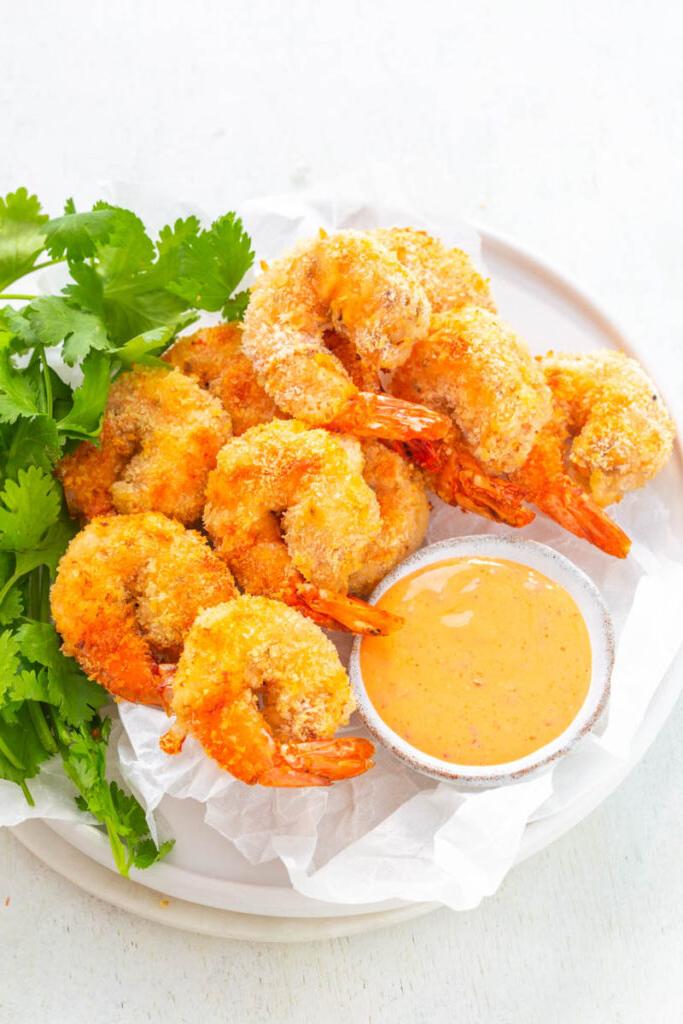 4. Coating the shrimp: Dip each shrimp first into the flour, then into the beaten egg, and finally into the breadcrumbs.
5. The frying process: For best results, use a deep fryer or fry the shrimp in a skillet with oil preheated to 350°F. Make sure the shrimp is fully coated in the breadcrumbs before frying, and do not overcrowd the pan.
6. Adding the Sweet and Savory touch: Once the shrimp is cooked, season with a sprinkle of salt and pepper, and drizzle some honey over it for sweetness and some hot sauce and chili flakes for heat and spiciness.
7. Serving: Serve hot as an appetizer or use them to add a crunchy element to salads or bowls.
Serving Suggestions
Here are some serving suggestions that would pair well with sweet and savory breaded shrimp:
1. Fresh Fruit Salsa: Create a light and tasty fruit salsa with chopped fresh mango, pineapple, and avocado, Then toss together with a squeeze of lime juice, salt, and black pepper. It will act as a sweet and refreshing contrast to the savory shrimp.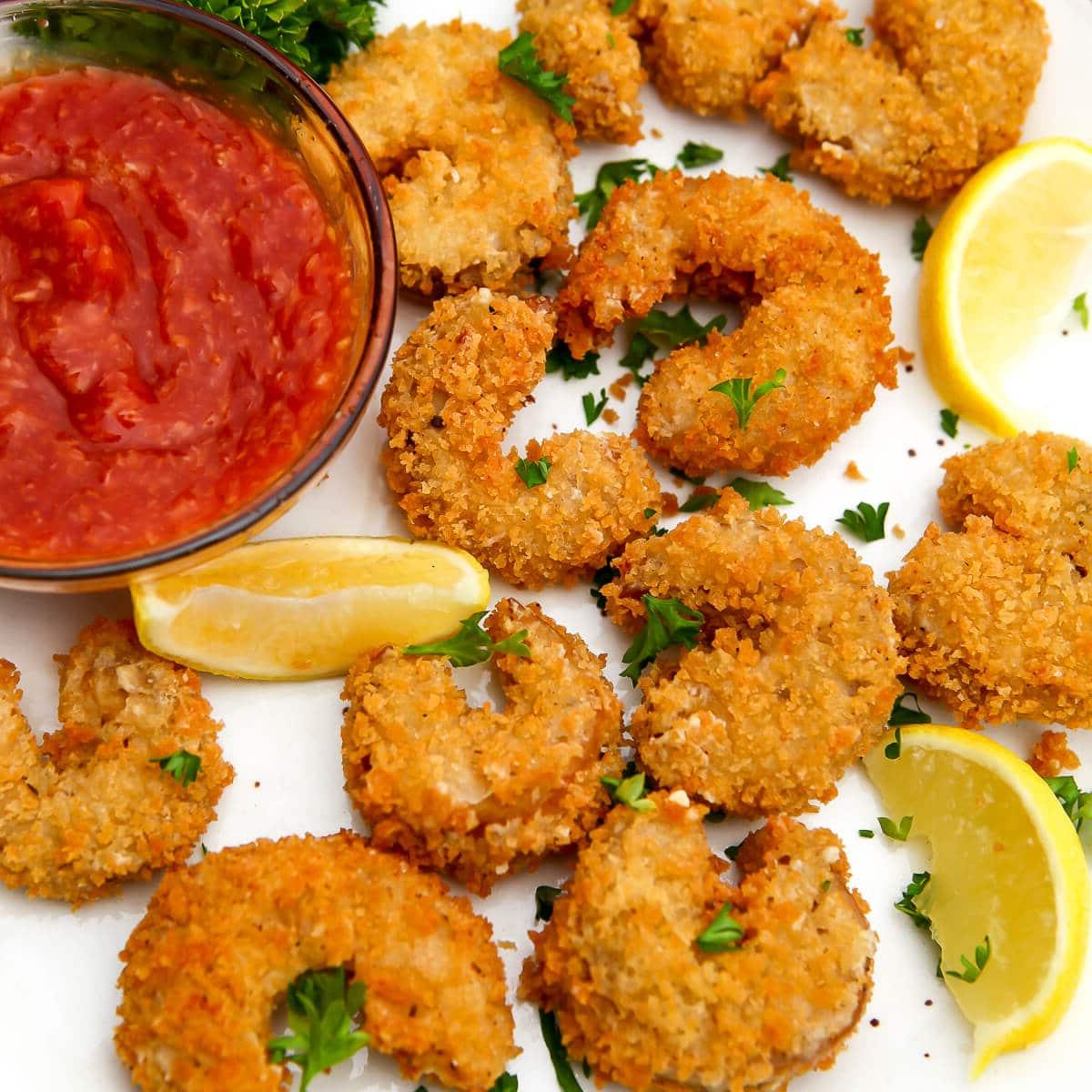 2. Cilantro Lime Rice: Prepare a side of cilantro-lime rice by adding some fresh lime juice and chopped cilantro into the rice while cooking. It's a great complement to the shrimp.
3. Coleslaw: A simple coleslaw with a touch of sweetness from honey and crunch from cabbage and shredded carrots would balance the shrimp's spices and sweetness.
4. Sweet Chili Sauce: Serve the crispy shrimp with a sweet chili sauce. It's mild and sweet flavor would perfectly complement the spice and sweetness of the dish.
5. Iced Tea: A cold and refreshing drink like iced tea or lemonade is the perfect beverage to balance the sweet and savory meal. I hope these suggestions give you some inspiration for your next meal. Enjoy!