Bacon-Wrapped Brie is a delectable appetizer that brings together the irresistible combination of smoky bacon and creamy brie cheese. This elegant and indulgent dish is perfect for entertaining guests or treating yourself to a gourmet snack. The creamy and slightly tangy brie cheese is encased in a layer of crispy, savory bacon, creating a delightful contrast of textures and flavors. When baked to perfection, the bacon becomes golden and crispy, while the brie cheese melts into a luscious and gooey center.
Bacon-Wrapped Brie
Bacon-Wrapped Brie is an exquisite appetizer that combines the irresistible flavors of crispy bacon and creamy brie cheese. This recipe offers a delightful contrast of textures and tastes, making it a favorite among cheese enthusiasts and those who appreciate savory treats. The brie cheese is wrapped in smoky bacon, which adds a layer of richness and a crispy exterior. When baked to perfection, the bacon becomes golden and crispy, while the brie cheese inside turns wonderfully soft and gooey. Bacon-Wrapped Brie is not only a delicious choice for entertaining guests but also a delightful indulgence for any occasion.
Ingredients
4

slices of sugar-free bacon

1

8-ounce) round Brie
Instructions
Put two slices of bacon to form an X. Then place the third slice of bacon parallel across the center of the X. Place the fourth slice of bacon straight up across the X. Then it should look like a plus sign(+) on top of an X. Position the Brie in the middle of the bacon.

Wrap the bacon around the Brie, locking with a few toothpicks.Torn a piece of parchment to fit your dutch ovenbasket and placethe bacon-wrapped Brie on top. Put it inside the basket of the airfryer.

Alter the temperature to 400°F, then change the timer for 10minutes.

When 3 minutes keep on on the timer, cautiously flip Brie.

When cooked, bacon will be crunchy, and cheese will be soft and melty. When serving it, cut into eight slices.
Notes
Whether you're hosting a gathering or simply treating yourself, this appetizer is sure to impress with its combination of flavors and its elegant presentation.
Nutrition
Calories:
116
kcal
Carbohydrates:
0.2
g
Protein:
7.7
g
Sodium:
261
mg
Sugar:
0.1
g
Cooking Tip:
When preparing Bacon-Wrapped Brie, here's a helpful tip to ensure optimal results:
1. Partially freeze the brie: Before wrapping the brie with bacon, consider placing it in the freezer for about 15-20 minutes. This slight freezing helps the cheese maintain its shape during the cooking process and prevents it from becoming too runny or melting too quickly. It also makes it easier to wrap the bacon around the brie without it slipping or sliding off.
2. Precook the bacon slightly: To achieve a crispier bacon coating, you can pre-cook the bacon partially before wrapping it around the brie. Cook the bacon in a skillet or oven until it is partially cooked but still pliable. This step helps to render some of the fat from the bacon and ensures that it cooks evenly when baking with the brie.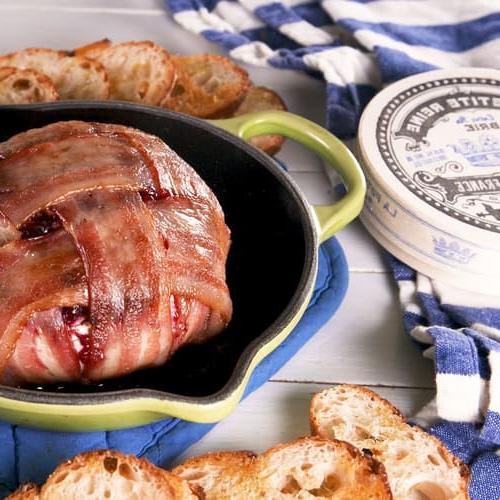 3. Secure the bacon with toothpicks: To prevent the bacon from unraveling during baking, it's recommended to secure it in place with toothpicks. Insert toothpicks through the bacon and into the brie, ensuring that they are placed evenly to hold everything together. Be sure to remove the toothpicks before serving.
4. Bake at the right temperature: Preheat your oven to the recommended temperature indicated in the recipe. Cooking times may vary, but a general guideline is to bake the bacon-wrapped brie at a moderate heat, around 375°F (190°C), until the bacon is crispy and the cheese is melted and gooey. Keep an eye on it to avoid overcooking.
By following these cooking tips, you'll be able to achieve perfectly cooked Bacon-Wrapped Brie with a crispy bacon exterior and a gooey, melted cheese center. Enjoy the irresistible combination of flavors and textures that this appetizer has to offer!
Serving Suggestion:
When it comes to serving Bacon-Wrapped Brie, there are several delicious and appealing options to consider. Here are a few suggestions to enhance your culinary experience:
1. Cheese Board Delight: Arrange the Bacon-Wrapped Brie on a cheese board alongside an assortment of crackers, bread slices, and fresh fruits such as sliced apples, grapes, or berries. This presentation allows guests to create their own delectable bites, combining the flavors of the bacon-wrapped brie with different textures and accompaniments.
2. Gourmet Charcuterie Platter: Incorporate the Bacon-Wrapped Brie as part of a gourmet charcuterie platter. Pair it with an array of cured meats, such as prosciutto or salami, along with an assortment of olives, pickles, artisanal bread, and a variety of spreads like fig jam or honey. This combination of flavors and textures creates a luxurious and visually appealing spread.
3. Salad Enhancement: Add a touch of elegance to your salads by incorporating slices of Bacon-Wrapped Brie. Place a warm slice of the brie atop a bed of mixed greens, drizzled with a balsamic glaze or a light vinaigrette. The warm and melty cheese will complement the freshness of the salad and add a rich and savory element.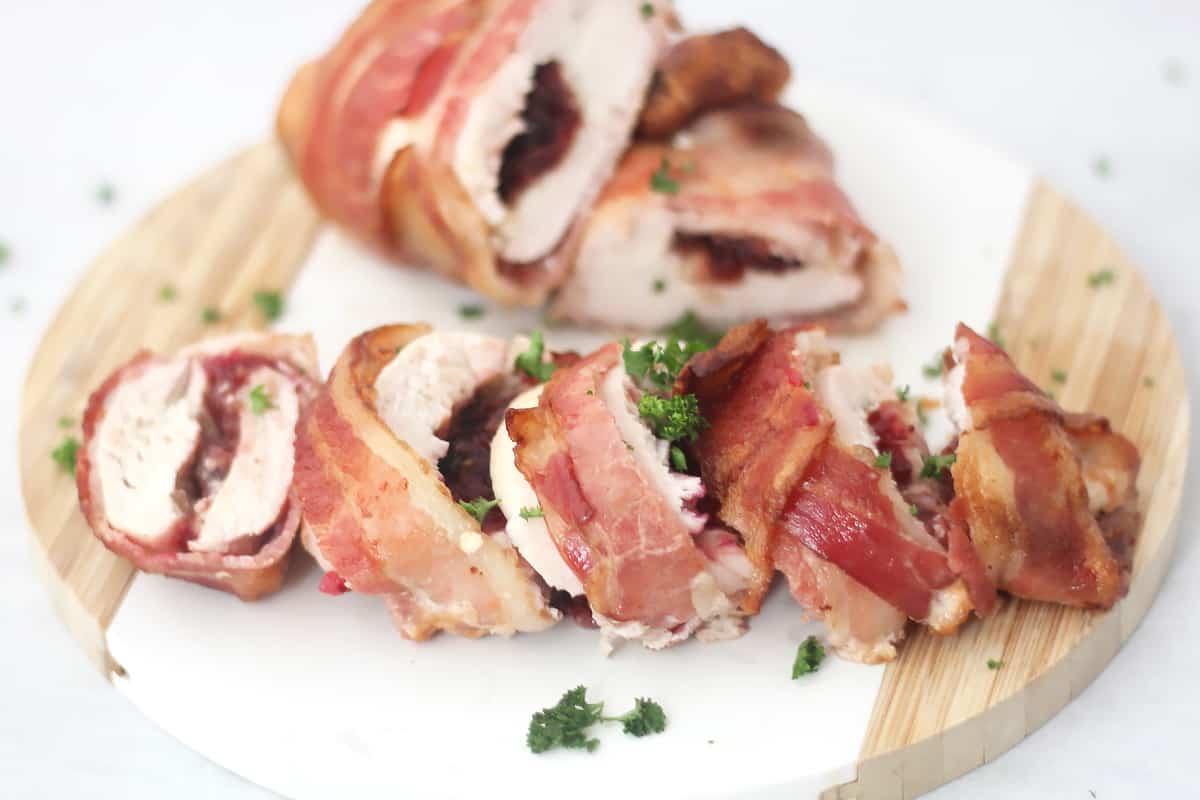 4. Appetizer Platter: Serve the Bacon-Wrapped Brie as a standalone appetizer, accompanied by a selection of dipping sauces. Offer options such as cranberry sauce, spicy aioli, or a tangy fruit chutney. The combination of the crispy bacon and creamy cheese pairs beautifully with the various sweet, savory, or spicy flavors of the sauces.
5. Brunch Delight: Include Bacon-Wrapped Brie as part of a brunch spread. Serve it alongside toasted bagels, croissants, or English muffins. Offer additional toppings such as sliced avocado, roasted tomatoes, or a poached egg for a luxurious brunch experience.
Remember to serve the Bacon-Wrapped Brie warm, allowing the cheese to be soft and gooey while the bacon remains crispy. Your guests will savor the irresistible combination of flavors and textures in this delightful appetizer. Enjoy!