Smoky BBQ Roasted Almonds are a delightful and flavorful twist on the classic snack. Combining the natural goodness of almonds with the bold and smoky flavors of barbecue seasoning, this recipe offers a satisfying and addictive snacking experience. The almonds are coated in a blend of savory spices, including smoky paprika, cayenne pepper, garlic powder, and more, creating a harmonious balance of flavors. When roasted to perfection, the almonds become irresistibly crunchy, further enhancing the snacking pleasure. Whether you're looking for a tasty party appetizer, a wholesome snack option, or a flavorful addition to your charcuterie board, Smoky BBQ Roasted Almonds are sure to impress.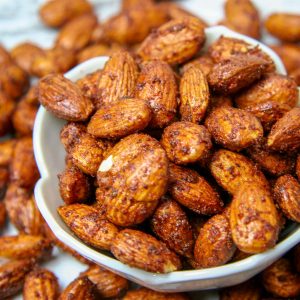 Smoky BBQ Roasted Almonds
Smoky BBQ Roasted Almonds offer a savory and addictive snacking experience that combines the smokiness of barbecue flavor with the satisfying crunch of roasted almonds. This recipe takes the classic snack to new heights by infusing the almonds with a smoky and bold BBQ seasoning. The almonds are coated in a flavorful blend of spices, then roasted to perfection, resulting in a deliciously seasoned and crunchy snack. Whether you're looking for a tasty party appetizer, a midday pick-me-up, or a satisfying on-the-go snack, Smoky BBQ Roasted Almonds are sure to satisfy your cravings.
Ingredients
1

cup

of raw almonds

2

tsp

coconut oil

1

tsp

chili powder

1/4

tsp

cumin

1/4

tsp

smoked paprika
Instructions
In a large bowl, toss all fixings until almonds are evenly coated with oil and spices. Place almonds into the dutch oven basket

Regulate the temperature to 320°F and set the timer for 6 minutes.

Toss the fryer basket midway through the cooking time.

Allow cooling completely.
Notes
With their irresistible combination of smokiness and crunch, these almonds are a must-try recipe for nut lovers and BBQ enthusiasts alike. Get ready to indulge in this flavor-packed snack that will leave you reaching for more.
Nutrition
Calories:
182
kcal
Carbohydrates:
6.6
g
Protein:
6.2
g
Fat:
16.3
g
Sodium:
19
mg
Fiber:
3.3
g
Sugar:
3
g
Cooking Tip:
When making Smoky BBQ Roasted Almonds, here's a helpful tip to ensure the best results:
1. Coat the almonds evenly: To ensure that the barbecue seasoning coats the almonds evenly, place the almonds in a bowl and drizzle them with a small amount of oil or melted butter. Toss the almonds well to ensure they are coated evenly before adding the BBQ seasoning. This step helps the seasoning adhere to the almonds and enhances the overall flavor.
2. Use parchment paper or a silicone mat: Line your baking sheet with parchment paper or a silicone mat before spreading the coated almonds. This prevents the almonds from sticking to the baking sheet and makes cleanup easier. It also helps in achieving a more even and consistent roasting of the almonds.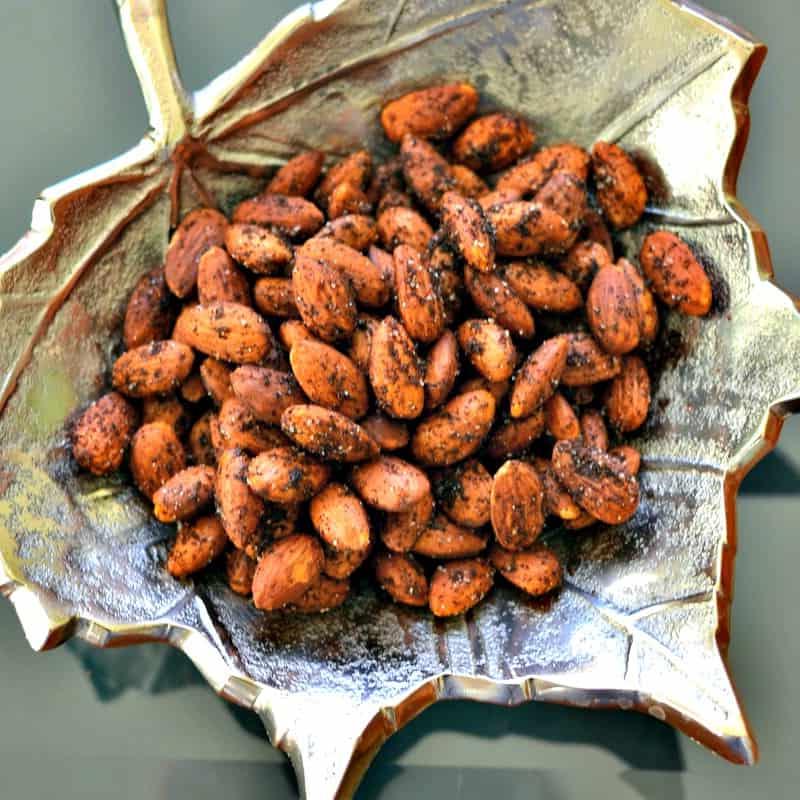 3. Stir the almonds halfway through: While roasting, take a few minutes to stir the almonds halfway through the cooking time. This ensures that they roast evenly on all sides and prevents any almonds from becoming overly browned or burnt. It also helps to release the delicious aroma and flavors of the BBQ seasoning.
4. Allow the almonds to cool completely: After removing the almonds from the oven, allow them to cool completely before storing or serving. This cooling time allows the almonds to become crisp and develop their full flavor. The almonds will continue to crisp up as they cool, so be patient and resist the temptation to taste them right away.
5. Store in an airtight container: To keep your Smoky BBQ Roasted Almonds fresh and crunchy, store them in an airtight container at room temperature. This will help maintain their texture and prevent them from absorbing any excess moisture, ensuring they stay delicious for longer.
By following these cooking tips, you'll achieve perfectly coated and irresistibly crunchy Smoky BBQ Roasted Almonds that are bursting with flavor. Enjoy the satisfying snacking experience they provide!
Serving Suggestion:
When it comes to serving Smoky BBQ Roasted Almonds, there are several delicious and creative options to consider. Here are a few suggestions to enhance your snacking experience:
1. Party Snack Mix: Create a tasty snack mix by combining the Smoky BBQ Roasted Almonds with other complementary ingredients. Mix them with pretzels, popcorn, dried fruits, or even dark chocolate chunks for a sweet and savory combination. This snack mix is perfect for parties, game nights, or anytime you want to satisfy cravings with a variety of flavors and textures.
2. Charcuterie Board Addition: Add a bowl of Smoky BBQ Roasted Almonds to your charcuterie board for an extra touch of smoky goodness. Their crunchy texture and bold flavor will complement the assortment of cheeses, cured meats, olives, and fruits. This savory addition will elevate your charcuterie board and provide a delightful snacking option for your guests.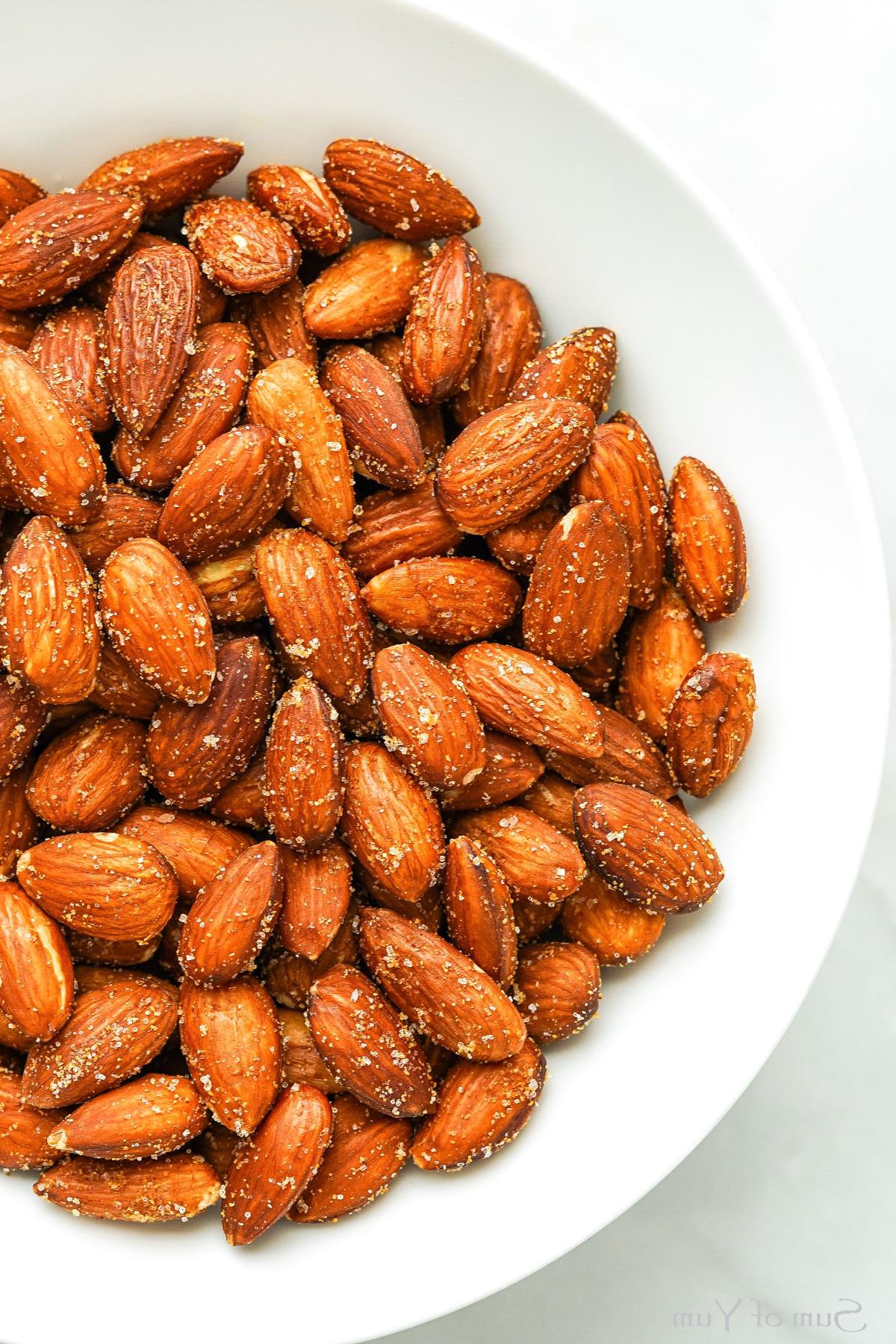 3. Salad Topper: Sprinkle the Smoky BBQ Roasted Almonds over a fresh salad to add a burst of flavor and crunch. They make a delicious topping for salads with mixed greens, grilled chicken or shrimp, diced tomatoes, avocado slices, and a tangy vinaigrette dressing. The almonds add a smoky twist to the salad and turn it into a satisfying meal.
4. Gourmet Gift: Package the Smoky BBQ Roasted Almonds in a decorative jar or gift bag for a thoughtful and delicious homemade gift. These flavorful almonds make for a great snack to share during holidays, birthdays, or special occasions. Your friends and loved ones will appreciate the homemade touch and the delightful flavor of these roasted almonds.
5. On-the-Go Snack: Fill small resealable bags or containers with Smoky BBQ Roasted Almonds for a convenient and flavorful on-the-go snack. These almonds are perfect for satisfying hunger cravings during road trips, hikes, or busy days when you need a quick and energizing snack.
Remember to serve the Smoky BBQ Roasted Almonds at room temperature or slightly warmed for the best flavor and texture. Whether you're enjoying them alone or incorporating them into other dishes, these savory and smoky almonds are sure to be a hit. Enjoy their addictive crunch and bold flavor!