Crustless Three-Meat Pizza offers a unique and flavorful twist on the beloved classic. By eliminating the traditional crust, this recipe caters to those seeking a low-carb, gluten-free, or keto-friendly option. Bursting with the rich and savory combination of three delicious meats, this crustless pizza provides a protein-packed meal that will leave you feeling satisfied and indulged. Whether you're looking to reduce your carb intake, experiment with new pizza variations, or simply enjoy a hearty and flavorful dish, Crustless Three-Meat Pizza is a must-try recipe that offers a delicious alternative to traditional pizza.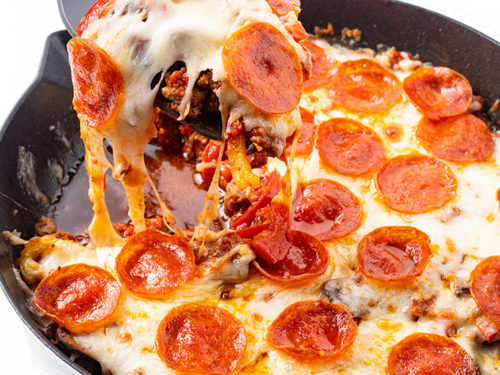 Crustless Three-Meat Pizza: A Low-Carb Twist on a Classic
Crustless Three-Meat Pizza is a delicious twist on the classic pizza recipe that eliminates the traditional crust, making it a low-carb and gluten-free alternative. Packed with flavor and protein, this pizza features a medley of three savory meats, typically including options like pepperoni, sausage, and bacon.
Ingredients
1/2

cup

½ cup shredded mozzarella cheese

7

slices pepperoni

1/4

cup

cooked ground sausage

2

slices sugar-free bacon, cooked and crumbled

1

tbsp

grated Parmesan cheese
Instructions
Cover the bottom of a 6" cake pan with mozzarella. Place pepperoni, sausage, and bacon on top of the cheese and sprinkle with Parmesan. Place pan into the dutch oven basket.

Regulate the temperature to 400°F and set the timer for 5 minutes.

Remove when the cheese is bubbling and golden. Serve warm with pizza sauce for dipping.
Notes
The absence of a crust allows the toppings to shine, resulting in a gooey and cheesy delight. It's a perfect option for those following a low-carb or keto lifestyle, as it provides all the satisfaction of pizza without the added carbs. Whether you're looking for a quick and easy dinner or a guilt-free indulgence, Crust less Three-Meat Pizza is a versatile recipe that is sure to satisfy pizza lovers of all ages.
Nutrition
Calories:
466
kcal
Carbohydrates:
5.2
g
Protein:
28.1
g
Fat:
34
g
Sodium:
1446
mg
Sugar:
1.6
g
Cooking Tip: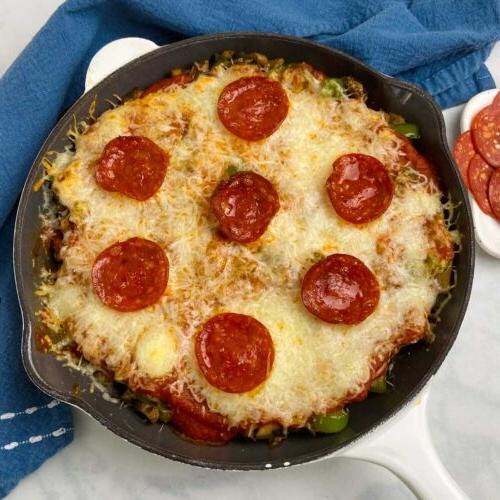 When making Crustless Three-Meat Pizza, it's important to ensure that the meats are cooked thoroughly before adding them as toppings. This not only enhances the flavor but also helps to eliminate any potential food safety risks associated with undercooked meats. Before assembling the pizza, sauté or cook the meats in a separate pan until they are fully cooked and slightly crispy. This step allows you to render excess fat and enhance the texture of the meats, resulting in a more delicious and satisfying pizza. Additionally, you can consider using pre-cooked or leftover meats, such as grilled chicken or roast beef, which can be sliced and added as toppings to save time and add variety to your pizza. By following this cooking tip, you'll ensure that your Crustless Three-Meat Pizza is not only flavorful but also safe and enjoyable to eat.
Serving Suggestion:
To complement the scrumptious flavors of Crustless Three-Meat Pizza, consider pairing it with a fresh and crisp salad. A simple garden salad with a mix of greens, cherry tomatoes, cucumbers, and a tangy vinaigrette dressing can provide a refreshing contrast to the savory pizza.
You can also serve the pizza with a side of marinara sauce or garlic butter for dipping. This adds an extra burst of flavor and a touch of indulgence to each bite.
For a complete meal, consider adding some roasted vegetables or a side of steamed broccoli. The vibrant colors and nutritious elements of the vegetables will balance out the richness of the pizza and provide a well-rounded dining experience.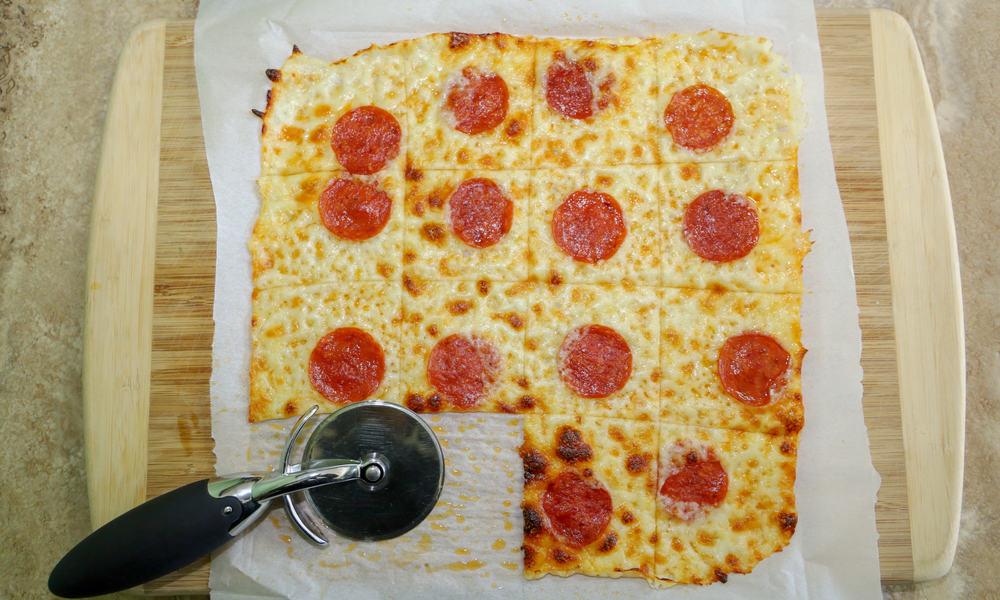 To enhance the social aspect of enjoying pizza, you can invite friends or family over for a casual gathering. Set up a pizza bar with various toppings and condiments, allowing everyone to customize their own slices. This interactive and fun approach can make the meal even more enjoyable and memorable.
Lastly, don't forget to serve the Crustless Three-Meat Pizza hot and fresh from the oven. The melty cheese and savory meats are at their best when served immediately, ensuring maximum flavor and enjoyment for everyone at the table.