Corn and carrot fritters are a delicious and nutritious snack or side dish made by combining shredded carrots, canned corn, flour, eggs, and various spices. The mixture is then fried in vegetable oil until crispy, creating a savory and filling bite-sized treat. These fritters can be enjoyed on their own or paired with a dipping sauce, such as sour cream or sweet and sour sauce.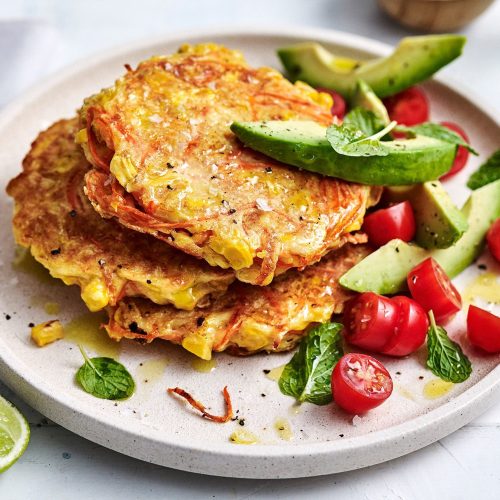 Corn and Carrot Fritters
Corn and carrot fritters are a tasty and nutritious snack or side dish that are easy to make and packed with flavor. They are typically made with grated carrots and corn kernels mixed with flour, eggs, and seasonings, then formed into patties and fried until crispy and golden brown. These fritters are a great way to use up leftover vegetables and can be served on their own or with a dipping sauce for added flavor. They are a perfect addition to any meal or party spread, and are sure to be a crowd-pleaser.
Ingredients
4

ounces canned sweet corn kernels

1

teaspoon

sea salt flakes

1

teaspoon

cilantro chopped

1

carrot, grated

1

yellow onion, finely chopped

1

medium-sized egg, whisked

1/4

cup

of self-rising flour

1/3

teaspoons

milk

1

cup

Parmesan cheese

1/3

teaspoon

brown sugar
Instructions
Place your dutch oven on a flat kitchen surface; plug it and turn iton. Set temperature to 350 degrees F and let it preheat for 4-5minutes.

Press the carrot in the colander to remove excess liquid. Arrange the carrot between several sheets of kitchen towels and pat it dry.

Then, mix the carrots with the remaining ingredients in a big bowl. Make small balls from the mixture

Gently flatten them with your hand. Spitz the balls with a non stick cooking oil.

Add the in balls the basket.6. Push the air-frying basket in the dutch oven. Cook for 8-10minutes.

Slide out the basket; serve warm!
Notes
Nutrition: Calories - 274 Fat – 8.3g Carbohydrates – 38.8g Fiber – 2.3g
Protein – 15.6g
Describe the taste of Corn and Carrot Fritters
Corn and carrot fritters typically have a sweet and slightly nutty taste from the combination of the sweet corn and the earthy carrots. The fritters may also have a slightly crispy texture on the outside and a soft and moist texture on the inside, making them a delightful snack or side dish. The spices used in the recipe can vary, but they often include cumin, coriander, and paprika, which add a slightly smoky and spicy flavor to the fritters. Overall, the taste of corn and carrot fritters is savory, slightly sweet, and full of flavor.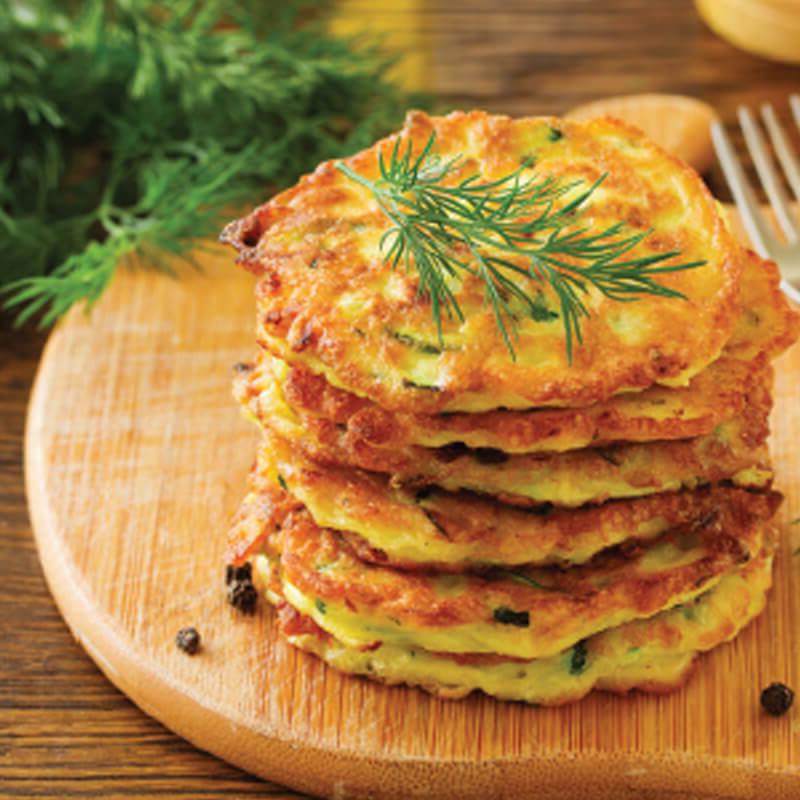 Tips for cooking
Here are some tips for cooking Corn and Carrot Fritters:
1. Use fresh ingredients: Make sure the corn and carrots you use are fresh and of good quality. This will ensure that the fritters have the best flavor and texture.
2. Don't overmix the batter: Overmixing the batter can result in tough and chewy fritters. Mix the batter until just combined.
3. Use a non-stick pan: A non-stick pan will help prevent the fritters from sticking and burning.
4. Fry at the right temperature: Heat the oil in the pan until it's hot enough, but not smoking. If the oil is too hot, the fritters will burn on the outside and be undercooked on the inside.
5. Drain on paper towels: After frying the fritters, drain them on paper towels to remove any excess oil.
6. Serve immediately: Corn and Carrot Fritters are best served hot and fresh out of the pan. Serve with your favorite dipping sauce.
Serving Suggestions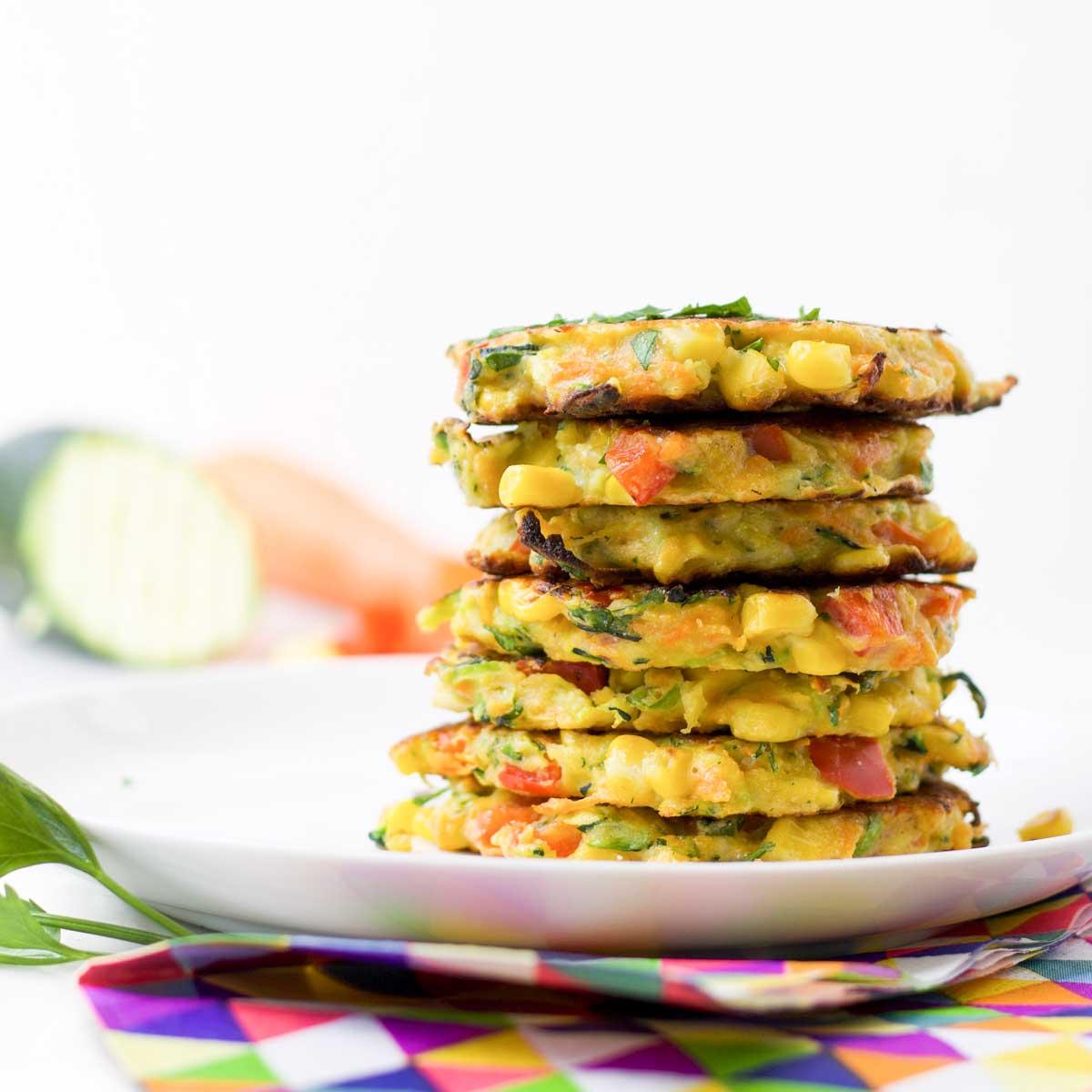 Corn and Carrot Fritters can be served as a snack or appetizer, or as a side dish with a meal. They can be topped with a dollop of sour cream or yogurt, a sprinkle of chopped herbs such as parsley or cilantro, or a drizzle of sweet chili sauce for added flavor. They also pair well with a side salad or roasted vegetables for a complete and satisfying meal.