Not only is Seasoned Cauliflower Chunks a delight for the taste buds, but it also offers a range of health benefits. Cauliflower is low in calories and packed with essential nutrients like vitamins C and K, fiber, and antioxidants. By incorporating this nutritious vegetable into your diet, you're not only treating your taste buds but also nourishing your body.
One of the best things about seasoned cauliflower chunks is their versatility. They can be enjoyed as a standalone appetizer, a delicious side dish, or even added to salads, bowls, or wraps for an extra crunch and burst of flavor. The possibilities are endless, allowing you to unleash your culinary creativity.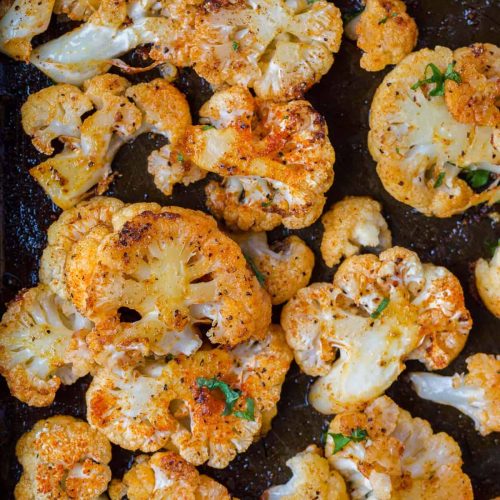 Seasoned Cauliflower Chunks
This recipe takes cauliflower to the next level by transforming it into delicious bite-sized chunks that are crispy on the outside and tender on the inside. The magic happens when the cauliflower is tossed with a blend of spices, herbs, and seasonings, creating a harmonious balance of flavors.
Ingredients
1

cauliflower head, diced into chunks

1/2

cup

unsweetened milk

6

tbsp

mayo

1/4

cup

all-purpose flour

3/4

cup

almond meal

1/4

cup

almond meal

1

tsp

onion powder

1

tsp

garlic powder

1

tsp

of sea salty

1/2

tsp

paprika

Pinch of black pepper

Cooking oil spray
Instructions
Toss cauliflower with rest of the ingredients in a bowl then transfers to the Dutch oven basket. Spray them with cooking oil.

Set the basket inside the Dutch oven toaster oven and close the lid. Select the Air Fry mode at 400°F temperature for 15 minutes. Toss well and serve warm.
Notes
So, gather your fresh cauliflower, sharpen your knife, and let the aromas of spices and herbs fill your kitchen as you prepare Seasoned Cauliflower Chunks. Discover the joy of transforming this humble vegetable into a flavorful and versatile delight that will elevate your meals. It's time to reimagine cauliflower and indulge in the irresistible flavors of seasoned cauliflower chunks. Enjoy!
Nutrition
Calories:
137
kcal
Carbohydrates:
21.6
g
Protein:
6.1
g
Fat:
8
g
Some frequently asked questions (FAQs) about Seasoned Cauliflower Chunks:
1. Can I use frozen cauliflower instead of fresh?
While fresh cauliflower is recommended for this recipe to achieve the best texture and flavor, you can use frozen cauliflower if fresh is not available. However, keep in mind that frozen cauliflower may have a slightly softer texture after cooking, so adjust the cooking time accordingly.
2. What seasonings work well with seasoned cauliflower chunks?
The choice of seasonings depends on your personal taste preferences. Popular options include garlic powder, paprika, cumin, turmeric, chili powder, and dried herbs like thyme or rosemary. Feel free to experiment and create your own unique flavor combinations.
3. How do I ensure the cauliflower chunks are crispy?
To achieve crispy cauliflower chunks, it's important to preheat your oven and spread the cauliflower in a single layer on a baking sheet. This allows for even heat distribution and promotes crispy edges. Additionally, avoid overcrowding the baking sheet, as this can cause the cauliflower to steam rather than crisp up.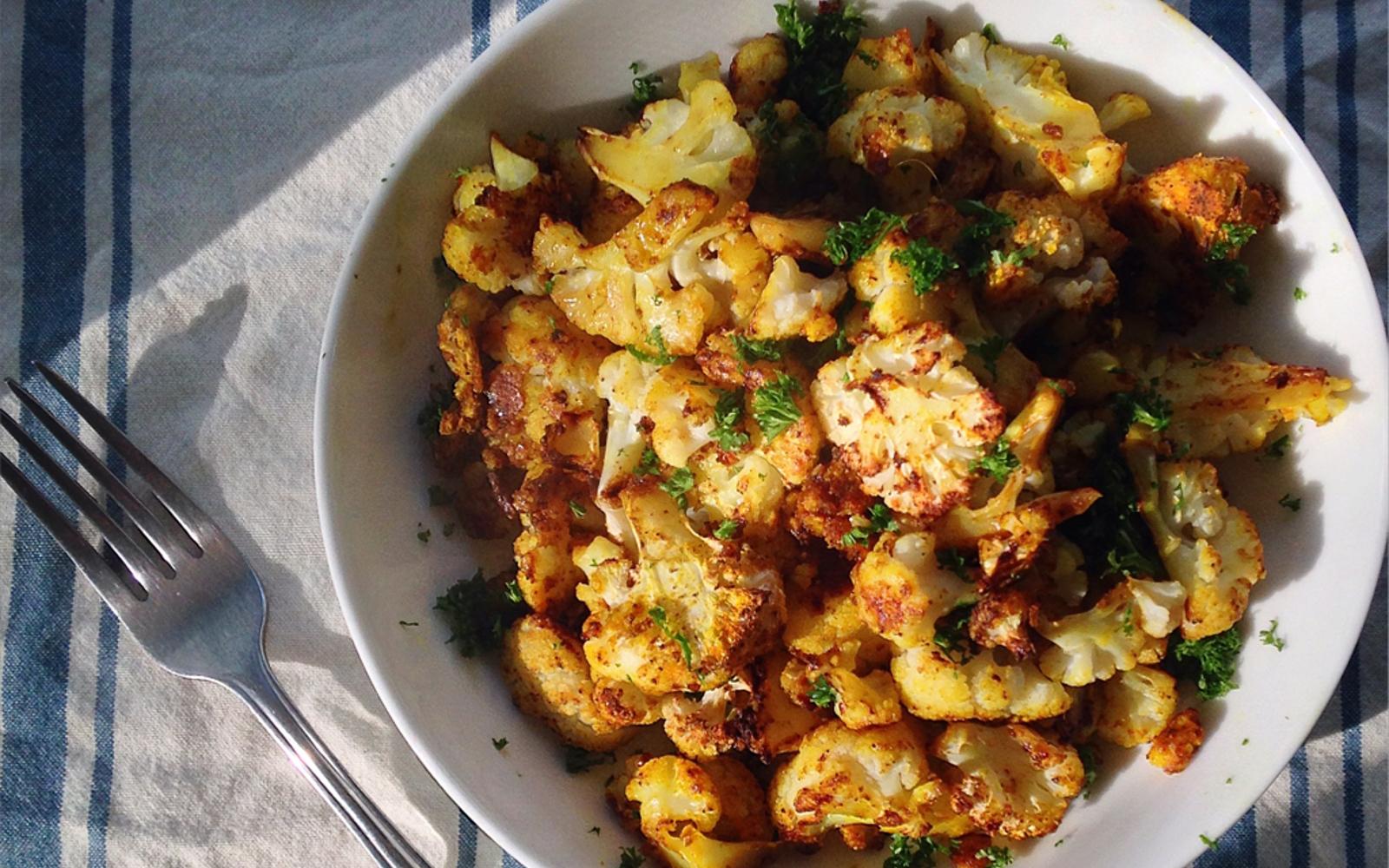 4. Can I make seasoned cauliflower chunks in an air fryer?
Yes, seasoned cauliflower chunks can be cooked in an air fryer for a crispy texture. Follow the recipe instructions, but instead of baking in the oven, transfer the seasoned cauliflower chunks to the air fryer basket and cook at the recommended temperature and time for your specific air fryer model.
5. Can I prepare seasoned cauliflower chunks in advance?
Seasoned cauliflower chunks are best enjoyed fresh out of the oven for optimal crispiness. However, you can partially prepare them in advance by cutting the cauliflower into chunks and tossing them with the seasonings. Keep the seasoned cauliflower in an airtight container in the refrigerator until you're ready to bake them. Just remember to adjust the baking time slightly if the cauliflower has been chilled.
6. How long does seasoned cauliflower last?
Seasoned cauliflower chunks are best enjoyed immediately for their crispy texture. However, if you have leftovers, you can store them in an airtight container in the refrigerator for up to 2-3 days. Reheat them in the oven or air fryer at a low temperature to help regain some of their crispiness.
Remember, these FAQs provide general guidance, and it's always best to refer to a specific recipe for detailed instructions and measurements. Enjoy the process of making and savoring your delicious seasoned cauliflower chunks!
Cooking tip to enhance your preparation of Seasoned Cauliflower Chunks:
Tip: Use parchment paper for easy cleanup and crispiness.
When baking your seasoned cauliflower chunks, using parchment paper on the baking sheet can offer several benefits:
1. Easy cleanup: Placing a sheet of parchment paper on the baking sheet before arranging the cauliflower chunks helps prevent them from sticking to the surface. This makes cleanup a breeze, as you can simply remove the parchment paper with any residue, leaving the baking sheet clean.
2. Crispy texture: Parchment paper promotes better airflow around the cauliflower chunks while they bake, allowing for more even cooking and crispiness. The paper helps to absorb excess moisture and prevent the cauliflower from becoming soggy, resulting in crispier and more appetizing chunks.
3. Prevent sticking: Cauliflower chunks can sometimes stick to the baking sheet, especially if they release moisture during baking. Parchment paper acts as a barrier between the cauliflower and the baking sheet, reducing the chances of sticking and ensuring that you can easily remove the cooked chunks without any trouble.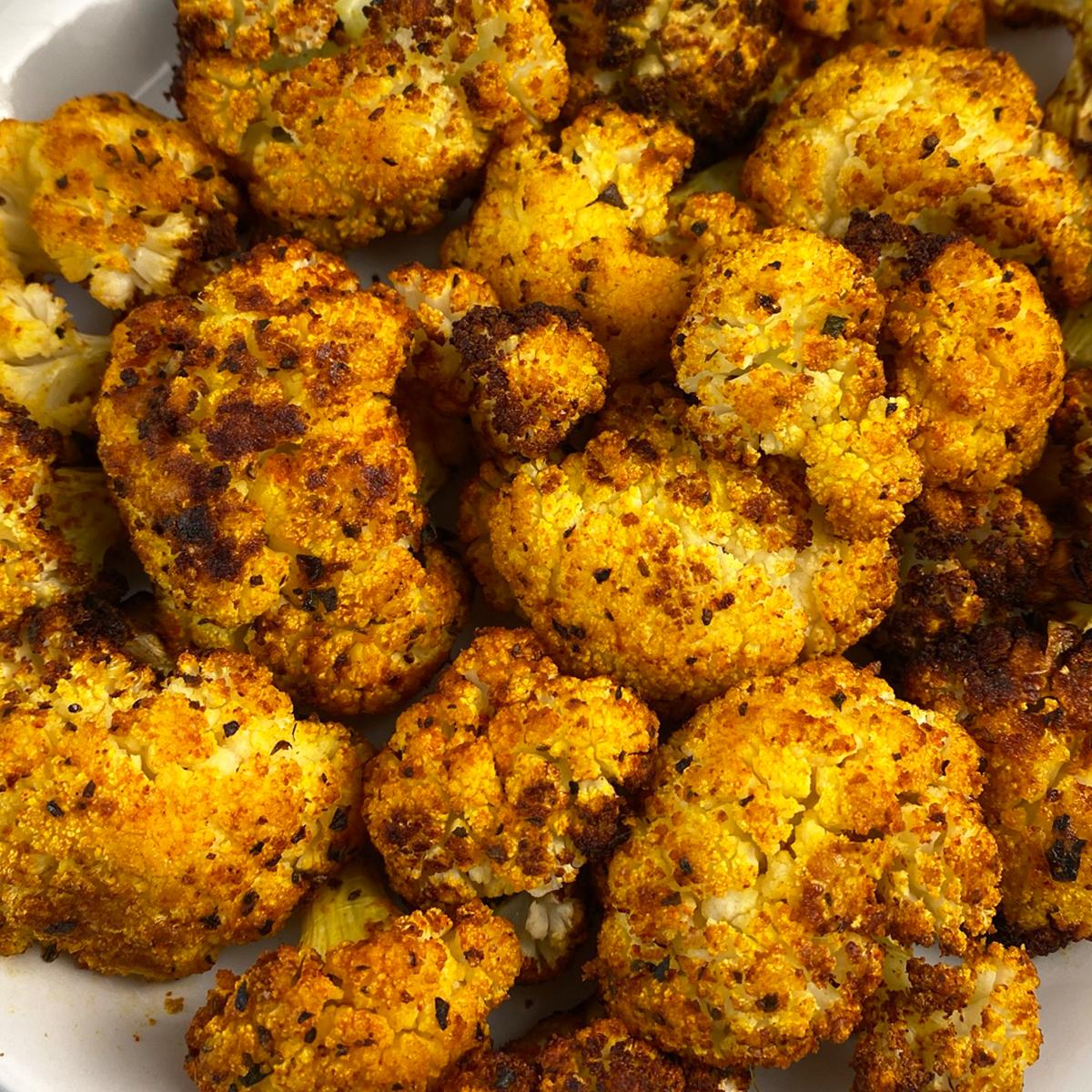 Here's how to use parchment paper for baking seasoned cauliflower chunks:
1. Preheat your oven to the recommended temperature mentioned in your recipe.
2. Line a baking sheet with a sheet of parchment paper, ensuring that it covers the entire surface area.
3. Arrange the seasoned cauliflower chunks in a single layer on the parchment paper, making sure to leave some space between each chunk for even cooking.
4. Bake the cauliflower chunks according to the recipe instructions, checking for the desired level of crispiness.
5. Once cooked, carefully remove the parchment paper with the cauliflower chunks from the baking sheet. Serve and enjoy your crispy seasoned cauliflower chunks.
By using parchment paper, you'll have an easier cleanup process and achieve better texture with your seasoned cauliflower chunks. Enjoy the delicious flavors and crispiness of your cauliflower creation!
Serving suggestion to complement your Seasoned Cauliflower Chunks:
1. Dip and Enjoy: Serve the seasoned cauliflower chunks as an appetizer or snack with a variety of dipping sauces. Prepare a tangy yogurt-based dip with Greek yogurt, lemon juice, minced garlic, and chopped fresh herbs like dill or parsley. You can also offer a spicy sriracha mayo or a classic ranch dressing for a flavorful twist. Arrange the cauliflower chunks on a platter with the dipping sauces in small bowls for everyone to enjoy.
2. Bowl of Goodness: Create a nourishing and satisfying bowl by incorporating the seasoned cauliflower chunks as a star ingredient. Start with a base of cooked quinoa, brown rice, or mixed greens. Top it with the seasoned cauliflower chunks, along with roasted vegetables like bell peppers, cherry tomatoes, and zucchini. Add a dollop of hummus or tahini sauce for creaminess, and sprinkle with toasted nuts or seeds for crunch. This serving suggestion offers a well-rounded meal with a mix of textures and flavors.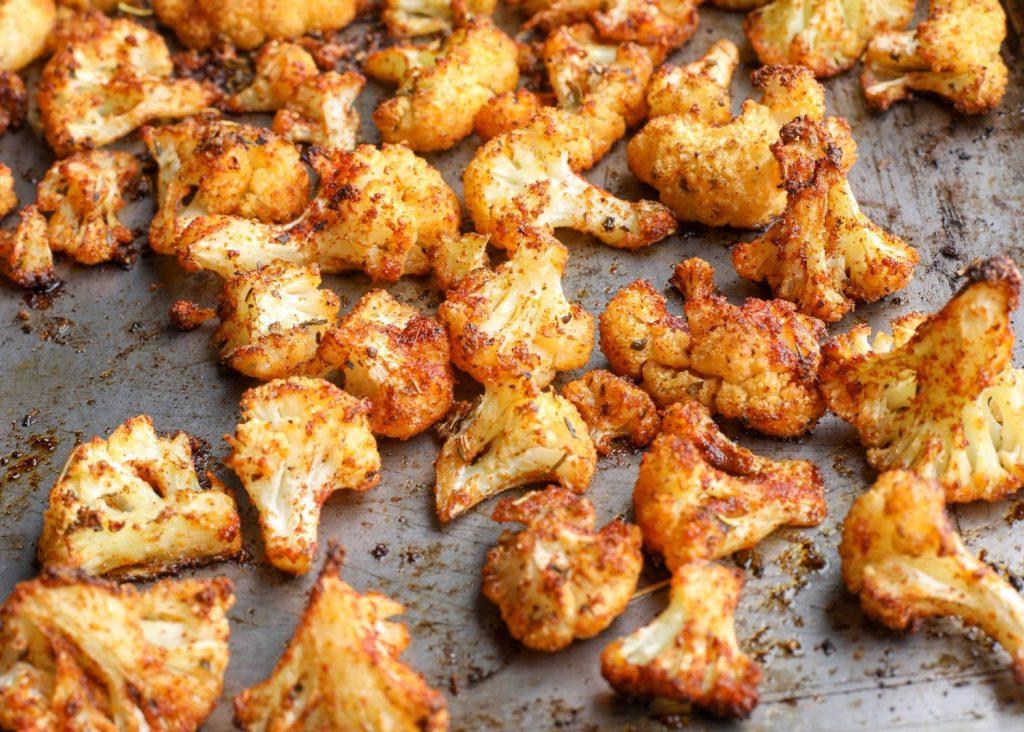 3. Side Dish Delight: Pair the seasoned cauliflower chunks with your favorite main dishes as a delightful side dish. They work well with grilled chicken, roasted salmon, or seared tofu. Serve the cauliflower chunks alongside your main course, adding a pop of color and flavor to the plate. Consider garnishing the dish with fresh herbs like cilantro or chives to elevate the presentation.
4. Salad Enhancement: Add an extra layer of texture and flavor to your salads by incorporating seasoned cauliflower chunks. Toss them into a vibrant salad with mixed greens, cherry tomatoes, cucumber slices, and your choice of dressing. The crispy cauliflower chunks will provide a satisfying crunch and a burst of flavor, taking your salad to the next level.
Remember, these serving suggestions are just a starting point, and you can always customize them based on your preferences and the overall meal you're planning. Get creative and explore different combinations to enhance your dining experience with seasoned cauliflower chunks. Enjoy!