Garlic and Bell Pepper Beef is a delectable dish that brings together the bold flavors of garlic, the vibrant colors of bell peppers, and the succulence of tender beef. This recipe showcases the harmonious combination of ingredients, resulting in a satisfying and aromatic meal that is sure to please your taste buds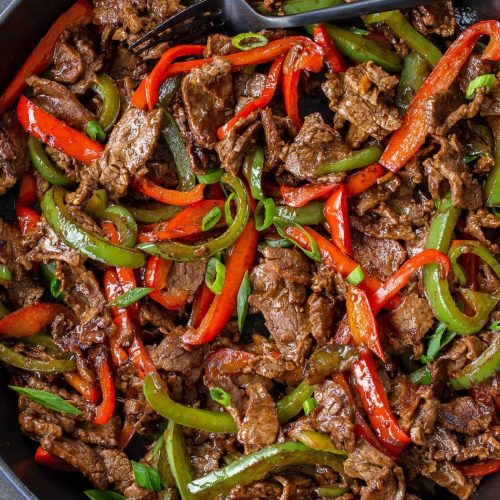 Garlic and Bell Pepper Beef
Garlic and Bell Pepper Beef is a flavorful and aromatic dish that combines tender beef with the vibrant colors and flavors of garlic and bell peppers. This recipe offers a delightful blend of textures and tastes, as the beef becomes tender and infused with the savory essence of garlic, while the bell peppers add a touch of sweetness and a satisfying crunch. The dish is typically prepared as a stir-fry, allowing the ingredients to cook quickly while retaining their natural flavors and vibrant colors.
Ingredients
11

oz

steak fillets (sliced)

1/2

cup

beef stock

2

tbsp

olive oil

2

tbsp

fish sauce

4

cloves garlic (pressed)

1

red pepper (cut into thin strips)

4

green onions (sliced)

1

tbsp

sugar

2

tsp

corn flour

Black pepper to taste
Instructions
In a pan, add beef, oil, garlic, black pepper, and bell pepper, stir,cover, and keep in the refrigerator for 30 minutes.
Preheat the dutch oven to 3600F

Put the pan to the dutch oven and cook for 14 minutes. In a bowl,mix sugar and fish sauce, pour over the beef and cook for anadditional 7 minutes.
Notes
Whether served with steamed rice or noodles, Garlic and Bell Pepper Beef is a versatile and satisfying option that will surely impress your taste buds. Prepare to indulge in this delightful combination of tender beef, fragrant garlic, and colorful bell peppers in every delicious bite.
Nutrition
Calories:
243
kcal
Carbohydrates:
24
g
Protein:
38
g
Fat:
3
g
FAQs about Garlic and Bell Pepper Beef
Q: Can I use other types of meat instead of beef?
A: Yes, you can certainly experiment with different types of meat or protein alternatives. Chicken, shrimp, or tofu can be used as substitutes for beef in this recipe. Adjust the cooking time accordingly to ensure that the meat or protein is cooked through.
Q: Can I adjust the level of spiciness in the dish?
A: Absolutely! If you prefer a spicier flavor profile, you can add some chili flakes or a dash of hot sauce to the dish. Conversely, if you prefer a milder taste, you can reduce or omit the spicy elements such as chili peppers or chili sauce. Adjust the spice level according to your personal preference.
Q: Can I make this dish vegetarian or vegan?
A: Yes, you can adapt this recipe to be vegetarian or vegan. Simply omit the beef and replace it with plant-based protein alternatives like tofu, tempeh, or seitan. Ensure that any sauces or condiments used are also vegan-friendly, and adjust the cooking time accordingly.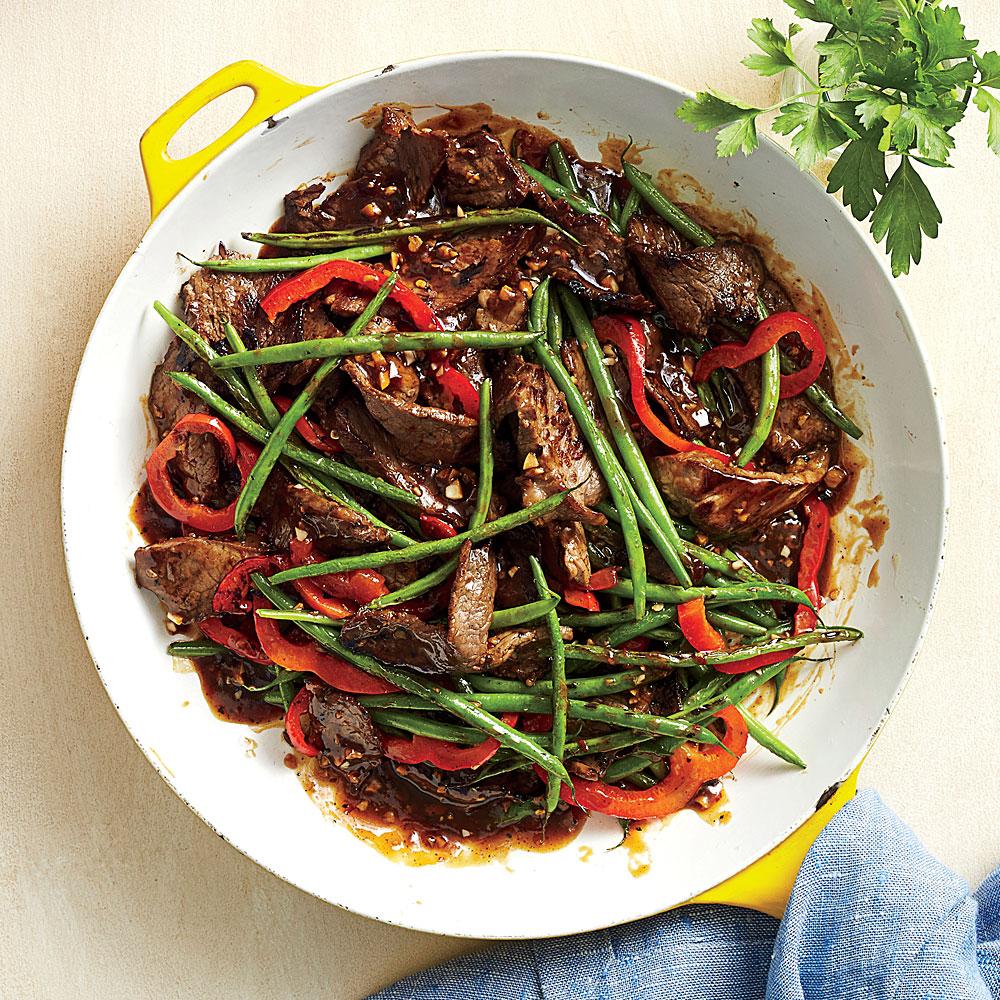 Q: Can I make this dish ahead of time?
A: While Garlic and Bell Pepper Beef is best enjoyed immediately after cooking, you can prepare some of the ingredients in advance to save time. Cut and marinate the beef, chop the garlic and bell peppers, and store them separately in airtight containers in the refrigerator. When ready to cook, simply stir-fry the ingredients for a quick and fresh meal.
Q: What can I serve with Garlic and Bell Pepper Beef?
A: Garlic and Bell Pepper Beef pairs well with steamed rice, noodles, or even lettuce wraps for a lighter option. You can also serve it alongside a side of stir-fried vegetables or a refreshing salad to complete the meal.
Remember, these are just some common FAQs, and if you have any specific questions or concerns about the recipe, feel free to ask for clarification or further guidance.
Cooking tips
Here are some tips for cooking Garlic and Bell Pepper Beef:
1. Use high-quality ingredients – When it comes to making Garlic and Bell Pepper Beef, quality ingredients are key. Use fresh Bell Peppers and high-quality beef for the best flavor and texture.
2. Prep ahead – Cut the beef and Bell Peppers into uniform sizes, and mince the garlic before starting to cook. This will help save time and make the cooking process smoother.
3. Season the beef – Use a mixture of soy sauce and cornstarch to season the beef strips. This will help to lock in flavor, as well as create a caramelized crust while cooking.
4. Get the Pan Hot – Use a high heat when cooking this dish to get a good sear on the beef strips.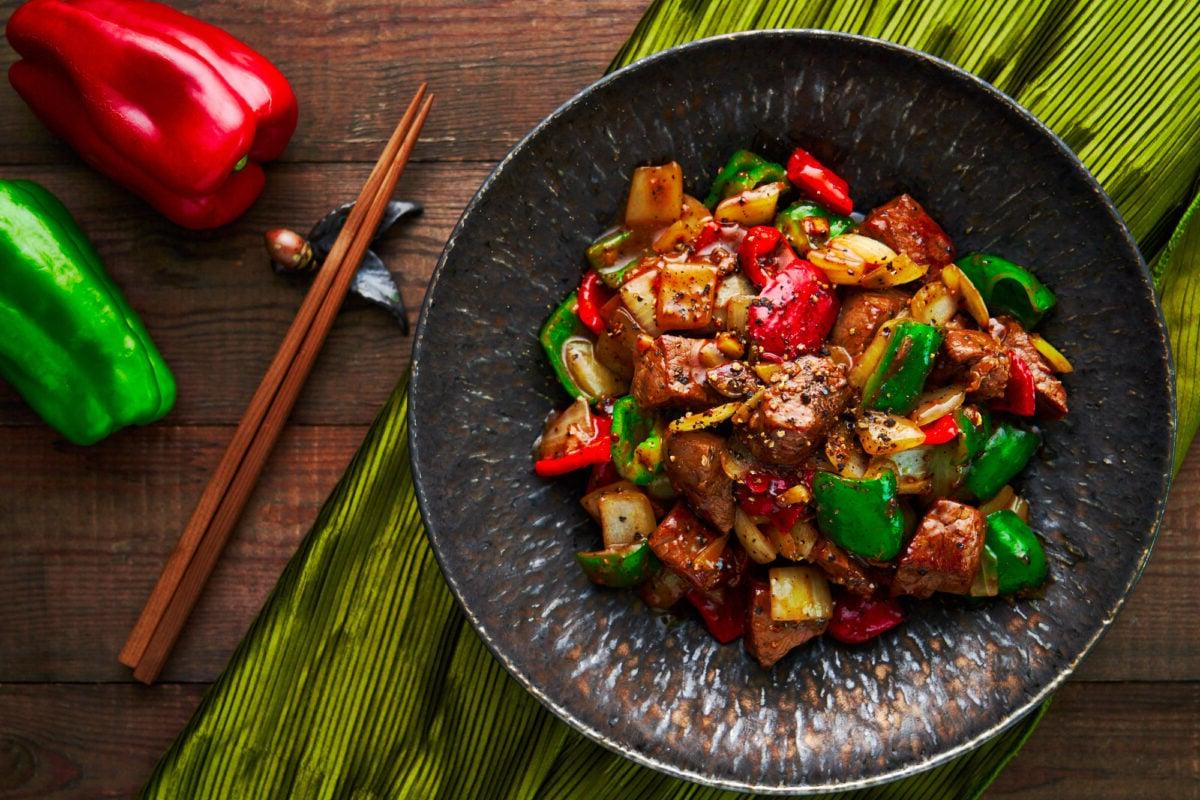 5. Cook in batches – Cook the beef and bell peppers in batches to prevent overcrowding the pan. This will help the ingredients cook more evenly and create a better end result.
6. Stir-fry quickly – Stir-fry the beef and peppers for only 2-3 minutes until the beef is browned, but still tender, and the peppers are crisp-tender.
7. Add garlic last – Add minced garlic into the stir-fry only in the last 30 seconds to prevent burning and to ensure the garlic flavor stays fresh.
8. Add sauces at the end – After the stir-fry is cooked, add soy sauce, oyster sauce, sugar, salt, and pepper to taste.
These tips will help you create the perfect Garlic and Bell Pepper Beef, with bold flavors and a delicious texture!
Serving Suggestions
Here are a few serving suggestions for Garlic and Bell Pepper Beef:
1. Over Rice – Serve Garlic and Bell Pepper Beef over a bed of steamed rice. The flavors of the stir-fry will work perfectly with the delicate grain.
2. With Noodles – For a fun twist, try serving the stir-fry with noodles instead of rice. Soba, udon, or egg noodles would all be great choices.
3. As a Wrap – Serve the stir-fry as a wrap, with lettuce leaves or a flour tortilla as the base.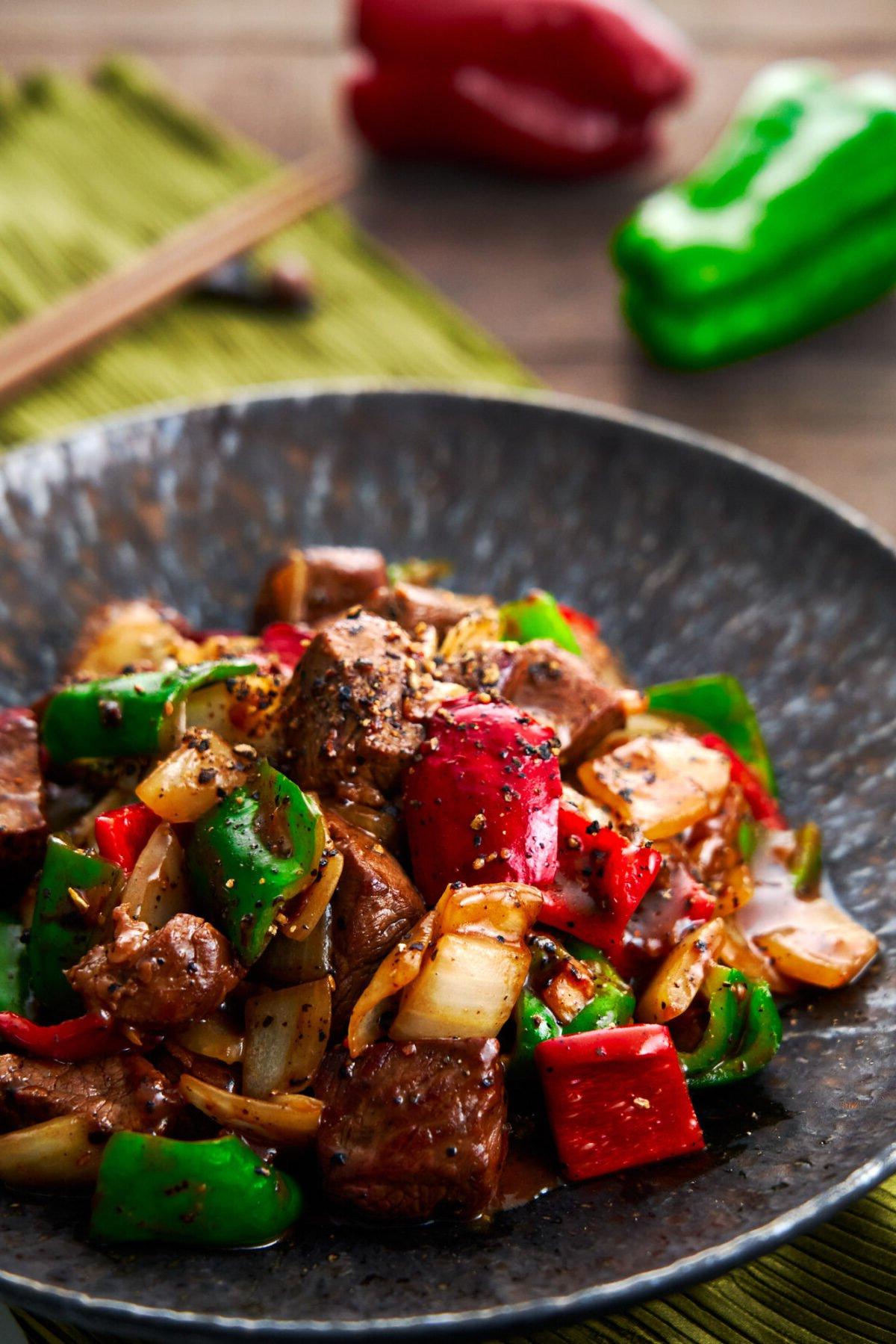 4. With Side Dishes – Garlic and Bell Pepper Beef pairs well with a variety of side dishes. Consider serving it alongside steamed vegetables, like broccoli or green beans, or a simple side salad.
5. As an Appetizer – Serve the dish in small bowls or as a tapa, with chopsticks or toothpicks for guests to enjoy. This is a great choice for parties or gatherings. Regardless of how you choose to serve Garlic and Bell Pepper Beef, be sure to garnish it with some chopped green onions, sesame seeds, or cilantro for added flavor and presentation. Enjoy!