Simple Garlic Bread, a timeless and irresistible classic that adds a burst of flavor to any meal. Whether you're hosting a gathering, preparing a family dinner, or simply craving a delicious snack, this easy-to-make recipe will satisfy your garlic cravings and delight your taste buds.
The beauty of this recipe lies in its simplicity. With just a handful of ingredients and minimal preparation, you can create a fragrant, buttery, and garlicky bread that will leave you wanting more. The combination of toasted bread, aromatic garlic, and creamy butter creates a symphony of flavors that elevate any dish to the next level.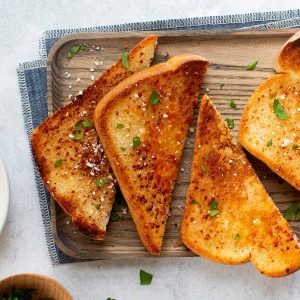 Garlic Bread
to make this delicious garlic bread, you'll start by mixing softened butter, minced garlic, and chopped parsley together. This fragrant mixture is then generously spread over sliced bread, which can be a baguette, Italian loaf, or any bread of your choice. The bread is then baked until golden and crispy, allowing the flavors to meld together
Ingredients
Salt to taste

1

Italian loaf of bread

1

tbsp

fresh parsley, chopped

1/2

cupcup

butter, melted

4

garlic cloves, chopped
Instructions
Take a bowl and add parsley, butter, and garlic

Spread the mixture on the bread slices

Transfer the bread inside the Dutch oven cooking basket

Cook at 400 degrees F for 3 minutes on AIR CRISP mode

Serve and enjoy once done
Notes
Whether you're hosting a dinner party, enjoying a cozy family meal, or simply craving a tasty snack, this Simple Garlic Bread recipe is a go-to option that can be whipped up in no time. Its simplicity and irresistible taste will have everyone coming back for more.
Nutrition
Calories:
155
kcal
Carbohydrates:
20
g
Protein:
28
g
Fat:
7
g
Saturated Fat:
2
g
Trans Fat:
3
g
Sodium:
227
mg
Cooking Tip:
Here's a handy tip to ensure your Simple Garlic Bread turns out perfectly every time:
1. Properly soften the butter: To easily incorporate the minced garlic and parsley into the butter, it's important to ensure that the butter is softened properly. Take the butter out of the refrigerator and let it sit at room temperature for about 30 minutes, or until it reaches a soft and spreadable consistency. This will make it easier to mix and evenly distribute the flavors throughout the butter.
2. Use fresh garlic: Opt for fresh garlic cloves instead of pre-minced garlic for the best flavor. Minced garlic from a jar can sometimes have a milder taste and lack the intensity of fresh garlic. Finely mince the garlic cloves using a sharp knife or a garlic press to release their robust flavors.
3. Adjust the garlic to your taste: The amount of minced garlic used in the recipe can be adjusted based on your personal preference for garlic intensity. If you're a garlic lover, feel free to add an extra clove or two to the butter mixture. Conversely, if you prefer a milder garlic flavor, reduce the amount of garlic used.
4. Don't skimp on the butter spread: To ensure that each bite is bursting with flavor, generously spread the garlic butter mixture over the bread slices. Be sure to cover the entire surface of the bread, including the edges, to ensure even distribution of flavor and to prevent any dry spots.
5. Toast until golden and crispy: Keep a close eye on the bread while it's baking to achieve the desired level of toastiness. The edges should be golden brown and crispy, while the center remains soft and buttery. Adjust the baking time as needed to achieve the perfect balance of textures.
By following these cooking tips, you'll create Simple Garlic Bread that is aromatic, flavorful, and irresistibly delicious. It's a wonderful addition to any meal or gathering, and will quickly become a favorite among garlic bread enthusiasts. Enjoy the warm, garlicky goodness and savor every bite!
Serving Suggestion:
Simple Garlic Bread is incredibly versatile and can be served in various ways to complement different meals or occasions. Here are a few serving suggestions to enhance your dining experience:
1. Pair it with pasta: Serve Simple Garlic Bread alongside your favorite pasta dishes, such as spaghetti, fettuccine Alfredo, or lasagna. The garlicky flavor and crunchy texture of the bread will beautifully complement the savory pasta, adding an extra layer of deliciousness to your meal.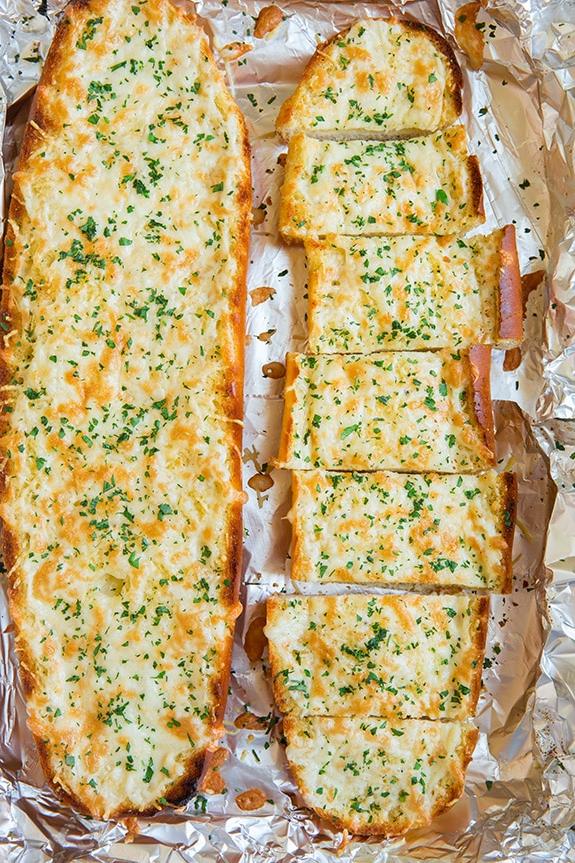 2. Enjoy it with soups and stews: Serve slices of Simple Garlic Bread alongside a comforting bowl of soup or stew. Dip the bread into the flavorful broth or spread some butter on it for a delightful combination of tastes and textures. It's especially delicious with tomato soup, chicken noodle soup, or creamy vegetable soups.
3. Make it a side for salads: Add a side of Simple Garlic Bread to your salad platter. Its crunchy exterior and buttery center make a perfect contrast to the fresh, crisp vegetables in your salad. It's a great way to add some extra flavor and substance to your greens.
4. Serve it as an appetizer: Cut the Simple Garlic Bread into smaller pieces and serve it as an appetizer at your next gathering. Arrange the bread on a platter and pair it with some marinara sauce, garlic aioli, or a creamy dip for guests to enjoy. It's a crowd-pleasing finger food that will disappear quickly.
5. Enjoy it on its own: Simple Garlic Bread is so delicious that it can be enjoyed on its own as a snack or light meal. Serve it warm from the oven and savor the irresistible combination of garlic, butter, and bread. It's a comforting and satisfying treat that stands well on its own.
No matter how you choose to serve it, Simple Garlic Bread is sure to be a hit. Its savory, garlicky flavor and buttery goodness make it a versatile and mouthwatering addition to any meal or gathering. So, get creative and enjoy this delightful bread in whichever way suits your taste and occasion.