Welcome to our collection of coconut shrimp recipes! If you're a fan of seafood and enjoy the tropical flavors of coconut, then you're in for a treat. In this introduction, we'll explore the mouthwatering world of coconut shrimp and how it can bring a taste of the tropics to your table.
Coconut shrimp is a dish that combines the succulent flavors of shrimp with the delightful crunch and sweetness of a coconut coating. The shrimp are typically dipped in a batter, rolled in shredded coconut, and then fried or baked to perfection. The result is a crispy, golden exterior that gives way to tender, juicy shrimp with a hint of coconut flavor.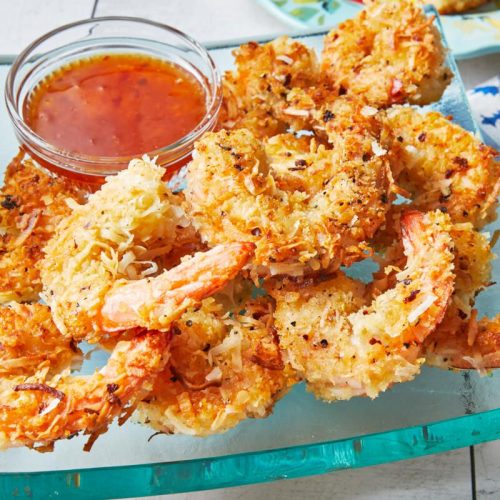 Coconut Shrimp Delight
In this collection of titles, we capture the essence of the coconut shrimp recipe—a delightful combination of crispy shrimp coated in a flavorful coconut crust. These titles highlight the tropical twist and exotic flavors of this dish, showcasing its appeal to seafood lovers and those seeking a taste of the tropics.
Ingredients
1

(8-ounce) can crushed pineapple

1/2

cup

sour cream

1/4

cup

pineapple preserves

2

egg whites

2/3

cup

cornstarch

2/3

cup

sweetened coconut

1

cup

panko bread crumbs

1

pound

uncooked large shrimp, thawed if frozen, deveined and shelled

Olive oil for misting
Instructions
Preparing the Ingredients. Make sure to drain the pineapple well, getting the juice. With small bowl, combine the sour cream, pineapple, and preserves, then mix well. Put it aside.

In another bowl, whisk the egg whites plus 2 tablespoons ofpineapple liquid. The put the cornstarch on another plate. Blend thecoconut plus the bread crumbs on extra plate

Dip the shrimp in the cornstarch, then dip into the egg white combination

Lastly into the coconut mixture. Put the shrimp in the dutch oven rack and mist with oil.

Air Frying. Cook it for 5 to 7 minutes or you may wait until the shrimp are golden brown.
Notes
Whether you're a seasoned cook or just starting your culinary journey, our coconut shrimp recipes are designed to be accessible and easy to follow. We'll guide you through the process, offering tips and techniques to achieve the perfect balance of crispiness and tenderness in every bite.
Nutrition
Calories:
524
kcal
Protein:
33
g
Fat:
14
g
Fiber:
4
g
FAQs about Coconut Shrimp
Q: Can I use fresh or frozen shrimp for coconut shrimp?
A: Both fresh and frozen shrimp can be used for coconut shrimp. If using frozen shrimp, make sure to thaw them completely before coating and cooking. Fresh shrimp generally provide a slightly better texture, but frozen shrimp can work well too, especially if they are of good quality.
Q: Can I make coconut shrimp without frying?
A: Yes, absolutely! While traditional coconut shrimp is typically fried, you can also achieve delicious results by baking them in the oven. Baked coconut shrimp is a healthier alternative that still offers a crispy exterior and juicy interior. Simply follow a baked coconut shrimp recipe, which usually involves coating the shrimp in the same way as the fried version, and then baking them until golden and cooked through.
Q: What kind of coconut is best for coconut shrimp?
A: The most common type of coconut used for coconut shrimp is shredded sweetened coconut. It provides a pleasant sweetness and adds a nice crunch to the dish. You can find shredded sweetened coconut in most grocery stores. However, if you prefer a less sweet flavor, unsweetened shredded coconut can also be used. It may have a drier texture and less sweetness but still adds a wonderful coconut flavor.
Q: What sauces pair well with coconut shrimp?
A: Coconut shrimp pairs well with a variety of sauces that complement its flavors. Some popular options include sweet chili sauce, mango salsa, pineapple dipping sauce, Thai sweet chili sauce, or even a simple squeeze of fresh lime juice. These sauces add a tangy or fruity element that balances the richness of the coconut shrimp.
Q: Can I prepare coconut shrimp in advance?
A: While coconut shrimp is best enjoyed fresh and hot, you can prepare them in advance to some extent. You can bread the shrimp and refrigerate them for up to a few hours before frying or baking. This allows you to have them ready to cook when needed. However, for the best texture and flavor, it is recommended to fry or bake them right before serving.
Q: Can I use a different type of seafood instead of shrimp?
A: Yes, you can definitely experiment with other types of seafood in place of shrimp. Coconut coating can work well with other seafood options such as scallops, fish fillets, or even crab. Adjust the cooking time accordingly, as different seafood may require different cooking times to ensure they are properly cooked through.
Q: Are coconut shrimp suitable for people with dietary restrictions?
A: Coconut shrimp can be adapted to suit different dietary restrictions. If you have a gluten intolerance or allergy, you can use gluten-free flour and breadcrumbs or opt for alternative coatings like crushed nuts or seeds. For those following a vegan or vegetarian diet, you can try using tofu or plant-based alternatives to shrimp and adapt the coating and cooking methods accordingly.
Cooking tips
Here are some cooking tips for making delicious coconut shrimp:
1. Use Large, Raw Shrimp: Choose large raw shrimp of around 16-20 pieces per pound. They should be peeled and deveined, tail-on for easy handling.
2. Toast the Coconut: Toast the coconut flakes before using them to give extra crunch and flavor to the dish. Spread the coconut flakes on a baking sheet and toast in the oven for 3-4 minutes or until they turn golden brown.
3. Use a Batter: Make a simple batter with cornstarch, flour, baking powder, salt, cayenne pepper, and cold water. It should be thick enough to coat the shrimp but not too thick to make it clunky.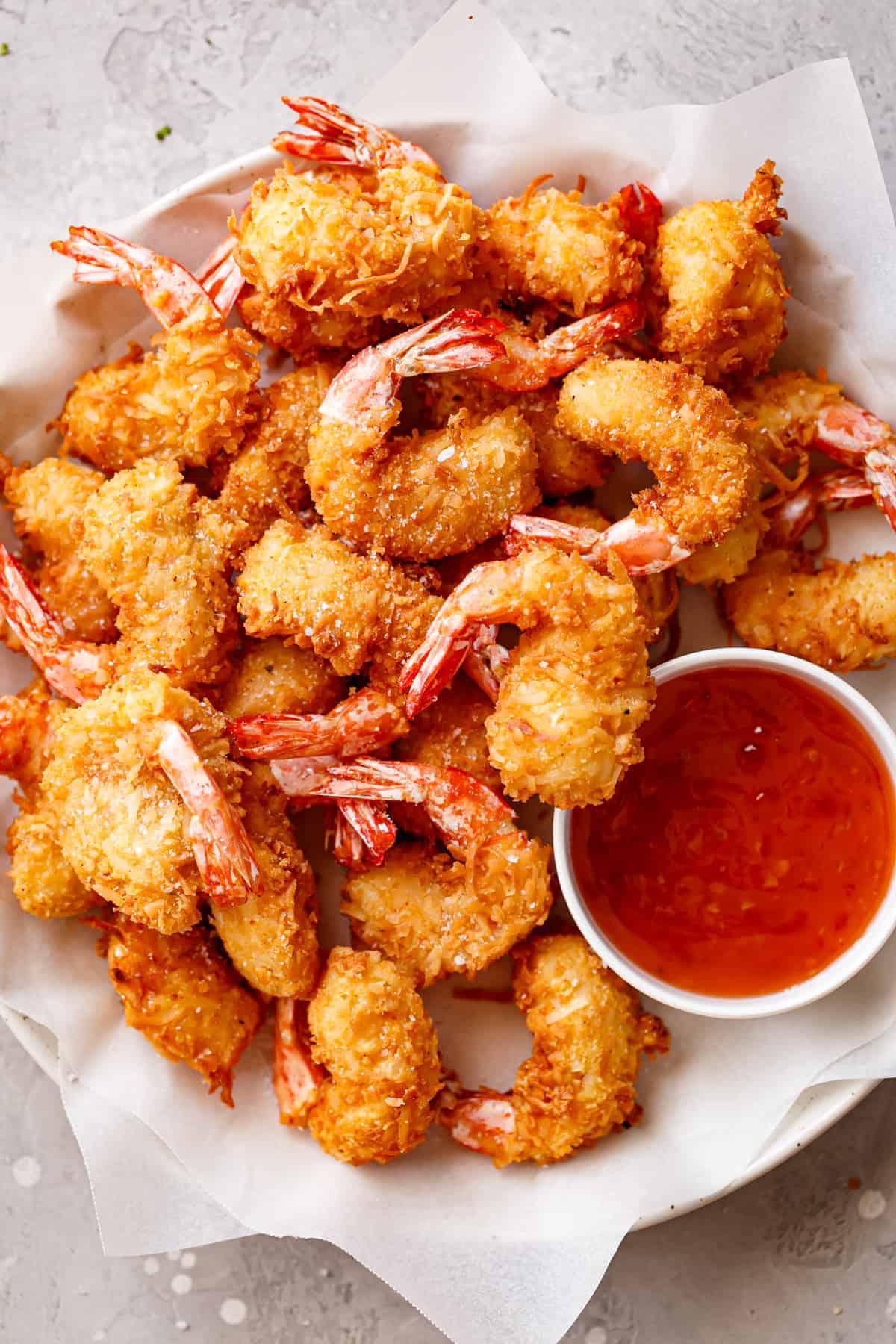 4. Dip and Coat the Shrimp: Dip the shrimp in the batter and then coat them in shredded coconut, pressing the coconut gently on the surface to adhere.
5. Fry the Shrimp: Heat vegetable oil to 350 F in a heavy-bottomed skillet or Dutch oven. Add the shrimp to the hot oil in batches, frying for 2 to 3 minutes per side until the coating turns golden brown and crispy.
6. Drain on Paper Towels: Remove the shrimp with tongs and place them on paper towels to drain the excess oil.
7. Serve and Garnish: Serve the hot and crispy coconut shrimp with sweet chili sauce or another dipping sauce of your choice, like apricot sauce or honey mustard. Garnish with chopped cilantro or green onions for added freshness and color.
Serving Suggestions
Here are some serving suggestions to complement the delicious coconut shrimp:
1. Mango Salsa: Accompany the coconut shrimp with a fresh and vibrant mango salsa. Mix diced fresh mango, red bell pepper, red onion, and chopped cilantro, dressed with lime juice and olive oil.
2. Asian-Style Slaw: Make a simple Asian-style slaw with thinly sliced cabbage, shredded carrots, sliced green onions, and a dressing of soy sauce, rice vinegar, honey, and toasted sesame oil.
3. Sweet Chili Sauce: Serve with a sweet chili dipping sauce made by mixing sweet chili sauce, a splash of rice vinegar, and a pinch of red pepper flakes.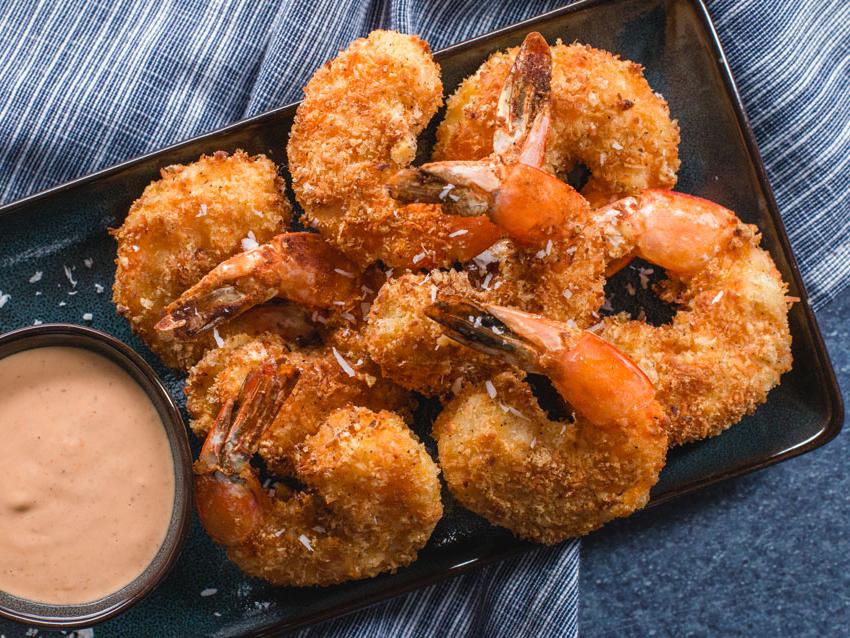 4. Coconut Rice: Whip up some coconut rice to go alongside the coconut shrimp. Cook jasmine rice in coconut milk and water, and stir in some fresh cilantro or scallions at the end.
5. Tropical Drinks: Offer a selection of refreshing tropical drinks like a Pina Colada, Mango Margarita or a Tropical Punch.
They are perfect to balance out the heat from the sweet chili sauce. I hope these serving ideas help you create a delicious meal with coconut shrimp that you and your guests will enjoy. Bon appétit!