In this collection of titles, we capture the essence of the cilantro-lime fried shrimp recipe—a delightful combination of crispy fried shrimp infused with zesty flavors of cilantro and lime. These titles highlight the fresh and vibrant taste of this dish, appealing to seafood lovers who appreciate the fusion of tangy and aromatic ingredients. From the crispy texture to the burst of citrusy and herbaceous flavors, these cilantro-lime fried shrimp recipes are sure to tantalize your taste buds. Whether you're looking for a tropical twist or a refreshing seafood treat, these recipes offer a delightful culinary experience that showcases the best of cilantro and lime-infused shrimp.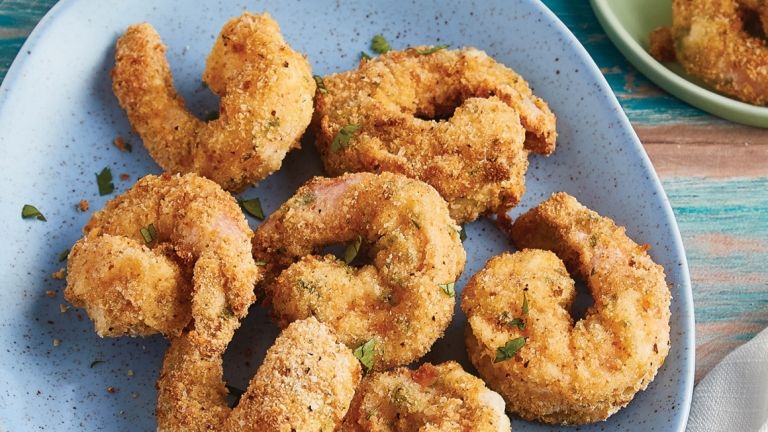 Cilantro-Lime Fried Shrimp
Cilantro-lime fried shrimp is a dish that combines the succulent and crispy textures of fried shrimp with the tangy and aromatic flavors of cilantro and lime. The shrimp are typically marinated in a mixture of cilantro, lime juice, and spices, coated in a crispy batter, and then fried to perfection. The result is a delightful combination of crispy exterior, tender interior, and a burst of citrusy and herbaceous flavors.
Ingredients
1

pound

raw shrimp

1/2

cup

chopped fresh cilantro

Juice of 1 lime

1

egg

1/2

cup

all-purpose flour

3/4

cup

bread crumbs

Salt

1/2

cup

cocktail sauce (optional)

Pepper

Cooking oil
Instructions
Preparing the Ingredients. Place the shrimp in a plastic bag and addthe cilantro and lime juice. Seal the bag. Shake to combine.Marinate in the refrigerator for 30 minutes.

In a small bowl, beat the egg. In another small bowl, place theflour. Place the bread crumbs in a third small bowl, and seasonwith salt and pepper to taste.

Spray the dutch oven rack/basket with cooking oil

Remove the shrimp from the plastic bag. Dip each in the flour, then the egg, and then the bread crumbs

Air Frying. Place the shrimp in the Dutch oven. It is okay to stack them. Spray the shrimp with cooking oil. Cook for 4 minutes.

Open the dutch oven oven and flip the shrimp. I recommend flipping individually instead of shaking to keep the breading intact.Cook for extra 4 minutes, or until crisp.

Cool before serving. Serve with cocktail sauce if desired.
Notes
Whether you're an experienced cook or a beginner in the kitchen, our cilantro-lime fried shrimp recipes are designed to be accessible and easy to follow. We'll guide you through the marinating process, coating the shrimp, and achieving the perfect level of crispiness to ensure a satisfying and flavorful result.
So, if you're ready to embark on a culinary journey that combines the succulence of fried shrimp with the tanginess of lime and the freshness of cilantro, dive into our collection of cilantro-lime fried shrimp recipes. Get ready to experience the delightful textures, the vibrant flavors, and the aromatic notes of this beloved seafood dish. Let's bring a touch of zesty excitement to your table and indulge in the deliciousness of cilantro-lime fried shrimp. Let's get cooking!
Nutrition
Calories:
254
kcal
Protein:
29
g
Fat:
4
g
The nutrition values of cilantro-lime fried shrimp
The nutrition values of cilantro-lime fried shrimp can vary depending on the specific recipe and cooking method used. However, here is a general overview of the approximate nutrition values for a typical serving (3-4 ounces) of cilantro-lime fried shrimp:
– Calories: Approximately 200-250 calories
– Protein: Around 20-25 grams
– Fat: Approximately 10-15 grams
– Carbohydrates: Roughly 10-15 grams
– Fiber: Usually less than 1 gram
– Sodium: Around 300-400 milligrams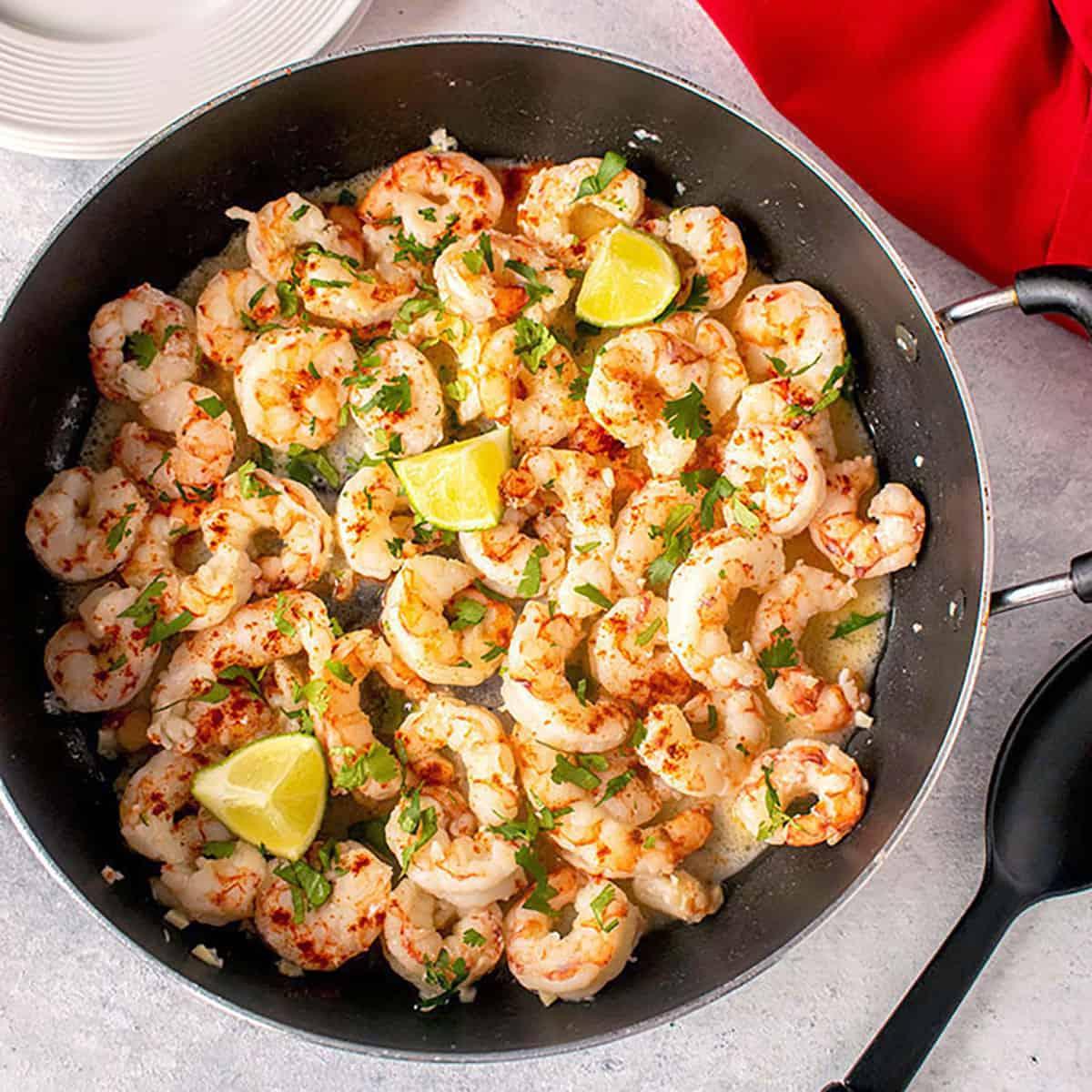 It's important to note that these values are estimates and can vary based on factors such as the size of the shrimp, the amount of batter used, and the specific cooking method (fried, baked, etc.). Additionally, the nutritional content can be affected by the ingredients used in the marinade and batter.
If you're following a specific dietary plan or have specific nutritional requirements, it's recommended to consult a registered dietitian or use a reliable nutrition calculator to get more accurate and tailored information based on the specific recipe you intend to use.
Tips for cooking
Here are some cooking tips for making cilantro-lime fried shrimp:
1. Use Fresh Shrimp: To ensure the best quality, use fresh, peeled, and deveined shrimp. If you can find them, try to use wild-caught shrimp, as they tend to have a better flavor.
2. Season the Shrimp: Season the shrimp with salt, black pepper, smoked paprika, and cumin, tossing to coat evenly. Then, in a separate bowl, mix flour, cornmeal, and more spices like garlic powder and cayenne pepper.
3. Dip the Shrimp in Batter: Make a simple batter by mixing beer and egg in a bowl, and whisk until thoroughly combined. Dip the seasoned shrimp in the batter to ensure the breading adheres well.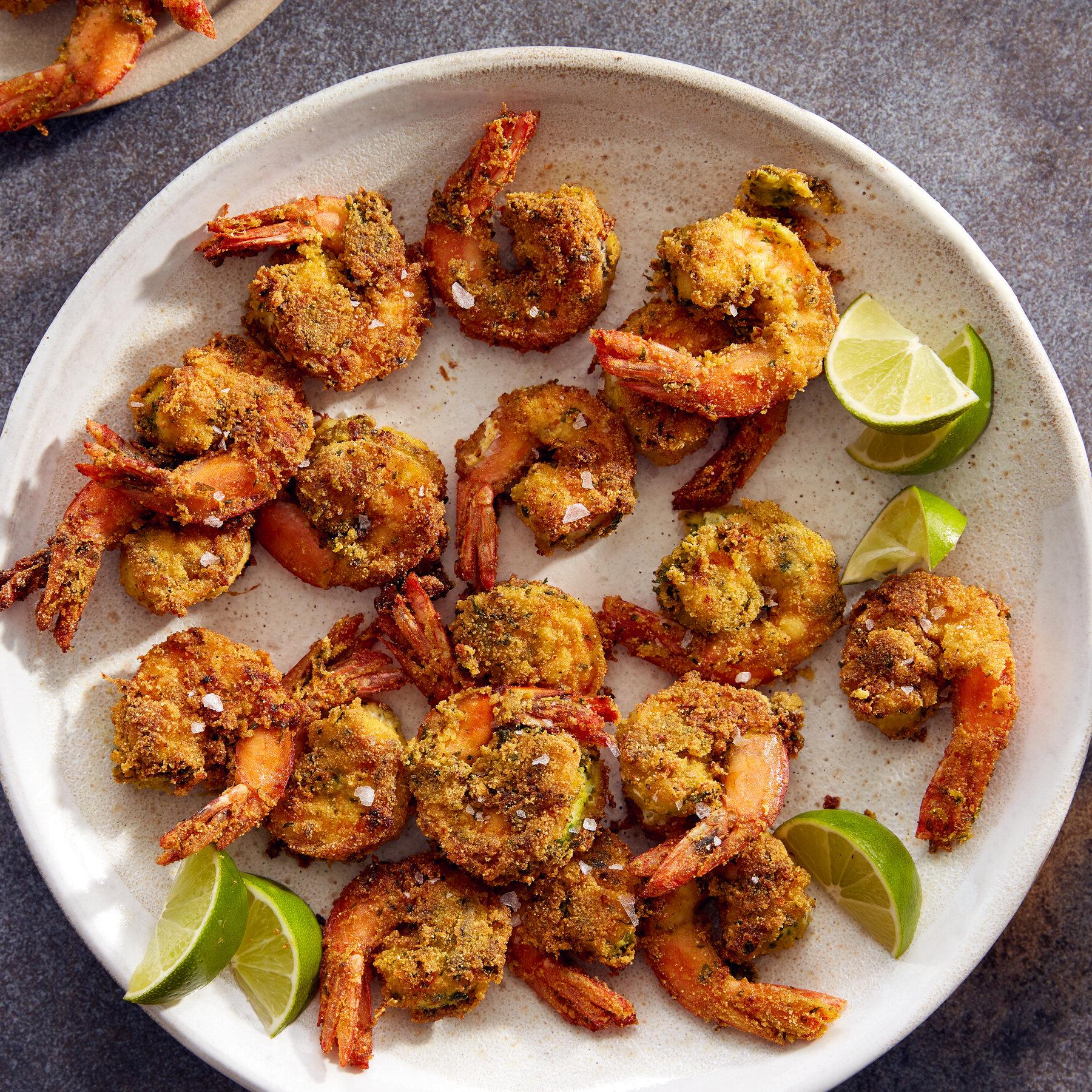 4. Coat in the Cornmeal Mixture: Coat the beer-battered shrimp in the seasoned cornmeal mixture, pressing the mixture onto the surface of the shrimp for an even coating.
5. Fry in Hot Oil: Heat the oil in a skillet or Dutch oven until it reaches 375°F. Carefully add the shrimp to the hot oil, frying them for about 2-3 minutes per side or until they turn golden brown and crispy.
6. Serve with Lime Wedges: Squeeze fresh lime juice on the hot shrimp before serving. Garnish with fresh cilantro and serve with lime wedges and a dipping sauce of your choice.
Serving Suggestions
Here are a few suggestions for serving cilantro-lime fried shrimp:
1. Zesty Dipping Sauce: Serve the cilantro-lime fried shrimp with a tangy and zesty dipping sauce, such as a remoulade sauce made with mayonnaise, dijon mustard, lemon juice, capers, and fresh herbs.
2. Tex-Mex-Style Salad: Create a Tex-Mex-style salad by mixing diced tomatoes, red onion, avocado, and black beans with a spicy lime vinaigrette. Serve the cilantro-lime fried shrimp on top of the salad for a delicious and healthy meal.
3. Soft Tacos: Make delicious soft tacos by warming up some corn tortillas and filling them with the cilantro-lime fried shrimp, chopped lettuce, diced tomato, and sour cream. Add some salsa or pico de gallo on top for an extra kick of flavor.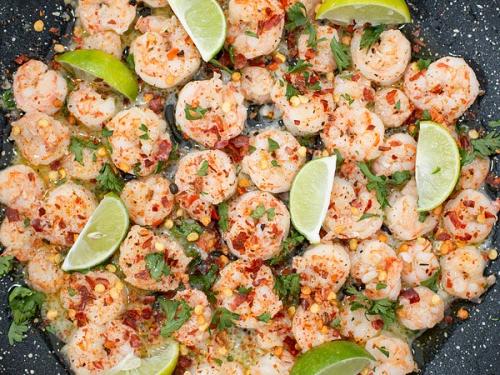 4. Rice Bowl: Serve the cilantro-lime fried shrimp over rice, and garnish with fresh cilantro, lime wedges, and avocado slices. You can also add some roasted peppers or grilled vegetables to the rice bowl for extra depth of flavor.
5. Sweet Potato Fries: Serve the cilantro-lime fried shrimp with a side of sweet potato fries. The sweet and savory flavors of the sweet potato fries are a perfect accompaniment to the bold and tangy flavors of the shrimp.