Beef Patty in Mushroom Sauce is a delightful and flavorsome dish that brings together the succulence of beef patties with the rich and earthy essence of mushroom sauce. This recipe offers a delicious fusion of juicy beef and creamy mushroom goodness, creating a satisfying and indulgent dining experience. The beef patties are carefully seasoned and cooked to perfection, resulting in a mouthwatering combination of tenderness and flavor.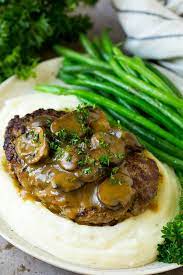 Beef Patty in Mushroom Sauce
Beef Patty in Mushroom Sauce is a delicious and comforting dish that combines juicy beef patties with a rich and savory mushroom sauce. The beef patties are seasoned and cooked to perfection, creating a flavorful and tender base. The mushroom sauce, made with a medley of sautéed mushrooms, aromatic herbs, and a creamy element, adds a luscious and earthy flavor to the dish.
Ingredients
1

lb

ground beef

3/4

cup

flour

1

tbsp

onion flakes

1/2

tsp

garlic powder

1/4

cup

beef stock

1

tbsp

chopped parsley

1

tbsp

soy sauce

Salt and pepper to taste

1/2

cup

beef stock

1/2

tsp

soy sauce

2

cups

mushroom, sliced

2

tbsp

bacon fat

1

cup

yellow onion

1/4

cup

sour cream

2

tbsp

butter
Instructions
Preheat the dutch oven to 3500F

In a bowl, mix beef, pepper, salt, garlic powder, 1 tbsp soy sauce,¼ cup beef stock, parsley, onions flakes, and flour. Stir and shapesix patties. Move it into the dutch oven and cook for 14 minutes

While the patties are still cooking, heat butter in a pan on medium heat, add the mushroom and cook for 4 minutes with constant stirring. Add onions and cook for another 4 minutes, add the soy sauce, sour cream, and simmer. Remove from heat

Serve patties with mushroom sauce.
Notes
Whether you're serving it as a main course or as a burger with a twist, Beef Patty in Mushroom Sauce is a crowd-pleasing option. Pair it with mashed potatoes, roasted vegetables, or a side salad for a complete and satisfying meal. Prepare to indulge in the irresistible combination of beef and mushrooms, enhanced by a delectable sauce that will leave you wanting more.
Nutrition
Calories:
235
kcal
Carbohydrates:
6
g
Protein:
32
g
Fat:
23
g
FAQs about Beef Patty in Mushroom Sauce
Q: Can I use different types of mushrooms for the sauce?
A: Absolutely! You can use a variety of mushrooms such as cremini, button, shiitake, or portobello to add depth and complexity to the sauce. Feel free to experiment and use your favorite mushrooms or a combination of different types for a unique flavor profile.
Q: Can I make the beef patties ahead of time?
A: Yes, you can prepare the beef patties ahead of time and store them in the refrigerator until you're ready to cook. Make sure to place them in an airtight container or wrap them tightly in plastic wrap to maintain freshness. Cook the patties just before serving to ensure they are hot and juicy.
Q: Can I freeze the leftover mushroom sauce?
A: Yes, you can freeze the mushroom sauce for later use. Allow the sauce to cool completely before transferring it to a freezer-safe container. Seal the container tightly and label it with the date. The sauce can be stored in the freezer for up to three months. Thaw it in the refrigerator overnight before reheating on the stovetop.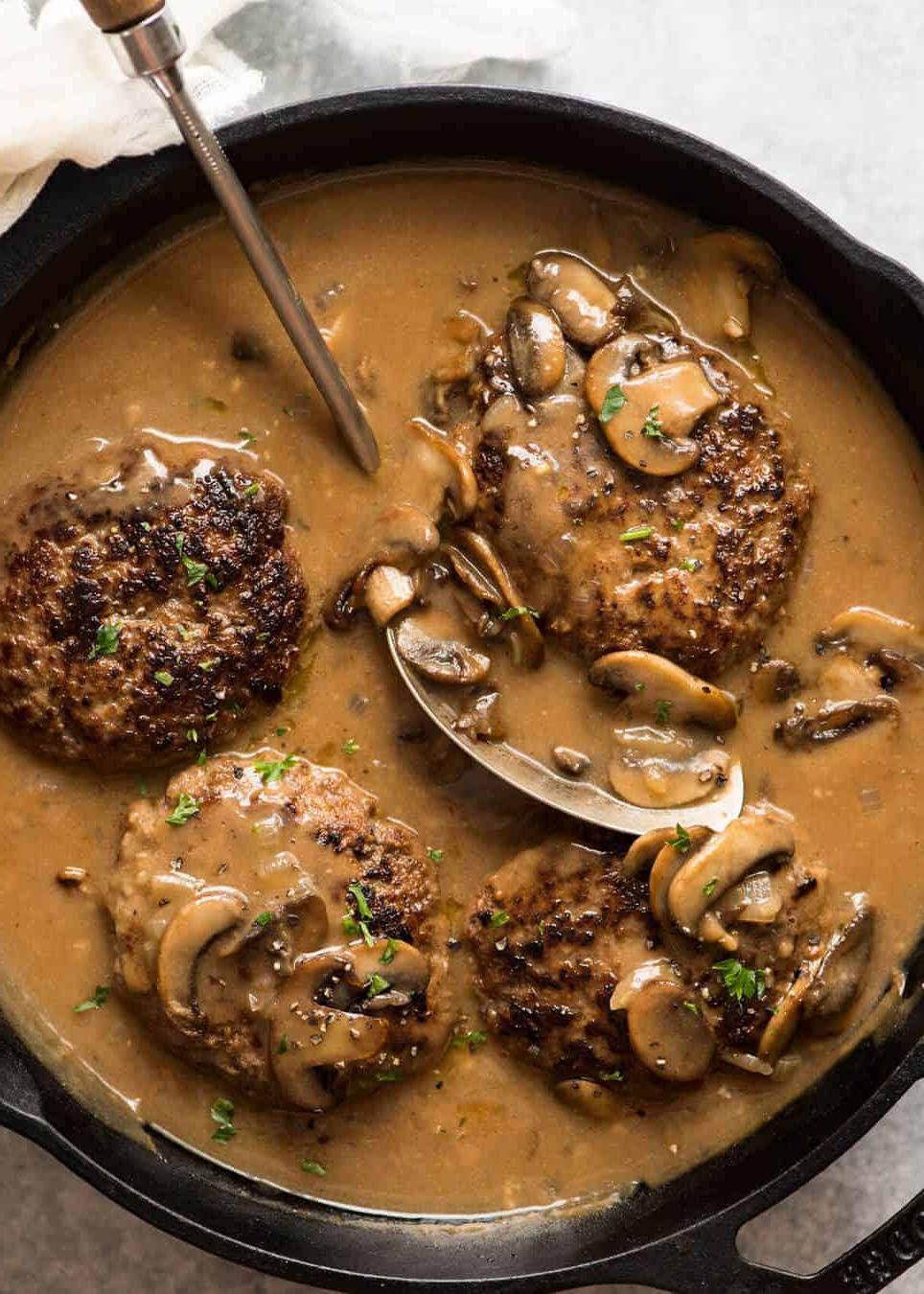 Q: Can I substitute ground beef for the beef patties?
A: Yes, if you prefer, you can use ground beef to make patties instead of pre-formed beef patties. Season the ground beef with your desired spices and shape them into patties before cooking. Adjust the cooking time accordingly, as ground beef patties may cook faster than pre-formed ones.
Q: Can I use a dairy-free alternative for the creamy element in the mushroom sauce?
A: Absolutely! If you prefer a dairy-free option, you can substitute the creamy element with alternatives like coconut milk, almond milk, or a dairy-free creamer. Just ensure that the substitute you choose complements the flavors of the mushrooms and doesn't overpower the dish.
Q: Can I customize the seasoning of the beef patties?
A: Yes, feel free to customize the seasoning of the beef patties to suit your taste preferences. You can add spices such as garlic powder, onion powder, paprika, or herbs like thyme or rosemary. Adjust the seasoning according to your preference, but be sure to taste the mixture before cooking to ensure the desired flavor.
These FAQs should provide you with helpful information for preparing Beef Patty in Mushroom Sauce. If you have any additional questions or need further assistance, feel free to ask.
Tips for cooking
Here are some tips for cooking Beef Patty in Mushroom Sauce:
1. Use Ground Beef with Enough Fat – When making beef patties, it's important to choose ground beef that contains enough fat to make the patties juicy and flavorful. Ground beef with an 80/20 or 85/15 fat to meat ratio is ideal.
2. Mix the Seasoning into the Beef – Don't just sprinkle the seasonings on top of the patties, but instead mix them into the beef mixture thoroughly. This ensures that the flavors are distributed evenly throughout the patties.
3. Sear the Patties – Heat up a frying pan over medium-high heat with a little bit of oil, and sear the beef patties on both sides until they are browned. This will add a nice crust and texture to the patties.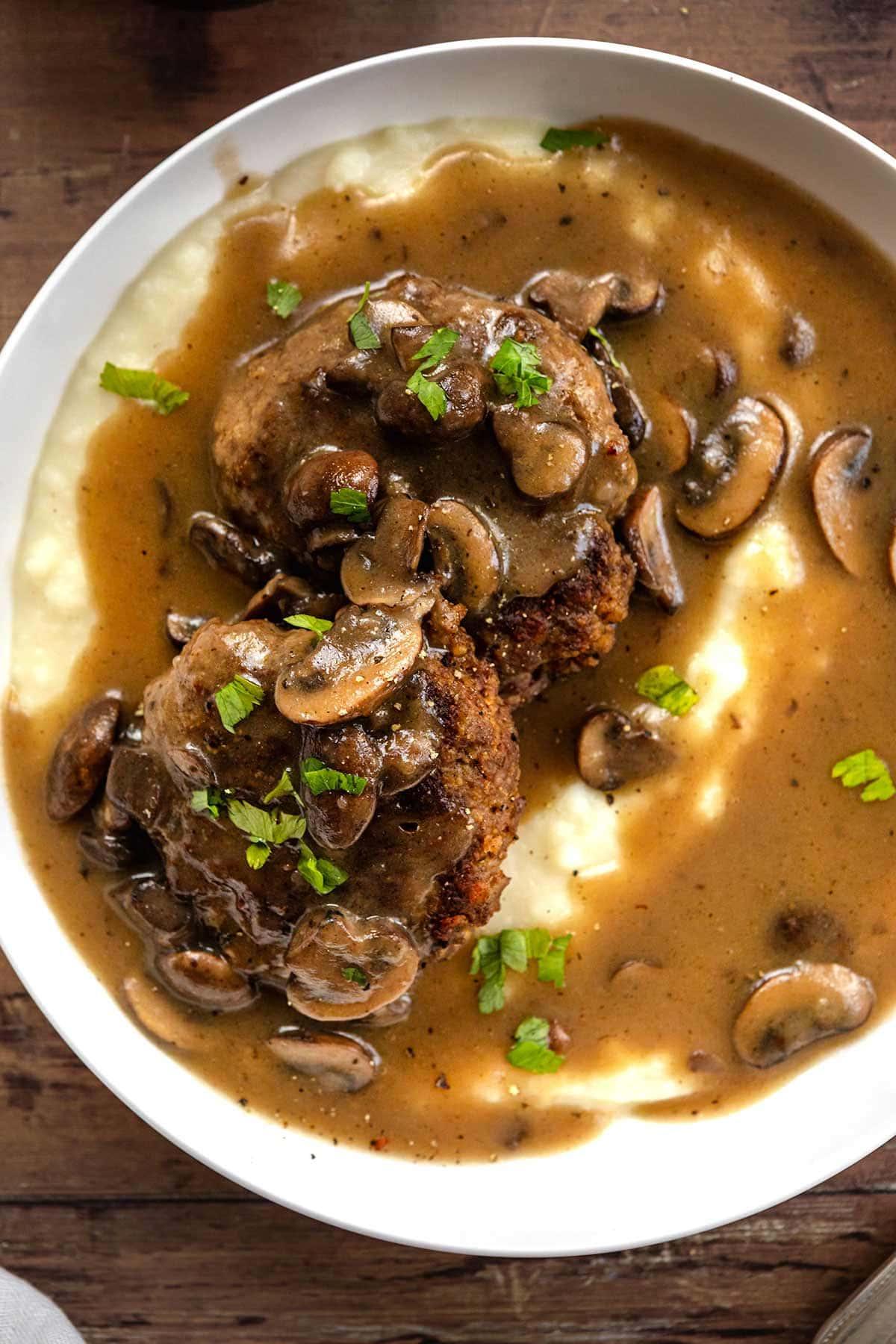 4. Make the Mushroom Sauce – Use fresh mushrooms like shiitake or Portobello to make the mushroom sauce. Sauté them in butter with garlic and onions to add more depth of flavor. Add some flour, beef broth, and heavy cream for a perfect sauce consistency.
5. Cook the Patties in the Sauce – Once the mushroom sauce is done, add the seared beef patties to the same pan and cook them in the sauce until they are cooked through (approx. 10-15 minutes). This will allow the flavors of the sauce to infuse with the patties.
6. Garnish and Serve – Once the patties are cooked to your liking, garnish them with some fresh parsley, and serve with your favorite side dish like buttery mashed potatoes or green beans in garlic butter.
These tips will ensure that your Beef Patty in Mushroom Sauce tastes delicious and is cooked to perfection!
Serving Suggestions
Here are some serving suggestions for Beef Patty in Mushroom Sauce:
1. With Mashed Potatoes – You can never go wrong with serving beef patties and mushroom sauce alongside buttery mashed potatoes. The creamy mashed potatoes pair perfectly with the rich mushroom sauce.
2. With Roasted Vegetables – Roasted vegetables such as carrots, broccoli, and sweet potatoes make a healthy and delicious side dish for this meal. Drizzle with olive oil, season with salt and pepper, and roast in the oven until tender.
3. With Grilled Vegetables – Grilled asparagus, zucchini, and peppers make a delicious, summery side dish that complements the hearty beef patties and mushroom sauce.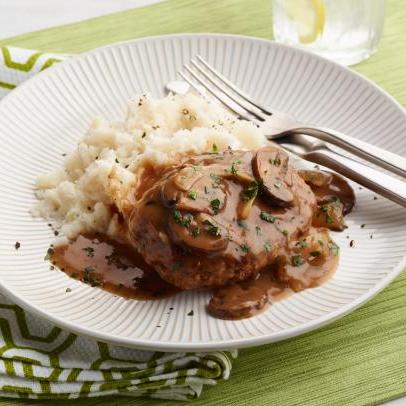 4. With Steamed Rice – If you want a lighter option, consider serving the beef patties and mushroom sauce with steamed rice or quinoa. The grains soak up the flavorful sauce and add a great texture to the dish.
5. With a Salad – A crispy and refreshing side salad is a great way to add some greens to this meal. A simple garden or Caesar salad pairs well with the beef patties and mushroom sauce.
These are just a few ideas, but feel free to mix and match to find the perfect sides for your meal. Overall, anything that complements the savory, earthy flavors of the beef and mushroom sauce will work well.