What makes Cauliflower Tater Tots so appealing is their ability to satisfy cravings while providing added nutritional value. Cauliflower is a cruciferous vegetable that is low in calories and carbohydrates, yet high in fiber and essential vitamins. By incorporating cauliflower into your tater tots, you're adding an extra dose of vitamins, minerals, and antioxidants to your meal.
Furthermore, these tater tots are baked instead of fried, reducing the overall fat content while still delivering that coveted crispy texture. This means you can enjoy the deliciousness of tater tots without the guilt, making them suitable for those who are mindful of their dietary intake.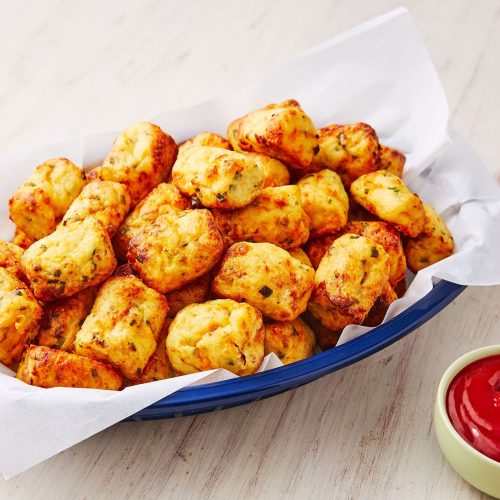 Cauliflower Tater Tots
Cauliflower is the star ingredient in this recipe, known for its versatility and nutritional benefits. It is finely chopped and combined with other ingredients to form a mixture that is shaped into adorable bite-sized tots. Baked to golden perfection, these cauliflower tater tots boast a crispy exterior while maintaining a tender interior, making them an irresistible snack or side dish.
Ingredients
1

pound

pound fresh cauliflower, cut into chunks

1.5

tbsp

Cheddar cheese

1

tbsp

Panko breadcrumbs

1

tsp

desiccated coconut

1

tsp

oats

1

egg

2

tbsp

1

tsp

chives

1

tsp

oregano

Salt and pepper to taste
Instructions
Boil the fresh cauliflower florets in salted water for 10 minutes until soft, then drain. Mash the cauliflower in a bowl and then stir in salt, black pepper, garlic, parsley, chives, and oregano. Mix well, then make small tater tots out of this mixture.

Mix breadcrumbs with oats and coconut shreds in a tray. Dip thetater tots in the egg then coat with the crumb's mixture. Place thetater tots in the Dutch oven basket.

Place the basket inside the Dutch oven toaster oven and close the lid. Select the Air Fry mode at 360°F temperature for 10 minutes. Serve warm and fresh.
Notes
So, get ready to enjoy a healthier twist on a classic favorite with Cauliflower Tater Tots. Explore the flavors, savor the crispy goodness, and indulge in this nutritious and delicious treat. Get ready to make cauliflower the star of your next tater tot adventure!
Nutrition
Calories:
121
kcal
Carbohydrates:
35.2
g
Protein:
12.8
g
Fat:
6.6
g
Some frequently asked questions (FAQs) about Cauliflower Tater Tots:
1. Can I use frozen cauliflower for this recipe?
Yes, you can use frozen cauliflower for this recipe. However, make sure to thaw and drain the frozen cauliflower thoroughly before using it. Excess moisture can affect the texture of the tater tots, so be sure to squeeze out any excess water.
2. Can I make Cauliflower Tater Tots ahead of time?
Yes, you can prepare the cauliflower mixture for tater tots ahead of time and refrigerate it until you're ready to bake them. Shape the tots just before baking for the best texture. Leftover baked tater tots can be stored in an airtight container in the refrigerator and reheated in the oven or toaster oven for a few minutes until warmed through.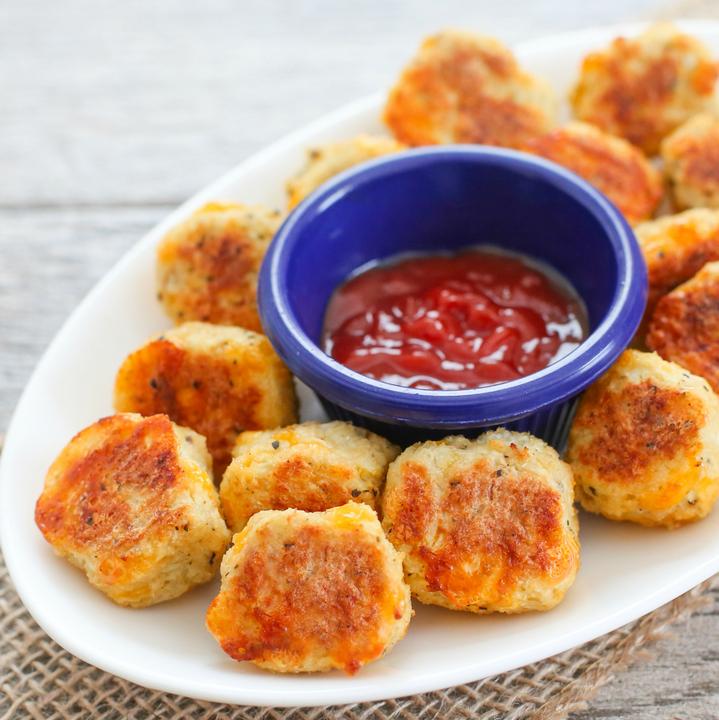 3. Can I freeze Cauliflower Tater Tots?
Yes, you can freeze Cauliflower Tater Tots. After baking, allow them to cool completely, then place them in a single layer on a baking sheet and freeze until solid. Transfer the frozen tots to a freezer-safe bag or container and store them in the freezer for up to 2-3 months. To reheat, bake the frozen tater tots in a preheated oven until heated through and crispy.
4. Can I use a different vegetable instead of cauliflower?
While cauliflower is the main ingredient in this recipe, you can experiment with other vegetables such as broccoli, carrots, or a combination of different veggies. Keep in mind that different vegetables may have varying moisture content, so you may need to adjust the recipe accordingly.
5. Can I make these tater tots gluten-free?
Yes, you can make Cauliflower Tater Tots gluten-free by using gluten-free breadcrumbs or almond flour instead of regular breadcrumbs in the recipe. Ensure that all other ingredients and seasonings are also gluten-free.
6. Can I deep fry the tater tots instead of baking them?
Baking the tater tots is a healthier option, but if you prefer a deep-fried version, you can certainly fry them. Preheat oil in a deep pot or fryer to about 350°F (175°C) and carefully lower the tots into the hot oil. Fry them until golden brown, then remove and drain on a paper towel-lined plate.
Remember, these FAQs provide general guidance, and it's always best to refer to a specific recipe for detailed instructions and measurements. Enjoy making and savoring your delicious Cauliflower Tater Tots!
Cooking tip to help you achieve perfect Cauliflower Tater Tots: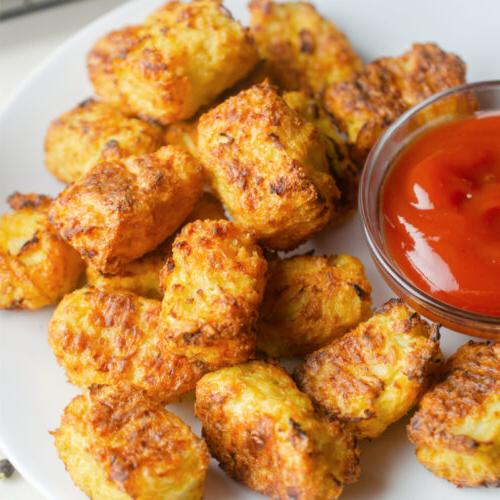 1. Squeeze out excess moisture: Cauliflower tends to retain moisture, which can affect the texture of the tater tots. After finely chopping the cauliflower, it's crucial to remove as much moisture as possible. Once the cauliflower is chopped, place it in a clean kitchen towel or cheesecloth and squeeze firmly to extract any excess moisture. This step will help the tater tots hold their shape and ensure they become crispy during baking.
By squeezing out the excess moisture, you'll prevent the cauliflower mixture from being too wet, resulting in tater tots that are more likely to fall apart or become mushy. The drier the cauliflower, the better the texture of your tater tots will be.
Remember to handle the cauliflower mixture gently after removing the moisture, as it may be more delicate. Carefully shape the tots and place them on a baking sheet lined with parchment paper before baking.
Following this cooking tip will help you achieve tater tots with a perfect balance of crispiness on the outside and a tender interior. Enjoy your homemade Cauliflower Tater Tots!
Serving suggestion to enjoy your delicious Cauliflower Tater Tots:
1. Dipping Platter: Create a tasty dipping platter with a variety of sauces to complement your Cauliflower Tater Tots. Arrange the tater tots in the center of a large platter and surround them with an assortment of dipping sauces such as ketchup, BBQ sauce, sriracha mayo, or honey mustard. Add some fresh herbs like parsley or cilantro for garnish. This serving suggestion is perfect for parties or casual gatherings, allowing everyone to customize their dipping experience.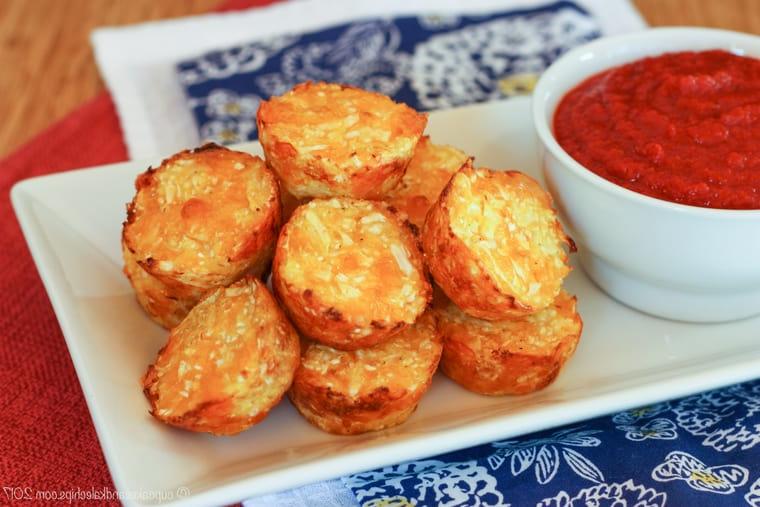 2. Tater Tot Nachos: Take your tater tots to the next level by turning them into loaded tot nachos. Arrange a layer of Cauliflower Tater Tots on a baking sheet and top them with shredded cheese, diced tomatoes, sliced jalapeños, and black olives. Place the baking sheet in the oven and bake until the cheese is melted and bubbly. Once done, garnish with chopped green onions and serve with sour cream or guacamole. This serving suggestion is great for game nights or as a fun appetizer.
3. Tater Tot Breakfast Skillet: Incorporate Cauliflower Tater Tots into a delicious breakfast skillet. Cook up some crispy bacon or sausage in a skillet, then add diced bell peppers, onions, and spinach. Once the vegetables are cooked, add the tater tots to the skillet and cook until heated through and crispy. Create wells in the mixture and crack eggs into them, then cover the skillet and cook until the eggs are cooked to your liking. Garnish with chopped fresh herbs like chives or parsley. This serving suggestion makes for a hearty and satisfying breakfast or brunch.
4. Tater Tot Sliders: Turn your Cauliflower Tater Tots into mini sliders. Place a cooked tater tot on a small slider bun and top it with a slice of cheese, a pickle slice, and a dollop of your favorite sauce, such as mayonnaise, ketchup, or mustard. Repeat for as many sliders as you desire. Serve these cute and flavorful sliders as appetizers, party bites, or a fun lunch option.
Remember, these serving suggestions are just a starting point, and you can always customize them based on your preferences and the occasion. Feel free to get creative and experiment with different toppings, sauces, or accompaniments to make your Cauliflower Tater Tots even more enjoyable. Bon appétit!