Cauliflower Patties are a delightful and versatile dish that celebrates the goodness of cauliflower. These patties offer a flavorful and satisfying alternative to traditional meat-based patties. Packed with nutritious ingredients and bursting with flavor, they are a fantastic choice for vegetarians, vegans, or anyone looking to incorporate more vegetables into their diet.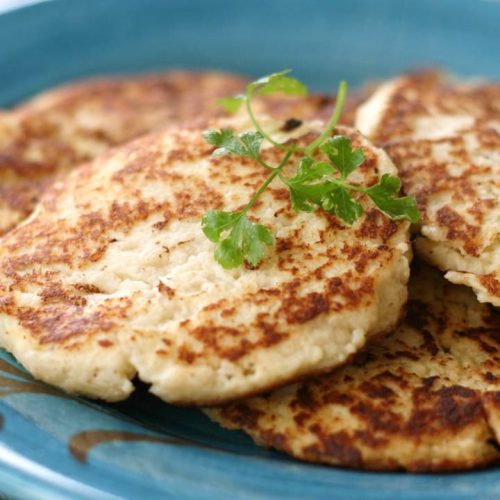 Cauliflower Patties
What makes Cauliflower Patties so appealing is the combination of taste and health benefits. Cauliflower is a nutrient-dense vegetable that is low in calories and carbohydrates but rich in vitamins, minerals, and antioxidants. By incorporating cauliflower into patties, you're adding a boost of goodness to your meal.
Ingredients
3

large eggs

3

cups

cauliflower florets

1/2

cup

all-purpose flour

3

tbsp

wheat flour

1

tsp

coconut oil (melted)

1/2

tsp

garlic powder

1/2

tsp

turmeric

1/2

tsp

parsley

Cooking oil spray

Salt & pepper to taste
Instructions
Grate the cauliflower in a food processor then add parsley, turmeric, garlic powder, and wheat flour. Whisk in eggs, and coconut oil then mix well.

Make 4 patties out of this cauliflower mixture and place them inthe Dutch oven basket.

Set the Dutch oven basket inside the Dutch oven toaster oven and close the lid. Select the Air Fry mode at 375°F temperature for 20minutes. Serve warm.
Notes
Whether you're a cauliflower lover or simply looking for a wholesome and tasty dish, Cauliflower Patties are sure to satisfy your cravings. These patties offer a delightful way to enjoy the benefits of cauliflower while indulging in a flavorful and nutritious meal.
Nutrition
Calories:
110
kcal
Carbohydrates:
14.3
g
Protein:
1.8
g
Fat:
5.6
g
Helpful cooking tip to ensure your Cauliflower Patties turn out perfectly:
1. Properly drain the cauliflower: After finely chopping the cauliflower, it's crucial to remove any excess moisture. Excess moisture can make the patties too wet and affect their texture. To do this, you can place the chopped cauliflower in a microwave-safe bowl, cover it, and microwave for a few minutes until it becomes tender. Then, transfer the cooked cauliflower to a clean kitchen towel or cheesecloth and squeeze out any remaining moisture. Removing excess moisture will help the patties hold their shape and prevent them from becoming too mushy during cooking.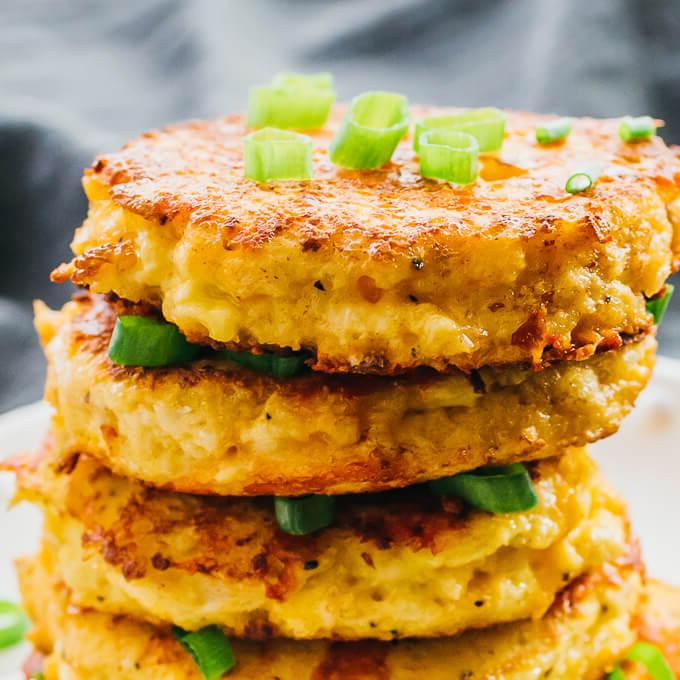 By properly draining the cauliflower, you'll achieve a better texture and ensure the patties hold together when frying or baking. This step is especially important if you're using fresh cauliflower, as it tends to retain more moisture.
Remember to let the cooked cauliflower cool slightly before squeezing out the moisture to avoid burning yourself. Once you've removed the excess moisture, proceed with the recipe as directed.
By following this cooking tip, you'll be on your way to delicious and perfectly textured Cauliflower Patties. Enjoy the process and savor the flavorful results!
Serving suggestion to enjoy your tasty Cauliflower Patties:
1. Classic Patty Meal: Serve the Cauliflower Patties as the centerpiece of a well-rounded meal. Place a couple of patties on a plate and pair them with a generous side of mixed greens or a fresh salad. Add a dollop of creamy tzatziki sauce or a tangy yogurt-based dip for added flavor. Complete the meal with a side of roasted vegetables or crispy oven-baked sweet potato fries. This serving suggestion offers a balanced and satisfying meal that highlights the flavors of the patties.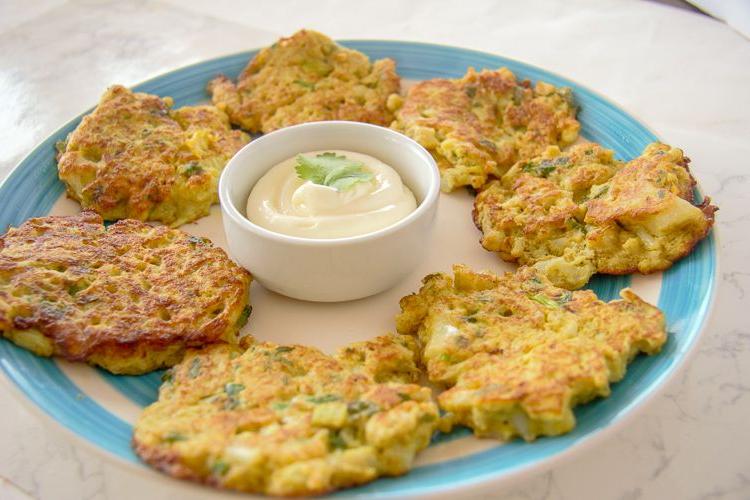 2. Patty Sliders: Create a fun and appetizing party or game-day platter by turning your Cauliflower Patties into sliders. Place each patty on a small slider bun and top it with your favorite condiments and toppings. Options can include sliced tomatoes, lettuce, pickles, avocado, or even a drizzle of spicy aioli. Arrange the sliders on a serving platter and secure them with toothpicks. This serving suggestion allows guests to enjoy the patties in a handheld and bite-sized format, making them perfect for social gatherings.
3. Patty Bowls: Build a nourishing and customizable meal with Cauliflower Patty bowls. Start with a base of cooked quinoa, brown rice, or mixed greens. Top it with a couple of warm Cauliflower Patties and a variety of colorful and fresh toppings such as cherry tomatoes, cucumbers, red onions, and grated carrots. Drizzle with your favorite dressing or sauce, such as tahini or lemon garlic yogurt sauce. This serving suggestion offers a healthy and customizable option that is both satisfying and packed with flavors.
Remember, these serving suggestions are just a starting point, and you can always get creative and adapt them to suit your taste preferences. Feel free to experiment with different sauces, toppings, or sides to create a personalized experience with your Cauliflower Patties. Enjoy the deliciousness and savor the wholesome goodness!