Welcome to the world of Buffalo Tofu, a delightful plant-based twist on the classic buffalo wings. If you're a fan of bold flavors and crave the fiery kick of buffalo sauce, this recipe is for you. Buffalo Tofu takes the versatile and protein-rich tofu and transforms it into irresistible bites that are crispy on the outside, tender on the inside, and bursting with zesty flavors. Whether you're a vegan, vegetarian, or simply looking to incorporate more plant-based options into your diet, Buffalo Tofu is a fantastic choice that will satisfy your cravings and tantalize your taste buds.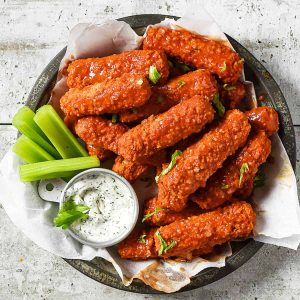 Buffalo Tofu
Get ready to spice up your taste buds with Buffalo Tofu, a delicious and fiery plant-based recipe that brings bold flavors to the table. This recipe takes tofu to a whole new level, transforming it into crispy, tangy, and zesty bites that rival the traditional buffalo wings. The tofu is marinated in a spicy buffalo sauce, then baked or fried to achieve a crispy exterior while retaining a tender and flavorful center. Whether you follow a vegan or vegetarian diet, or simply want to explore new plant-based options, Buffalo Tofu is a fantastic choice.
Ingredients
16

oz.

Tofu

1/4

cup

Cornstarch

1/2

tsp

Garlic powder

1/2

tsp

Mustard Powder

1/4

tsp

Black pepper powder
Instructions
Press the tofu and extract the moisture out of it

Add the cornstarch, mustard powder, black pepper powder, and garlic powder. Mix it well.

Place cubes of tofu into the mixture and coat it evenly

Place the cubes of tofu in the dutch ovenand cook at 180°C for 10minutes.

Once it turns brown, serve, and enjoy
Notes
Whether you're looking for a party snack, a quick lunch, or a flavorful dinner, these buffalo tofu recipes are sure to satisfy your cravings while providing a plant-based alternative.
Nutrition
Calories:
22
kcal
Carbohydrates:
1
g
Protein:
12
g
Fat:
10
g
Cooking Tip:
To achieve the best results when making Buffalo Tofu, consider the following cooking tip:
1. Press the tofu: Before marinating and cooking the tofu, it's important to press out the excess moisture. This step helps the tofu absorb more flavor and allows it to achieve a crispier texture. Place the tofu between two paper towels or kitchen towels, and place a heavy object on top (like a plate with a can of beans). Let it press for about 15-20 minutes to remove the moisture.
2. Use firm or extra firm tofu: When making Buffalo Tofu, it's recommended to use firm or extra firm tofu varieties. These types of tofu have a denser texture, which makes them better suited for holding their shape during cooking and achieving a crispier exterior.
3. Marinate for flavor: The key to delicious Buffalo Tofu lies in the marinade. Allow the tofu to marinate in a flavorful buffalo sauce or a mixture of hot sauce, spices, and a touch of oil. Marinating for at least 30 minutes (or longer if possible) helps infuse the tofu with the spicy, tangy flavors.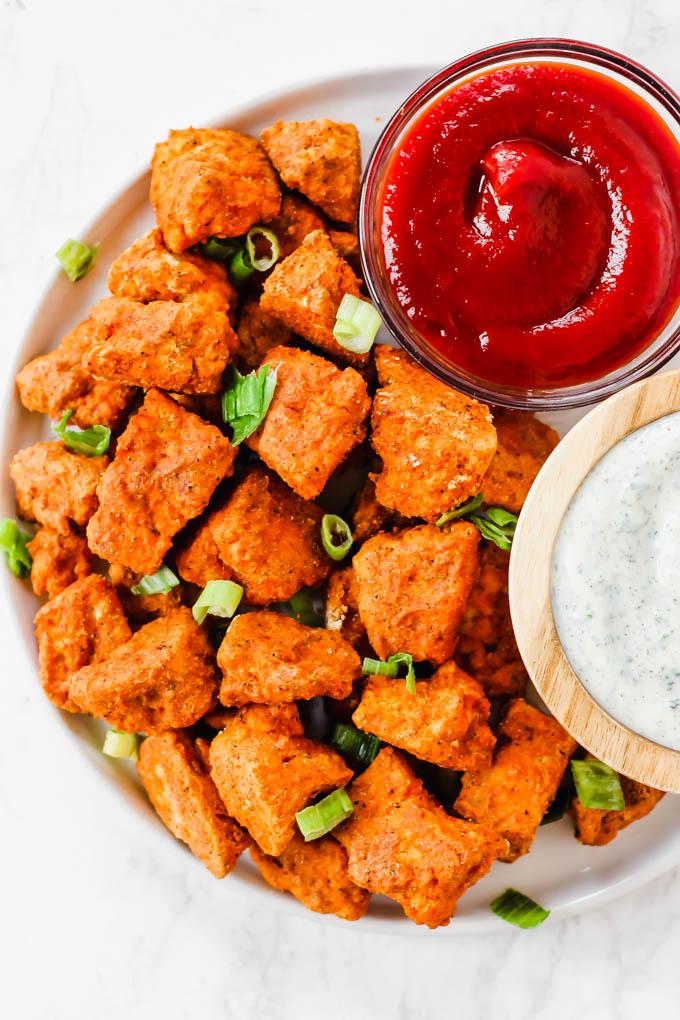 4. Choose your cooking method: Buffalo Tofu can be prepared using different cooking methods such as baking, frying, or air frying. Baking provides a healthier option, while frying yields a crispier texture. Air frying is another excellent choice for a healthier twist with a crispy result. Choose the cooking method that suits your preferences and dietary needs.
5. Preheat the oven or oil: Ensure that your oven is preheated to the recommended temperature before baking the tofu. This helps the tofu cook evenly and achieve a crispy exterior. If frying, preheat the oil to the appropriate temperature to ensure a consistent and crispy result.
6. Arrange in a single layer: Whether you're baking or frying, make sure to arrange the marinated tofu in a single layer. This allows for even cooking and ensures that each piece gets crispy on all sides.
7. Flip halfway through cooking: To achieve a uniform crispiness, flip the tofu pieces halfway through the cooking process. This allows both sides to cook evenly and helps achieve a satisfying texture.
8. Serve with your favorite accompaniments: Buffalo Tofu is best enjoyed with your favorite accompaniments, such as ranch or blue cheese dressing, celery sticks, and carrot sticks. These traditional buffalo wing accompaniments complement the flavors and add freshness to the dish.
By following these cooking tips, you'll be able to create delicious and crispy Buffalo Tofu that will satisfy your spicy cravings. Get ready to enjoy a plant-based twist on a classic favorite with this irresistible dish!
Serving Suggestion:
When it comes to serving Buffalo Tofu, consider the following suggestions to enhance your dining experience:
1. Classic Buffalo Platter: Serve the Buffalo Tofu alongside traditional buffalo wing accompaniments such as celery sticks, carrot sticks, and your choice of ranch or blue cheese dressing. This classic combination offers a refreshing balance to the spicy tofu.
2. Buffalo Tofu Wraps: Create flavorful wraps by wrapping Buffalo Tofu bites in a tortilla along with lettuce, tomato slices, avocado, and a drizzle of your favorite sauce. This makes for a satisfying and portable meal option.
3. Buffalo Tofu Salad: Add Buffalo Tofu as a protein-rich topping to your favorite salad. Combine mixed greens, cherry tomatoes, cucumber, red onion, and crumbled vegan cheese. Toss with your preferred dressing, and top it off with Buffalo Tofu for a spicy twist.
4. Buffalo Tofu Sliders: Place Buffalo Tofu between mini burger buns along with lettuce, tomato slices, and a dollop of vegan mayo or your favorite sauce. Serve these bite-sized sliders as appetizers or as part of a party spread.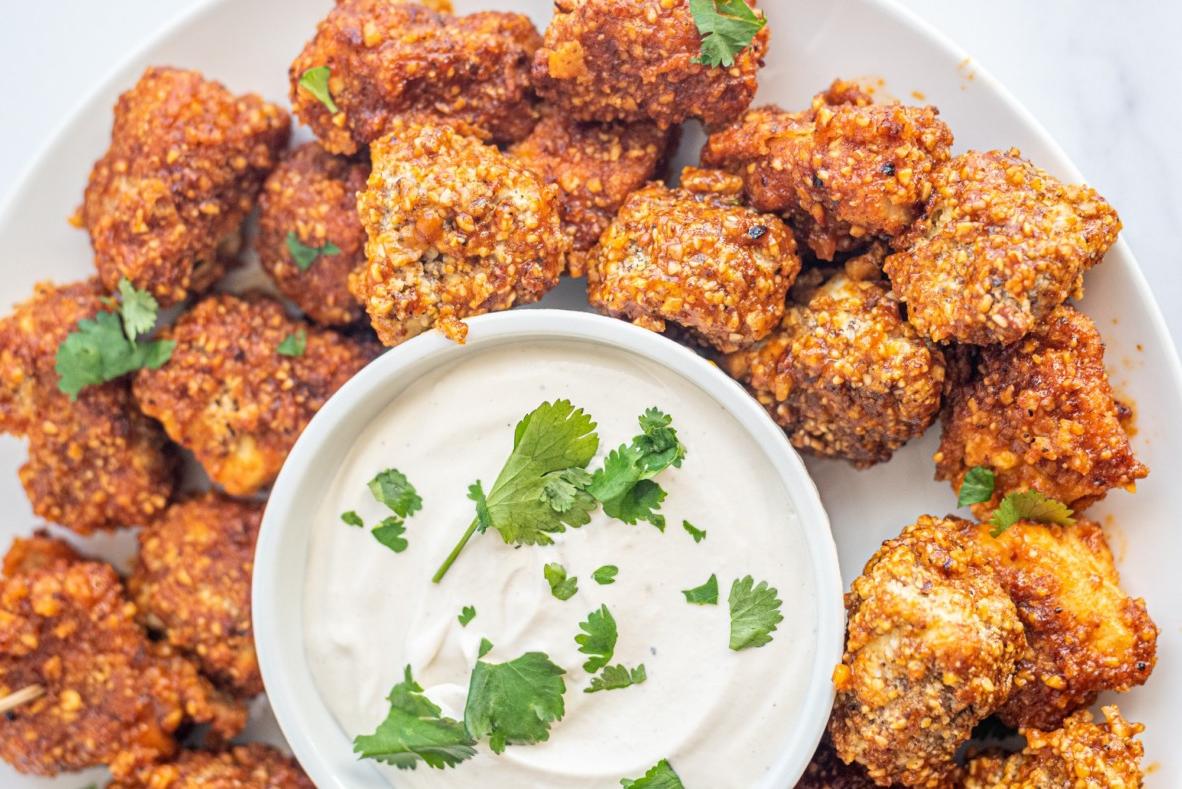 5. Buffalo Tofu Bowl: Build a nourishing and flavorful bowl with a base of cooked quinoa, brown rice, or mixed greens. Add roasted vegetables, sliced avocado, and Buffalo Tofu on top. Drizzle with your choice of dressing or sauce for a wholesome and spicy meal.
6. Buffalo Tofu Nachos: Create a crowd-pleasing snack by layering tortilla chips with melted vegan cheese, diced tomatoes, jalapeños, and Buffalo Tofu. Bake until the cheese is melted and bubbly, then garnish with fresh cilantro and a squeeze of lime juice.
7. Buffalo Tofu Pizza: Use Buffalo Tofu as a topping for homemade or store-bought vegan pizza. Spread marinara sauce on the pizza crust, sprinkle vegan cheese, add sliced red onions, and top it off with Buffalo Tofu. Bake until the crust is golden and crispy for a spicy pizza delight.
Remember to adjust the serving size based on the number of guests and their preferences. Buffalo Tofu offers a versatile and flavorful addition to various dishes, allowing you to explore different culinary creations. Get creative and enjoy the spicy kick and delightful flavors of this plant-based favorite.