Ranch Tilapia is a delicious and flavorful dish that combines the mild and delicate taste of tilapia with the zesty and creamy flavors of ranch seasoning. This recipe offers a unique twist to traditional tilapia preparations, infusing it with herbs and spices that create a delightful burst of flavor.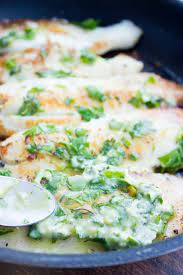 Ranch Tilapia
Ranch Tilapia can be served as a main course accompanied by a variety of sides. Consider pairing it with steamed vegetables, roasted potatoes, or a fresh green salad for a well-balanced meal. Drizzling the tilapia with a squeeze of fresh lemon juice just before serving adds a vibrant citrus note that complements the ranch flavors beautifully
Ingredients
3/4

cup

cornflakes, crushed

1

(1-ounce)

packet dry ranch-style dressing mix

2½

tbsp

vegetable oil

2

eggs

4

(6-ounce)

tilapia fillets
Instructions
In a shallow bowl, crack the eggs and beat slightly.

In another bowl, add the cornflakes, ranch dressing, and oil and mix until a crumbly mixture form.

Dip the fish fillets into egg and then, coat with the bread crumb's mixture.

Press "Power Button" of Power XL Digital Air Fry Oven and turn the dial to select "Air Fry" mode.

Press "Time Button" and again turn the dial to set the cooking timeto 13 minutes

Now push "Temp Button" and rotate the dial to set the temperature at 356 degrees F.

Press "Start/Pause" button to start.

When the unit beeps to show that it is preheated, open the lid and grease the air fry basket.

Arrange the tilapia fillets into the prepared air fry basket and insert in the oven. When cooking time is complete, open the lid and transfer the fillets onto serving plates.
Notes
With its harmonious blend of tangy ranch seasoning and tender tilapia, this dish is sure to be a crowd-pleaser. Whether you're looking for a quick and easy weeknight dinner or an impressive yet straightforward meal, Ranch Tilapia is a versatile option that delivers on both taste and simplicity. Enjoy the delightful flavors and the irresistible combination of herbs and spices in this delectable Ranch Tilapia recipe.
Nutrition
Calories:
267
kcal
Carbohydrates:
5.1
g
Protein:
32.2
g
Fat:
12.2
g
Saturated Fat:
3
g
Fiber:
0.2
g
Sugar:
0.9
g
FAQs about Ranch Tilapia
Q: Can I use frozen tilapia for Ranch Tilapia?
A: Yes, you can use frozen tilapia for this recipe. Make sure to thaw the tilapia fillets completely before seasoning and baking them.
Q: Can I use homemade ranch seasoning instead of a packet?
A: Absolutely! If you prefer to use homemade ranch seasoning, you can combine dried herbs like dill, parsley, chives, garlic powder, onion powder, salt, and pepper to create your own ranch seasoning blend. Adjust the quantities of each ingredient according to your taste preferences.
Q: Can I substitute tilapia with another type of fish?
A: Yes, if you don't have tilapia on hand or prefer a different type of fish, you can use this recipe with other white fish fillets such as cod, sole, or haddock. Adjust the cooking time as needed based on the thickness of the fish fillets.
Q: Can I grill Ranch Tilapia instead of baking it?
A: Yes, you can grill Ranch Tilapia for a delicious smoky flavor. Preheat the grill to medium-high heat and lightly oil the grates to prevent sticking. Place the seasoned tilapia fillets on the grill and cook for about 3-4 minutes per side or until the fish is cooked through and flakes easily.

Q: Can I make Ranch Tilapia ahead of time?
A: While it's best to enjoy Ranch Tilapia immediately after cooking for optimal flavor and texture, you can prepare the ranch seasoning mixture in advance and store it in an airtight container until ready to use. When you're ready to cook, simply coat the tilapia fillets with the seasoning and bake or grill them.
Q: Are there any recommended side dishes to serve with Ranch Tilapia?
A: Ranch Tilapia pairs well with a variety of side dishes. Some popular options include steamed vegetables, rice pilaf, roasted potatoes, quinoa salad, or a fresh green salad. Choose sides that complement the flavors of the fish and add a well-rounded element to the meal.
Q: Can I reheat leftover Ranch Tilapia?
A: Yes, you can reheat leftover Ranch Tilapia. To maintain its moisture, consider reheating it in a preheated oven at a low temperature, around 300°F (150°C), until warmed through. Cover the fish with foil to prevent it from drying out. Alternatively, you can gently reheat it in a skillet over low heat, adding a small amount of butter or oil to prevent sticking.
Enjoy preparing and savoring Ranch Tilapia, and don't hesitate to explore different variations or adaptations to suit your taste preferences.
Cooking Tip for Ranch Tilapia
Here's a helpful cooking tip to ensure your Ranch Tilapia turns out delicious and flavorful:
1. Season the fish ahead of time: For an even more pronounced ranch flavor, consider seasoning the tilapia fillets with the ranch seasoning mixture at least 30 minutes before cooking. This allows the flavors to penetrate the fish, resulting in a more robust and well-marinated dish.
By following this cooking tip, you can enhance the flavor of your Ranch Tilapia and make it even more enjoyable to savor.
Serving Suggestions
Ranch Tilapia is a versatile dish that pairs well with various accompaniments. Here's a serving suggestion to complement the flavors of the dish:
1. Creamy Dill Sauce: Prepare a creamy dill sauce to drizzle over the Ranch Tilapia. Combine sour cream or Greek yogurt with chopped fresh dill, lemon juice, garlic powder, salt, and pepper. The tangy and herbaceous sauce adds a delightful creaminess and freshness to the dish.
2. Steamed Vegetables: Serve the Ranch Tilapia alongside a medley of steamed vegetables such as broccoli, carrots, and green beans. The vibrant colors and tender-crisp texture of the vegetables create a visually appealing and nutritious side dish.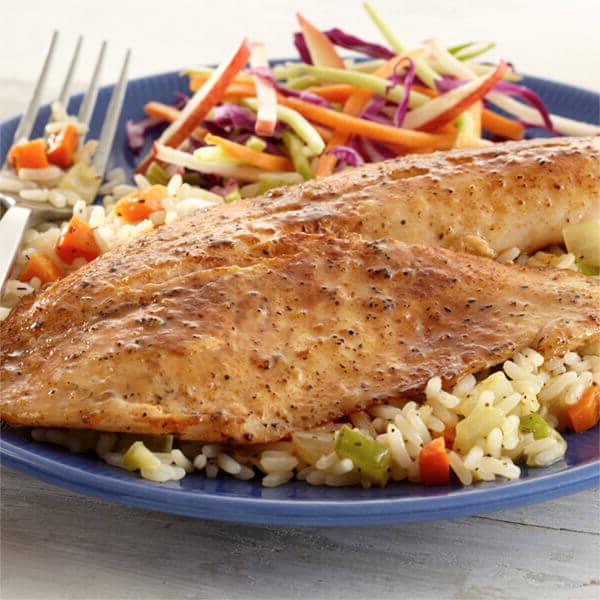 3. Roasted Potatoes: Pair the Ranch Tilapia with roasted potatoes for a satisfying and hearty accompaniment. Toss cubed potatoes with olive oil, garlic powder, dried herbs like thyme or rosemary, salt, and pepper. Roast them in the oven until golden brown and crispy on the outside, while soft and fluffy on the inside.
4. Fresh Salad: Serve a refreshing salad alongside the Ranch Tilapia for a light and vibrant contrast. Combine mixed greens, cherry tomatoes, cucumbers, and thinly sliced red onions. Dress the salad with a lemon vinaigrette or a simple olive oil and vinegar dressing.
5. Lemon Wedges: Garnish the plated Ranch Tilapia with fresh lemon wedges. Squeezing a bit of lemon juice over the fish just before serving adds a bright and tangy element that complements the ranch flavors.
Remember to arrange the Ranch Tilapia fillets on a serving platter or individual plates, garnish with fresh herbs like dill or parsley for added visual appeal, and serve the suggested accompaniments on the side. These serving suggestions will enhance the overall dining experience and provide a well-rounded meal to enjoy the delicious Ranch Tilapia.