Seasoned Garlic Carrots recipe, a delightful and flavorful way to enjoy this versatile vegetable. Carrots are transformed into a savory side dish that combines the natural sweetness of the carrots with the aromatic punch of garlic. This recipe takes simple ingredients and elevates them to create a dish that is both visually appealing and delicious. The carrots are seasoned with herbs and spices, allowing their natural flavors to shine while being complemented by the savory notes of garlic. Whether you're looking for a quick and easy side dish for a weeknight dinner or a flavorful addition to a special occasion meal, these seasoned garlic carrots are sure to impress.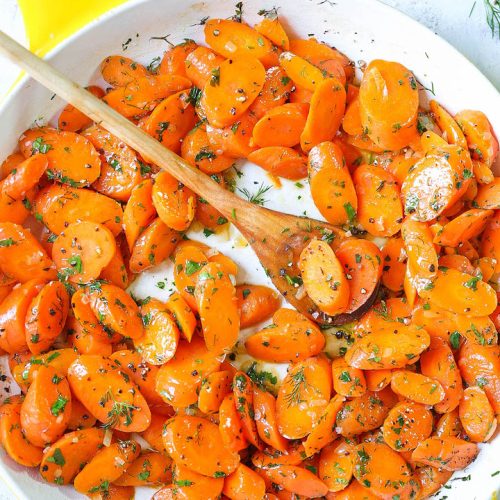 Seasoned Garlic Carrots
The Seasoned Garlic Carrots recipe offers a delightful twist to the classic carrot side dish by infusing it with savory garlic flavors. These carrots are seasoned to perfection, creating a burst of taste with each bite. The recipe combines the natural sweetness of the carrots with the aromatic and bold notes of garlic, resulting in a mouthwatering vegetable dish that is sure to please your taste buds.
Ingredients
Salt and pepper to taste

2

tsp

garlic powder

2

tbsps

s olive oil

1

pound

carrots, diced
Instructions
Take a bowl and toss the carrot cubes generously in oil

Season the cube further with salt, pepper, and garlic powder

Make sure that they are coated evenly4. Spread the carrots in the Air Crisp Basket

Set your Power XL Smart XL Grill to 390 degrees F in AIRCRISP mode and set the timer to 30 minutes

Cook for 10 minutes, making sure to stir once
Notes
Whether you're serving it alongside a main course or as a standalone side dish, these seasoned garlic carrots are a flavorful and nutritious addition to any meal. With their vibrant color and enticing aroma, they are bound to become a favorite among both kids and adults. Prepare this simple yet delicious recipe to elevate your dining experience with a touch of garlic-infused goodness.
Nutrition
Calories:
183
kcal
Carbohydrates:
21
g
Protein:
2
g
Fat:
11
g
Saturated Fat:
5
g
Sodium:
440
mg
Fiber:
1
g
Cooking Tip:
To ensure that your Seasoned Garlic Carrots turn out perfectly cooked and flavorful, here's a helpful cooking tip:
1. Properly prepare the carrots: Start by selecting fresh and firm carrots for the best results. Peel the carrots and trim off the ends. For aesthetic appeal, you can also cut the carrots into uniform shapes such as coins or sticks.
2. Balance the garlic flavor: Garlic can easily overpower the dish if not used in the right quantity. To strike the perfect balance, finely mince or grate the garlic cloves. This will distribute the garlic flavor more evenly throughout the carrots. Adjust the amount of garlic according to your personal preference and the intensity of flavor you desire.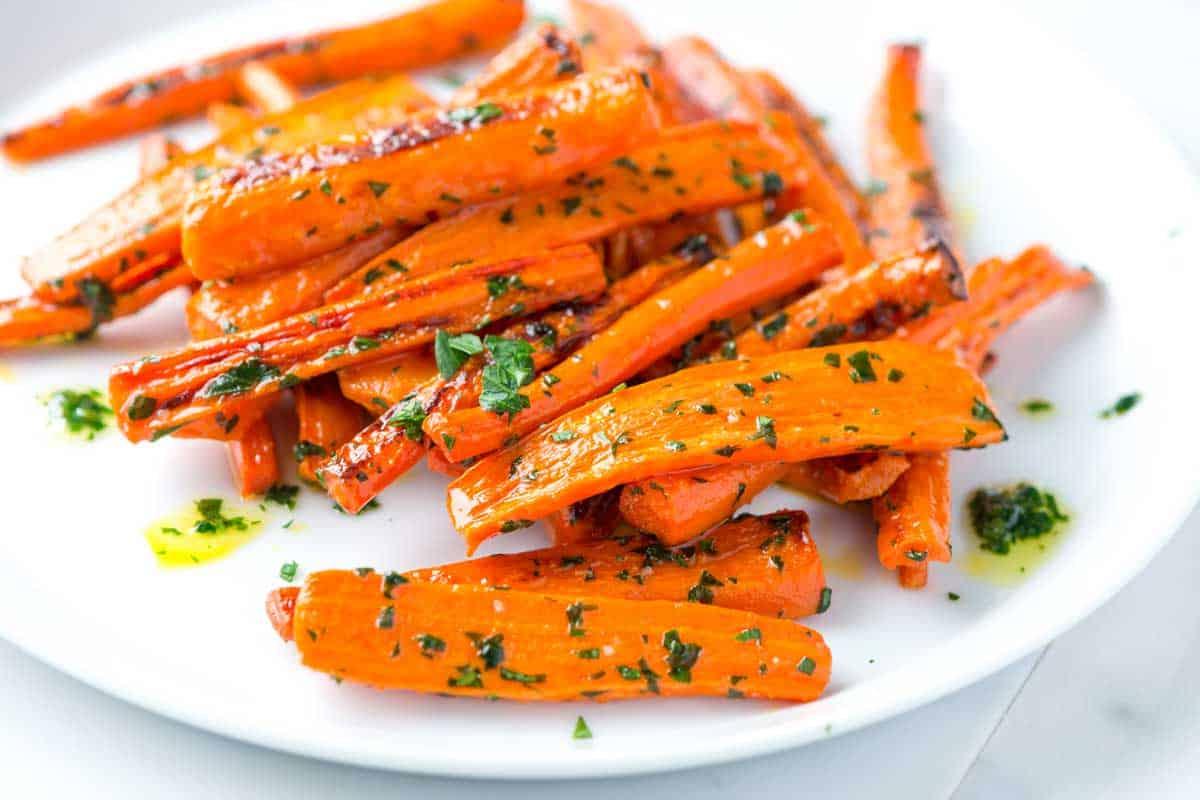 3. Use the right cooking method: There are various cooking methods you can use to prepare seasoned garlic carrots. Roasting is a popular option that brings out the natural sweetness of the carrots while adding a hint of caramelization. Sautéing is another quick and easy method that allows for even cooking and the development of flavors. Choose the cooking method that suits your preference and available equipment.
4. Pay attention to cooking time: The cooking time for carrots can vary depending on their size and thickness. To ensure that they are cooked to the desired tenderness, regularly check their doneness by inserting a fork or toothpick into the thickest part. The carrots should be tender but still have a slight bite. Be careful not to overcook them as they can turn mushy.
5. Season generously: Seasoning is key to bringing out the best flavors in the carrots. Aside from garlic, consider adding herbs and spices such as thyme, rosemary, paprika, or a sprinkle of your favorite seasoning blend. Toss the carrots with the seasonings and a drizzle of olive oil to evenly coat them before cooking.
By following these cooking tips, you'll achieve perfectly seasoned garlic carrots that are cooked to perfection, maintaining their natural sweetness while being infused with the enticing flavors of garlic and spices. Enjoy this tasty and nutritious side dish that will complement a wide range of meals.
Serving Suggestion:
The seasoned garlic carrots make a delicious and versatile side dish that pairs well with a variety of main courses. Here are a few serving suggestions to enhance your dining experience:
1. Family Dinner: Serve the seasoned garlic carrots alongside roasted chicken, grilled steak, or baked fish. Their vibrant color and savory flavor will complement the main course, adding a touch of freshness and balance to the plate.
2. Holiday Feast: Incorporate the seasoned garlic carrots into your holiday spread. They make a wonderful addition to Thanksgiving or Christmas dinners, complementing roasted turkey, ham, or prime rib. The garlic-infused flavors will add depth to the meal, making it even more memorable.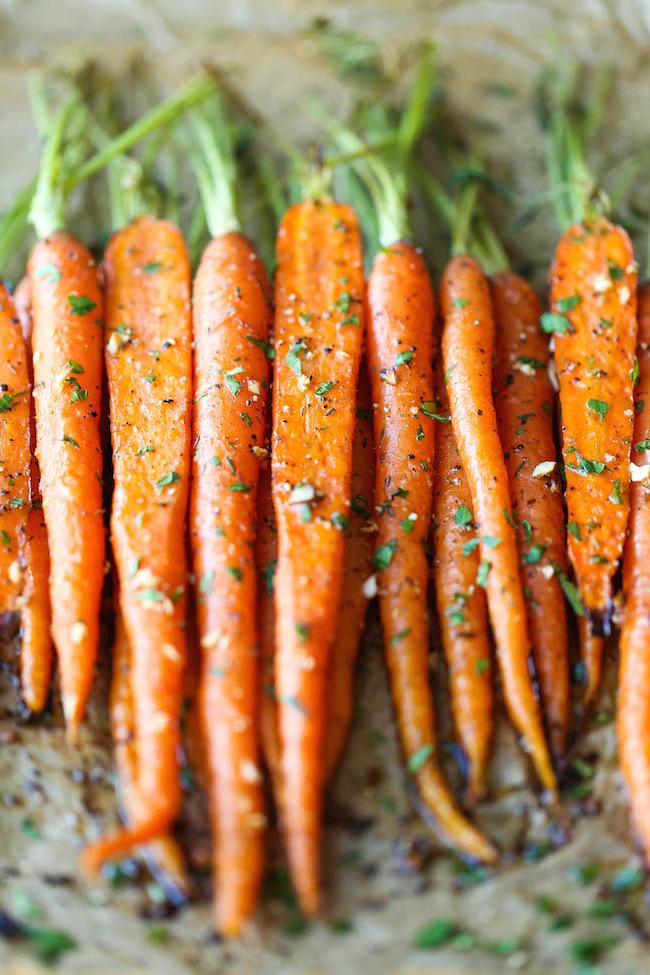 3. Vegetarian Delight: For a vegetarian or plant-based meal, pair the seasoned garlic carrots with other vegetable-based dishes. They can be served alongside roasted Brussels sprouts, sautéed greens, or quinoa pilaf, creating a well-rounded and satisfying vegetarian feast.
4. Grain Bowl: Create a nourishing and flavorful grain bowl by combining the seasoned garlic carrots with cooked grains like quinoa, brown rice, or couscous. Add some protein such as grilled tofu, chickpeas, or sliced avocado for a well-balanced and satisfying meal.
5. Salad Enhancer: Spruce up your salads by adding a handful of seasoned garlic carrots. Toss them into a fresh green salad with mixed greens, cherry tomatoes, cucumbers, and a tangy vinaigrette. The carrots will provide an extra burst of flavor and texture to your salad creation.
Remember to garnish the dish with some fresh herbs, such as parsley or chives, to add a pop of color and freshness. Whether served as part of a hearty dinner or a light lunch, these seasoned garlic carrots are sure to impress with their aromatic flavors and vibrant appearance. Enjoy their deliciousness alongside your favorite dishes or incorporate them creatively into your culinary creations.