Pork Rind Nachos offer a delicious twist on the classic nachos we all know and love. By replacing traditional tortilla chips with crispy and flavorful pork rinds, this recipe introduces a whole new level of crunch and savory goodness. The pork rinds provide a unique and satisfying base that perfectly complements the layers of melted cheese, zesty salsa, creamy guacamole, and other delicious toppings. Whether you're following a low-carb or keto lifestyle or simply looking for a tasty and indulgent snack, Pork Rind Nachos are a fantastic option. They bring together the flavors and textures we crave while offering a creative and satisfying alternative.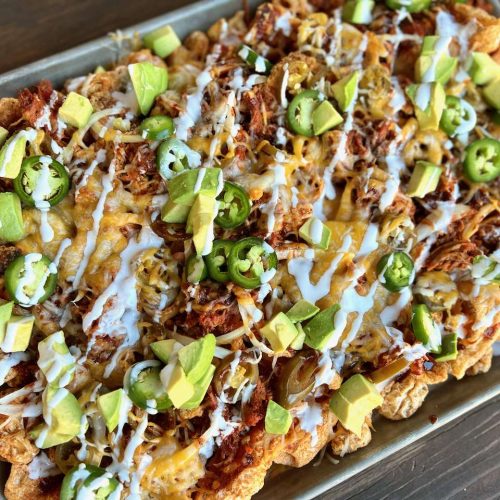 Pork Rind Nachos
Pork Rind Nachos offer a delicious and unique twist on the classic favorite. These nachos feature crispy and flavorful pork rinds as the base instead of traditional tortilla chips, making them a low-carb and keto-friendly alternative. The pork rinds provide a satisfying crunch and act as the perfect vessel for all the savory toppings. Whether you're a fan of cheesy goodness, zesty salsa, tangy guacamole, or spicy jalapenos, Pork Rind Nachos can be customized to suit your taste preferences.
Ingredients
1

ounce

pork rinds

4

ounces

shredded cooked chicken

1/2

cup

shredded Monterey jack cheese

1/4

cup

sliced pickled jalapeños

1/4

cupcup

guacamole
Instructions
Place pork rinds into 6" round baking pan. Cover with shredded chicken and Monterey jack cheese. Place pan into the dutch oven basket.

Adjust the temperature to 370°F and set the timer for 5 minutes oruntil cheese is melted.

Top with jalapeños, guacamole, and sour cream. Serve immediately
Notes
They are a guilt-free and satisfying snack option that allows you to enjoy the flavors and textures of nachos without the carb overload. Whether you're hosting a game day gathering, a casual get-together, or simply craving a tasty snack, Pork Rind Nachos are sure to be a hit. Prepare to indulge in the crunchy, flavorful, and satisfying experience of these unique nachos that will leave you wanting more.
Nutrition
Calories:
395
kcal
Carbohydrates:
3
g
Protein:
30.1
g
Fat:
27.5
g
Sodium:
763
mg
Fiber:
1.2
g
Sugar:
1
g
Cooking Tips:
When making Pork Rind Nachos, consider the following tips to achieve the best results:
1. Choose high-quality pork rinds: Look for pork rinds that are fresh, crispy, and have a good flavor. Opt for brands that use quality ingredients and have minimal additives. This will ensure that your nachos have a delicious base and the right texture.
2. Preheat the oven: Preheat your oven before assembling the nachos to ensure even heating and melting of the toppings. This will help prevent soggy nachos and ensure that the cheese is fully melted and bubbly.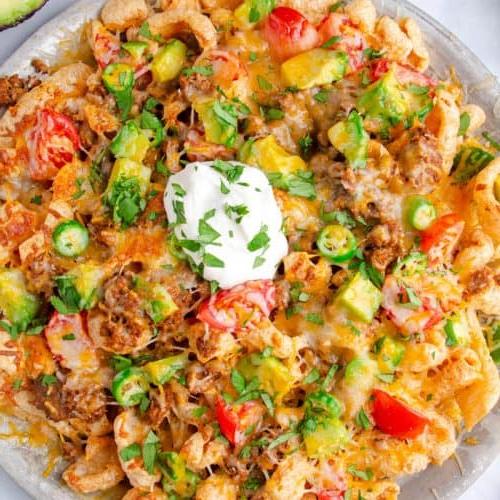 3. Layer the toppings strategically: When building your Pork Rind Nachos, layer the toppings strategically to ensure that each bite is flavorful. Start with a layer of pork rinds as the base, followed by a generous sprinkling of shredded cheese. Then, add other toppings such as cooked ground meat, diced vegetables, jalapenos, or black beans. Repeat the layers until you've used up all the ingredients.
4. Protect the pork rinds: To prevent the pork rinds from becoming overly soft or soggy, try to keep the wet ingredients (like salsa or sour cream) towards the top layers of the nachos. This will help maintain the crispiness of the pork rinds and ensure that they stay enjoyable throughout.
5. Bake until cheese is melted and bubbly: Keep an eye on the nachos while they are baking and remove them from the oven once the cheese is fully melted and bubbly. This will give you the perfect combination of crispy pork rinds and gooey, melted cheese.
6. Add fresh toppings after baking: To add a burst of freshness and extra flavor, consider adding fresh toppings like diced tomatoes, cilantro, or green onions after baking the nachos. These toppings will provide a nice contrast to the warm and melty toppings.
By following these cooking tips, you'll be able to create delicious and satisfying Pork Rind Nachos that are full of flavor and crunch. Enjoy the unique twist on nachos and savor the delicious combination of crispy pork rinds and tasty toppings.
Serving Suggestion:
When it comes to serving Pork Rind Nachos, there are several tasty and creative options to consider. Here are a few serving suggestions to elevate your nacho experience:
1. Game Day Snack: Serve Pork Rind Nachos as a delicious and satisfying snack during game day gatherings or sports viewing parties. The combination of crispy pork rinds, melted cheese, and flavorful toppings will keep everyone coming back for more.
2. Nacho Bar: Set up a DIY nacho bar where guests can customize their own Pork Rind Nachos. Provide a variety of toppings such as shredded cheese, diced tomatoes, sliced jalapenos, sour cream, guacamole, salsa, and black olives. Let your guests build their nachos to their liking, creating a fun and interactive food experience.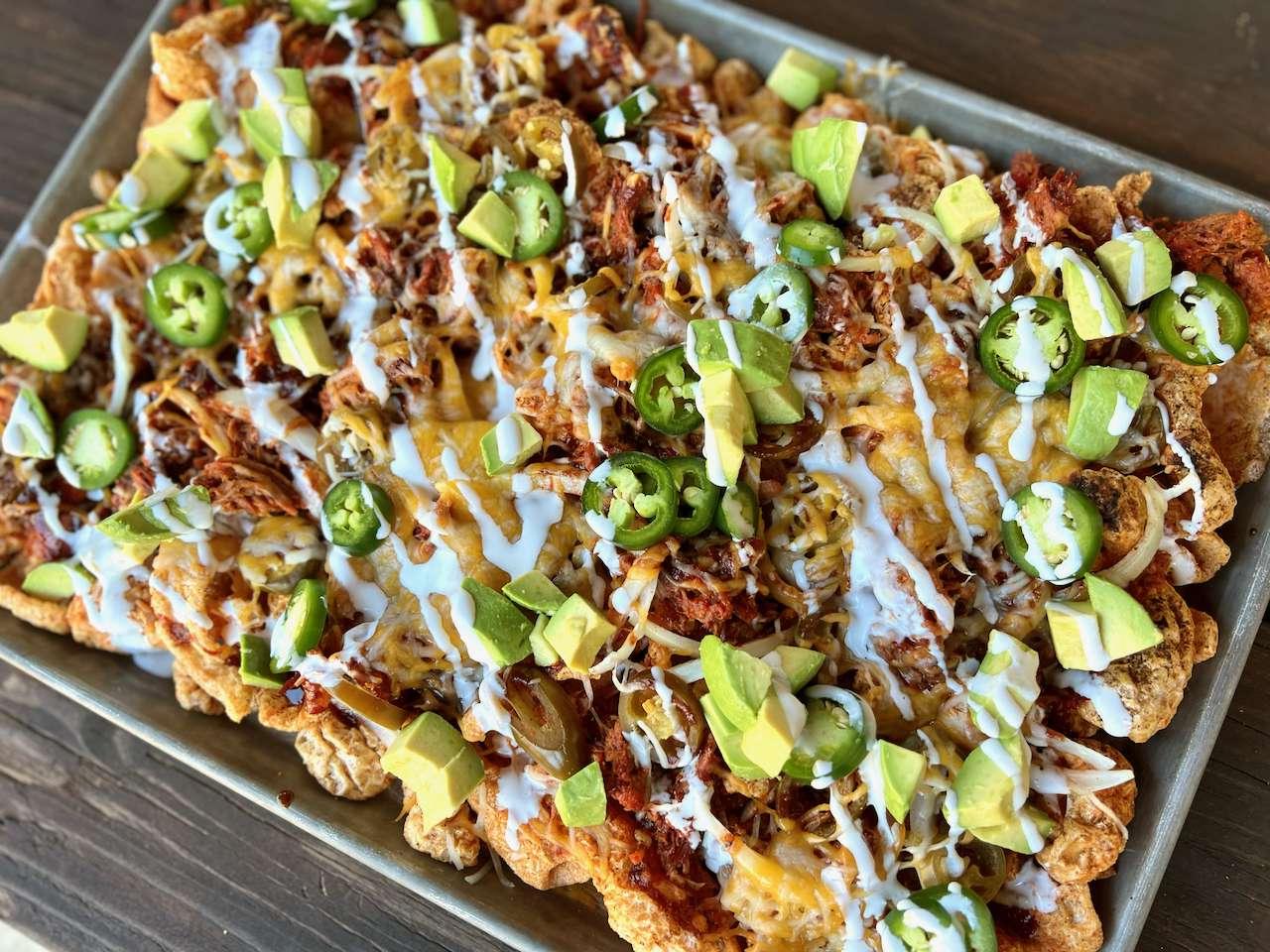 3. Appetizer at Parties: Serve Pork Rind Nachos as a unique and crowd-pleasing appetizer at parties or social gatherings. Arrange them on a large platter or baking sheet and garnish with fresh herbs, such as cilantro or parsley, for an extra touch of freshness and presentation.
4. Snack for Movie Nights: Enjoy Pork Rind Nachos as a tasty and satisfying snack during movie nights at home. Serve them in individual bowls or on a large shared plate for everyone to enjoy while watching their favorite films.
5. Low-Carb Option: Pork Rind Nachos are a fantastic choice for those following a low-carb or keto lifestyle. They offer the flavors and textures of traditional nachos without the added carbs from tortilla chips. Serve them as a delicious and guilt-free snack option for yourself or guests who are watching their carbohydrate intake.
Remember to provide serving utensils, such as spoons or tongs, for guests to easily assemble their own nachos or to help themselves to the toppings at the nacho bar. Enjoy the crispy and flavorful Pork Rind Nachos, and let your creativity shine as you explore different toppings and serving styles to suit your preferences.