Fish sticks are believed to have originated in the United States in the 1950s as a convenient and affordable way to make fish accessible to more people. They quickly became a popular frozen food item and are still widely consumed today. While cod is often used to make fish sticks, other types of fish such as haddock, pollock, and salmon can also be used.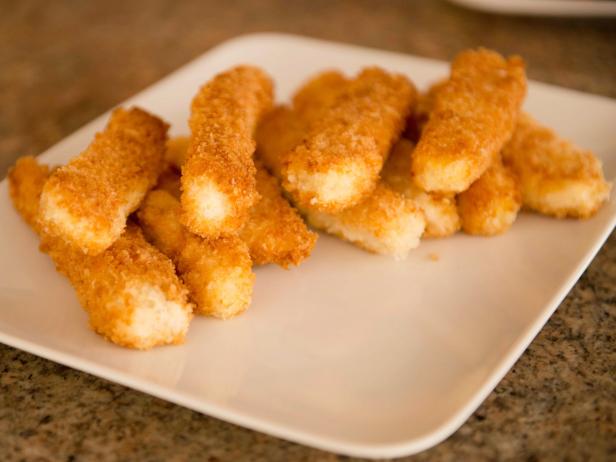 Fish Sticks
Fish sticks are a popular and easy-to-make dish that can be enjoyed by both children and adults. The recipe typically involves cutting fish fillets into strips, coating them in seasoned breadcrumbs, and baking or frying them until golden and crispy. Fish sticks are often served with tartar sauce or a variety of dipping sauces for added flavor.
Ingredients
16

oz

tilapia fillets, sliced into strips

1

cups

all-purpose flour

2

eggseggs

1/2

cups

breadcrumbs

Salt to taste
Instructions
Dip fish strips in flour and then in eggs.

Coat fish strips with breadcrumbs.

Add fish strips to a crisper plate

Place crisper plate inside the basket.

Cook fish strips at 390 degrees F for 12 to 15 minutes, flipping once halfway through.
Notes
Nutrition: Calories: 324 Fat: 21.5g Saturated Fat: 4g Trans Fat: 0g
Carbohydrates: 7.5g Fiber: 2g Sodium: 274mg
Protein: 20g
Fact about this dish
One interesting fact about fish sticks recipe is that they were first created in the 1950s as a way to get people to eat more fish, which was considered a healthy and nutritious food. The recipe was developed by a company called Gorton's, and it quickly became popular because of its convenience, affordability, and ease of preparation. Today, fish sticks are still a popular food item that can be found in many supermarkets and restaurants around the world, and they continue to be a convenient way to enjoy fish as part of a healthy and balanced diet.
Characteristics of fish stick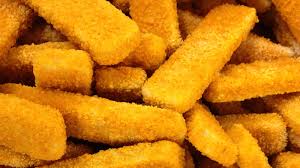 Here are some characteristics of fish sticks:
Fish sticks are typically made from a white fish, such as cod, haddock, or pollock, that has been cut into strips and breaded.
The breading on fish sticks is usually made from a mixture of flour, breadcrumbs, and seasonings, which helps to create a crispy outer coating.
Fish sticks are a popular convenience food that can be found in supermarkets and restaurants around the world.
They are typically cooked by deep-frying, although they can also be baked in the oven for a healthier version.
Fish sticks are often served with dipping sauces, such as tartar sauce, ketchup, or honey mustard.
Fish sticks are a good source of protein and omega-3 fatty acids, which are important for maintaining good health.
Tips to cooking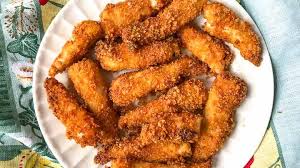 Here are some tips to help you cook delicious fish sticks:
Use a firm white fish like cod, haddock, or pollock, as they hold up well during frying and have a mild flavor that pairs well with the crispy coating.
Make sure the fish sticks are evenly coated in the flour, egg, and breadcrumb mixture to ensure a crispy and golden-brown crust.
When frying, use enough oil to cover about half of the fish sticks, and make sure the oil is hot but not smoking. Overcrowding the pan can cause the temperature of the oil to drop, resulting in soggy and greasy fish sticks.
Drain the cooked fish sticks on a wire rack or paper towels to remove excess oil and keep them crispy.
For an even healthier version, try baking the fish sticks in the oven instead of frying. Preheat the oven to 425°F, line a baking sheet with parchment paper, and bake the fish sticks for 15-20 minutes, flipping halfway through.
Serve the fish sticks immediately with your favorite dipping sauce, such as tartar sauce, ketchup, or honey mustard.
Serving suggestions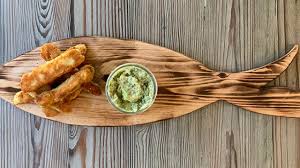 Fish sticks can be served in a variety of ways. Here are a few serving suggestions:
Serve fish sticks with a side of French fries or sweet potato fries for a classic fish and chips meal.
Serve fish sticks on a bed of mixed greens and top with a drizzle of lemon vinaigrette for a light and refreshing lunch.
Serve fish sticks on a sandwich bun with tartar sauce, lettuce, and tomato for a tasty fish sandwich.
Serve fish sticks with a side of coleslaw and corn on the cob for a summertime BBQ meal.
Serve fish sticks with a side of roasted vegetables, such as broccoli or carrots, for a healthy and nutritious dinner.