Prepare your taste buds for an explosion of flavor with Spicy Bacon Wrapped Chicken, a dish that combines the irresistible combination of tender chicken and smoky bacon with a fiery twist. This recipe takes the classic bacon-wrapped chicken to a whole new level by incorporating a spicy element that will leave you craving more. Whether you're a fan of bold jalapenos, smoky chipotle, or the vibrant flavors of Cajun seasoning, this dish promises to deliver a memorable and tantalizing culinary experience.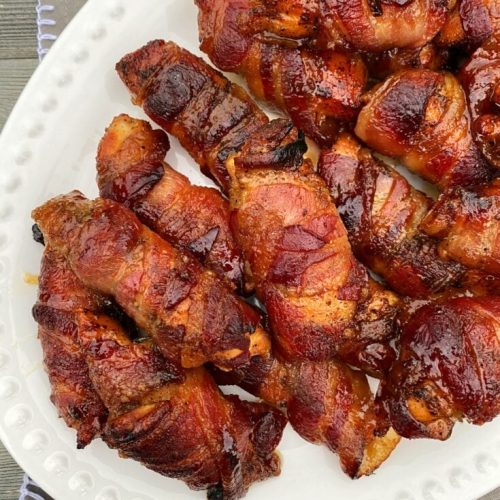 Spicy Bacon Wrapped Chicken
Indulge in the fiery flavors of Spicy Bacon Wrapped Chicken, a tantalizing dish that combines the smoky goodness of bacon with a kick of spice. Each succulent piece of chicken is lovingly enveloped in crispy bacon, creating a mouthwatering fusion of textures and flavors. The spicy element, whether from jalapenos, chipotle, or Cajun seasoning, adds an exciting dimension to the dish, awakening your taste buds with every bite. Perfect for any occasion, from game nights to backyard barbecues, this recipe is sure to impress your guests and leave them craving more.
Ingredients
1

lb

Chicken Breast

6

slices

Bacon

1/8

tsp

Cayenne Pepper

1/2

tbstbsp

Chili Powder
Instructions
Place a piece of chicken onto a piece of bacon. Roll it up andsecure it with a toothpick.

Blend the chili powder and cayenne pepper into a bowl. Coat the bacon-wrapped chicken into the mixture and set aside.

Place the bacon-wrapped chicken into the dutch oven basket and cook at 380 degrees F for 13 minutes.

Once done, serve and enjoy
Notes
Prepare to experience the irresistible combination of juicy chicken, crispy bacon, and a spicy zing that will ignite your palate. Get ready to savor the bold and explosive flavors of Spicy Bacon Wrapped Chicken, a true culinary delight.
Nutrition
Calories:
120
kcal
Protein:
18
g
Fat:
10
g
Cooking Tip:
When preparing Spicy Bacon Wrapped Chicken, consider the following cooking tip to achieve the best results:
1. Choose the right cut of chicken: Opt for boneless, skinless chicken breasts or chicken thighs for this recipe. These cuts are ideal as they cook evenly and provide a moist and tender texture.
2. Marinate the chicken: To infuse the chicken with maximum flavor, marinate it in a spicy marinade before wrapping it in bacon. This will allow the flavors to penetrate the meat and enhance its taste. You can create a marinade using ingredients like hot sauce, cayenne pepper, garlic, and other spices of your choice.
3. Partially cook the bacon: To ensure that the bacon cooks through and becomes crispy, partially cook it before wrapping it around the chicken. This step will help render the fat from the bacon and prevent it from becoming too chewy or undercooked.
4. Secure the bacon: Use toothpicks or kitchen twine to secure the bacon tightly around the chicken. This will help the bacon maintain its shape during cooking and ensure that it adheres to the chicken.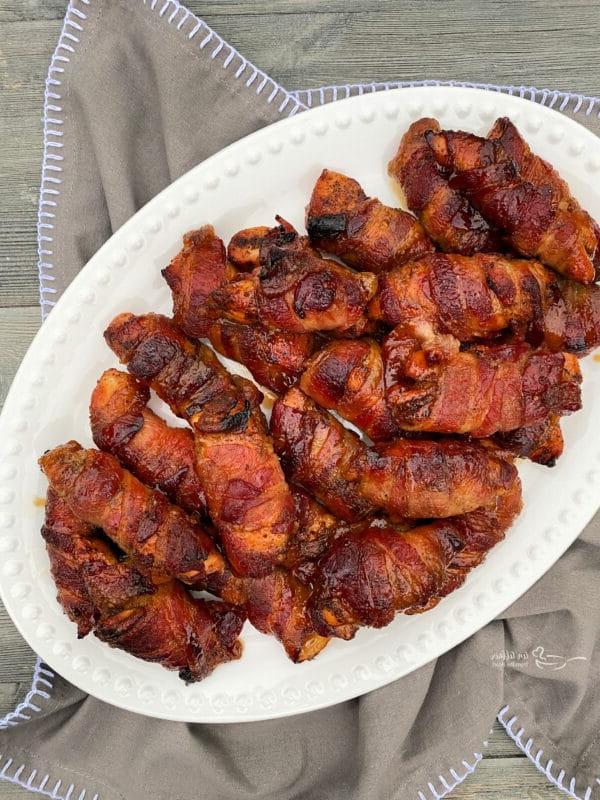 5. Monitor the cooking temperature: Preheat your oven to the recommended temperature and monitor the cooking time closely. The chicken should reach an internal temperature of 165°F (74°C) to ensure it is fully cooked and safe to eat.
6. Baste with sauce: If desired, baste the chicken with a spicy sauce during the last few minutes of cooking to add an extra layer of flavor and moisture. Brush on the sauce and allow it to caramelize slightly for a delicious glaze.
7. Let it rest: After removing the Spicy Bacon Wrapped Chicken from the oven, allow it to rest for a few minutes before serving. This will help the juices redistribute throughout the meat, resulting in a juicier and more flavorful final dish.
8. Serve with cooling accompaniments: Since the dish is spicy, consider serving it with cooling accompaniments such as a creamy dipping sauce, yogurt-based dip, or a side of fresh salad. These will balance out the heat and provide a refreshing contrast.
By following these cooking tips, you'll be able to create Spicy Bacon Wrapped Chicken that is bursting with flavor, perfectly cooked, and incredibly satisfying. Enjoy the delicious combination of spicy seasonings, smoky bacon, and tender chicken as you embark on a culinary adventure.
Serving Suggestion:
When it comes to serving Spicy Bacon Wrapped Chicken, consider the following suggestions to enhance your dining experience:
1. Game Day Delight: Serve the Spicy Bacon Wrapped Chicken as a crowd-pleasing appetizer or main dish during game day gatherings or sports events. Pair it with a selection of dipping sauces, such as spicy mayo, barbecue sauce, or ranch dressing, for guests to customize their flavor experience.
2. Party Platter: Arrange the Spicy Bacon Wrapped Chicken on a platter with toothpicks for easy grabbing. This presentation is ideal for cocktail parties, holiday gatherings, or any social event where guests can enjoy these flavorful bites.
3. Salad Topping: Slice the cooked Spicy Bacon Wrapped Chicken and use it as a delicious protein topping for salads. The combination of smoky bacon and spicy chicken adds depth and flavor to your favorite greens.
4. Sandwich Sensation: Create a mouthwatering sandwich by placing the Spicy Bacon Wrapped Chicken on a toasted bun or bread. Add fresh lettuce, sliced tomatoes, and a creamy sauce or spread for a satisfying and flavorful meal.
5. Wrap It Up: Wrap the Spicy Bacon Wrapped Chicken in a tortilla or lettuce leaves for a tasty and portable meal. Add shredded cheese, avocado, and a drizzle of your favorite sauce for an extra burst of flavor.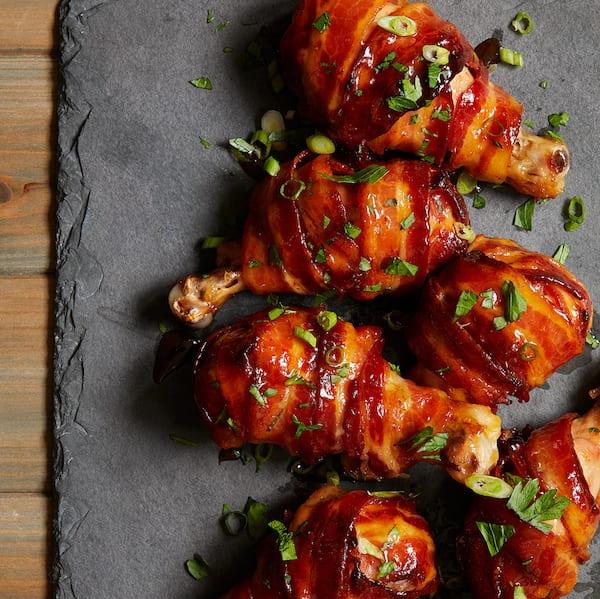 6. Barbecue Bliss: Fire up the grill and cook the Spicy Bacon Wrapped Chicken outdoors for a smoky barbecue twist. Serve it alongside grilled vegetables, corn on the cob, or a refreshing coleslaw for a complete and satisfying meal.
7. Taco Tuesday: Shred the cooked Spicy Bacon Wrapped Chicken and use it as a filling for tacos. Top it with salsa, guacamole, and chopped cilantro for a delicious and spicy taco experience.
8. Family Dinner: Serve the Spicy Bacon Wrapped Chicken as the main course for a family dinner. Pair it with a side of roasted potatoes, steamed vegetables, or a fresh salad for a well-rounded and flavorful meal.
Remember to provide extra napkins or wet wipes for guests to clean their hands, as the spicy bacon can be finger-licking good. Enjoy the bold flavors, smoky bacon, and spicy kick of this dish as you share it with your loved ones or impress your guests with a memorable culinary creation.