Indulge in the delectable world of Cheese Stuffed Mushrooms, where earthy mushrooms are transformed into savory morsels of delight. This appetizer recipe combines the rich and creamy goodness of cheese with the natural flavors of mushrooms, creating a tantalizing combination that is hard to resist. Whether you're hosting a dinner party, entertaining guests, or simply seeking a delicious bite, Cheese Stuffed Mushrooms are a surefire way to elevate your culinary experience.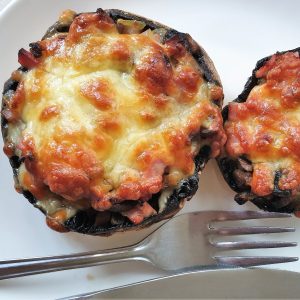 Cheese Stuffed Mushroom
The Cheese Stuffed Mushroom recipe offers a delightful and flavorful appetizer option that is sure to impress. The mushroom caps are filled with a creamy and cheesy mixture, creating a savory and indulgent bite. Whether you're hosting a party, looking for an elegant appetizer, or simply craving a delicious snack, these Cheese Stuffed Mushrooms are a perfect choice. The combination of earthy mushrooms and gooey cheese creates a harmonious balance of flavors and textures that will leave you wanting more.
Ingredients
8

oz

Fresh Mushroom, Large

1/4

cup

Parmesan Cheese

4

oz

shredded Cream Cheese

1

tsp

Reduced-fat Worcester shire Sauce

1/8

cup

White Cheddar Cheese
Instructions
Cut the stem out of the mushroom, then melt the cream cheese.

. Combine cream cheese, parmesan cheese, white cheddar cheese, Worcester shire sauce, and salt & pepper in a bowl. Mix well.

Stuff the mixture into the mushrooms.

Place the mushrooms into the dutch oven and cook for 8 minutes at370 degrees F

Once done, serve and enjoy
Notes
Enjoy these delectable bites as a delicious start to any meal or as a standalone appetizer that will please both cheese lovers and mushroom enthusiasts alike.
Nutrition
Calories:
105
kcal
Carbohydrates:
2
g
Protein:
9
g
Fat:
9
g
Cooking Tip:
When preparing Cheese Stuffed Mushrooms, consider the following cooking tip to ensure the best results:
1. Choose the right mushrooms: Opt for larger mushroom caps, such as cremini or portobello mushrooms, that can hold a generous amount of the cheese filling. The caps should be firm and without any signs of moisture or discoloration.
2. Pre-cook the mushroom caps: To prevent the mushrooms from releasing excess moisture during baking, lightly pre-cook the mushroom caps. This can be done by either quickly sautéing them in a little oil or by baking them in the oven for a few minutes. This step helps to enhance the flavor and texture of the mushrooms.
3. Use flavorful cheese: Select a cheese that melts well and has a rich flavor profile, such as mozzarella, cheddar, or Gruyère. Combine it with other complementary cheeses like Parmesan or goat cheese for added complexity. Experiment with different cheese combinations to find your favorite blend.
4. Enhance the filling: Elevate the flavor of the cheese filling by adding additional ingredients such as minced garlic, finely chopped herbs (such as thyme or parsley), diced onions, or cooked bacon. These ingredients can provide depth and enhance the overall taste of the stuffed mushrooms.
5. Season appropriately: Be mindful of the seasoning in both the mushroom caps and the cheese filling. Season the mushroom caps with a sprinkle of salt and pepper before adding the filling, and adjust the seasoning of the cheese mixture to taste. Remember that the cheese already contains salt, so season accordingly.
6. Don't overstuff: While it may be tempting to fill the mushroom caps to the brim, avoid overstuffing them. The cheese filling will expand slightly during baking, and overfilling may cause it to spill out. Fill the caps with a generous amount of filling, leaving a little space at the top to prevent any overflow.
7. Bake to perfection: Place the stuffed mushrooms on a baking sheet or in a baking dish and bake them in a preheated oven until the cheese is melted, bubbly, and slightly golden brown on top. Be cautious not to overcook the mushrooms, as they can become too soft and lose their shape.
8. Serve immediately: Cheese Stuffed Mushrooms are best served hot and fresh from the oven. Allow them to cool slightly before serving to avoid burning your guests, but enjoy them while they are still warm and the cheese is gooey.
By following these cooking tips, you'll be able to prepare mouthwatering Cheese Stuffed Mushrooms that are bursting with flavor and have a delightful texture. Enjoy the process of creating these delectable appetizers and delight in the cheesy goodness they bring to your table.
Serving Suggestion:
When it comes to serving Cheese Stuffed Mushrooms, there are several delightful options to consider. Here are some serving suggestions to enhance your culinary experience:
1. Appetizer Platter: Arrange the Cheese Stuffed Mushrooms on a platter and serve them as a delicious appetizer at parties or gatherings. Pair them with other finger foods, such as bruschetta, mini quiches, or stuffed peppers, to create a diverse and enticing appetizer spread.
2. Salad Topping: Add a gourmet touch to your salads by placing a few Cheese Stuffed Mushrooms on top. The creamy and flavorful filling complements the freshness of the greens, adding an extra layer of texture and taste.
3. Side Dish: Serve Cheese Stuffed Mushrooms as a delectable side dish alongside roasted meats, grilled vegetables, or pasta dishes. Their rich flavors and cheesy goodness will elevate the overall meal and leave your guests impressed.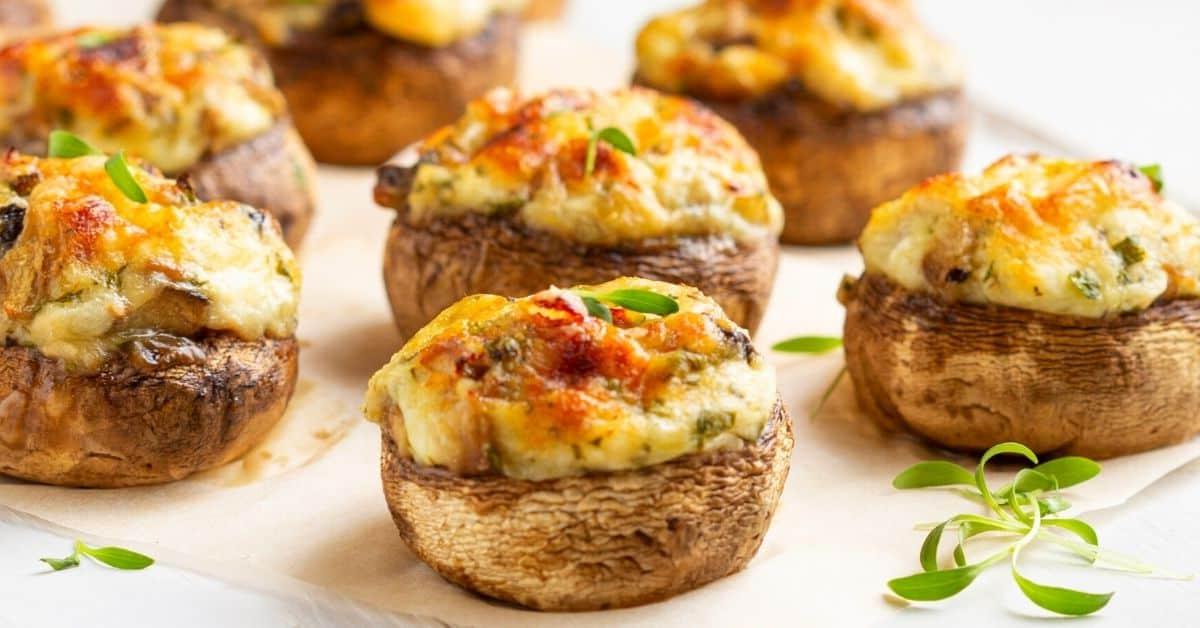 4. Brunch Delight: Incorporate Cheese Stuffed Mushrooms into your brunch menu. Serve them alongside other brunch classics, such as eggs Benedict, smoked salmon, or fresh fruit, for a delightful and indulgent morning feast.
5. Tapas or Small Plates: Create a tapas-style meal by serving Cheese Stuffed Mushrooms as one of several small plates. Combine them with other appetizers like Spanish tortillas, patatas bravas, or stuffed olives for a diverse and satisfying dining experience.
6. Vegetarian Main Course: For vegetarian diners, Cheese Stuffed Mushrooms can be the star of the meal. Serve them as a main course, accompanied by a side of roasted vegetables, quinoa salad, or garlic mashed potatoes, for a satisfying and flavorful vegetarian feast.
7. Party Skewers: Thread Cheese Stuffed Mushrooms onto skewers along with other ingredients like cherry tomatoes, olives, or grilled vegetables. This presentation not only adds visual appeal but also makes them easy to enjoy as a handheld party snack.
Remember to garnish the Cheese Stuffed Mushrooms with fresh herbs, such as chopped parsley or basil, for a burst of color and added freshness. Regardless of how you choose to serve them, these Cheese Stuffed Mushrooms will undoubtedly be a crowd-pleaser. Enjoy the creamy, savory goodness and let the flavors transport you to a world of culinary delight.