Baked Cheese Crisps are a delightful and addictive snack that combines the irresistible qualities of cheese and crispiness. This simple and versatile recipe transforms cheese into crispy, flavorful chips that can be enjoyed on their own or used as a tasty accompaniment to other dishes.
To prepare Baked Cheese Crisps, a variety of cheeses can be used, such as Parmesan, cheddar, or Gouda. The cheese is grated or thinly sliced, then placed in small mounds or spread into thin circles on a baking sheet. The cheese is then baked in the oven until melted, bubbly, and golden brown. As the cheese cools, it transforms into a crispy and savory chip-like texture.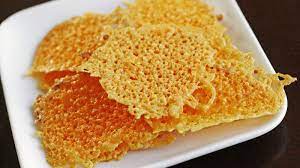 Baked Cheese Crisps
The beauty of Baked Cheese Crisps lies in their simplicity and versatility. The recipe can be easily customized by adding herbs, spices, or even a sprinkle of pepper for an extra kick. The type of cheese chosen also allows for endless flavor variations. The result is a crispy and cheesy treat that caters to different taste preferences.
Ingredients
1/2

cup

Parmesan cheese, shredded

1

cup

Cheddar cheese, shredded

1

tsp

Italian seasoning

1/2

cup

marinara sauce
Instructions
Begin by preheating your Dutch oven and set it to 350 degrees F. Place a piece of parchment paper in the cooking basket.

Mix the cheese with the Italian seasoning.

Add around one tablespoon of the cheese mixture (per crisp to thebasket, making sure they are not touching—Bake for 6 minutes oruntil browned to your liking

Work in batches and place them on a large tray to cool slightly.Serve with the marinara sauce.
Notes
In conclusion, Baked Cheese Crisps are a fantastic choice for cheese enthusiasts and snack lovers alike. Their simplicity, crunchiness, and rich flavor make them a popular choice for any occasion. Whether enjoyed on their own or paired with other dishes, these crispy cheese crisps are sure to satisfy cravings and leave a lasting impression.
Nutrition
Calories:
198
kcal
Carbohydrates:
7
g
Protein:
12
g
Fat:
17
g
Sugar:
4
g
Cooking Tip for Baked Cheese Crisps:
To ensure the best results when making Baked Cheese Crisps, consider the following cooking tip:
1. Use Parchment Paper or Silpat Mat: When baking the cheese crisps, line your baking sheet with parchment paper or a silicone baking mat (Silpat). This helps prevent the cheese from sticking to the pan and makes it easier to remove the crisps once they are baked and cooled.
2. Grate Cheese Freshly: For optimal texture and flavor, it is recommended to grate the cheese fresh rather than using pre-packaged shredded cheese. Freshly grated cheese melts more evenly and creates a better consistency for the crisps.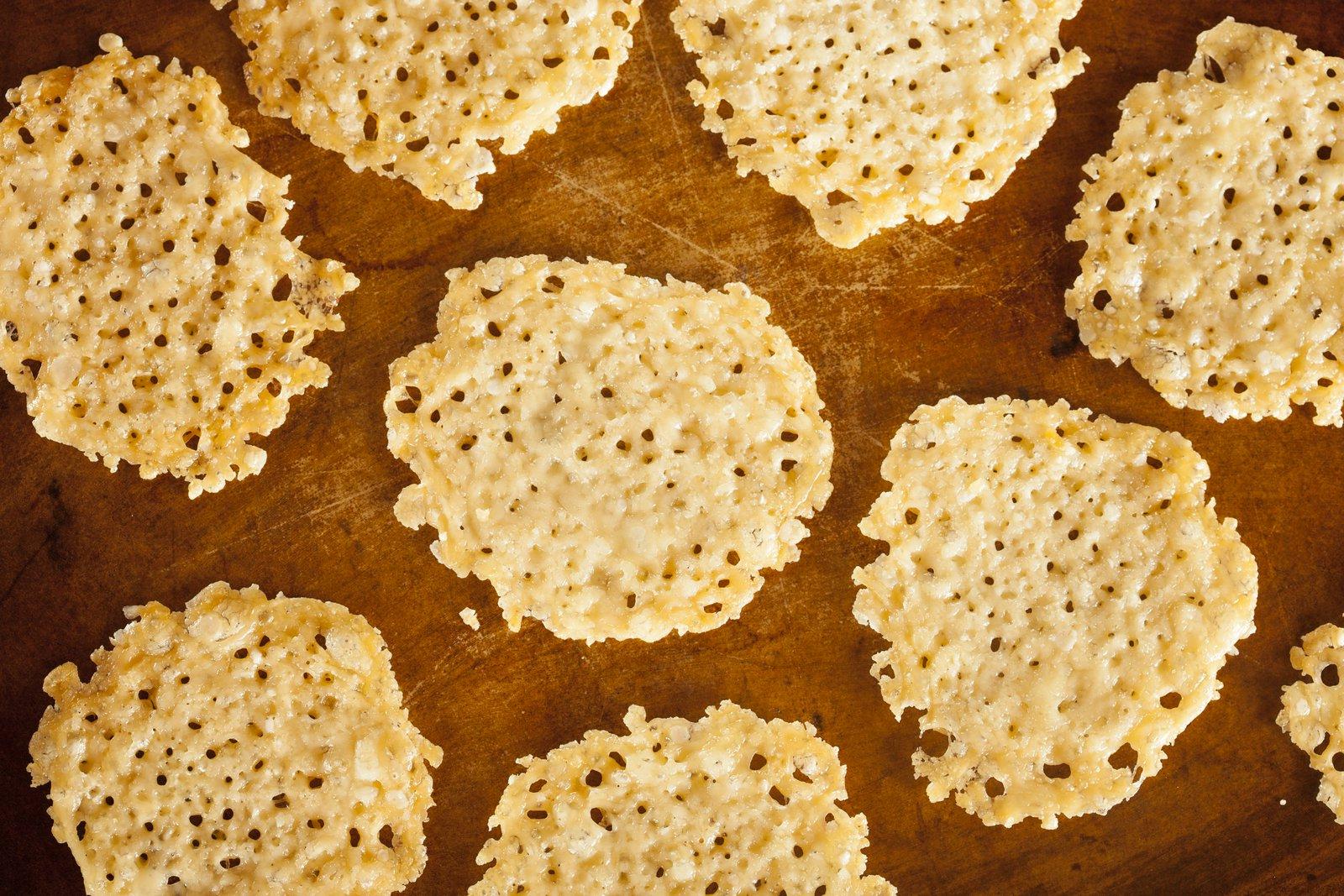 3. Keep Cheese Mounds Thin and Evenly Spaced: When placing the cheese on the baking sheet, create thin and evenly spaced mounds. This allows the cheese to spread and melt uniformly, resulting in crispier and more consistent crisps. Leave enough space between the mounds to prevent them from merging together during baking.
4. Experiment with Cheese Types and Flavors: Baked Cheese Crisps offer a fantastic opportunity to experiment with different types of cheese and flavors. Try using a combination of different cheeses or add spices, herbs, or even a sprinkle of chili flakes to enhance the taste. The choice of cheese and added flavors can greatly influence the final result.
5. Watch the Baking Time Closely: Keep a close eye on the baking process, as cheese crisps can go from perfectly golden to burnt quite quickly. The baking time may vary depending on the thickness and type of cheese, so monitor the crisps closely to ensure they achieve a crispy texture without becoming overly browned or burnt.
6. Allow Crisps to Cool and Firm Up: Once the cheese crisps are removed from the oven, allow them to cool on the baking sheet for a few minutes. During this time, they will firm up and become crispy. Transfer them to a wire rack or paper towel to cool completely before serving. This ensures they retain their desired texture and maintain their shape.
By following these cooking tips, you'll be on your way to creating deliciously crispy Baked Cheese Crisps that will satisfy your cheese cravings. Enjoy these savory, cheesy delights as a standalone snack or as a creative addition to your favorite dishes.
Serving Suggestion for Baked Cheese Crisps:
Baked Cheese Crisps are a versatile snack that can be enjoyed in various ways. Here's a serving suggestion to enhance your culinary experience: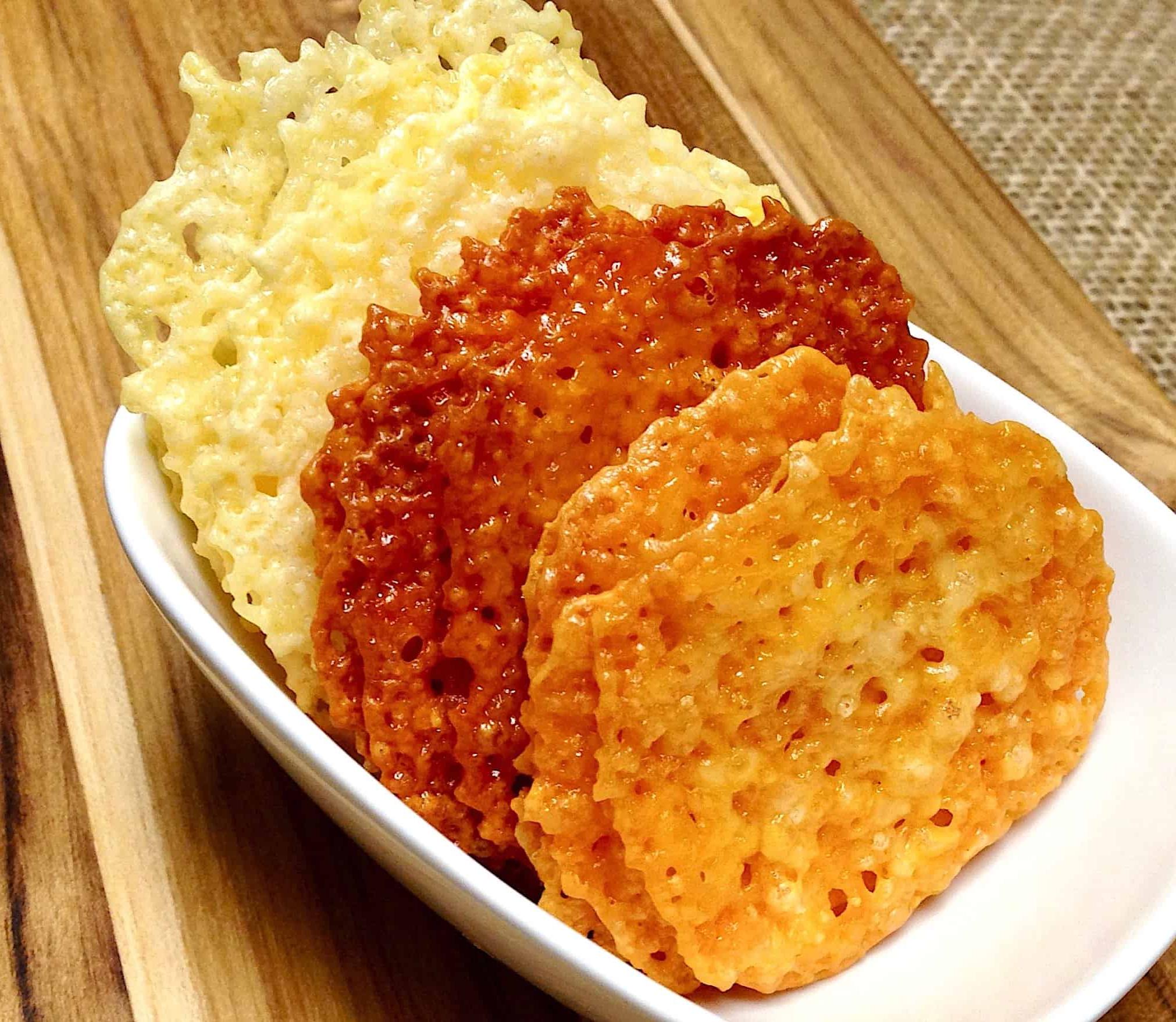 1. Cheese Platter: Arrange the Baked Cheese Crisps on a cheese platter alongside a selection of cheeses, cured meats, olives, and fruits. The crisps can serve as a delightful edible vessel for other ingredients, allowing guests to create their own flavor combinations.
2. Dips and Spreads: Serve Baked Cheese Crisps with an array of dips and spreads. Offer options like salsa, guacamole, hummus, or flavored cream cheese.
The crispy and savory nature of the crisps pairs well with creamy or tangy dips, adding an extra layer of flavor and texture.
3. Salad Toppers: Crumble or break Baked Cheese Crisps into smaller pieces and use them as a crunchy topping for salads. Sprinkle them over fresh greens, along with other toppings like tomatoes, cucumbers, and avocado. The cheesy and crispy elements of the crisps will elevate the salad and add a delightful crunch.
4. Soup Garnish: Float a few Baked Cheese Crisps on top of a bowl of hot soup, such as tomato, butternut squash, or broccoli cheddar. As the crisps soften in the warm liquid, they provide a wonderful contrast of textures and flavors to the soup.
5. Party Snack: Serve Baked Cheese Crisps as a standalone snack at parties or gatherings. Arrange them in bowls or on a serving tray for guests to enjoy. They can be a delicious alternative to traditional chips or crackers and are sure to be a hit among cheese lovers.
6. Appetizer Bites: Create bite-sized appetizers by topping the Baked Cheese Crisps with flavorful ingredients. For example, add a dollop of goat cheese, a slice of cherry tomato, and a sprinkle of fresh herbs. These mini cheese "canapés" make for an elegant and tasty appetizer option.
Remember to store any leftover Baked Cheese Crisps in an airtight container to maintain their crispiness. The versatility of these crispy cheese delights allows for endless serving possibilities, so feel free to get creative and explore different flavor combinations. Enjoy the cheesy, crispy goodness of Baked Cheese Crisps in whichever way you prefer!