Creamy Herb-Roasted Chicken is a delightful and comforting dish that brings together the succulence of chicken, the aromatic flavors of fresh herbs, and the creamy richness of a luxurious sauce. This recipe is perfect for those seeking a flavorful and elegant meal that can be enjoyed for both casual gatherings and special occasions. The combination of tender chicken, fragrant herbs, and a creamy sauce creates a harmonious balance of flavors and textures that is sure to please even the most discerning palate.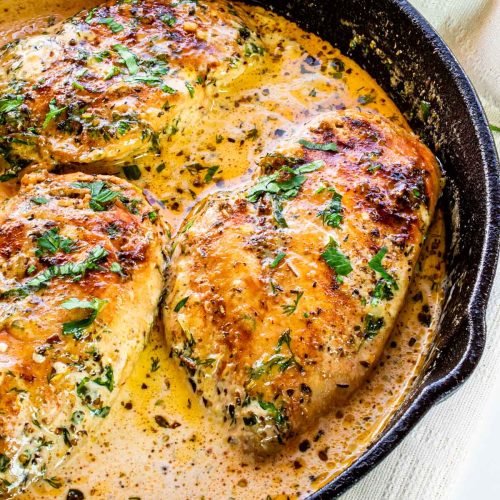 Creamy Herb-Roasted Chicken
Chicken with Herbs and Cream is a delectable dish that combines tender chicken with a flavorful blend of herbs, all brought together in a creamy and indulgent sauce. The chicken is seasoned with a medley of aromatic herbs, such as thyme, rosemary, and parsley, which infuse it with a wonderful depth of flavor. The cream sauce adds richness and velvety texture, complementing the savory herbs and enhancing the overall taste experience.
Ingredients
4

ounces

garlic and herb cream cheese

Salt and pepper to taste

2

tsp

dried Italian seasoning

Olive oil as needed

2

chicken breast fillets
Instructions
Take the chicken and brush them with oil

Season them with salt, pepper, and Italian seasoning

Top them with garlic and herb cream cheese4. Roll up the chicken carefully

Transfer them to the Air Crisping basket

Place the basket inside the appliance

AIR CRISP for 7 minutes per side, at 370 degrees F
Notes
This dish is perfect for special occasions or when you want to treat yourself to a comforting and elegant meal. Serve it alongside roasted vegetables, mashed potatoes, or crusty bread to soak up the delicious sauce. With its harmonious combination of herbs and cream, this chicken dish is sure to impress and satisfy your taste buds.
Nutrition
Calories:
750
kcal
Carbohydrates:
18
g
Protein:
71
g
Saturated Fat:
10
g
Sodium:
846
mg
Fiber:
3
g
FAQs
Q: What type of chicken is best for this recipe?
A: Boneless, skinless chicken breasts or chicken thighs work well for this recipe. They are both tender and versatile, allowing the flavors of the herbs and cream to shine.
Q: Can I use dried herbs instead of fresh ones?
A: While fresh herbs provide the best flavor, you can use dried herbs if fresh ones are not available. Keep in mind that dried herbs are more potent, so you will need to use a smaller amount. Adjust the quantity to taste and consider crushing the dried herbs between your fingers to release their aroma before adding them to the dish.
Q: Can I substitute the cream with a lighter alternative?
A: Yes, if you prefer a lighter version, you can use a combination of milk and a small amount of butter or olive oil to create a creamy consistency. Alternatively, you can use low-fat or reduced-fat cream if you still want a creamy texture with fewer calories.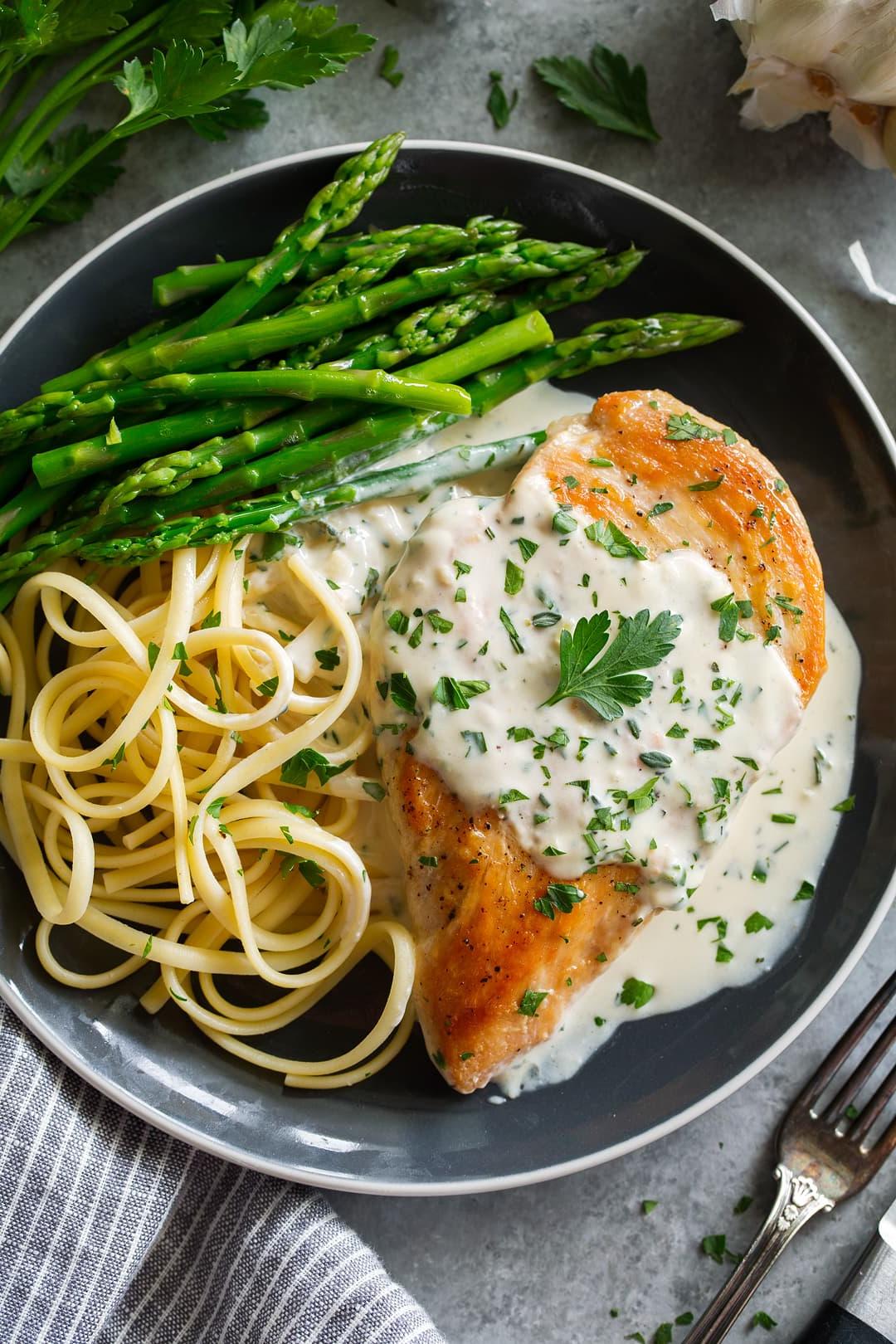 Q: How long does it take to cook the chicken?
A: The cooking time will depend on the thickness of the chicken pieces. Boneless, skinless chicken breasts usually take about 15-20 minutes, while chicken thighs may take slightly longer. It's important to cook the chicken until it reaches an internal temperature of 165°F (74°C) to ensure it is fully cooked and safe to eat.
Q: Can I prepare the dish in advance?
A: Yes, you can prepare the chicken with herbs and cream in advance. Cook the chicken and make the sauce, then store them separately in airtight containers in the refrigerator. When ready to serve, reheat the chicken in the sauce over low heat until warmed through, stirring occasionally.
Q: What are some side dishes that go well with Chicken with Herbs and Cream?
A: This dish pairs well with a variety of side dishes such as roasted vegetables, steamed asparagus, mashed potatoes, rice pilaf, or a fresh green salad. Choose sides that complement the flavors of the chicken and the cream sauce for a well-rounded meal.
Remember to adjust the recipe according to your dietary restrictions and preferences. Feel free to experiment and add your own twist to make it a dish that suits your taste.
Cooking Tip
To ensure a tender and juicy chicken with flavors infused throughout, consider marinating the chicken in the herb mixture before cooking. Combine the herbs, such as thyme, rosemary, and parsley, with some olive oil, lemon juice, garlic, salt, and pepper in a bowl. Coat the chicken pieces with the marinade, cover, and refrigerate for at least 30 minutes or up to overnight. This step allows the flavors to penetrate the meat and enhances the overall taste of the dish. When ready to cook, remove the chicken from the marinade and discard any excess liquid before proceeding with the recipe. Marinating the chicken will elevate its flavor and contribute to a more delicious outcome.
Serving Suggestion
When serving Chicken with Herbs and Cream, consider the following suggestions to enhance your dining experience:
1. Plating: Place the chicken on a serving platter and spoon the creamy herb sauce over the top. Garnish with fresh herbs, such as chopped parsley or a sprig of thyme, for an added touch of freshness and visual appeal.
2. Side Dish Options: Serve the chicken with a variety of side dishes to complement its flavors. Consider options like roasted baby potatoes, steamed vegetables, or a medley of sautéed mushrooms. These sides will provide additional textures and flavors to complement the creamy herb-infused chicken.
3. Pasta or Rice: For a heartier meal, serve the chicken and cream sauce over cooked pasta or fluffy rice. The pasta or rice will absorb the flavors of the sauce and create a more substantial and satisfying dish.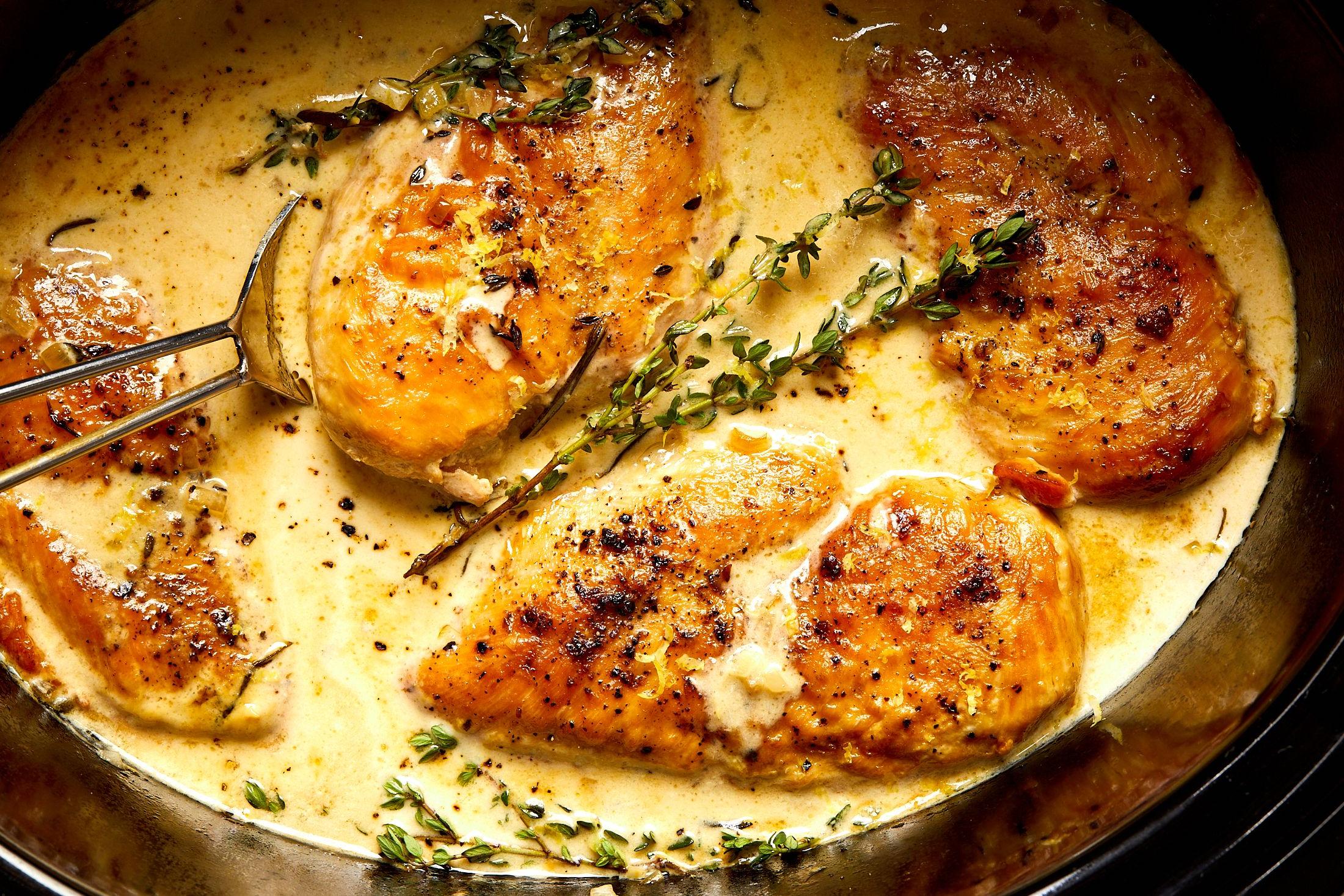 4. Fresh Salad: Balance the richness of the dish with a fresh, crisp salad on the side. A simple green salad with a lemon vinaigrette or a mixed salad with cherry tomatoes, cucumber, and a light dressing can provide a refreshing contrast to the creamy chicken.
5. Bread or Rolls: Offer some crusty bread or warm rolls on the side to soak up the flavorful cream sauce. It's perfect for savoring every last bit of the delicious sauce and adds a comforting element to the meal.
Remember to adapt the serving suggestions based on your personal preferences and dietary restrictions. Whether you opt for lighter sides or heartier accompaniments, the goal is to create a well-rounded and satisfying meal that highlights the deliciousness of the chicken with herbs and cream. Enjoy!