Roasted Brussels sprouts are a popular and flavorful side dish that brings out the natural sweetness and nuttiness of these cruciferous vegetables. By roasting Brussels sprouts in the oven, they develop a delicious crispy exterior while retaining a tender and satisfying texture on the inside.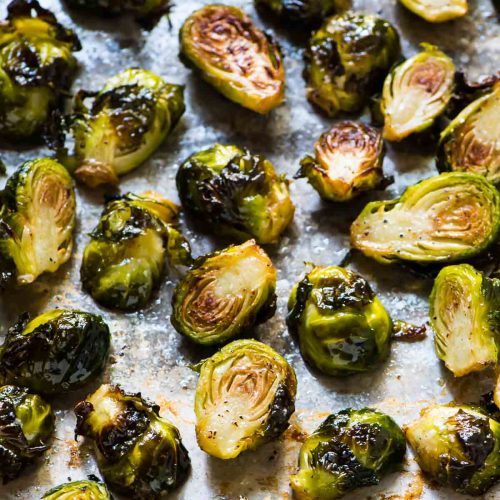 Roasted Brussels Sprouts
This side dish is also a great addition to holiday feasts or special occasions. The vibrant green color and enticing aroma of the roasted Brussels sprouts make them visually appealing and a crowd-pleasing choice. They provide a healthier alternative to traditional sides while still delivering robust flavors.
Ingredients
1

pound

fresh brussels sprouts

5

tsp

olive oil

1/2

tsp

kosher salt
Instructions
Toss all of the fixings together in a bowl.

Choose the French Fry preset.

Pull the basket out slightly and shake the ingredients a few times during cooking.
Notes
Whether you're a fan of Brussels sprouts or looking to incorporate more vegetables into your meals, roasted Brussels sprouts are a delightful option. With their crispy texture, rich flavor, and versatility, they are sure to become a favorite side dish that adds a delicious touch to any meal.
Nutrition
Calories:
99
kcal
Carbohydrates:
10.3
g
Protein:
3.9
g
Fat:
6.2
g
Trans Fat:
15
g
Sodium:
319
mg
Fiber:
4.3
g
Nutritional ingredients about Roasted Brussels Sprouts
Roasted Brussels sprouts are a nutritious and flavorful side dish that can complement many different meals. They are an excellent source of vitamins A, C, and K, and they contain antioxidants that can help reduce the risk of chronic diseases. Additionally, they are low in calories and carbohydrates, and they provide important nutrients such as folate, potassium, and iron. All in all, Roasted Brussels sprouts are a great addition to any meal.
Cooking tips
Here are some cooking tips for preparing roasted Brussels sprouts:
1. Choose fresh Brussels sprouts: Look for Brussels sprouts that are firm, compact, and vibrant green in color. Avoid sprouts with yellow or wilted leaves, as they may not be as fresh.
2. Trim and halve larger sprouts: If you have larger Brussels sprouts, consider halving them to ensure even cooking. This helps to create a uniform size, resulting in more consistent roasting.
3. Toss with oil and seasonings: Coat the Brussels sprouts evenly with olive oil, salt, and pepper to enhance their natural flavors. You can also add additional seasonings like garlic powder, paprika, or herbs for extra taste.
4. Use a hot oven: Preheat your oven to a high temperature, around 400-425°F (200-220°C). The high heat will help create a crispy exterior while keeping the inside tender.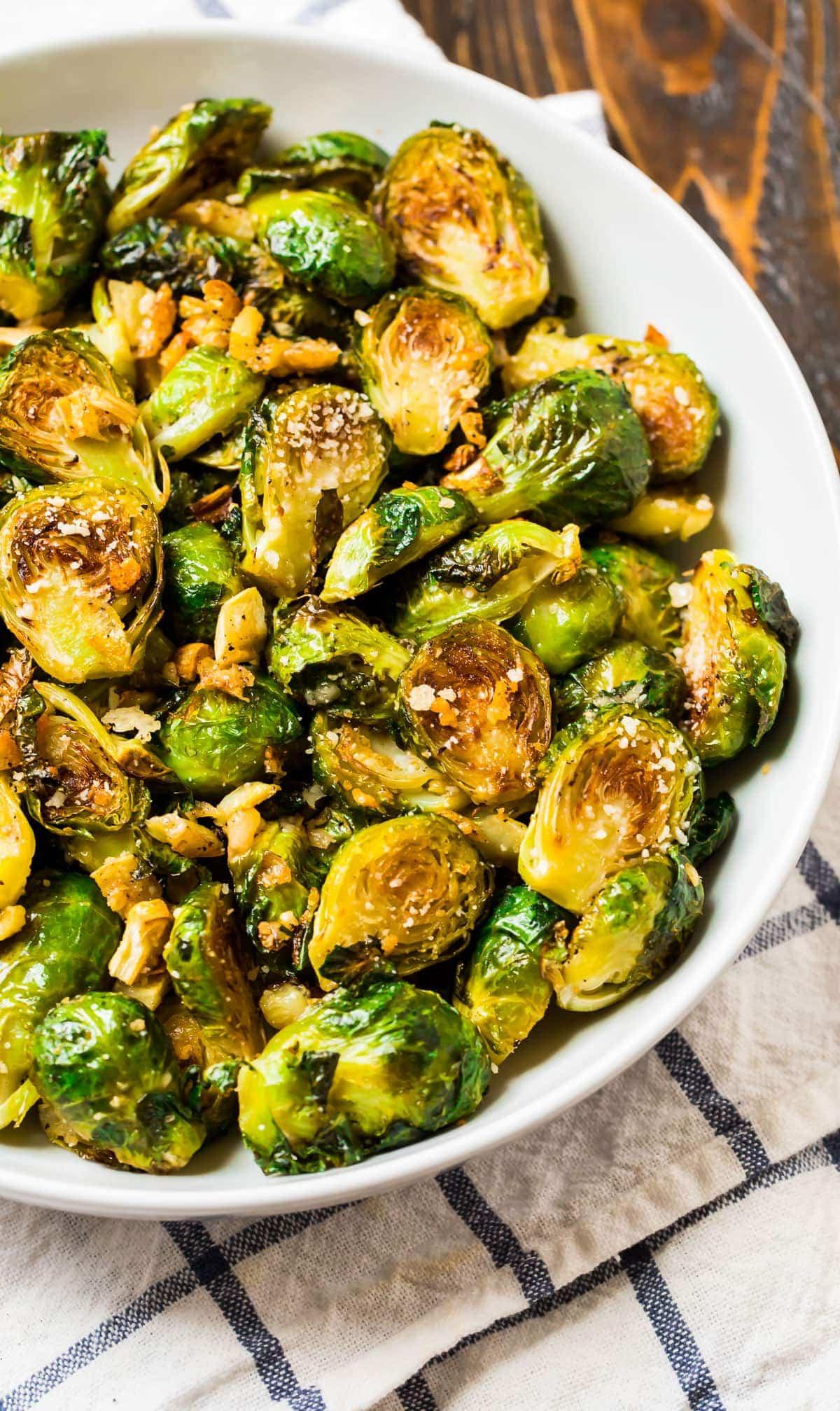 5. Arrange in a single layer: Spread the Brussels sprouts in a single layer on a baking sheet to ensure they roast evenly. Crowding them may cause them to steam rather than roast, resulting in less crispy texture.
6. Flip halfway through: To achieve even browning, flip the Brussels sprouts halfway through the cooking process. This helps to ensure that all sides of the sprouts get exposed to the heat, promoting uniform cooking.
7. Adjust cooking time: The cooking time for roasted Brussels sprouts can vary depending on the size of the sprouts and your desired level of crispiness. Keep an eye on them and check for doneness by inserting a fork or knife. They should be tender and easily pierced.
8. Experiment with additional flavors: While simple olive oil, salt, and pepper are delicious, feel free to experiment with different flavor combinations. You can add balsamic glaze, maple syrup, grated Parmesan cheese, or even bacon bits to enhance the taste profile.
Remember, the key to perfectly roasted Brussels sprouts is achieving a balance between crispy exteriors and tender interiors. With these tips, you'll be well on your way to enjoying a delectable and satisfying Brussels sprouts side dish.
Serving Suggestions
Here are some serving suggestions for Roasted Brussels Sprouts:
1. As a side dish: Roasted Brussels sprouts make a great side dish for roasted or grilled meats, fish, or tofu. They also pair well with a variety of sauces like lemon garlic butter or balsamic glaze.
2. In a salad: Roasted Brussels sprouts make a delicious addition to any salad. Simply chop them into smaller pieces and add them to a salad with other vegetables, fruits, nuts, and cheeses.
3. As a snack: Roasted Brussels sprouts can also be served as a tasty snack. Simply toss the roasted Brussels sprouts with some salt, pepper, and other seasonings of your choice.
4. In a pasta dish: Roasted Brussels sprouts go well with pasta dishes. You can add them to a pasta salad or toss them with pasta and your favorite sauce for a complete meal.
5. With bacon: Roasted Brussels sprouts and bacon are a match made in heaven. You can mix the roasted Brussels sprouts with some crumbled bacon and serve it as a side dish or snack.
I hope these suggestions provide you with some inspiration for serving Roasted Brussels Sprouts. Enjoy!