Italian-Style Tomato-Parmesan Chips are a delightful and flavorful twist on traditional chips. These crispy, baked snacks combine the rich and tangy taste of tomatoes with the savory goodness of Parmesan cheese, all infused with aromatic Italian herbs. Each bite is a burst of Mediterranean flavors, making them a perfect appetizer, snack, or accompaniment to your favorite Italian dishes.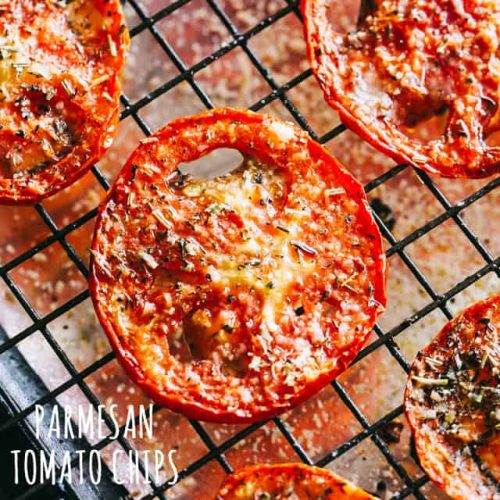 Italian-Style Tomato-Parmesan Crisps
Italian-Style Tomato-Parmesan Chips offer a healthier alternative to traditional potato chips as they are baked instead of fried. They are a great way to incorporate fresh ingredients and Italian-inspired flavors into your snacking routine. Plus, they are gluten-free and low-carb, making them suitable for various dietary preferences.
Ingredients
4

roma tomatoes, sliced

2

tbsps

olive oil

1

tsp

teaspoon Italian seasoning mix

4

tbsps

Parmesan cheese, grated

Sea salt and white pepper, to taste
Instructions
Begin by preheating your Air Fryer, then set it to 350 degrees F. Generously grease the Dutch oven basket with nonstick cooking oil.

Toss the sliced tomatoes with the remaining ingredient. Transfer them to the cooking basket without overlapping

Cook in the warmed Dutch oven for 5 minutes. Shake the cooking basket and cook an additional 5 minutes. Work in batches.

Serve with Mediterranean aioli for dipping,
Notes
Whether you're hosting a gathering, looking for a unique snack, or simply craving a taste of Italy, Italian-Style Tomato-Parmesan Chips are sure to impress. Their vibrant colors, robust flavors, and addictive crunch make them a standout addition to any occasion. Whip up a batch of these homemade chips and transport your taste buds to the Mediterranean with every delicious bite.
Nutrition
Calories:
90
kcal
Carbohydrates:
7
g
Protein:
8
g
Fat:
2
g
Sugar:
1
g
Cooking Tip for Italian-Style Tomato-Parmesan Chips:
To ensure the best results when making Italian-Style Tomato-Parmesan Chips, here's a useful cooking tip: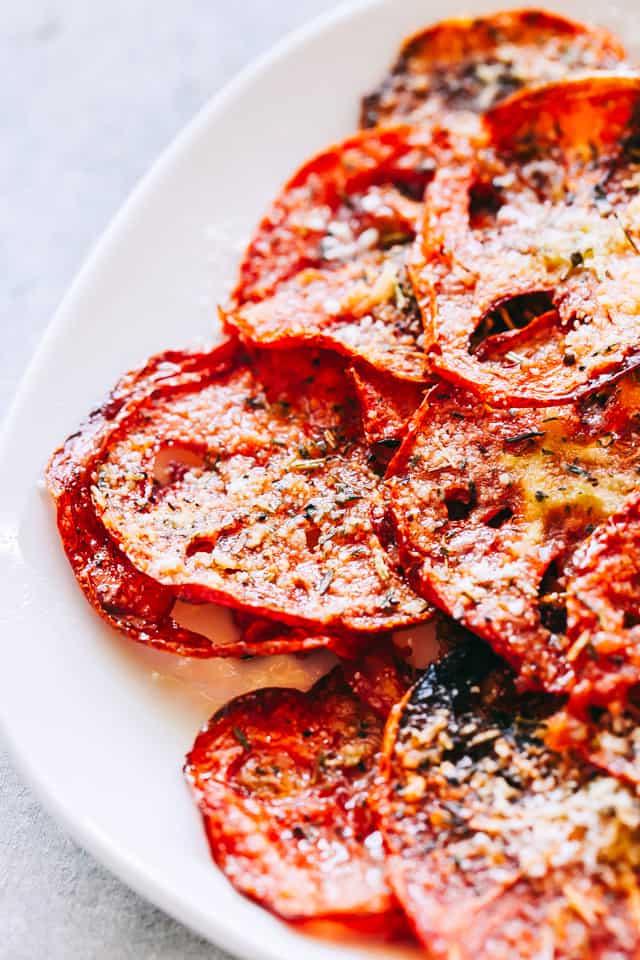 1. Slice the Tomatoes Evenly: When slicing the tomatoes for the chips, aim for slices that are uniformly thick. This will ensure even cooking and crispiness throughout. Use a sharp knife or a mandoline slicer to achieve consistent thickness, preferably around 1/4-inch to 1/3-inch slices.
2. Pat Dry the Tomato Slices: Before seasoning and baking the tomato slices, it's important to remove excess moisture. Pat dry the tomato slices with a paper towel or kitchen towel to absorb any liquid. This helps the chips crisp up nicely during baking and prevents them from turning soggy.
3. Use Freshly Grated Parmesan Cheese: For the best flavor and texture, use freshly grated Parmesan cheese rather than pre-packaged grated cheese. Freshly grated Parmesan has a superior flavor and melts more evenly, resulting in a deliciously cheesy and crisp coating for the tomato chips.
4. Line the Baking Sheet: To prevent the tomato slices from sticking to the baking sheet and ensure easy removal, line it with parchment paper or a silicone baking mat. This will also make cleanup a breeze.
5. Keep an Eye on the Baking Time: Since oven temperatures can vary, it's important to keep a close eye on the tomato chips as they bake. They can go from golden to burnt quickly. Start checking for doneness around the recommended baking time and continue baking until the chips are crisp and lightly golden. Adjust the baking time if needed to achieve the desired level of crispiness.
6. Allow the Chips to Cool: Once the tomato chips are done baking, resist the temptation to dig in right away. Allow them to cool on the baking sheet for a few minutes. This allows them to further crisp up and makes them easier to handle.
By following these cooking tips, you'll be able to create perfectly crispy and flavorful Italian-Style Tomato-Parmesan Chips that are sure to impress your taste buds and guests alike. Enjoy the delightful combination of tomatoes, Parmesan cheese, and Italian herbs in this unique and delicious snack!
Serving Suggestion for Italian-Style Tomato-Parmesan Chips:
Italian-Style Tomato-Parmesan Chips can be enjoyed in various ways. Here's a serving suggestion to enhance their deliciousness:
1. Appetizer Platter: Arrange the Italian-Style Tomato-Parmesan Chips on a platter as a vibrant and flavorful appetizer. Serve them alongside other Italian-inspired bites like bruschetta, antipasto skewers, or olives. Add a bowl of marinara sauce or a creamy garlic dip for dipping, allowing guests to create their own combinations of flavors.
2. Salad Topping: Sprinkle the Italian-Style Tomato-Parmesan Chips on top of a fresh salad to add a delightful crunch and a burst of flavor. They pair exceptionally well with green salads, Caprese salads, or even pasta salads. Their tangy and cheesy profile complements the fresh ingredients and adds a unique twist to the salad.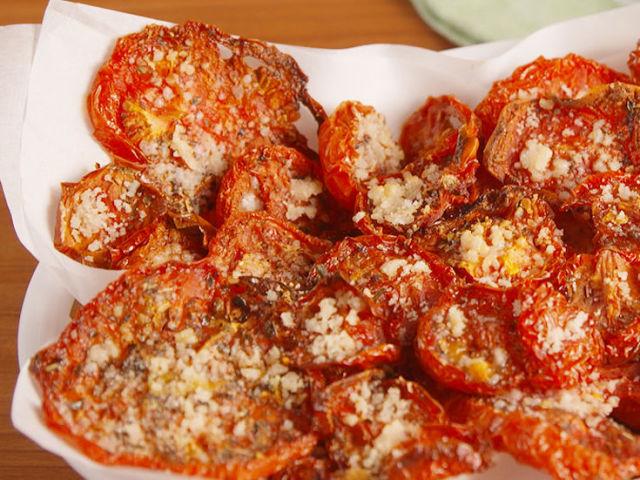 3. Pasta Garnish: Use the Italian-Style Tomato-Parmesan Chips as a garnish for pasta dishes. Crush them into smaller pieces and sprinkle them over your favorite pasta, whether it's a classic spaghetti with marinara sauce or a creamy fettuccine Alfredo. The chips will provide a delightful texture contrast and an extra punch of flavor.
4. Soup Accompaniment: Serve the Italian-Style Tomato-Parmesan Chips alongside a bowl of soup. They make a fantastic accompaniment to tomato soup, minestrone, or even creamy vegetable soups. Dip the chips into the soup or crumble them over the top to add a cheesy and crispy element to each spoonful.
5. Charcuterie Board Addition: Incorporate the Italian-Style Tomato-Parmesan Chips into a charcuterie or cheese board. Place them alongside cured meats, a variety of cheeses, fresh fruits, and nuts. The chips offer a unique and flavorful element that pairs well with the other components of the board.
6. Snack on Their Own: Of course, these delicious chips can be enjoyed on their own as a standalone snack. Serve them in a bowl or place them in individual serving cups for guests to grab and enjoy. They make for a satisfying and flavorful snack option, whether you're hosting a gathering, watching a movie, or simply craving a tasty treat.
Remember to store any leftover Italian-Style Tomato-Parmesan Chips in an airtight container to maintain their crispiness. Enjoy them fresh, and savor the combination of tangy tomatoes, cheesy goodness, and aromatic herbs in every bite.