Bruschetta with Basil Pesto is an Italian appetizer made with slices of crispy bread and a topping of basil pesto, diced tomatoes, and mozzarella cheese. The bread is typically grilled or toasted to create a crispy texture that contrasts well with the creamy pesto and juicy tomatoes.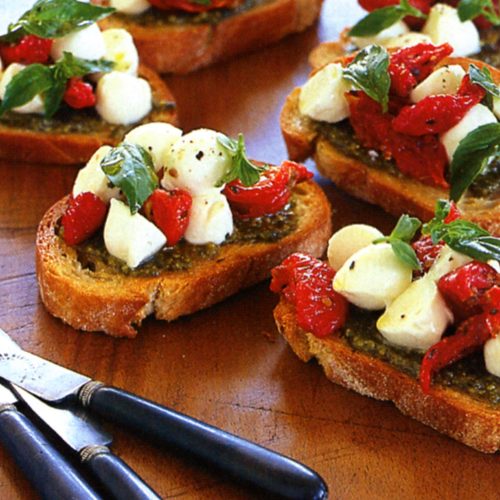 Bruschetta with Basil Pesto
Bruschetta with basil pesto is a delectable and vibrant appetizer that combines the flavors of fresh tomatoes, basil pesto, and crusty bread. This classic Italian dish starts with slices of toasted bread, which are then generously topped with a luscious layer of homemade basil pesto.
Ingredients
Eight slices French bread, ½ inch thick

2

tbsp

softened butter

1

cup

shredded Mozzarella cheese

1/2

cup

basil pesto

1

cup

chopped grape tomatoes
Instructions
Preheat the dutch oven oven to 350ºF (177ºC).

Spread the bread with the butter and position butter-side up in a baking pan.

Slide the baking pan into Rack Position 1, select Convection Bake,set time to 4 minutes, or wait until the bread is light golden brown.

Remove the bread from the oven and top each piece with some of the cheese.

Back to the oven and bake for 1 to 3 minutes more, or until the cheese melts.

In the meantime, combine the pesto, tomatoes, and green onions in a small bowl.

When the cheese has melted, take away the oven's bread and put on a serving platter. Top each slice utilizing some of the pesto mixtures and serve.
Notes
Bruschetta with basil pesto is a versatile appetizer that can be served at parties, as a light lunch, or as a prelude to a delicious Italian meal. It's a simple yet elegant dish that showcases the vibrant flavors of basil and tomatoes, sure to please your taste buds and leave you craving more.
Nutrition
Calories:
251
kcal
Protein:
17
g
Fat:
15
g
Frequently asked questions about Bruschetta with Basil Pesto
Q1: What is bruschetta?
A: Bruschetta is an Italian appetizer that typically consists of toasted bread topped with various ingredients. It is often served as a light and flavorful starter or snack.
Q2: What is basil pesto?
A: Basil pesto is a sauce made with fresh basil leaves, garlic, pine nuts, Parmesan cheese, and olive oil. It has a vibrant green color and a rich, aromatic flavor. It is commonly used as a sauce or spread in Italian cuisine.
Q3: How do I make basil pesto for bruschetta?
A: To make basil pesto, combine fresh basil leaves, garlic cloves, pine nuts, Parmesan cheese, and olive oil in a food processor. Blend until smooth and creamy. Adjust the seasoning to taste and add more olive oil if needed for a smoother consistency.
Q4: Can I make bruschetta with other toppings besides basil pesto?
A: Absolutely! While basil pesto is a classic and delicious choice, you can get creative with your bruschetta toppings. Some popular alternatives include diced tomatoes with fresh mozzarella and balsamic glaze, roasted red peppers with goat cheese, or avocado and feta cheese.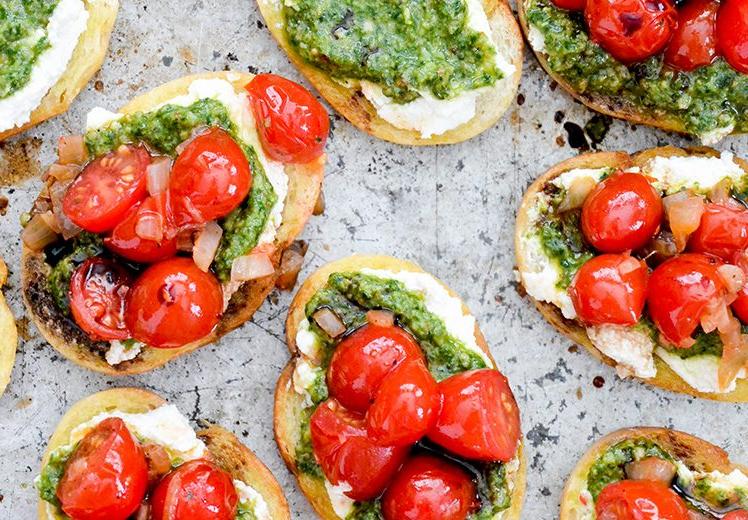 Q5: What type of bread is best for bruschetta?
A: Traditionally, bruschetta is made with crusty Italian bread such as ciabatta or baguette. The bread should be sliced and toasted until golden and crispy. However, you can use any bread of your preference, including whole-grain or gluten-free options.
Q6: Can I make bruschetta ahead of time?
A: While it's best to assemble bruschetta shortly before serving to maintain the texture of the bread, you can prepare the individual components in advance. Toast the bread, make the basil pesto, and chop the toppings ahead of time. Then, assemble and serve just before your guests arrive or when you're ready to enjoy them.
Q7: Can I serve bruschetta as a main course?
A: While bruschetta is typically served as an appetizer or snack, you can certainly enjoy a larger portion as a light main course. Consider adding additional toppings such as grilled chicken, shrimp, or sautéed vegetables to make it more substantial.
Q8: Can bruschetta be served cold?
A: Bruschetta is typically served at room temperature or slightly warm. The bread is toasted and the toppings are often added at room temperature or prepared in advance. However, some variations, such as bruschetta with melted cheese, can be served warm.
Q9: Can I make bruschetta without using an oven?
A: If you don't have access to an oven or prefer not to toast the bread, you can use a grill or stovetop grill pan to achieve a similar result. Simply brush the bread slices with olive oil and grill them until they have grill marks and a slightly crispy texture.
Q10: Can I customize the ingredients in the basil pesto?
A: Yes, you can personalize the basil pesto to suit your taste preferences. Feel free to add or substitute ingredients such as different nuts (e.g., walnuts or almonds), additional herbs (e.g., parsley or cilantro), or lemon juice for added freshness.
Remember to have fun experimenting with different combinations of flavors and textures to create your perfect bruschetta with basil pesto. Enjoy this classic Italian dish as an appetizer, snack, or even a light meal.
Cooking tips
Here are some cooking tips for making bruschetta with basil pesto:
1. Use fresh ingredients: Use fresh basil leaves, ripe tomatoes, and good quality bread for the best flavors. Fresh ingredients will enhance the overall taste of your bruschetta.
2. Toast the bread properly: Toast the bread slices until they are crispy on the outside but still have a slightly soft center. This will provide a nice contrast in texture when combined with the creamy basil pesto and toppings.
3. Don't overcrowd the toppings: When adding the basil pesto and toppings to the toasted bread, avoid overloading them. A thin layer of basil pesto and a moderate amount of toppings will ensure that each bite is balanced and not overwhelming.
4. Season the tomatoes: If using tomatoes as a topping, season them with salt and pepper before placing them on the bruschetta. This will enhance their flavor and bring out their natural sweetness.
5. Let flavors meld: Allow the assembled bruschetta to sit for a few minutes before serving. This will give the flavors a chance to meld together, resulting in a more harmonious and delicious taste.
6. Experiment with additional toppings: While basil pesto is rosciut to, olives, roasted vegetables, or a drizzle of balsamic glaze.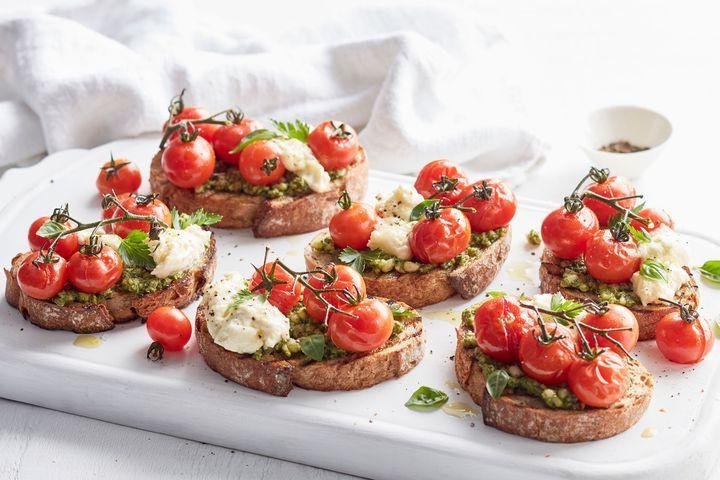 7. Serve at the right temperature: Serve bruschetta at room temperature or slightly warm. If you've prepared the components in advance and stored them in the refrigerator, let them come to room temperature before assembling and serving.
8. Garnish with fresh herbs: Before serving, garnish the bruschetta with some fresh basil leaves or other herbs for an added pop of color and freshness.
9. Offer variety: Prepare a variety of bruschetta toppings to cater to different tastes. This allows your guests to mix and match and discover their favorite combinations.
10. Enjoy promptly: Bruschetta is best enjoyed immediately after assembly to ensure the bread stays crispy. Serve them as soon as they are ready to preserve their delicious texture.
With these tips in mind, you'll be able to create a delectable bruschetta with basil pesto that will impress your guests or make for a satisfying snack or appetizer. Enjoy the vibrant flavors and textures of this classic Italian dish!
Serving Suggestions
Here are some serving suggestions for bruschetta with basil pesto:
1. Appetizer platter: Arrange the bruschetta on a platter and serve them as an appetizer at a party or gathering. Offer a variety of toppings, such as different pesto flavors, tomatoes, mozzarella, and other complementary ingredients. Your guests can choose their favorite combinations.
2. Brunch addition: Serve bruschetta with basil pesto as part of a brunch spread. Pair it with other breakfast items like scrambled eggs, smoked salmon, fresh fruit, and a selection of pastries. It adds a savory and flavorful element to the meal.
3. Salad accompaniment: Use the bruschetta as a topping for salads. Cut the toasted bread into smaller pieces and scatter them over a bed of mixed greens or a Caprese salad. The crunchiness and flavors of the bruschetta complement the fresh vegetables and dressings.
4. Soup accompaniment: Serve bruschetta with basil pesto alongside a bowl of soup, such as tomato basil soup or minestrone. The combination of the crispy bread and the warm, comforting soup creates a satisfying and delicious meal.
5. Antipasto platter: Include bruschetta on an antipasto platter along with cured meats, cheeses, olives, marinated vegetables, and other Italian appetizers. It adds a delightful contrast of textures and flavors to the assortment of bites.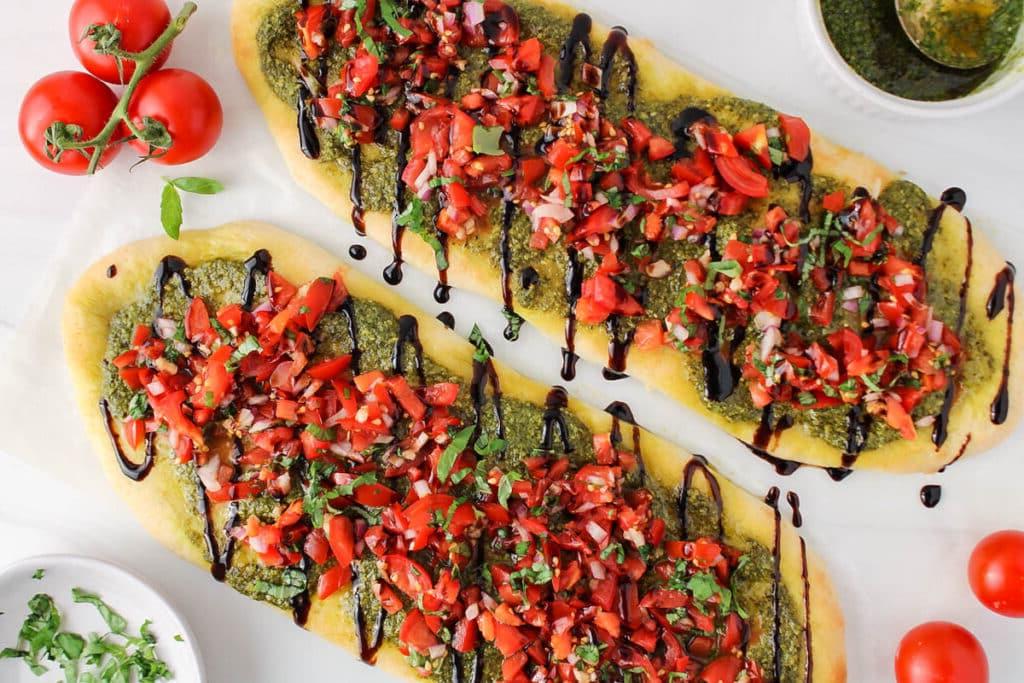 6. Tapas-style spread: Incorporate bruschetta with basil pesto into a tapas-style meal. Serve it alongside other small plates like patatas bravas, Spanish tortilla, stuffed mushrooms, and marinated shrimp for a flavorful and diverse dining experience.
7. Outdoor picnic: Pack bruschetta in a portable container and bring them along for a picnic. Enjoy them in the fresh air along with other finger foods like sandwiches, fruits, and snacks. It's a tasty and convenient option for outdoor dining.
8. Cocktail party: Serve bite-sized bruschetta with basil pesto as elegant and flavorful hors d'oeuvres at a cocktail party. Pair them with a selection of wines, sparkling beverages, or signature cocktails for a sophisticated and enjoyable combination.
Remember to provide small plates or napkins for easy handling and enjoy the bruschetta while they are still fresh and crispy. Whether served as an appetizer, part of a meal, or in a social gathering, bruschetta with basil pesto is a versatile and delicious option that will delight your guests or enhance your dining experience.