Indulge in a tropical delight with the Fish Cake with Mango Relish recipe. This unique dish combines the flavors of the sea with the sweetness of mangoes to create a fusion of tastes that will transport you to a seafood paradise. The fish cakes are made with a combination of fresh seafood, herbs, and spices, and are then topped with a zesty mango relish. The relish adds a burst of freshness and tanginess to the dish, creating a perfect balance of sweet and savory flavors.
Whether you're looking for a refreshing summer sensation or an island-inspired delicacy, this recipe will surely satisfy your cravings. So try out this flavorful fusion and savor the season with every bite.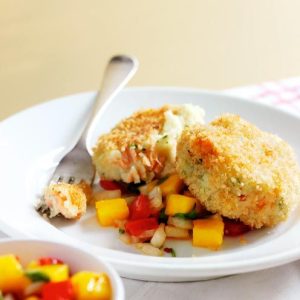 Fish Cake with Mango Relish
et ready to embark on a culinary journey that combines the best of the sea and the sweetness of mangoes with our Fish Cake with Mango Relish recipe. This unique and flavorful dish will transport you to a tropical paradise with every bite. Imagine sinking your teeth into tender fish cakes infused with aromatic herbs and spices, perfectly complemented by a zesty and refreshing mango relish.
Ingredients
1

lb

White Fish Fillets

3

tbsps.

Ground Coconut

1

Ripened Mango

1/2

tsps.

Chili Paste

tbsps.

Fresh Parsley

1

green onion

1

lime

1

salt

1

egg
Instructions
Preparing the Ingredients. To make the relish, peel and dice the mango into cubes. Combine with a half teaspoon of chili paste, a tablespoon of parsley, and the zest and juice of half a lime

In a food processor, pulse the fish until it forms a smooth texture.Place into a bowl and add the salt, egg, chopped green onion, parsley, two tablespoons of the coconut, and the remainder of the chili paste and lime zest and juice. Combine well

Portion the mixture into 10 equal balls and flatten them into smallpatties. Pour the reserved tablespoon of coconut onto a dish androll the patties over to coat

Preheat the Dutch oven oven to 390 degrees

Air Frying. Place the fish cakes into the Dutch oven and cook for 8minutes.

Serve hot with mango relish
Notes
Whether you're seeking a refreshing summer sensation or craving a taste of the exotic, this recipe is sure to satisfy your culinary desires. So, let's dive in and discover the magic of this delectable fusion that brings together the flavors of the ocean and the tropics.
Nutrition
Calories:
160
kcal
Carbohydrates:
10
g
Protein:
30
g
Fat:
4
g
Fiber:
3
g
Cooking tips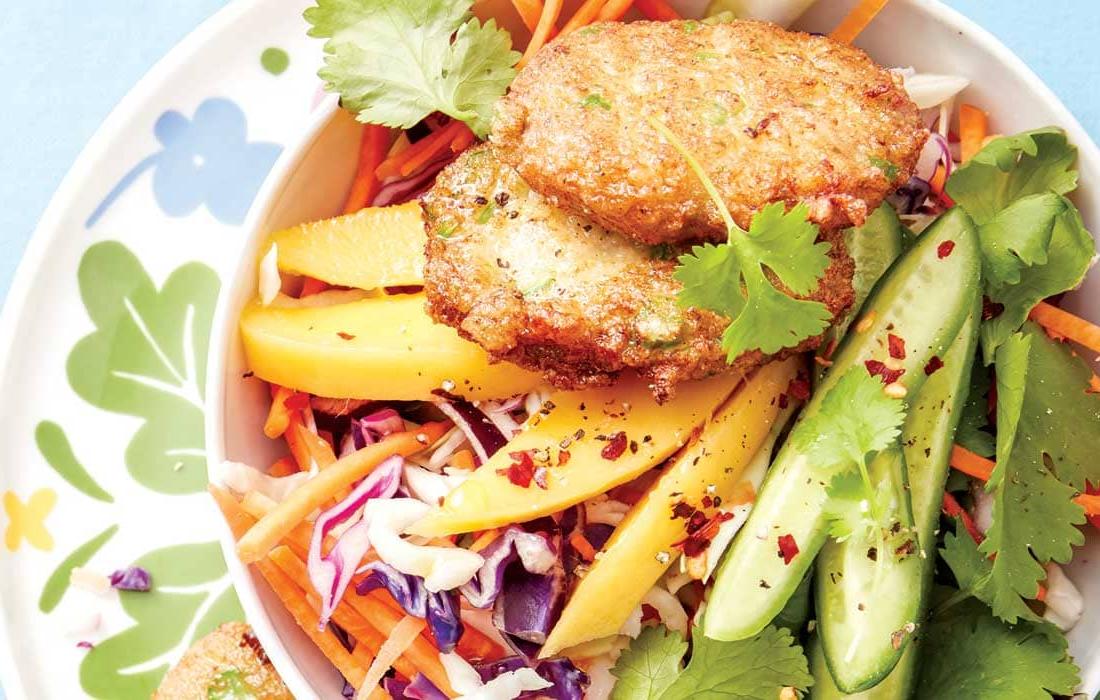 To ensure the fish cakes turn out perfectly moist and flavorful, it's essential to use fresh and high-quality seafood. Opt for firm white fish such as cod or halibut, as they hold their shape well during cooking. Additionally, consider adding a small amount of finely grated ginger or lemongrass to the fish cake mixture for an extra burst of aromatic flavor. When preparing the mango relish, make sure to use ripe mangoes for optimal sweetness. To easily remove the flesh from the mango, slice off both ends and use a knife to peel off the skin. Then, cut the flesh away from the seed and dice it into small pieces. Finally, for an added touch of freshness, squeeze some lime juice over the mango relish just before serving. These simple tips will elevate the flavors of the dish and leave your guests impressed with the delicious outcome.
Serving suggestions
To showcase the vibrant flavors of the Fish Cake with Mango Relish, consider serving it as a delightful appetizer or a main course with some accompanying elements. Here's a serving suggestion that will enhance the overall experience:
1. Start by arranging the fish cakes on a platter, allowing their golden-brown exterior to be visually appealing.
2. Place a small bowl of the zesty mango relish beside the fish cakes, so guests can easily add it to their liking.
3. Garnish the platter with fresh cilantro leaves or finely chopped green onions to add a pop of color.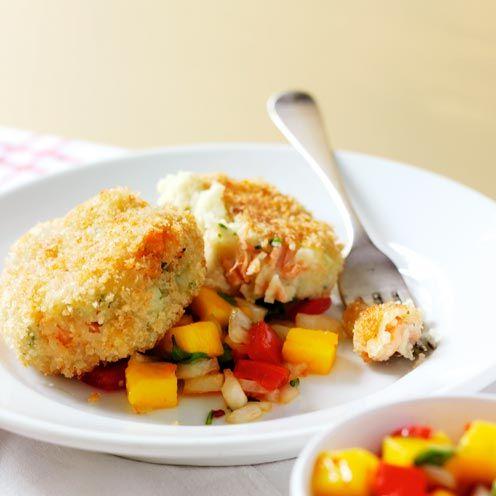 4. For a complete meal, consider serving the fish cakes with a side of steamed jasmine rice or a refreshing mixed green salad.
5. Offer additional condiments like sweet chili sauce or a squeeze of fresh lime for those who want to experiment with different flavor combinations.
6. To create a beautiful presentation, add a few slices of ripe mango or lime wedges to the platter as a decorative touch.
7. Finally, encourage guests to savor each bite by enjoying the fish cakes and mango relish together, creating a harmonious balance of flavors.
This serving suggestion will not only enhance the visual appeal of the dish but also allow guests to personalize their experience by combining different elements according to their preferences.